The number of companies visiting the Indian Institute of Technology (IIT) Ropar to participate in placements had more than doubled from 2018 to 2020 and yet, the overall placement rate of the institute showed a decline.
IIT Ropar was one of the second generation IITs, established by the ministry of education in 2008. As per the National Institutional Ranking Framework (NIRF), IIT Ropar held the ninth rank in 2016, and later consecutively for four years it was among the top 30 institutes. It improved its position further and by 2021, was counted among the top 20.
Based on data obtained under the Right to Information Act, Careers360 found that IIT Ropar has maintained a placement rate of over 80 percent for the past three years.
IIT Ropar Placements: Last 3 Years
IIT Ropar's placement rate has remained above 80 percent all three years. Given below are IIT Ropar's overall placement percentages from the 2018 batch to the 2020.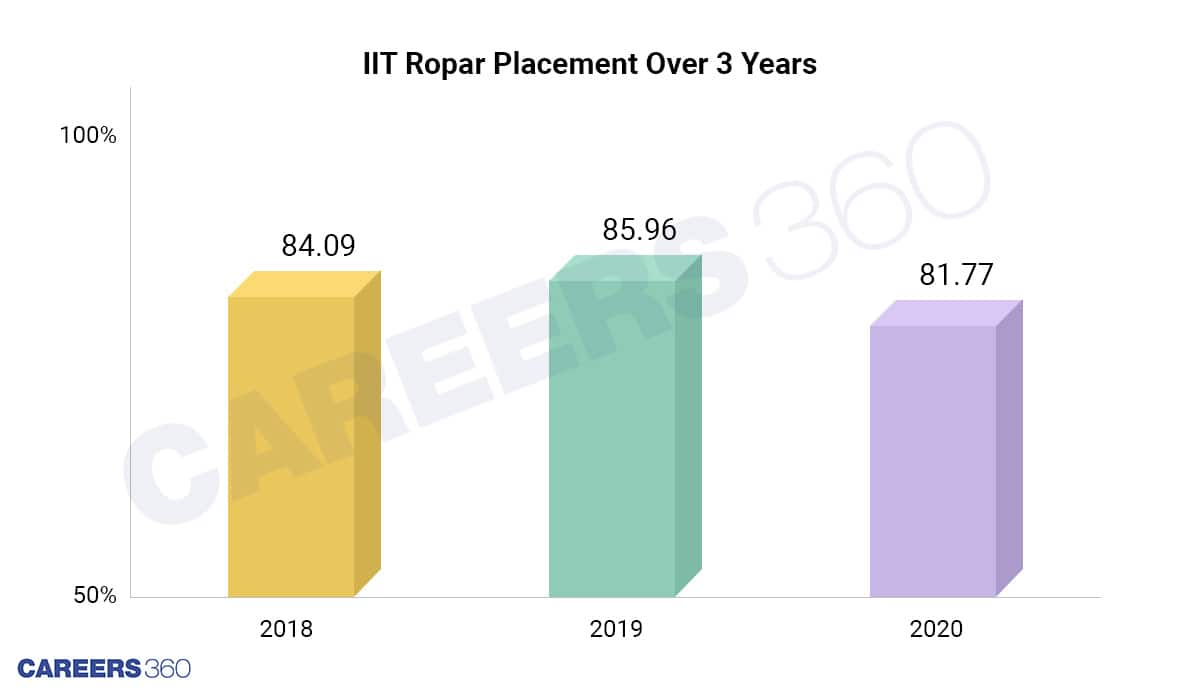 IIT Ropar: BTech Placement Over 3 Years
Also Read | IIT Gandhinagar Placement 2020-21 Report: Branch-Wise Placement, Salaries, Recruiters
IIT Ropar: Branch-Wise Placements
Overall, 81.77 percent of undergraduates from IIT Ropar were recruited from the five branches of BTech it offers. Only Computer Science and Engineering placed all its students.
The tables below show the branch-wise percentages of students to get job offers out of those who registered.
IIT Ropar Placement By Branch (In %)
| | |
| --- | --- |
| Branch | Registered Students Placed |
| Computer Science and Engineering | 100.00 |
| Electrical Engineering | 80.77 |
| Mechanical Engineering | 73.58 |
| Chemical Engineering | 76.47 |
| Civil Engineering | 52.63 |
IIT Ropar Average Annual Salary
IIT Ropar did not share the maximum or minimum annual salary packages for each BTech programme but disclosed the average annual salary package.
In 2021, the overall annual average salary was around Rs 12 lakh per annum.
IIT Ropar: Average Annual Salary
| | |
| --- | --- |
| Branch | Average Salary (In Rs Lakh) |
| Computer Science and Engineering | 18.85 |
| Electrical Engineering | 12.85 |
| Mechanical Engineering | 10.2 |
| Chemical Engineering | 9.9 |
| Civil Engineering | 9.22 |
Also Read | IIT Patna Placement Report 2020-21: Placement Rate Rose 17% Despite Covid-19
IIT Ropar Placement: Recruiters
In 2020, the number of companies to participate in campus jobs increased by more than two-and-a-half times from 2018 numbers.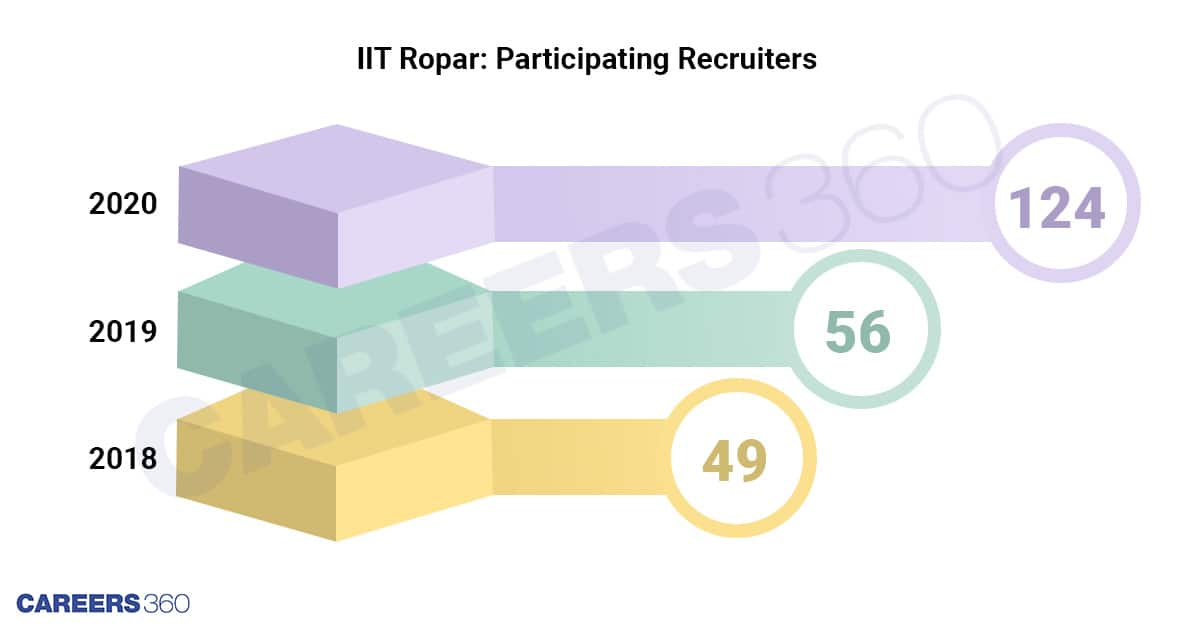 IIT Ropar: Participating Recruiters
The increase in the number of participating companies was despite the chaos and uncertainties caused by the Covid pandemic.