A generation born with gadgets at their disposal and screens all around, all of us as parents, educators, and socially responsible adults must keep ourselves abreast with the impact of digital screens on our children and youth. A couple of decades back when we referred to screen exposure and control, it most certainly referred to the TV time, and the various measures parents needed to take to ensure limited exposure to the same. We are all aware of the multiple gadgets and screens that the growing up generation is exposed to now, and the impact of modern technology on youth. The digital revolution and easy accessibility have eased our living in inconceivable ways. This has also meant that the conveniences have penetrated across age barriers and the devices are as easily (and perhaps also necessarily) available at the disposal of children and the youth as they are to the adults.
The pandemic has increased our dependency on gadgets even further. The physical distancing and lockdowns have been bearable largely due to the ease of communicating over digital devices. With schools also moving to the online space, the time spent in front of the laptop screen has increased even further. Research has demonstrated that this kind of unlimited, unhindered time spent with devices isn't doing much good to the developing brain.
Impact Of Excessive Exposure To The Screen
Eye Damage- The physical impact includes multiple kinds of eye damage, some of which are weakening of eye muscles, dry eyes, eye fatigue, and in some cases even leading to need for vision correction. There are established neurological ramifications of excessive time spent on the mobile phone.
Diluting Quality Of Relationships- The excessive use and dependence on virtual content and gadgets impact social relations, family interactions, leading to stunted development of empathy, potential exposure to unsafe content and games, the potential for addiction, reduced sensitivity, increased violence, and impact on creativity. The distancing from the real world and moving into virtual reality is concerning psychologists today more than ever before.
Deprivation From Boredom-The ages five to fifteen are formative in terms of development of morality, social interactions, template for friendships, trust, as well as stimulation and entertainment. It is as important to be bored and unstimulated as it is to enjoy, learn, and be entertained. These periods of low activity, or boredom give rise to creative ideas, help the development of fantasy, while most importantly preparing us to listen to our thoughts, and spend some unstimulated time with our own selves. Sadly enough, the constant access to devices is leading to the extinction of the valuable experience of boredom. The car rides, the wait, the anxious moments are all being filled with mindless scrolling on the phones and consuming the inexhaustible content on social media. Instagram has become the new meeting place - to check out people, make friends, catch up with trends and showcase the perfect snippets from our own lives.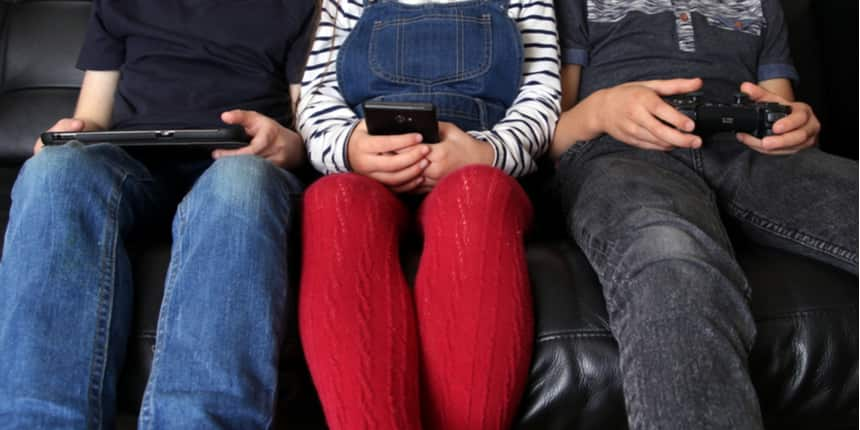 Helping Your Child Minimize The Harmful Effects Of Gadgets
We understand that the gadgets are here to stay, that the clutch of the social media on the young minds will only become stronger, that the internet is an essential tool for communication and interaction, that these screens have changed the meaning of entertainment forever, that looking outside the window or chatting with the physically present co-passengers are no longer the exciting things to do on journeys. What should we do to reduce the negative impact of modern technology on human life and make sure we are using the new resources, and not becoming captive to gadgets? Here are a few tips to navigate through these fast-paced changes.
Develop An Insight
Mobile phones, laptops, iPads, televisions are all requirements and perhaps necessities in today's age. Are we using them more than required? Is the dependency increasing? Keeping an ongoing understanding of what the gadget is fulfilling for the individual and reflecting on it will help conscious use. Try to create insight in the user about the excessive use – constant checking of the phone or mindless scrolling, habitual binge-watching.
Quantify The Use
Have a realistic estimation of how much time is being spent on the gadgets. Instead of using phrases like, "You've been online/on your phone all day!", it's best to help the user know how many waking hours are being spent on the gadgets. This has been made easier by apps that help track and eventually aim to reduce screen time.
Reading From The Printed Paper
Whenever possible, make it a habit to read the written word from paper. Don't stop the newspaper, encourage some books in the travel bag, textbooks and essential readings are best in print. The printed paper helps build concentration and the possibility to interact with the text in a non-digitized manner.
Enhance Writing Skills
The handwriting is suffering, and so is the knowledge of grammar and spelling. The exercise of putting pen to paper encourages cognitive development, thinking, and the development of fine motor skills. It is also an activity that allows for mindful expression.
Encourage Expression Through Other Media
Help children develop the ability to express themselves through various media. Encourage conversations – use emotional words wherever required. Other means could be dance, theatre, painting, etc. that allow the child to express themselves.
Clean Gadget Breaks
Keep some time at various points in the day that are completely gadget-free. During these times, there should be a complete break from mobiles, television, and any virtual gaming. Meal times, physical play time, bedtime could all be made gadget-free zones – primarily to encourage undistracted involvement in offline activities, and mindful attention.
Encourage Physical Activity
A commitment to at least one hour a day, to involve the children in anything physical is both healthy and therapeutic. This hour could be an indoor activity such as yoga, stretching, or outdoor engagements such as cycling, skipping, games, or just walking/jogging.
Unplugged Entertainment
As a family and parent, make it a routine of fun for yourselves and the children that isn't online. Video games, gadgets, television are all very stimulating – but consistent efforts need to be made to keep some entertainment that is not online. Board games, conversations, singing/dancing together, group games, reading, creating could all be various ways in which children may be taught to spend some time and have fun.
Be A Role Model
Children learn faster and better what they see than what they are told. As we encourage them to use their phones and gadgets less, we must be mindful of our own usage. Observe your own pattern of excessive usage, try to be completely present with the children when conversing or teaching them. It is also important to have gadget-free family time on a daily basis, to ensure there isn't a negative impact of modern technology on youth.
Make Online Time Productive
Encourage children to use the gadgets in a productive manner. There is clearly immense power and value of modern technology in the world, being available with a click of a button and the safety of being able to contact your loved ones at any point of time, and from anywhere. There is a lot to be gained and learnt from all that is available in the digital revolution.
This article spoke precisely about the possible negative repercussions of using gadgets/screens too much, while also acknowledging their inevitability. In the end, it is about how careful we are as individuals in the use we make of our resources. Limited involvement in the virtual world, and thoughtful utilisation of the screens can help students make the best of online learning while keeping its harms at bay.
Dr. Surabhika Maheshwari is Assistant Professor of Psychology at Indraprastha College for Women, Delhi University. She has more than 20 years of extensive experience in academics and practising psychotherapy.