There is no easy way to write about a topic as vast as this – there are many books, workshops, sessions, discussions on communication with your child. I will try and present some salient ideas in the write up here, focussing on creating a language and atmosphere where communication is encouraged between the parent and the child.
Defining Communication, In The Context Of Parents And Children
We, as parents, often misunderstand communication to be largely concerned with, especially in the context of our children, saying things in a way that children understand them. Let us closely look at the meaning and aims of communication – it is not just what you are saying, but also what the other, in this case, the child, is understanding, and also what you are listening to. We must understand that communication does not stop at the speaker – in fact, it includes the speaker, the listener, the message, the language, the content and most importantly, what is being understood as well as the feedback. It's clearly, then, an active process between at least two people.
Some typical scenarios between a parent and child's attempt to have a conversation end with, 'You will never understand!', 'You are not listening to me!', 'The other children/other parents don't behave like this,' 'I don't want to talk about this.' This article is being written for the parents, and I will focus on the agency of the parent for the moment, but it is equally important to address this gap in communication via both ends – the parents and the children need to learn to talk, listen, and understand each other, so that we can speak freely and aim to be understood.
Questions Parents Must Ask Themselves
Communication doesn't begin when we start talking to our children, the central impact on the process of communication is of our attitudes and assumptions around it. We assume that children should listen, and even before that we assume that they are not going to listen. There are some important questions that we must ask ourselves -
"Do we talk freely?"

"Am I able to understand my child?"

"Do we look forward to talking to one another?"

"Am I mindful of my child as an individual?"
There is substantial literature and research on how children learn to communicate using a complex framework of words, syntax and rules, that is, the process of language acquisition. There is an important subtext here. Though our children and we may know the language well, that's not all that is required for communication.
Parents Must Allow Sharing Of Emotions
Understanding child behaviour starts by developing a space to share emotional experiences. I have often observed that families do not really have a language for sharing emotions, as if there is actually no language for it, and the underlying assumption is that it's weak to feel, and that it is your personal struggle to make sense of your emotions. We, as parents, must actively nurture and model the ease to communicate our feelings, creating an environment in the family where we can talk to each other about anger, love, sadness, and all that we are experiencing in our emotional worlds. Precisely, we need to strengthen the channels for interpersonal communication within the family.
Encourage Talking About Emotions
Learning to communicate our emotions is perhaps just as important as language acquisition. Understanding child development is important if we are to teach our children the skill and language for emotional expression – talk to them about what is making them irritable on a particular day, allow them to explore their expressions for sadness, talk to them about your emotions and how you deal with them – all of this will ensure the creation of a language and space, where communicating in tough times becomes possible. It is also in these times of developing language and interpersonal communication skills, that we as parents learn the patterns and expressions our children tend to use to express themselves.
Allow Your Child To Be Vulnerable
Much like the complexity of the emotional landscape, emotional expressions may also not always be direct, so you must allow the child to discover what is really being felt and experienced. Being comfortable with this vulnerability and exploration will encourage them to communicate freely with you. We don't need to always insist that they need to 'get a grip' or 'get over' what they are going through – letting them 'feel it', 'flow with it' and 'immerse themselves' is just as important. And while they are going through an emotionally charged phase – be there with and for them – assure them of the humanising potential, and of the strength in vulnerability.
See Your Children As Individuals
The best communication happens in an environment of mutual respect and trust. Sometimes our biggest hurdle as parents is our inability to see our children as distinct, independent human beings and to respect them. Parents assume their children to be extensions of their own selves, sometimes compromising on the development of the individuation process in children. To be able to see our children as individuals, we need to understand them as separate from ourselves – people (maybe small in age and experience) who have their own identity, their needs, desires, difficulties and experiences. We must value this individual as a unique being, someone who may not necessarily only be a reflection of their parents. This belief in their uniqueness will allow us to create a space for their unique experiences and expressions.
A solid, reliable interpersonal communication system is not built in a day – it takes time – sometimes years to develop trust, understanding child behaviour, and most importantly, understand the 'language' that encourages sharing.
The Power Of Listening
The stage is set and the basics are in place – and yet the moment something difficult occurs, there seems to be a distance in our communication. How to negotiate a breach in interpersonal communication? How to encourage sharing both simple and complex experiences? How to go about understanding child behaviour and the needs of our children? The central concept here is 'listening'. It may sound simple – like there isn't much to learn here – we just have to listen. Most often we are perhaps hearing, but not listening.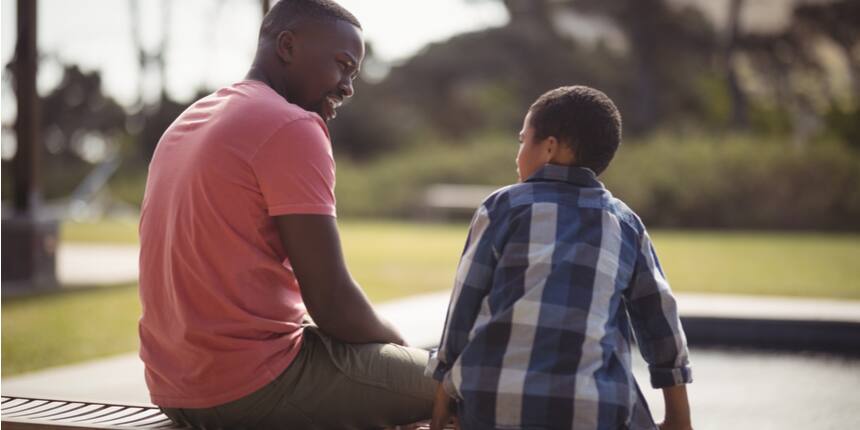 Listening To Children
Listening involves paying attention to what is being spoken – the use of words, the sense that they carry; it is the process of meaning-making – understanding what is being communicated, and paying close attention to what is being said, through channels other than spoken language alone. Listening also involves understanding child behaviour and body language. As parents, we need to know that children are trying to share with us all the time, they are trying to tell us in words and behaviour all that they are going through, and it is up to us how well we tune into this language and listen. Engage with your child, at all ages, and through all kinds of communication.
Tell them that their sharing is important to you – not just in words, but by paying attention, by keeping some time out on a daily basis to just chat together, by keeping aside your work when they say they want to talk, by creating small rituals of communication.
Be Honest About Your Difficult Emotions
What I also want to highlight here is a difficulty that comes up, despite our best efforts, when the child is going through something significant, and may not have all the strength, the understanding and the language (by language here I just don't mean the words and the syntax, but I mean the ability to talk about it) to communicate their experience. It's important in such times to reassure the child of your presence, to be honest that you may not be able to grasp all of it fully, but that you promise to be there with them and may be able to understand it together.
It may get difficult to see your child go through a painful emotional experience, but remember not to be in a rush to resolve it quickly, or to tell them to get over it. It's important to go through these experiences. Check-in with them often, offer to do things together – go for a walk, cook a meal, watch a film, or simply just be together. Allow children the space to approach you and talk to you – have various media of communication open – be it talking, emails, writing a note, or WhatsApp-ping.
The spoken word is understood better if we can accurately interpret the intonation – the tone and the manner in which it is spoken. It is essential to pay attention to this as much as the contents of what is being spoken.
Understand Non-Verbal Communication
The other important part of interpersonal communication is paying attention to the body language – the eyes, the gestures, the posture, etc. while the child is trying to say something. Sometimes, it's these cues of non-verbal communication that do all the 'talking'. As parents, we are often more than familiar with the typical non-verbal cues used by our children and understand their meaning well.
But, we must be astute to pick up disruptive non-verbal communication, changes in patterns of behaviour and eye contact. All of these are significant expressions of the internal world. While we may be all too eager to talk to our children, we also must allow them privacy, space and time to share at their convenience and comfort, and at all times ensure that they are assured of our support, presence and love.
Mistakes That Parents Often Make While Communicating With Their Children
I cannot end this without flagging off the most important mistakes we make in our communication with our children - expecting children to have a perfectly clear understanding of what they are feeling or going through. They may really be confused, not trying to lie or keep things from you, but just taking time to figure things out. Keeping tabs on all their conversations with friends, their diaries, checking their phones etc. actually destroys trust and also creates a false sense of safety in children, thinking that you know everything.
It's best to be honest with our children regarding our own limitations and to reiterate often enough that you trust them - both in action and words.
The other common agent of disruption is when parents routinely trivialise what their children are going through. Try and see the children's experiences from their perspective. It may be silly, too small, insignificant for you, but be careful to not use these expressions. They are trusting you in a vulnerable moment. So live the experience, and give the children the space and comfort they are seeking.
Parents also grow as their children do, so it is natural for even parents to falter sometimes. However, when trying to strengthen interpersonal communication with your child, what is important is the effort you put in, your openness to change, and your desire to create a bond of mutual trust and respect with your child. Everything else, eventually, will fall in place.
Dr. Surabhika Maheshwari is Assistant Professor of Psychology at Indraprastha College for Women, Delhi University. She has more than 20 years of extensive experience in academics and practising psychotherapy.