Every parent dreams to see their child develop unique strengths and talents, become proficient and accomplished at them, and derive joy from such pursuits. This earnest wish, however, may also come with a momentous responsibility - to identify those special interests and predispositions at the right time, give them the nurturance, support, and encouragement necessary for growth.
As parents, our knowledge and understanding of 'talents', and 'creativity' may come from our own childhood experiences of school and growing up. And so revisiting our own limits and filters through which we view the world can be an important first step in this process. When asked, we can very competently name broader areas of extra curricular activities we'd like our child to engage in, and talents we'd like to see in them. But is that view adjusted for the possibilities and options available to today's generation? Is it free from biases that you may have about your child pursuing particular extra curricular activities, hobbies and passions, or projections of your own interests and longings?
Talent, Types Of Intelligence, And Character Strengths
The term 'talent' may often conjure up an image of a creative, inherent skill that a child may naturally possess, and parents may find themselves actively looking for something extraordinary in their children. This approach can lead to missing out on the tremendous untapped potential that the child may be holding within. So what should parents be looking for instead of natural talents?
Each child is unique and may display unique tendencies and predispositions based on their unique cognitive profile. Harvard psychologist Howard Gardner suggests that there are eight different types of intelligences, and there is merit in keeping them in mind when observing children's interests - does the child love reading and telling stories? It may be worth exploring this further and introducing other activities that form part of such linguistic intelligence, like learning a language, or writing. Does the child love acting or using their body to express themselves? We may be looking at bodily-kinesthetic intelligence here, and can help the child explore this further by encouraging them to take up similar extra curricular activities like athletics or dancing. Such an understanding helps us group and categorise activities based on the inclinations and intelligence we notice, and help the child discover their own talents and interests. Similarly, there's logical-mathematical intelligence, musical intelligence, spatial intelligence, intrapersonal intelligence, interpersonal intelligence, and even naturalistic intelligence.
It is also extremely meritorious to help the child cultivate their character strengths. When we think of strengths, we instantly think about 'skills' or 'abilities', however, character strengths are inner positive traits that are morally valued. Sense of humour, leadership, a strong sense of fairness, honesty, forgiveness, social intelligence, self-regulation, kindness, zest, and love are all character strengths, which, if recognised and cultivated, can help the child build confidence, higher self-esteem, and a stronger sense of self over time.
Help Your Child Find Their 'Flow'
Often, our parameters of judging whether a child is talented or is excelling in a particular field are the achievements of external rewards - first prize for the best painting, or poem, or essay, or a 100m race, the best debater of school, or the best actor of the theatre club (We also sometimes find comfort in consolatory certificates of participation). Since the labels of 'first' and 'best' become such an obvious indicator that our child has found their true talent and passion, we miss checking if they feel intrinsically rewarding as well. Intrinsic motivation is what determines whether the child would continue with the chosen activity over a long period of time or not. And how can we know that? While engaging in extracurriculars, does the child often forget to eat or drink, or miss responding to you when you call because they are so deeply engrossed? Do they seem inherently focussed and undistracted, with no temptation for any reward waiting for them at the end of the activity? If yes, this is a state to look out for and is called "Flow" in Positive Psychology.
In Flow, a person may become so deeply immersed in their chosen activity that they lose their sense of time, space, and self, and come out feeling deeply content. They perceive their skills to be good enough to match the challenge at hand, creating personal goals as they attempt to overcome this challenge. (One may see these outward signs while the child is watching tv or engaged in something passive on the phone or other devices, however, this is not flow, unless the child is actively engaged and uses some personal skills to match a challenge or goal.) Children can find flow in a range of extra curricular activities, even those that may not fall into the conventional category of 'creative activities'. Reading, writing, gardening, playing an instrument, singing, dancing, public speaking, playing a sport, painting, building a project, creating or conceptualising something, exploring an idea in their head, or even taking a focussed interest in fixing a broken remote control are all extracurricular activities examples that can induce a state of flow.
What makes this state so rewarding? According to flow research, the brain is producing five very important performance-enhancing neurochemicals - norepinephrine, dopamine, anandamide, serotonin and endorphins during the state of flow. So at the end of the activity, we feel deeply content for having completed a challenge, or goal, and may not be looking for an external prize or award for it. We can help children find flow in activities by encouraging them to keep away from distractions like phones, tv, or other technology while engaging in the activity so that full immersion can be experienced and enjoyed.
Understand Why They Give Up An Interest
Many times parents spend on expensive instruments, sports equipment or art paraphernalia, only to find that the child wants to give up the activity after a few days or weeks. It's natural to feel angry and frustrated at the money wasted, and see the child still unsure of what they want. But this is the time to be patient and show they can talk to you. If our response is dismissive, they might never turn to us with uncomfortable emotions, and never give us a chance to honestly help them. Sometimes socio-emotional factors can act as hindrances, and it's important to understand what's bothering the child. Are they feeling shy, or being teased by other children? Are they feeling unsure or underconfident of their own abilities? Are they feeling demotivated because of an unengaging mentor or tutor? Are they feeling bored and unstimulated?
Help Them Change Their Relationship With Boredom
Children tend to shift from one activity to another, often looking for something that would interest them and lead to enjoyment. And because unwittingly, we give such a high priority to the feeling of 'joy' or 'entertainment', we might want to run away at the slightest hint of 'boredom'. Children, sometimes born with inherent talents for art or music or a sport often fail to pursue it because they don't feel passionate enough, or get bored very quickly.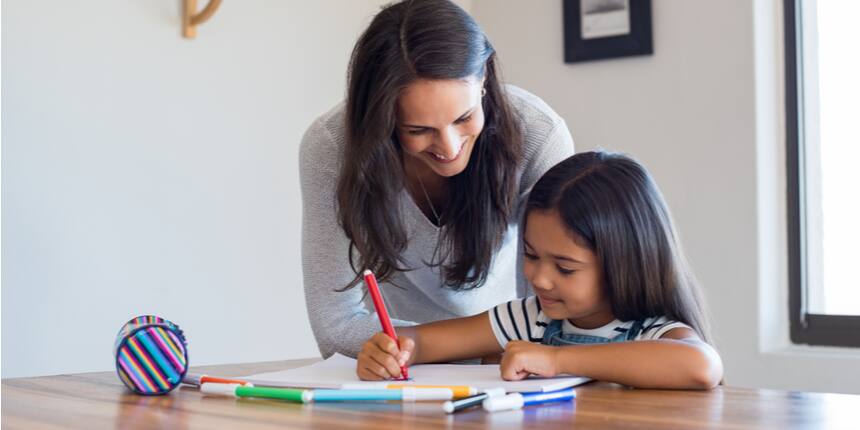 Helping Children Change Their Relationship With Boredom
We understand emotions as signboards, and decide how to act in a situation based on how we feel, which works for us in most situations - but boredom and passion are tricky ones. Feeling bored isn't always an emotional sign that we are demotivated, or have lost interest, and must now stop the activity. It can simply mean that our skills may be exceeding the challenge that particular day, and we need something more stimulating. It could be a phase when we are developing mastery through repetition, and that phase can feel mundane. Similarly, passion may not mean that we enjoy ourselves every single day, but having a larger sense of why we have taken up the activity is important to remain committed to one's chosen extra curricular activities. Many children lose interest at this point and decide to quit the activity they very enthusiastically took up. This is the point to step in as adults, and help children change their relationship with boredom, which comes with repetition.
To excel at an instrument one might have to practice playing the same sequence of notes repeatedly, faltering many times before a sweet melody can be heard, mastering a dance form may require hours of practice in a week, sometimes of the same posture and sequences, and sports and athletics may require immense training involving, once again, a repetition of the same fitness routine, perhaps every day. An important aspect of changing our relationship with boredom is understanding that we can introduce our personal challenges to a situation to make them fun and motivating (and even induce a state of flow!). For example, if one needs to run 5 warm-up rounds of the playground every day as part of training, creating your own personal challenge could involve introducing a time goal for yourself, and aiming to better your own timing.
Help Them See It As A Process
It can also be helpful to guide the child to see if they find, in their talents and pursuit of co curricular activities, meaning that can anchor their sense of identity in life. It can be difficult for the child to make sense of how an activity or interest fits in their life, if they see it as an isolated engagement they spend a few hours in, and not a process of becoming someone. An important step can be sharing with them life stories and biographies of great people who have achieved excellence through grit and perseverance, and how boredom, sacrifice, and hard work, as unenjoyable as they may seem, form an inevitable part of mastery and success in any field. The road to excellence can be isolating, but helping them develop a tolerance for frustration and failure will go a long way in building a strong character.
Helping our children in this way gives them the space and a fair chance to understand these nuances and challenges of excelling at something and deciding for themselves. And yet, if they choose to give up and quit that interest, we must allow them to do that without any judgement.
Creating A Safe Base For The Child
Every child, even into their teenage and adulthood, sees their parents as a primary base from which they can venture out, experiment, and explore their environment. If this base feels safe, a child feels more confident, high on self-esteem, and more self-assured. He or she inherently feels secure in the knowledge that if they fail or make mistakes, they can always return to their safe base, without any judgement, or harsh punishment. According to research in attachment science, parents who display such 'secure attachment styles', provide an unspoken confidence to their children, encouraging them to take bolder risks in exploring their full potential.
This doesn't mean adopting a lenient style of parenting, but simply being comfortable with seemingly contradictory tasks - providing a safe base for the child but also encouraging them to be independent and explore, having high expectations from the child, but also being understanding of mistakes and failure, encouraging the values of perseverance and grit, but also being open and non-judgemental when the child expresses the feeling of wanting to give up and quit.
Encouraging agency and volition within a structure of values is one of the best ways to help the child feel confident in exploring their best talent and interest in extracurriculars.
Saloni Chaudhary is a counselling psychologist and mental health educator. She works with Reboot Wellness, Gurugram.