Traditionally, internships have been looked at as exploratory initiatives students take up in college. However, with the industry becoming increasingly dynamic, demanding, yet accommodating, more and more students in high school are considering doing internships, such that they are able to discover themselves better and make an informed decision about which course and career option they want to choose for themselves in the future. Let us first understand what exactly an internship is.
What Is An Internship: An Idea To Begin With
Internships are work opportunities to gain hands-on experience with organisations. Typically, an intern performs tasks that are similar to those in a formal job. Interns usually work in the office with other employees, clients/customers, and/or other interns. Internships are like trainings, and could last anywhere between a few days to a few months, depending on the suitability of the intern and the organisation. These could be paid or unpaid. There is usually a supervisor or manager who assigns tasks to the intern/s and overlooks their performance.
Internships give the same onboarding experience as is typically given to an employee joining the organisation. They amp your skillset, put you ahead on the road map, and also give you a competitive edge when applying for colleges, universities, other internships, and future jobs.
If you are thinking why an organisation would offer an internship to a student with no experience, here's your answer - It's a chance for organisations to build brand awareness in youth and develop a talent pipeline for the future to attract hires.
Internships are the 'try on' part of one's career. They offer an opportunity to head start your journey on the professional front, early, and in time.
Internships are often an avenue to learn and earn! The benefits of pursuing internships could be better understood by categorising them broadly, into 'personal growth' and 'professional growth'.
Let's dive deeper to further understand the various benefits of internships for high school students.
Benefits Of Internships: Personal Growth
Personal growth is a constant, internships offer students a chance to introspect and understand their strengths and weaknesses. These are valuable insights that would help you begin your professional career.
Learn About Yourself
Our idea of 'self' is constantly challenged in a workspace where we are pushed out of our comfort zone. For example, you may think you are a good communicator, but, during your internship, you might realise that you face issues in articulating and voicing your ideas in a group.
Such perspectives provide an insight into what you should be working more on, and also what your strengths are. With this awareness, you are likely to better use your strengths in the future, and work on your weaknesses such that they eventually become your strengths.
Learn To Deal With Pressure
With classes, assignments, quizzes, different societies, participation, taking care of laundry, food and other utilities, socialising, meeting the demands of college, and being the 'it' person can be tough. Working in a professional environment is likely to teach you the skills and help you discover the intrinsic resources you need to multitask and handle pressure.
Learning Soft Skills
Skills like persuasion, collaboration, creativity, team building, adaptation, and self-advocacy are all learned in a professional setup. Working with individuals coming from different backgrounds and cultures, and having different thought processes, helps to develop skills to manoeuvre things to your advantage. Also, it would help you to develop the confidence to face people and situations better.
Professional Growth
Professionally, internships offer the opportunity to solidify your goals and your idea of your future. It's imperative to constantly upskill yourself to stay ahead in the competitive job market.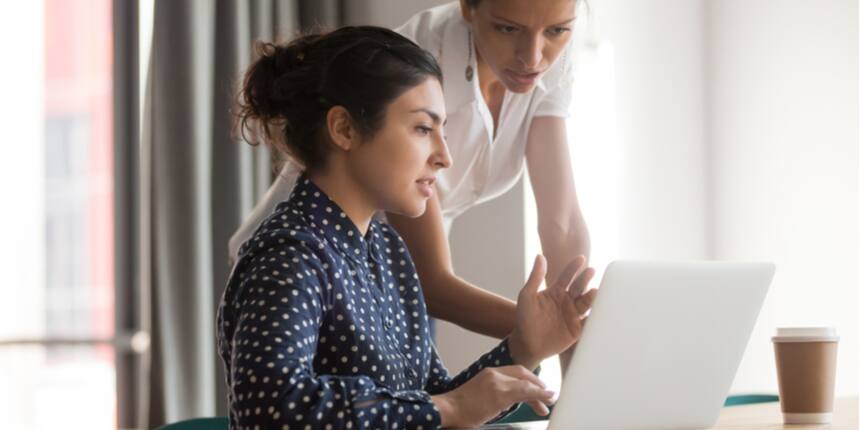 Internships help you shape your idea of your future.
Opportunity To Explore And Choose
Internships give a fair idea of the field you are inclined towards. They give you a glimpse into the future – what the future might look like for you as a working professional. Also, internships give you hands-on experience in various fields without requiring you to commit to one, thereby helping you make an informed choice about the career path you eventually get onto. Precisely, internships help you make more satisfying career choices.
For instance, let's say you are a student studying commerce subjects in high school. Pursuing short internships in different areas such as digital marketing, accountancy (you may intern under a practising CA and observe what their job entails), finance, coding, and the like, is likely to help you figure out what makes you feel more intrinsically inclined towards it. This awareness of yourself is likely to help you choose a course in college that you would enjoy.
Theory Into Practice
In the competitive job market, a lot of emphasis is placed by organisations on the practical application of what is being taught in the classroom. Internships play a vital role here as they offer a chance for you to put what you learned in theory into practice. This is why an increasing number of colleges are now developing curricula that promote such practical learning among their students.
Network, Buddy
Internships are a wonderful chance to meet new people, interact with people in different professions, and learn. Such connections often go a long way when you need guidance, support, and want to apply for a job in the future. Organisations often hire individuals who have already worked for them, for they already understand their work culture, and would easily adapt.
Give You An Edge
Completing an internship in high school will definitely dazzle up your college application, resume, portfolio, both in India and while applying abroad. Having practical work experience makes you stand out, and is likely to attract the eyes of a recruiter, hiring manager, or college admissions office. It shows you are motivated, dedicated, and genuinely interested in learning.
Becoming a Professional
Internships are your first step into the real world where you'd be spending most of your adult life. Each experience you take from an internship will help you in your future college and job interviews. Resume building is also a skill that will be learnt early on.
Learn And Earn
If you are lucky, you might get paid monetarily, in addition to being paid in experience and learning. Also, if you have an internship experience beforehand, chances of getting paid in your next internship can be multifold.
What Might Be The Pitfalls
It might not be a cakewalk to find internships while you are in high school, since a lot of companies only hire interns who are in college. However, as we said earlier, the industry is beginning to accommodate high school students as interns, and so, with relatively little more effort, you are likely to find good internship opportunities for yourself. You will have to put in more effort via your resume and cover letter, such that they demonstrate your genuine interest in what you wish to learn and experience.
Once you find a suitable internship for yourself, you may feel that you are not being assigned 'concrete' work, or that you are not making a significant contribution to the company. However, you must remember that as a high school student, you are not yet an industry expert in any field, and thus, this opportunity is meant to help you explore. So, keep your eyes and ears open while you are at the office, and observe how the people around you work, what approaches seem to hit targets, and what makes targets miss. These learnings will go a long way with you in your career.
Internships in high school show that you have in you the drive to explore beyond the confines of the classroom, and learn on the field. Look at them as an investment you make for a satisfying career. In a piece coming soon, we shall talk in detail about some internship search tips for high school students. The time to start is now. Be early and catch the right fish for yourself!
Parisraja Bajpai is an organisational psychologist, with extensive hands-on experience in talent acquisition, talent management, employee counselling, employee engagement, training and development. She is currently heading the HR department at Nexstgo.