Chemistry is one of the most scoring papers in the National Eligibility cum Entrance Test (NEET), having a weightage of 25% out of three subjects – Chemistry, Physics and Biology which, in turn, includes Zoology and Botany. Considering the high NEET cut-offs in recent years, every single mark scored bears huge importance.
The NEET is conducted by the National Testing Agency (NTA) for admission in all medical colleges in the country. The NEET examination is intensely competitive, which is reflected in its high cut-offs. In the last five years, the NEET exam duration was three hours and the paper carried 720 marks.
To ace NEET 2022, it is important to know the exam pattern and then to formulate a suitable strategy. Many concepts are repeated every year, which a student cannot afford to lose out marks on. Hence, the importance of being familiar with NEET previous years' questions. An analysis of the past five years', including NEET 2021 Chemistry questions, gives you an idea of the difficulty level of the questions and the topics which are the most important from the exam perspective because questions from them keep being repeated. Many of these NEET Chemistry topics are covered in Class 11 and Class 12 Chemistry NCERT textbooks.
Here's an analysis of the questions asked in NTA NEET Chemistry paper in the last five years, including NTA NEET 2021 paper, to help you prepare for the next exam.
NEET Syllabus: Chemistry
A total of 230 questions came in the Chemistry section of NEET question papers over the past five years. Here's the distribution of Chemistry questions by chapter in the NCERT Chemistry textbooks.
NEET Chemistry: Chapter-Wise Weightage
| | |
| --- | --- |
| Chemistry Chapter | Questions Asked |
| Some P-Block Elements | 24 |
| Chemical Bonding And Molecular Structure | 14 |
| Aldehydes, Ketones And Carboxylic Acids | 12 |
| Coordination Compounds | 12 |
| Equilibrium | 12 |
| Hydrocarbons | 12 |
| Thermodynamics | 12 |
| Chemical Kinetics | 10 |
| Electrochemistry | 10 |
| Biomolecules | 9 |
| Organic Chemistry - Some Basic Principles And Techniques | 9 |
| Structure Of Atom | 9 |
| Organic Compounds Containing Nitrogen | 8 |
| Alcohols, Phenols And Ethers | 7 |
| Solutions | 7 |
| d and f Block Elements | 6 |
| General Principles And Processes Of Isolation Elements | 6 |
| S- Block Elements ( Alkali And Alkaline Earth Metals ) | 6 |
| Solid State | 6 |
| Basic Concepts Of Chemistry | 5 |
| Redox Reactions | 5 |
| States Of Matter : Gasses And Liquids | 5 |
| Surface Chemistry | 5 |
| Chemistry In Everyday Life | 4 |
| Environmental Chemistry | 4 |
| Polymers | 4 |
| Classification Of Elements And Periodicity In Properties | 3 |
| Hydrogen | 3 |
| Haloalkanes And Haloarenes | 1 |
It is apparent from the table that the maximum number of questions are from these chapters: Some P-Block Elements, Chemical Bonding and Molecular Structure, Aldehydes, Ketones and Carboxylic Acids, and Co-ordination Compounds. These chapters account for 62 questions out of 230, which is nearly 27%.
NEETPrep: Physical, Inorganic, Organic Chemistry
The discipline of Chemistry is divided into three parts – Physical, Inorganic and Organic.
The tables below list the most important concepts along with a number of questions asked from each in the last five years.
NEET Exam Paper: Physical Chemistry
| | |
| --- | --- |
| Concept | Questions |
| Spontaneity Criteria With Gibbs energy (G) | 5 |
| First Order Reaction | 4 |
| Solubility and Solubility Product | 4 |
NEET Exam Paper: Inorganic Chemistry
| | |
| --- | --- |
| Concept | Questions |
| Molecular Orbital Theory | 4 |
| Anomalous Behaviour of Boron | 3 |
| Chemical properties of Group 16 elements | 3 |
| Magnetic Moment (On the basis of VBT) | 3 |
| Bonding in Metal Carbonyls | 3 |
| Shapes of Molecules | 3 |
NEET Exam Paper: Organic Chemistry
| | |
| --- | --- |
| Concept | Questions |
| Preparation of Aldehydes | 3 |
NEET Exam Syllabus: Physical chemistry
Now, let us understand the concepts, one by one.
Spontaneity Criteria With Gibbs Energy (G)
Gibbs energy is a thermodynamic concept which is used to calculate the maximum work which can be performed by a closed system.
To understand this, we define a function called Gibbs function as G= H-TS
The change in Gibbs energy for reactions under conditions of constant temperature and pressure, ∆Gsys can be written as:
∆G = ∆H − T∆S
∆G gives a criterion for spontaneity at constant pressure and temperature.
(i) If ∆G is negative (< 0), the process is spontaneous.
(ii) If ∆G is positive (> 0), the process is non-spontaneous.
(iii) If ∆G is zero, the process is reversible or at equilibrium
This set of equations is important as the question might ask the spontaneity of a reaction in which the values of temperature, enthalpy change and entropy change are provided. This concept is also relevant for the chapter "Surface chemistry" in relation to the adsorption process.
First Order Reaction
The First Order Reaction is the most important topic in the chapter "Chemical Kinetics". Every year, there is a question in the NEET exam from this chapter.
The equation, which represents first order reaction is [A]=[A]oe−kt which is helpful in solving numerical-based questions. There are questions related to half-life and assessment of the concentration of a reactant at various time periods which can be solved with the help of the above equation. Understanding the First Order Reaction also helps in understanding Radioactivity, which is a part of Chemistry as well as Class 12 Physics.
Solubility And Solubility Product
Solubility and Solubility Product is a topic in the chapter "Ionic Equilibrium". Solubility Product is another equilibrium constant which depends on the temperature. It is represented by "Ksp". The value of Ksp increases with increasing temperature and vice versa. The NEET exam often includes questions which are related to the value of Ksp and the effect of temperature on its value for a chemical reaction. Understanding the Equilibrium chapter is important to understand Ionic Equilibrium.
Inorganic Chemistry
Here are the most important concepts in Inorganic Chemistry.
Molecular Orbital Theory
Molecular Orbital Theory belongs to the chapter of Chemical Bonding which deals with the structure and properties of different molecules. MOT is an important concept because there are certain characteristics of a molecule which are not explained by Valence Bond Theory (VBT) and can only be explained by MOT. According to the MOT, formation of orbitals in bonding between atoms of a molecule follows the LCAO linear combination of atomic orbitals (LCAO) method.
In LCAO method, two types of orbitals are formed:
Bonding Molecular Orbital
Antibonding Molecular Orbital
To solve NEET questions, understanding the MOT is required which helps in calculating Bond Order, Nature of Bond, Bond Length and Magnetic nature of a molecule.
There are many questions every year on comparison between different molecules vis-a-vis these properties.
The following concepts are of utmost importance to solve most questions related to this topic.
Bond order = ½ (Nb–Na), where Nb and Na = number of electrons present in the bonding and the antibonding orbitals respectively.
The bond length decreases as the bond order increases
Anomalous Behaviour Of Boron
Boron belongs to the Group 13, also known as Boron Family, in the modern periodic table of elements. The chemical and physical properties of group 13 elements follow a trend but Boron shows properties which are in contrast to other elements in the family due to its small size and absence of d-orbitals in its valence shell.
Let us discuss the anomalous properties of the Boron.
The maximum covalency of Boron is 4 due to the absence of d orbitals, while in other elements of the same group, maximum valence can be beyond 4 because of the presence of d orbitals.
The oxides and hydroxides of Boron are acidic in nature, whereas the oxides and hydroxides of the other elements in the Boron Family are amphoteric in nature.
Questions from this concept in NEET are factual in nature. Typically, candidates are asked for reasons for such anomalous behaviour.
Chemical Properties Of Group 16 Elements
Group 16 elements generally known as chalcogens or Oxygen Family includes Oxygen, Sulphur, Selenium, Tellurium and Polonium. Chemical property refers to the property shown by an element in a chemical reaction which is driven by properties like variable oxidation state and trends in chemical reactivity.
Let us discuss some examples displaying the chemical properties of Group 16 elements.
Oxidation State: Group 16 elements exhibit a number of oxidation states. The stability of -2 oxidation state decreases down the group; Oxygen shows predominantly -2 oxidation states owing to its high electronegativity. Other elements of the Group exhibit +2, +4 and +6 oxidation states. The stability of +4 oxidation states increases down the group due to the inert pair effect.
Anomalous Behaviour Of Oxygen: Oxygen being the smallest in size and having high electronegativity shows anomalous behaviour. For example, the presence of a strong H-Bonding in H2O, not found in H2S, is explained by the small size and high electronegativity of Oxygen.
Questions from exceptions are asked directly.
Magnetic Moment (On The Basis Of VBT)
Calculation of Magnetic Moment in a coordination compound is a very important concept as questions from this topic are asked every year.
VBT assumes that the Metal-Ligand bond is formed by donating an electron pair to the metal atom forming a Coordinate bond. Ligands are classified into strong ligands like CN-, CO, and weak ligands like F-,Cl- and others.
Strong Ligands have a tendency to pair up the d-electrons of a central atom whereas weak ligands do not have that tendency. The complex formed by nner (n-1) d-orbitals is called the "inner orbital complex", whereas the complex formed by outer d-orbital is called the "outer orbital complex".
Magnetic moment can be calculated using the number of unpaired electrons in the central metal orbitals. For example, in case of [NiCl4]2- ion, the oxidation state of Ni is +2 having valence shell electronic configuration as 3d8.
As mentioned above, Cl- is a weak ligand and so, no pairing will take place in 3d orbitals of Ni. Vacant 4s and 4p orbitals combine to give sp3 hybridised orbital complexes with tetrahedral geometry. Given below is the depiction of how bonding takes place in the orbital. In NEET examination, finding of Hybridisation, number of unpaired electrons and more are asked.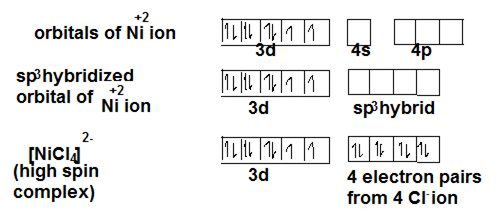 Bonding In Metal Carbonyls
Metal carbonyls are also known as Organometallic Compounds in which the Carbonyl group acts as ligand, donating a lone pair of electrons to the Central Metal in the Complex. Such Compounds are formed by many transition metal elements. In a Metal Carbonyl bond, both sigma and pi bond characters are present. Unconventional behaviour is shown by the metal carbonyl bond in which bonding is two-sided, involving the donation of an electron pair of the carbonyl molecule to the vacant orbital of the metal and simultaneously donating a pair of electrons from the full d-orbital of metal to the vacant antibonding π* orbital of carbonyl ligand. Here, a metal-carbon π bond is formed which is also known as Synergic bonding.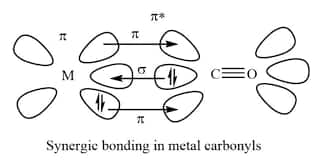 Shapes Of Molecules
The shape of molecules is predicted by the Valence Shell Electron Pair Repulsion (VSEPR) theory explained in the chapter on Chemical Bonding. The VSEPR theory considers the orientation of a lone pair of electrons and a bond pair in a molecule. There are various postulates of the VSEPR theory which guide the prediction of the shapes of different molecules.
Generally, the Steric number is used to predict the shape of a molecule which goes like this:
If VSEPR number is 2 shape will be linear
VSEPR number is 3, shape will be trigonal planar
VSEPR number is 4, shape will be tetrahedral
VSEPR number is 5, shape will be trigonal bipyramidal.
VSEPR number is 6, shape will be octahedral.
The shape of the molecule, when asked in NTA NEET, can be predicted by VSEPR number. Questions from this concept are usually easy.
Organic Chemistry
There is only one topic that has furnished most questions over the past five years. It is discussed below.
Preparation Of Aldehydes
The organic compounds that contain carbon-oxygen double bonds are known as "carbonyl compounds". Carbonyl compounds are of two types – aldehydes and ketones.
Compounds in which the Carbon of the carbonyl group is attached to at least one Hydrogen atom is known as aldehydes. Aldehydes are prepared by various methods, a few of which are listed below.
By oxidation of alcohol
From alkenes
Dehydrogenation of alcohols
Oxidation of methyl benzene, also known as Etard reaction.
Students must have these reactions at their fingertips in order to solve questions from this topic in the examination.
Solve more questions from the important topics listed here, do your own analysis and also formulate your own NEET preparation strategy based on where you are weak or strong. Previous year's questions can help you be better prepared for NEET 2022.
Download the NEET Chemistry E-Book for detailed explanation of important concepts of Inorganic, Organic Chemistry.