According to the National Medical Commission (NMC), there are 650 medical institutes in India which offer Bachelor of Medicine, Bachelor of Surgery (MBBS) degree. These medical institutes jointly come up with a total of 99,163 medical seats across the country.
On an average the intake capacity is around 153 seats per college. Tamil Nadu holds the highest number of medical colleges while Karnataka and Uttar Pradesh both hold the second highest number of medical institutes across the country. Around eight states have only one medical institute. Nagaland, Ladakh and Lakshdeep do not have any medical college.
Careers360 has analysed the data on the state-wise total number of medical institutes in India and their intake capacity. The article includes states with highest medical colleges, and a number of faculties who teach at these reputed institutes.
Also Check | 5 Challenges I Fought To Reach My Dream Medical School
Medical Colleges Across India
As per the NMC data, Tamil Nadu, with 71 colleges, has the highest number of medical colleges in the nation. Karnataka and Uttar Pradesh collectively hold the second spot in terms of highest medical institutes in India, with 67 colleges each. Maharashtra has 64, and Telangana has 42 medical institutes.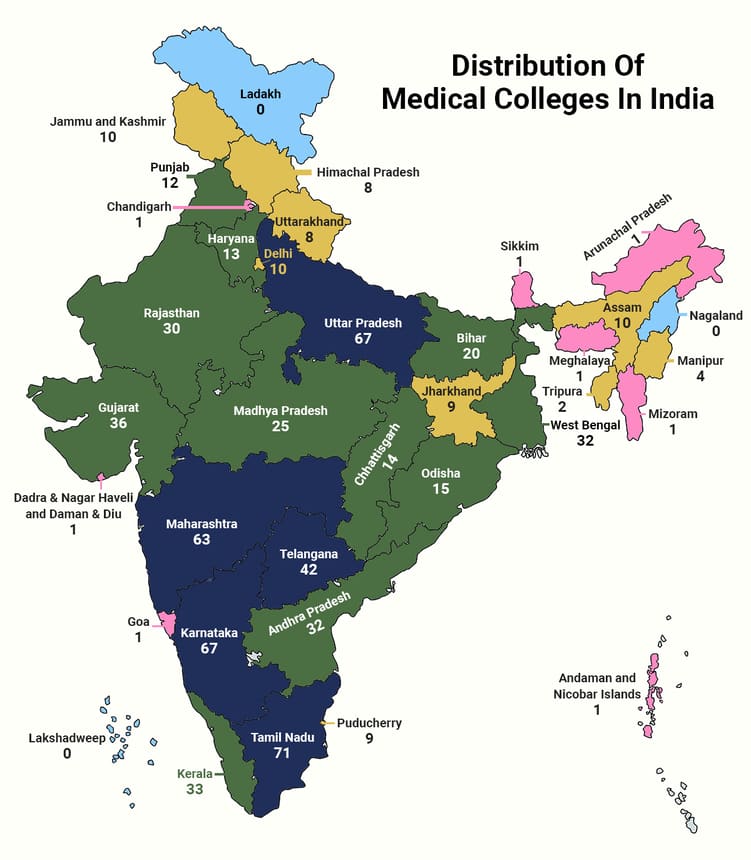 Medical Colleges In India
Also Read| Points To Look At While Choosing A Top Medical College
Seats v/s College Ratio In Top Five States
Although Tamil Nadu has the highest number of total colleges as well as number of seats, on an average it shows around 156 seats per college. Karnataka, with 163 has the highest number of seats per college.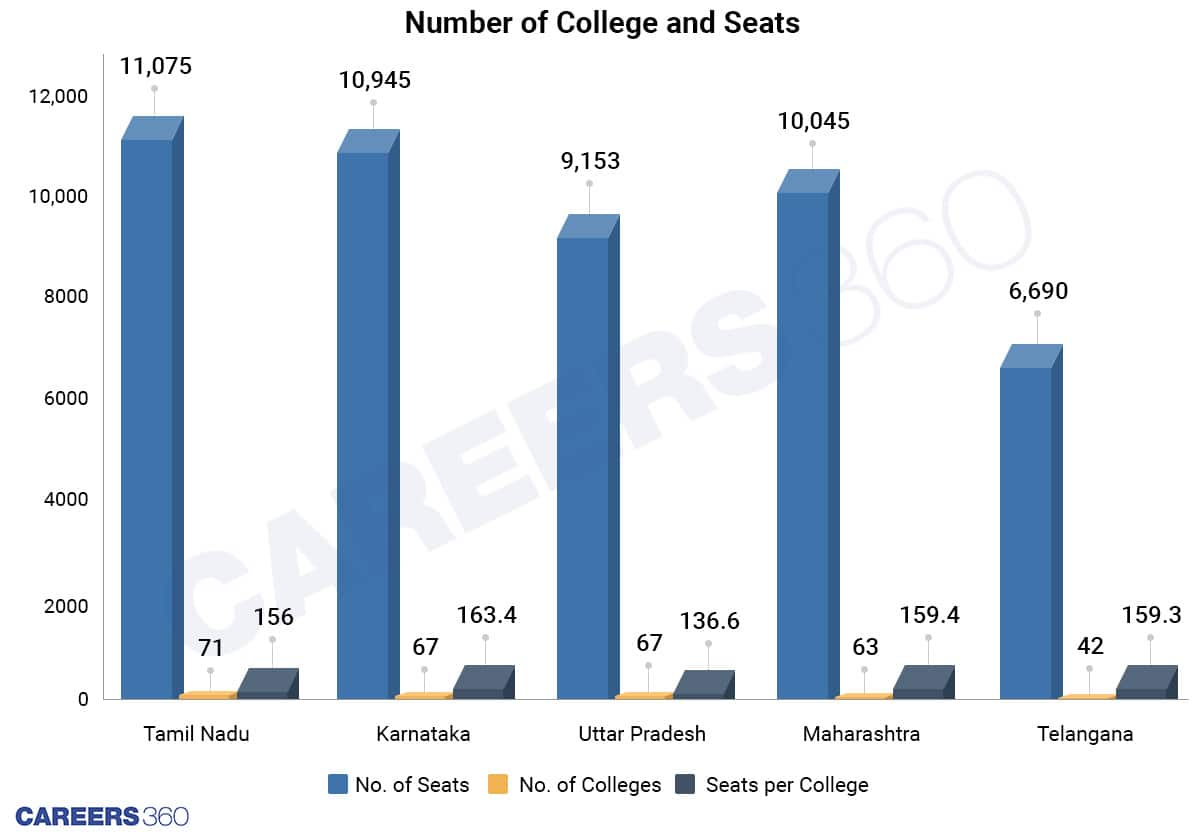 College and Seats
Also Read | NEET Rank Below 100000? These Colleges Will Still Give You MBBS Seat
Highest Number Of Faculties State-wise
Karnataka beats Tamil Nadu in terms of faculty numbers. Kerala and Andhra pradesh had lesser medical colleges as compared to Telangana but they had more faculties.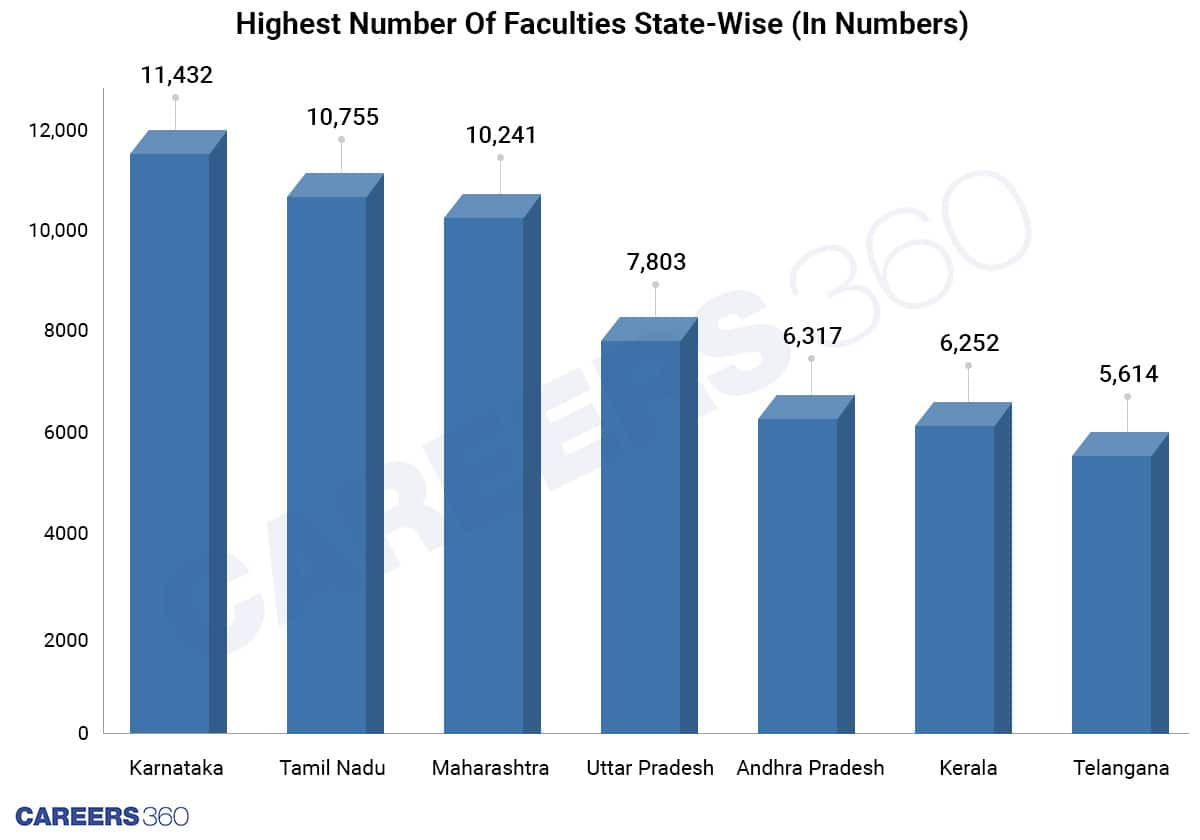 Top States: Faculties
Also Read| NEET Rank Below 100000? These Colleges Will Still Give You MBBS Seat
The five states, Tamil Nadu, Karnataka, Uttar Pradesh, Maharashtra and Telangana, together account for 47.7 per cent medical colleges and about 47.4 per cent of the medical faculties teaching in India.