The birth of a child is a joyous moment for families. They proudly share and celebrate their child's each step taken or activity done. As such, clicking videos and pictures for circulation on social media becomes a norm. But what is it that sometimes makes a child stand out from his/her peers? A trait called 'giftedness' – unique to an individual. Read on to know more about this fascinating ability.
Usually, people of all ages love to receive gifts, regardless of occassion. These gifts are materialistic and more often than not, an object of some kind. But what happens when a person is displaying the signs of a gift? It is a trait or ability beyond the typical level of functioning. This kind of gift is rare. Some examples of people who have displayed such gifts include Walt Disney, Einstein, Mozart, and S Ramanujan.
Also Read | Use These 4 Tips To Help Your Child Plan Their Career
Defining 'Giftedness'
Intelligence tests are used to measure our general mental ability and the resultant Intelligence Quotient (IQ) categorises us as having average, above or below average, high, or superior intelligence. An IQ of 130 or above is designated as 'giftedness'. It is a natural endowment in a person that is present from birth.
Characteristics Of A 'Gifted Child'
Let us further deep-dive into the characteristics of a gifted child.
Extraordinary Ability In A Sphere
A gifted child shows extraordinary ability in a particular domain or sphere. Parents and other family members start to notice such traits from an early stage of their child's development. Such children are also known as 'child protégé', usually evident in the display of certain talents in a highly-skilled manner. This can include playing a musical instrument, chess, or solving complex mathematical problems at an early age and at a much higher standard than one's peers.
High Drive For Achievement
Gifted children are also known to show a higher drive for achievement. They have remarkable perseverance despite failures or people ridiculing them. There is a dogged focus on their task which may even lead to social isolation and self-absorption.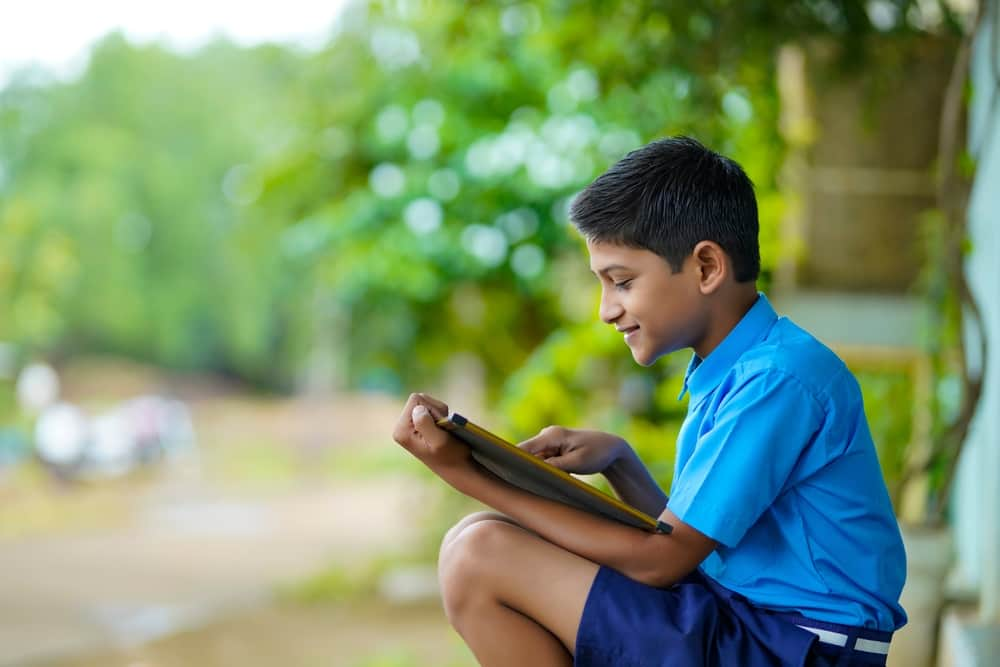 A Gifted Child Usually Displays A High Drive For Achievement
Unusual Temperament
Another feature of gifted children is being temperamental. They can get bored easily, throw tantrums, and have crying bouts on facing rejection by their peers. There is hypersensitivity in the form of restless energy, pent-up tension, and adjustment. Such children can suffer from low self-esteem if their peers engage in name-calling or bullying in school.
Signs You Should Look For
What are the signs that can you help you understand if your child is gifted? Here are a few.
Curiosity, which makes a child ask hundreds of questions
Imaginative play, which has them solving the world's problems as a superhero or inventor
Learning tasks quickly irrespective of difficulty levels
Elephant-like memory for names, numbers, words, music, places, incidents
Very well-developed speech and language and thus, efficient communication
Avid reading of books, magazines, encyclopedias, soaking-up knowledge
Constant hunt for stimuli- to do something which is of special interest to them. For example, solving complex puzzles, rubik cube, creating structures with Lego, dismantling and putting things back together
Originality of thoughts and ideas, which help in problem-solving
Sensitivity and keen observation of environment, prompting them to develop a special interest in plants, birds, animals
Attainment of developmental milestones, such as motor skills, coordination, balance, among others, well before one's age group
Should You 'Google' It?
With technology at your fingertips, Google becomes a go-to guru for all your doubts. Questions start to form in one's head upon noticing that the developmental trajectory of your child is considerably different from that of his or her age group. Additional feedback regarding your child's special ability coming in from the school and other family members, adds to your wonderment. So, where do the answers come from?
First, stop relying solely on information found online - it may yield you only a few answers or lead you to a path of confusion. With such a vast expanse of information present online, it is difficult to know right from wrong. It is important to factor in how scientific, true, or valid the information posted online is while searching for your answers.
Also Read | How To Help Your Child Nurture Their Mental Health
Seek Professional Help
If you notice your child has an exceptional talent or ability, the best way forward is to reach out to a trained psychologist to get a proper evaluation done. A detailed assessment with a combination of tests helps in identifying 'giftedness'. These tests measure intellectual ability, creativity, and academic achievement of your child. Additionally, such assessments can also help in determining the child's strengths, challenges, learning style, and educational needs. The process does not rely on mere hearsay but uses reliable and valid methods to come to a well-reasoned conclusion about your child's special ability.
Having a gifted child calls for special caring. If not nurtured properly, the talent or giftedness may get suppressed or remain unnoticed. As these children may display uneven development, functioning at high levels in one area and lagging behind in others, it becomes easier to neglect or overlook the talent or special ability.
If a gifted child's performance is not consistent, or out of sync with certain expectations, parents can become baffled at times. School grades fall, low motivation is displayed towards academics or sports and poor peer relationships become a norm for such children.
What started out as something phenomenal for a parent, becomes a problem with time passing as the child seems to squander their gifts. Hence, it becomes important to accurately understand the special ability of their child, instead of relying on casual diagnoses acquired via unverified or unreliable online information. Parenting needs to be positive and guiding to enjoy one's exceptional child and enable them to make the best out of their unique gifts.
Also Read | Identifying Signs Of Learning Disability In Your Child
Dr. Sanjana Seth is a Psychologist and Psychotherapist, registered with RCI, and holds more than two decades of practising experience with the healthcare organisations of the Armed Forces, as well as those operating as private. She is skilled in administering psychological assessments, providing therapeutic intervention and psychoeducation via talks, lectures, workshops, and literary articles. She has worked extensively for children with special needs, and has taught Psychology to students at undergraduate and postgraduate levels.