If you've reached here, you are probably making up your mind to get an education in the U.S. Apart from getting a global peer group, a variety of factors like globally recognised universities, large research institutes, top-notch technology and laboratories, and funding opportunities, make the U.S. a preferred choice for Indian students, who make 18% of the foreign student population. The U.S. has various types of institutions depending on your academic interest and the type of degrees you're looking for.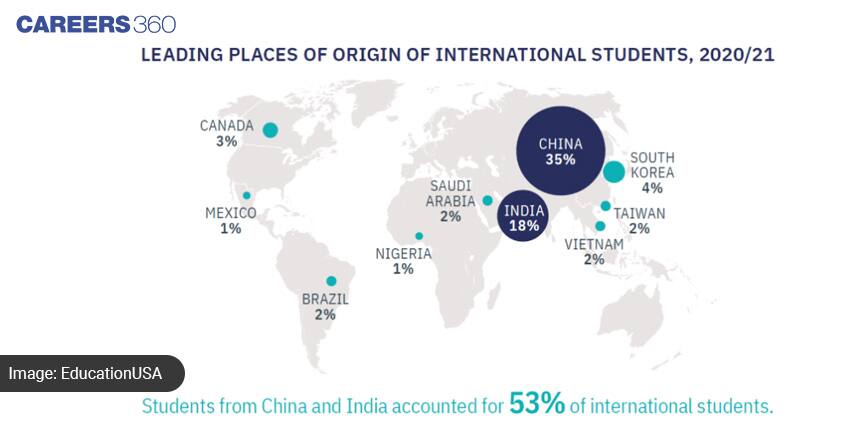 Source: Opendoors Report, IIE
Undergraduate And Graduate Degrees
The U.S. education system primarily has five types of institutions:-
Public universities
Private universities
Liberal Arts and Science colleges
Specialised institutions like conservatories and tech institutions
Community colleges
U.S. universities offer education at the undergraduate as well as graduate level. At the undergraduate level, a student can either pursue a two-year associate degree at a community college or a four-year bachelor's degree at a public/private college/university. Liberal Arts and Sciences colleges are either individual institutions or hosted within an institute or university which offers courses in the arts, business, technology, pure sciences, and more. At the graduate level, universities offer different masters', doctoral, and integrated programs.
These are basic characteristics of U.S. higher education. Let's discuss the facets that make the U.S. a gold standard for higher education and attract the highest number of international students to its shores.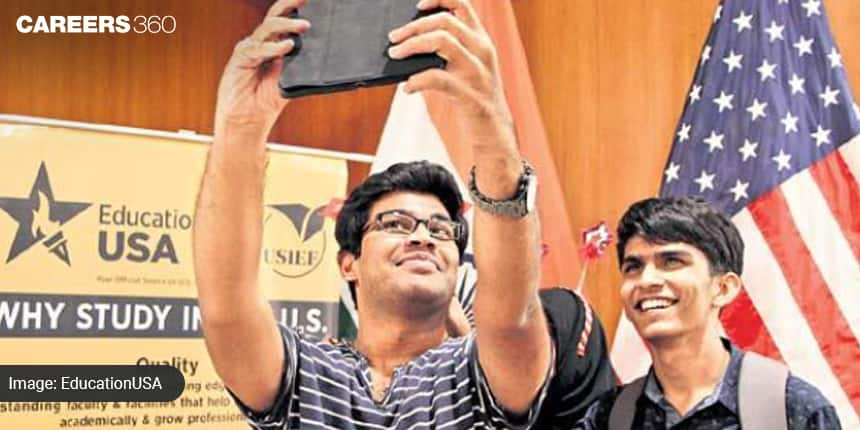 U.S. Universities Offer Education At The Undergraduate As Well As The Graduate Level
Flexibility And Choice
As an educational destination, one of the advantages of studying in USA is that it offers a wide range of programs at the undergraduate and graduate level. Students also get access to experienced faculty, labs with the most cutting-edge technology and also a chance to intern with or be guided by industry leaders.

The prime benefits of studying in USA for Indian students is that it offers a multidisciplinary and holistic approach towards education as students pursuing their education in such colleges or institutes are offered majors, minors and electives in Fine Arts, Social Sciences, Global Humanities, and so on. At the undergraduate level, you may even go undecided or change your major after enrolling into a course and studying it for some time. For instance, if you have selected Mathematics as your major and later you feel that you would want to pursue Physics instead, there are provisions for making a switch. In other words, the system is flexible and you needn't stick with the subject that you've chosen for your major for the entire duration of your degree. At the graduate level, the U.S. higher education system recognises that the knowledge of a field may require multidisciplinary and/or interdisciplinary education, research, and practice and it offers programs that combine multiple subject categories.
Funding
Funding international education is a major consideration point when selecting a county or an institution. It is important for students to carefully plan their finances as they decide to study and live abroad. Several U.S. universities provide funding to international students and you could approach the office of the department to find out about scholarships and financial aid which you might be eligible to apply for. Students can visit https://educationusa.state.gov/find-financial-aid to look for various scholarship and funding options at U.S. universities.
Practical Training Opportunities
The benefits of studying in USA for Indian students is that it provides a unique opportunity to receive Optional Practical Training (OPT) during or after completing your course. Students who are in the U.S. on an F-1 visa are eligible to apply for an OPT, a temporary work permit allowing students to gain practical work experience and gain a foothold into industry from academia. According to the Open Doors report, 914,095 international students enrolled at U.S. higher education institutions were on OPT in 2020-2021. If you avail the OPT before completing your course (pre-completion), you will be allowed to work part-time for 20 hours a week. If you avail of the facility after getting your degree (post-completion), you may work part-time for 20 hours a week or full-time for 40 hours a week.
Another advantage of studying in the USA is that you may also avail of the CPT (Curricular Practical Training) which is an internship offered as part of the curriculum. Typically available at the undergraduate level, the CPT is a paid training program directly related to your area of study.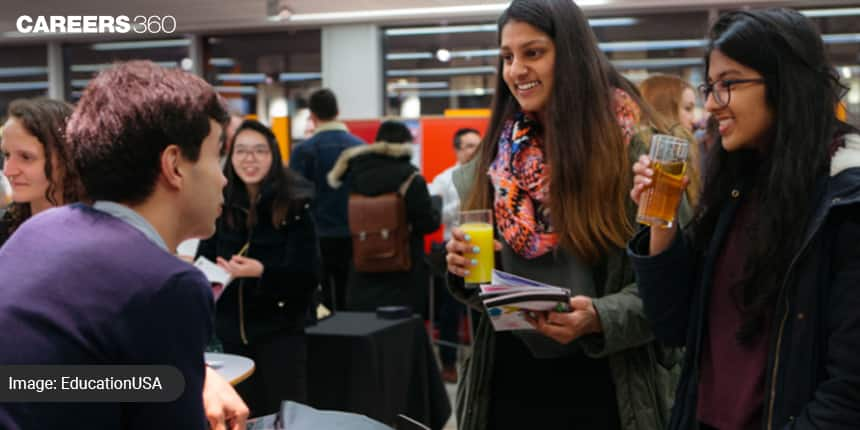 One Of The Benefits Of Studying In USA Is That It Provides A Unique Opportunity To Receive Optional Practical Training (OPT)
Affordable Pathways
The benefits of studying in USA for Indian students are community colleges which offer a wide range of programs like Psychology, Economics, Biomedical Technology, Biotechnology, Robotics, Laser Optics, Internet and Computer Technologies, and Geographic Information Systems. These are low-cost education options that offer two-year associate degrees after which you could transfer to a four-year bachelor's degree at a four-year institution.
Research
Another benefit of studying in USA for Indian students is that it is a great destination to pursue research as it offers cutting edge technology and research infrastructure at the college/university level. Statistically speaking, one-third of all doctoral degrees attained by research are obtained by students who have student visas. Research is also available at the undergraduate level at prominent universities like University of Chicago, University of Washington, Massachusetts Institute of Technology and more.
According to research published on the National Institutes of Health website, the federal research funding in the U.S. is now almost equal to the industrial research funding, which shows the intent of the country to support research. Approximately 65% of the total research and development spending now goes into research support, giving it a big boost.
Another Benefit Of Studying In USA Is That It Is A Great Destination To Pursue Research
Cultural Diversity
The U.S. hosts some of the brightest minds from around the world. Another advantage of studying in USA is that it makes for an atmosphere of great diversity and collaboration - a well-rounded combination and an excellent environment for academics and research. Every university has an office specifically dedicated to international students to promote cultural diversity. The Global Engagement Office at the University of Montana and the Dashew Center at University of California, Los Angeles are some examples of this. They organise trips, fairs, and events which the international students can take part in and enjoy, making for a truly international experience.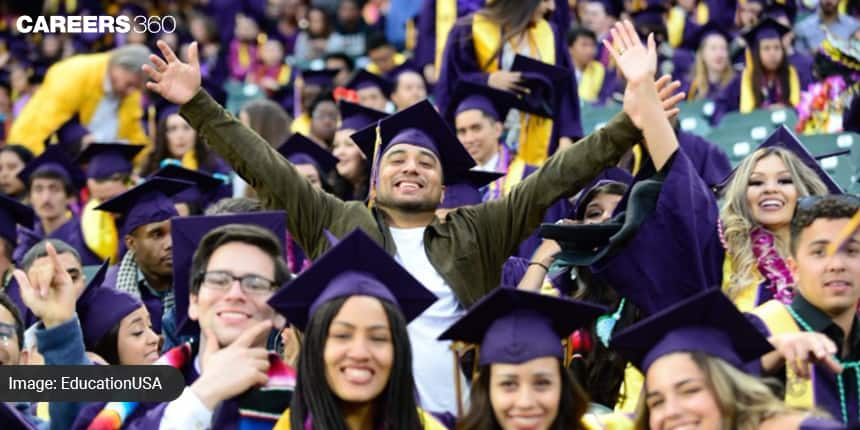 The U.S. Hosts Some Of The Brightest Minds From Around The World
Alumni Network
Almost every U.S. institution has an alumni network. Alumni networks can help build business connections, organise reunions, and bring former students, who then get into different walks of life, together. As a part of this community, you can also mentor current students or recent graduates, guiding them through their education and careers.
References
The United States of America and Scientific Research, Gregory J. Hather, Winston Haynes, Roger Higdon, Natali Kolker, Elizabeth A. Stewart, Peter Arzberger, Patrick Chain, Dawn Field, B. Robert Franza, Biaoyang Lin, Folker Meyer, Vural Ozdemir, Charles V. Smith, Gerald van Belle, John Wooley, Eugene Kolker PLoS One. 2010; 5(8): e12203, 2010 - https://www.ncbi.nlm.nih.gov/pmc/articles/PMC2922381/
The University of Chicago, College Center for Research and Fellowships - https://ccrf.uchicago.edu/international-research-opportunities
University of Washington, Undergraduate Research Program - https://www.washington.edu/undergradresearch/research-opportunities/summer/summer-beyond-uw/
Massachusetts Institute of Technology - https://www.mit.edu/research/
Opendoors - https://opendoorsdata.org/data/international-students/enrollment-trends/
University of Montana, Global Engagement Office - https://www.umt.edu/global-engagement/
Dashew Center for International Students and Scholars - https://internationalcenter.ucla.edu/
https://educationusa.state.gov/country/in
CollegeBoard, International Student Handbook, 2013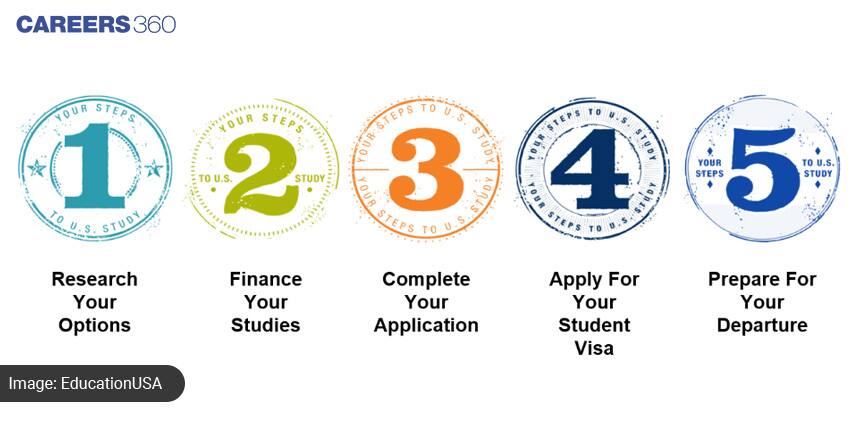 Source: Your Five Steps to U.S. Study, EducationUSAEducationUSA is a U.S. Department of State network of over 500 trained advisers operating from 430+ international student advising centers in more than 175 countries and territories. The network promotes U.S. higher education to students around the world by offering accurate, comprehensive, and current information about opportunities to study at accredited postsecondary institutions in the United States. EducationUSA helps students with guided advising on the application process. They have centers in New Delhi, Mumbai, Hyderabad, Chennai, Kolkata, Ahmedabad and Bangalore and look forward to assisting you and making your journey of studying in the U.S. fruitful and smooth-sailing.
Also Read | Things To Know Before Choosing The USA As A Study Destination