David A. Kolb created the Experiential Learning Theory (ELT), also known as Kolb's model, and published it in 1984. Here, Kolb said that through the use of experiential learning theory, it is possible to evaluate a person's abilities and job requirements in the same language and determine how closely they match. Kolb's experiential learning theory operates on two levels: a four-stage Kolb's learning cycle and four different Kolb learning style. In Kolb's theory, experience, perception, cognition, and behaviour are all considered holistically.
In 1984, David Kolb released his model of learning styles, from which he derived his Kolb learning style inventory. The internal cognitive processes of the learner are the main focus of Kolb's theory.
According to Kolb, learning entails acquiring abstract concepts that can be flexibly applied in a variety of situations. According to Kolb's theory, new experiences serve as the catalyst for the creation of new ideas.
Kolb (1984, p. 38) defined learning as "the process by which knowledge is created through the transformation of experience."
The Experiential Learning Cycle
The idea of Kolb's learning cycle describes how people actually gain knowledge from experience.
A four-stage Kolb's learning cycle that ensures the learner "touches all the bases" typically illustrates Kolb's experiential learning theory.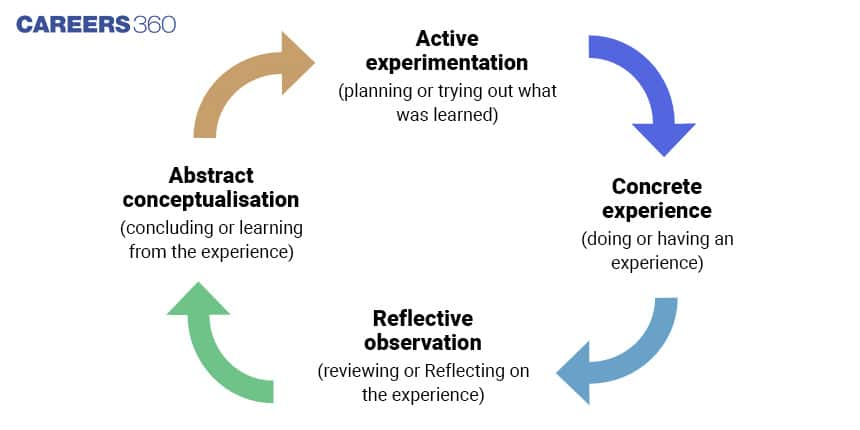 1. Concrete Experience (CE)-
The learner engages in a task or activity as part of a Concrete Experience (CE), which initiates the cycle. Kolb held that involvement is essential to learning and gaining new knowledge. A learner needs more than just reading or watching something in action.
This could be a novel situation or experience, or it could be a new interpretation of an old experience in light of fresh ideas.
2. Reflective Observation (RO) -
After undergoing the concrete experience, the learner considers this experience in the context of the task in light of their prior knowledge. It enables students to interact with others by asking questions and sharing their experiences. Communication is crucial at this point in identifying any discrepancies between experience and understanding.
3. Abstract Conceptualization (AC) –
At this point, the reflection sparks a fresh concept or transforms an earlier experience. The learner starts to classify concepts and attempts to draw conclusions. The learner begins to categorise ideas and make assumptions. During this process, the students compare their conceptual understanding and interpret the experience.
4. Active Experimentation (AE)-
This can be called the testing stage as the learners are again involved in the task to apply their conclusion to the new experiences. The learner tests out their concept(s) on the environment to see what happens. Therefore, experimentation is sparked by newly created or modified concepts. Learners are now able to analyse the tasks, make predictions, and make plans for the future based on the acquired knowledge.
Effective Learning
A person is said to have learned effectively when they have gone through all four of the stages in full:
Having concrete experience

observation of and reflection on that experience, that leads to the

the development of generalisations (conclusion)and abstract concepts (analysis), which are then

used to generate new experiences by testing a hypothesis in hypothetical future circumstances.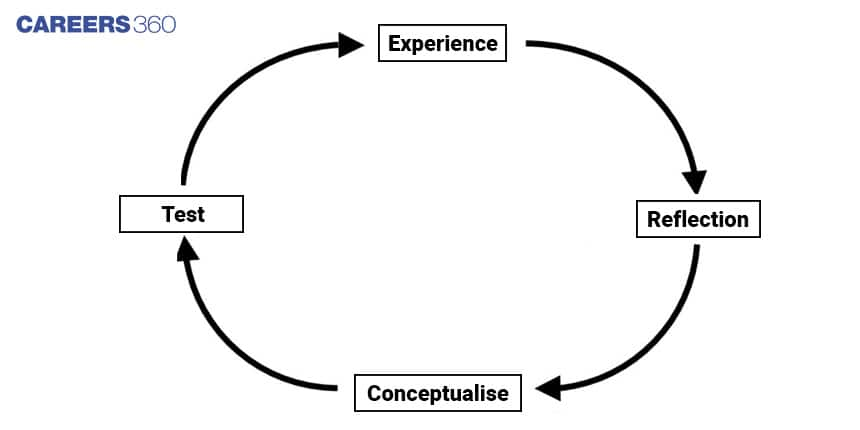 Kolb's Learning Styles And Experiential Learning Cycle
According to Kolb's learning cycle, learning is a multi-stage process, with each stage feeding into and supporting the next. Due to the cyclical nature of Kolb's learning theory, it is possible to start the cycle at any point and follow it through to its logical conclusion.
To make sure that learning has been effective, Kolb's learning cycle should then be completed. To acquire new knowledge, each stage must be completed because they are all interdependent.
Also Read| VARK Learning Model
Kolb Learning Style
Based on a four-stage Kolb's learning cycle, Kolb's learning theory identifies four different Kolb learning styles. According to Kolb, it is natural for different individuals to prefer a particular kind of learning style.
A person's preferred style is influenced by a variety of factors. The preferred style can vary depending on the social context, educational background, or fundamental cognitive makeup of the person.
Whatever factors may affect the style preference, the actual learning style preference is the result of two pairs of variables, or two distinct "choices," that we make. Kolb presented these variables as lines on an axis, each with "conflicting" modes at either end.
In a typical presentation of Kolb's two continuums, the east-west axis is often referred to as the Processing Continuum (how we approach a task), and the north-south axis is referred to as the Perception Continuum (our emotional response, or how we think or feel about it).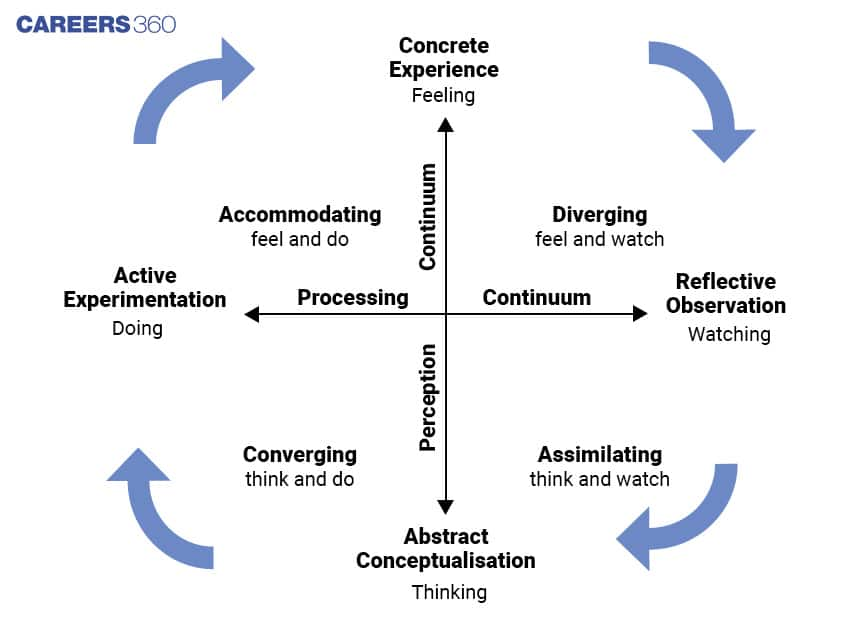 According to Kolb, we cannot simultaneously perform both actions on a single axis (for example, think and feel). These two conscious choices have an impact on the way we learn.
It's frequently simpler to understand Kolb learning style as a two-by-two matrix. Every learning method combines two preferred learning methods.
The matrix also emphasises the four Kolb learning style identified by Kolb as diverging, assimilating, converging, and accommodating:
| | | |
| --- | --- | --- |
| | Active Experimentation (Doing) | Reflective Observation (Watching) |
| Concrete Experience (Feeling) | Accommodating (CE/AE) | Diverging (CE/RO) |
| Abstract Conceptualization (Thinking) | Converging (AC/AE) | Assimilating (AC/RO) |
Kolb Learning Style Descriptions
Learning can be oriented in accordance with the preferred method when you are aware of someone's (and your own) learning style.
Everyone responds to and requires the stimulation of all learning styles to varying degrees; the key is to use the emphasis that is most appropriate for the situation at hand and the learner's preferred learning style.
The four learning styles identified by Kolb are briefly described below:
Diverging (Feeling And Watching - Ce/Ro)
These individuals have strong emotional and imaginative qualities, and they are able to look at actual events from a variety of angles, which helps them come up with a lot of creative ideas. They tend to gather information and use their imaginations to find solutions to issues because they are sensitive and prefer to observe rather than act.
Because these individuals perform better in situations requiring the generation of ideas, such as brainstorming, Kolb named this style "diverging." People with different learning styles tend to have broad cultural interests and enjoy learning new things.
They tend to be imaginative and emotional, have strong artistic abilities, are interested in people, and are deep thinkers. Divergent learners favour hands-on activities, instruction-based group work, open-minded listening, and receiving individualised feedback.
Assimilating (Watching And Thinking - Ac/Ro)
The assimilation learning preference involves a clear-cut strategy. More significant than people are ideas and concepts.
Instead of a realistic opportunity, these people need a solid, concise explanation. They are excellent at comprehending complex information and putting it into a coherent structure. From start to finish, they favour independent tasks.
For careers in science and information, the "think and watch" learning style is crucial. People with this learning style favour readings, and lectures supported by a variety of resources (audio, video, and graphics), exploring analytical models, and having time to consider issues.
Converging (Thinking And Doing - Ac/Ae)
Converging learners are capable of problem-solving and will apply what they learn to address real-world problems. They are less concerned with people and interpersonal aspects and prefer technical tasks like computer-based tasks, group projects, or worksheets with problem sets.
Finding real-world applications for concepts and theories is best accomplished by individuals with convergent learning styles. Finding answers to questions and resolving issues allows them to make decisions. They are open to new concepts and prefer to use their knowledge and critical thinking to come up with a solution.
Accommodating (Doing And Feeling - Ce/Ae)
The hands-on, accommodating learning approach is based more on intuition than logic. These people rely on the analysis of others and favour a hands-on, practical approach. They are drawn to taking on new tasks and challenges, participating fully in activities, making plans, and experiencing new things. They prefer activities that encourage independent thinking and exploration.
Instead of using logic, they frequently follow their "gut" instincts. People who have a "feel and do" approach are more likely to rely on others for information than to conduct their own research. The general population uses this type of learning frequently.
Educational Implications
Teachers could make use of both Kolb's learning cycle and Kolb's learning stages to evaluate the learning opportunities and learning provisions that are typically made available to students and to create more suitable learning opportunities and learning provisions.

Additionally, students can benefit from the application of the experiential learning cycle by identifying their less preferred learning styles and enhancing them.

Activities and resources should ideally be created in a way that takes advantage of skills from each stage of the experiential learning cycle and guides students through the entire process sequentially.