Most of the European countries speak French and that's why it is also one of the official languages of the European Union and the United Nations. The knowledge of French language can help you in getting good career opportunities. Moreover, if you are looking at studying in Europe then knowing French can be an advantage as you will be able to converse with locals and blend in easily.
To help you learn French, we have listed a few platforms that provide online French courses. The online French classes listed below will be extremely useful for you to ace the language. Apart from the paid online French classes, at the end, we have mentioned a few free French courses online platforms as well that provide personal tutors and language trainers who can be hired to learn French online.
Bon Apprentissage!
Udemy
Udemy is one of the largest online course providers. It has thousands of courses covering all disciplines ranging from arts, science to AI to astrophysics. Each course has different levels like- beginner, intermediate and advanced. Below mentioned table has the list of Udemy French courses offered by it that will help you learn French online.
Udemy French courses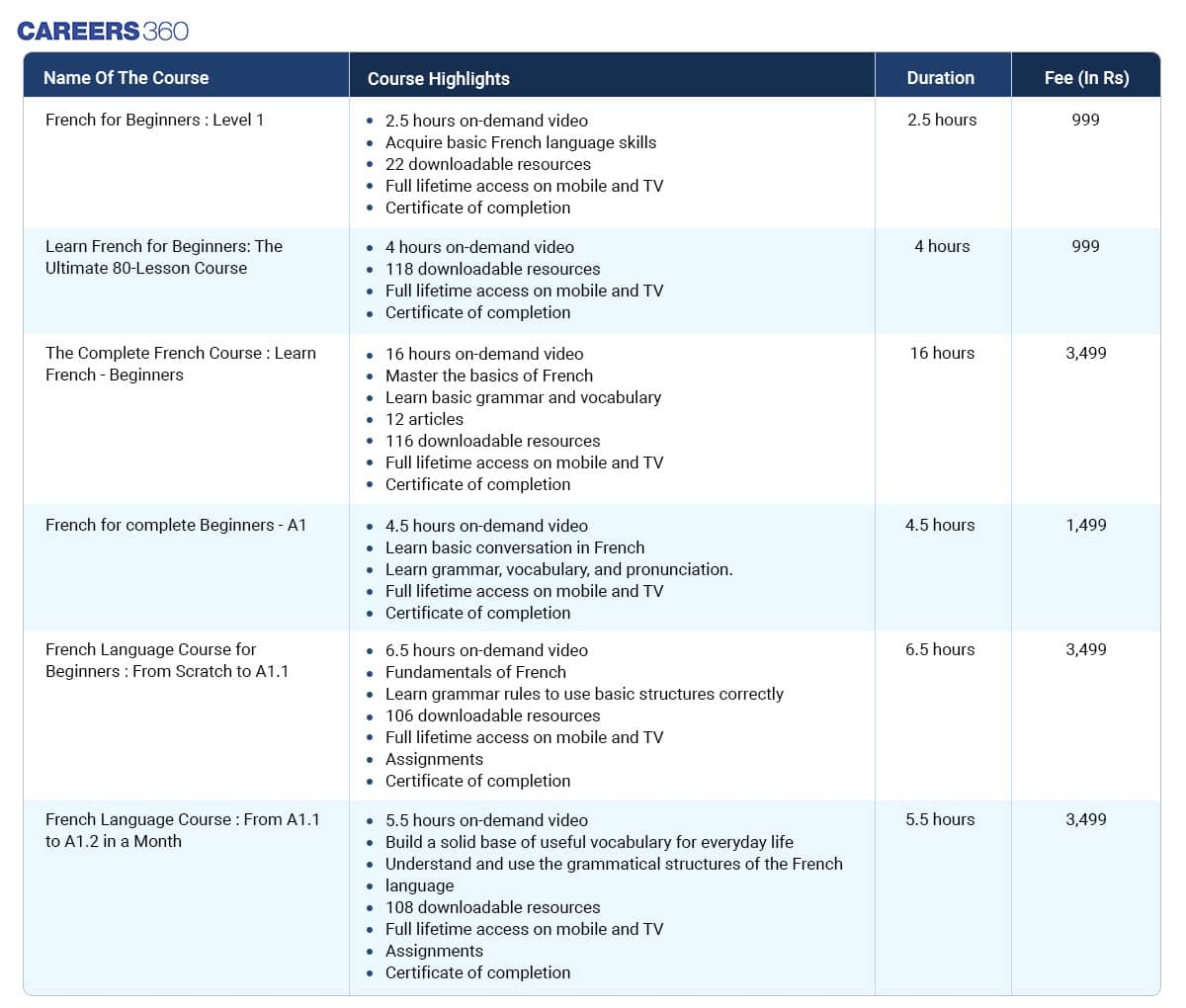 How to register - Go to the official link of Udemy for French language i.e., 'udemy.com/topic/french-language/' and select the course of your choice and register yourself to avail the course.
Also Read | Top Online Courses For You To Ace Mandarin
edX
edX is a US based online course provider. It has partnerships with a large number of highly prestigious world–class universities. The table below has the edX french language course. The edX french course mentioned in the below table is the intermediate level course.
edX French online course

How to register - Go to the official website of edX, find french courses and get enrolled.
Future Learn
Future Learn is a top digital education platform which offers many online certification courses covering a major set of subjects. The following table has the list of online French classes.
Future Learn French Courses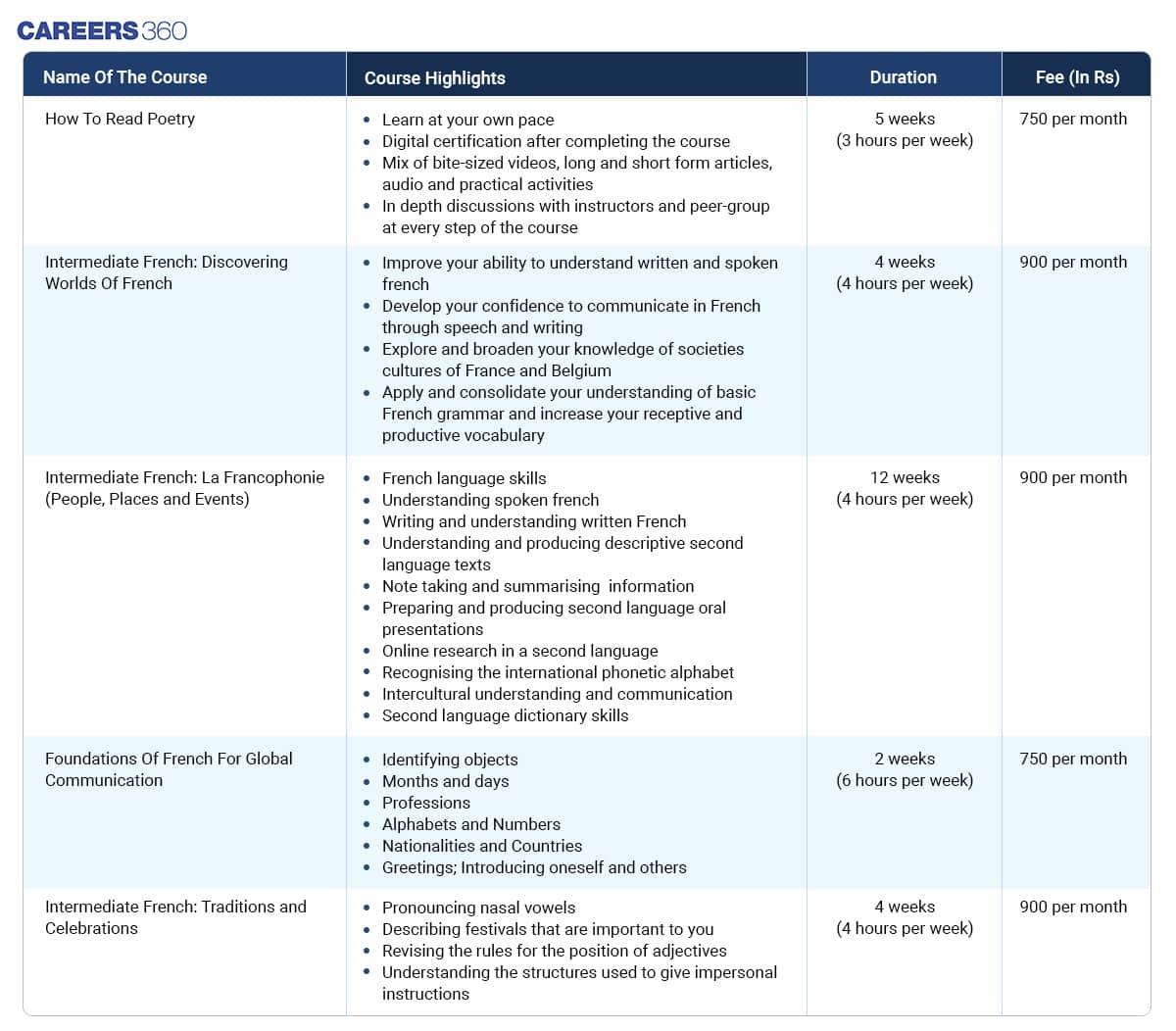 How to register - Visit the official website of Future Learn Viz. futurelearn.com. In the courses tab, find the French certificate course online and enroll your course of choice.
Also Read | Want Placement In MNCs? Take These Employability Tests
Pimsleur
Pimsleur is an online platform that provides language teaching courses and training programs for over 50 languages. The courses offered by it are app and web based with specially designed and programmed interactive learning and review tools to teach speaking, understanding and reading a language.
The following table shows the online French classes offered by it.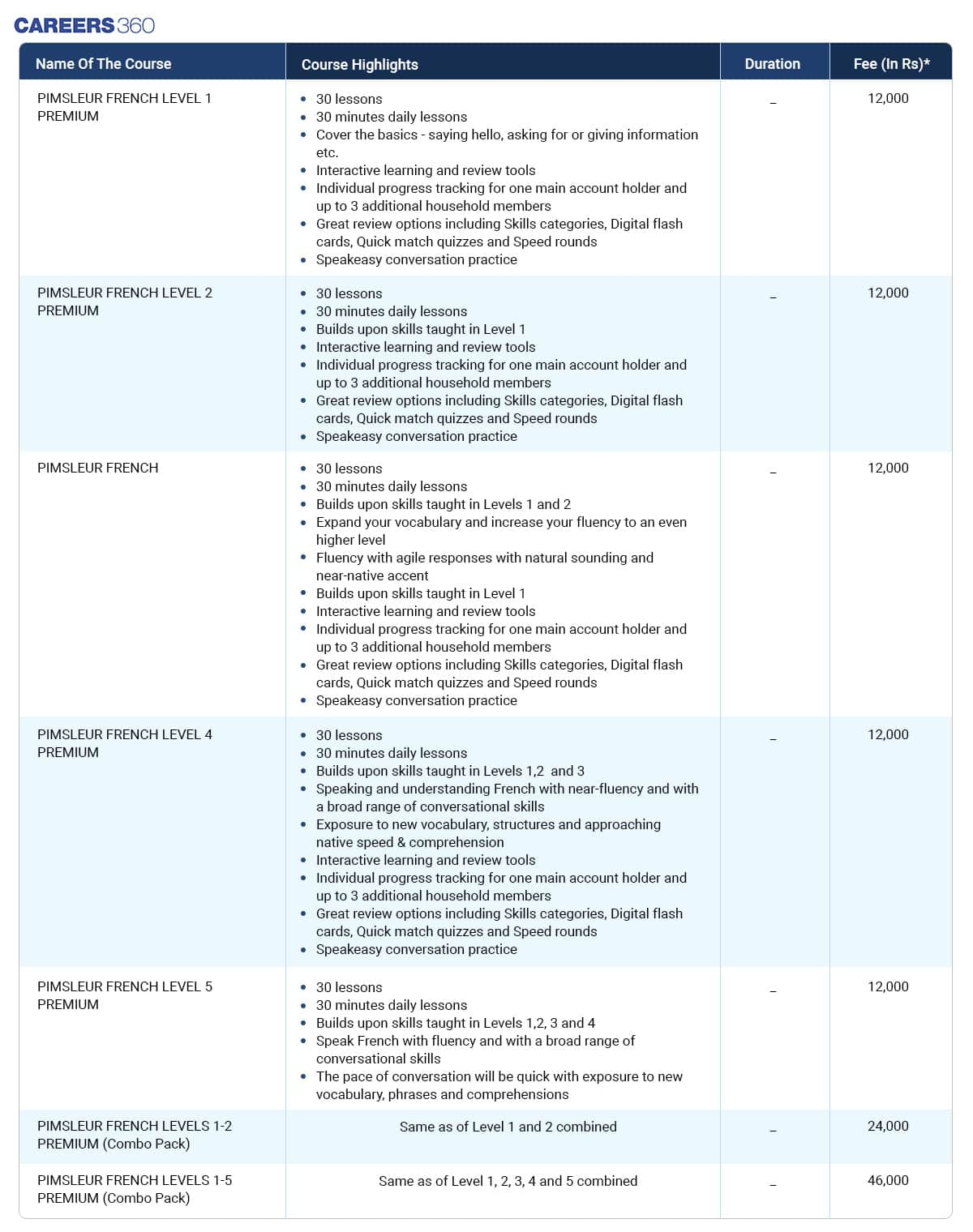 * The original fee is in Dollars and not Rupees, we have converted them into rupees for your better understanding. The course fee may differ depending upon the value of rupee in respect to dollar on the day you enrol in the course.
How to register - Go to the official link of Pimsleur i.e., 'pimsleur.com/learn-french/all-products' and enrol yourself as per the course of your choice.
Apart from the above-mentioned online platforms, there are many other platforms and websites that offer personal teachers to help you learn French online. Some of them also provide free French courses online. The basics of the French language can be learnt online for free websites like Coursera, Mondly, Thefrenchexperiment etc.
If you want to hire a personal teacher to learn French online then you can opt for websites like Preply, Urban Pro etc. You can easily hire an expert educator and get started with online French classes.