To be healthy is something we all aspire. Is good health only physical? Pumping iron, beefy body or the struggles for a size zero, the never-ending tussle for a perfect body seems to be all around us. Glitzy gizmos counting steps, suggesting diets and primping up one's looks- how healthy is it? The resultant outcomes of not reaching a desired parameter can be stressful, anxiety-provoking, and in extreme cases, a total loss of self-confidence and will to live. Physical and mental health go hand-in-hand. To quote the WHO, "There's no health without mental health". Read on to learn about the red flags around functioning and time to seek mental health therapy.
Red Flags To Notice
What are some of the signs that you should seek psychologists' help and go for mental health therapy.? Let us discuss.
Reduced Pleasure | A marked reduction in feelings of enjoyment is one of the first signs to become noticeable. The time a person spends in usual activities or with family and friends gets considerably reduced when going through stress, conflict, or an issue that is beyond their means of coping. Saying 'no' to everything and everyone becomes a norm in such cases. This is a sign to seek mental health therapy.
Social Withdrawal | If withdrawal, avoiding people, isolating oneself in one's own room for prolonged periods despite repeated attempts of the family members and friends to seek them out become evident, it might be a signal that one should seek psychologists' help.
Sleep Disturbances | If excessive sleeping, day-time drowsiness, or difficulty falling asleep start disrupting everyday functioning of a person, and this seems to continue for a few days at a stretch, it may be a good idea to seek mental health therapy.
Neglecting Self-Care | Neglecting self-care, personal grooming is often visible immediately but at times ignored by family or friends who think that the person is just being laidback. If this continues for a longer period and begins to bother the person themselves or those close to them, it may be a sign of needing mental health therapy.
Also Read | Self-Care Tips To Feel Happy And Rejuvenated
Disrupted Eating | Erratic eating habits, overeating or starving oneself, becoming too finicky about the food preferences also is a cause for concern. Following yo-yo diets, guilt pangs post food indulgences may be bothersome, too. Complaints of vomiting or irregular bowel movements, recurrent stomach-ache and bloating are the signs of an unhealthy Geri-Intestinal (GI) system which is directly linked to mental health.
Fetish With One's Body | Excessive gymming/exercising with a constant monitoring of weight and body shape can lead to increased vanity or shame. This kind of self-absorption for bodily perfection can interfere with one's peer relationships as well as personal growth. Unregulated use of steroids, over-the-counter drugs for enhancing muscle mass can play havoc with a person's metabolic system, thereby leading to health scare or an untimely death in extreme cases. If and when this kind of behaviour becomes observable, a person should approach a counsellor for help.
Also Read | Loving Your Body - Ways To Develop A Positive Body Image For Teens
Loss Of Productivity | Poor attention span, an inability to sustain or complete a task productively, forgetfulness, and memory lapses without any history of a trauma, injury, or illness are alarming signs. In school going children, a significant drop in their grades and academic performance may be visible.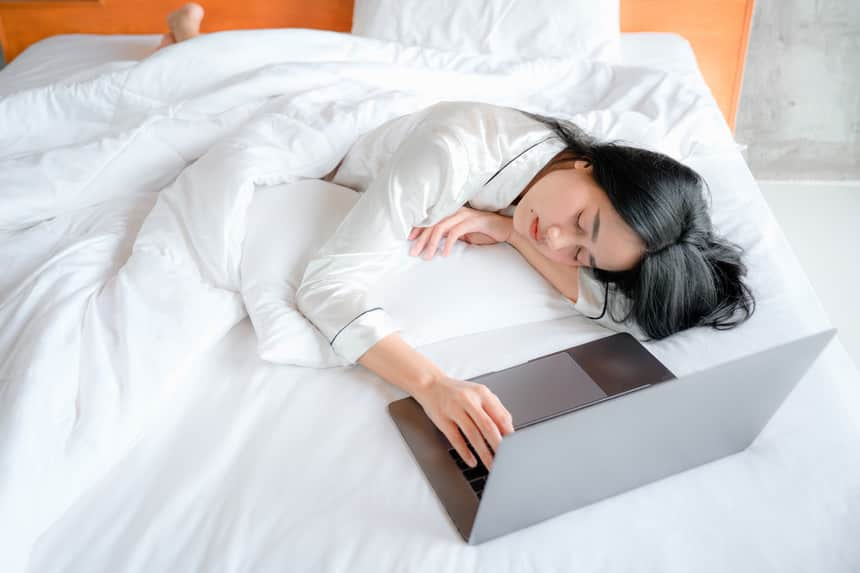 Loss Of Productivity Can Be An Alarming Sign Of Mental Health Issue
Inappropriate Thoughts | Racing thoughts, feelings of grandiosity, oscillating mood from being highly excited to a morose despondency is a red flag needing instant intervention as it can also lead to aggressive outbursts, sexual misappropriation, attempts at harm directed towards self or others. Any kind of bizarre thought, for example "I am Lord Shiva", or action "I am making the world go round", or inappropriate laughter is a sign of mental illness.
Attempts At Self-Harm | Hyper-sensitivity and reactivity, uncontrolled crying bouts, statements with negative connotations like "My life is a waste; not worth living" with sporadic or repeated attempts at self-harm with a sharp object like blade, glass or knife is a cry for help needing timely intervention. A triad of helplessness, hopelessness, and worthlessness comes to the forefront in such cases and is dangerous if it remains unattended.
Also Read | How To Help Your Child Nurture Their Mental Health
Compulsions | A pattern of repeated hand-washing, bathing, or cleaning for hours is a red flag when it interferes consistently with the daily routine of a person and of those around him or her. It can cause household disruption, parenting neglect and marital conflict. Any such behaviour which is consistently observed should be sought professional help for.
Abuse Of Substances | Substance abuse of any kind whether alcohol, cannabis, opiates, or injectables is an addiction which left unchecked can cause havoc for the user as well as the caregivers. Additionally, it may entail stealing, lying, violence, or even moving out of a house. It becomes difficult for such a person to hold a job, or share family responsibility. Addiction to gaming or various platforms of social media at the cost of activities of daily living is also highly prevalent among people of all age groups and can prove to be disruptive.
Also Read | Things Mentally Healthy People Do
Points To Remember
When evaluating your or someone else's need for treatment of mental illness with help from a mental health professional, there are certain things you need to be wary about.
Onset, Intensity, Degree
Treatment of mental illness involves timely identification of the red flags and appropriate psycho-socio-medical intervention becomes the need of hour for people showing signs of distress. A certain level of anxiety or emotional overwhelming is faced by everyone at some point or other in due course of their lives. The fact to consider is the onset, duration, intensity, and degree of disruption caused by the thoughts, behaviour, or actions of the person undergoing distress.
No Self- Diagnosis
The fad of Google-ing symptoms for self-diagnosis or denying it altogether can delay help seeking from a trained mental health professional like a psychologist. Openness to accepting things, situation, or a person not being good is the first step towards well-being.
No Casual Labelling
A prevalent norm these days is casually labelling the feelings and mood a person is going through. Terms like 'depressed', 'paagal', 'schizo', 'crazy' are thrown about nonchalantly in conversations with friends, family, and strangers. This kind of naming is neither factual nor helpful to the person being labelled. Rather, it trivialises the whole concept of well-being and treatment of mental illness.
Mental health cannot be trivialised. However, feeling low once in a while or having anxiety momentarily is part and parcel of daily living. It is the persistence of a low mood with crying spells; unusual behaviour or responses become a cause for concern. Treatment of mental illness involves early identification and professional intervention by a psychologist or a psychiatrist is a must for relief from the distress a person is feeling. Well-being ensures a certain quality of life. The choice is yours – seek help and flourish or neglect and despair.
Also Read | Know 3 Most Common Mental Health Problems In Children : Signs And Ways To Handle Them
Dr. Sanjana Seth is a Psychologist and Psychotherapist, registered with RCI, and holds more than two decades of practising experience with the healthcare organisations of the Armed Forces, as well as those operating as private. She is skilled in administering psychological assessments, providing therapeutic intervention and psychoeducation via talks, lectures, workshops, and literary articles. She has worked extensively for children with special needs, and has taught Psychology to students at undergraduate and postgraduate levels.