Mindful eating can be understood as eating with all your senses and being conscious and aware of the food you eat. Mindful eating is only possible if you have a positive relationship with your food.
It is extremely important to practice and eventually master the art of mindful eating, especially in today's fast-paced world where people are mostly, if not always, short of time to even eat. When we eat in a rush, for instance, when you roll your paratha and have it on your way to the bus stop rather than sitting and eating properly at the table, the body does not absorb nutrients from the food as well as it should.
Involving All Five Senses
The ideal way to eat is to focus only on the meal while eating. This way, whether or not we consciously realise it, all our senses get involved in the process of eating and interacting with food. Putting it more precisely, we "touch" the texture of the food; "taste" its flavours; "smell" the food which leads to the stomach releasing digestive juices even before we begin eating; "see" its presentation and colours; "hear" the crunch in foods like salads, vegetables, fruits, etc.
Why Should We Eat Mindfully?
How does mindful eating benefit us? Let us discuss.
Balances Hormones | Mindful eating fosters a balance of hormones in the body, corrects metabolism as per the body's composition, and satisfies us physiologically and psychologically.
Prevents Digestive Issues | Chewing food properly and consciously prevents a number of digestive problems such as constipation, gas, acidity, and indigestion. In fact, digestion begins right from the moment we start chewing our food. So, why not chew our food properly and make it easy for our stomach to break down the food further?
Regulates Weight | This not only improves digestion but also enhances the absorption of nutrients in our bodies. Apart from digestion, mindful eating also prevents weight gain as when we eat consciously and focus on the meal, we tend to eat controlled portion sizes. This is because we are faster in perceiving our body's signals of "fullness" and "still hungry" when we eat mindfully.
Also Read | How Does Your Food Affect Your Mental Health
How Can You Eat Mindfully?
The process of eating mindfully involves certain steps. There are certain tips to ensure that you eat mindfully and practice it for your lifetime. These are as follows.
Clear Any Mental Clutter
Ensure that you sit down for your meal with a free mind. If you carry anger, sadness, or any negative emotions to your eating place, you are surely not going to enjoy your meal or eat mindfully. Instead, take some time to clear any negative thoughts which may be lurking in your mind, and then go ahead with your meal. If you take stress to your eating place, the subsequent release of the 'cortisol' hormone is likely to hamper your digestion.
Keep Gadgets Away
Avoid using your phone or working on your laptop while having your meal. These are distractions that interfere with mindful eating. Have your meal such that your only focus is the food on your plate.
Also Read | 8 Tips To Get Your Picky-Eater Child Try New Foods
Chew Properly
The best way to make sure that you eat mindfully is to chew slowly and properly. Chewing properly helps the stomach to digest the food better. Try to chew your food 32 times before swallowing it. Apart from aiding digestion, chewing properly also helps us regulate portion sizes.
Be Comfortably Seated
It's simple as it states! While eating, you should be sitting down in a comfortable position. You could either cross your legs like is typical in Indian culture or sit on a table-chair with your back straight. One should simply not be standing and eating or walking in a hurry, or eating hurriedly on the way to someplace.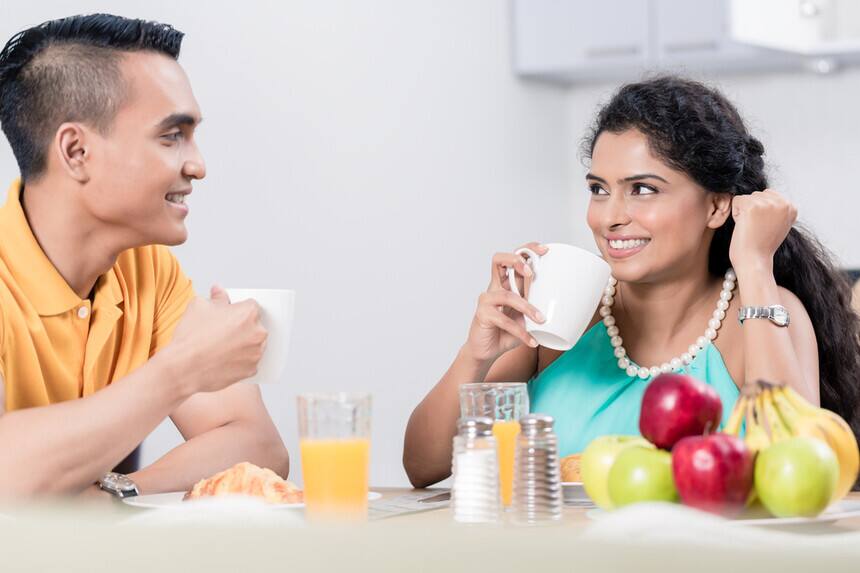 Take one step each day and observe how these small habits change your body and mind for the positive.
Also Read | How Does Social Media Impact Our Body Image?
Avoid Emotional Eating
Sometimes stress leads to emotional eating and that's what we need to gauge. One must closely observe and assess whether the hunger is actually the body's need or just an emotional trigger. This is an effective way to prevent mindless eating.
Listen To Your Stomach
One way to ensure mindful eating is to listen to your stomach when it signals "fullness". Many a time, we tend to go on eating despite knowing that we don't "need" to eat more. It is a good practice to avoid overeating.
Set A Time For Your Meals
Fix timings for all your meals so that your body adapts to them. This is because our body releases digestive juices, and it helps it to know the particular timings when it would receive food. Along with a set time, try and set a place to eat as well. For example, your favourite room in the house where you feel the most positive.
Also Read | Loving Your Body - Ways To Develop A Positive Body Image For Teens
Adapting to mindful eating does not happen overnight, so take your time and go step-by-step. Take one step each day and observe how these small habits change your body and mind for the positive.
Chesha Kukkar is a Chandigarh-based dietitian with extensive experience in the field, and has helped 1600+ clients of varying age groups in achieving their health goals. She holds a postgraduate diploma in Nutrition and Dietetics from Govt. Home Science College, Chandigarh, and an internship in Govt. Medical Super Specialty Hospital, sec-16, Chandigarh. She can be reached at http://www.dietitianchesha.com/ .