Uttar Pradesh(UP) and Kerala have a similar population density (per square kilometer) of 800 plus, but Kerala, with 94 per cent, has the highest literacy rate in India and UP holds the twelfth rank with 67.7 per cent literacy rate. UP, even with a lower population density than Kerala, has almost six times the number of schools in Kerala, yet the literacy rate is lower.
The National Achievement Survey (NAS) of India assesses the effectiveness of school education and learning achievement of students. In 2021 the survey was administered in 1.18 lakh schools across 28 states and nine Union Territories (UT) of India.
Careers360 analyzed the NAS 2021 data and sorted the states with the highest number of schools, for easy comparison. Seven states with the highest number of schools were listed together. With 12.68 per cent of India's schools being in Uttar Pradesh, the state top's the list followed by Madhya Pradesh with 7.85 percent.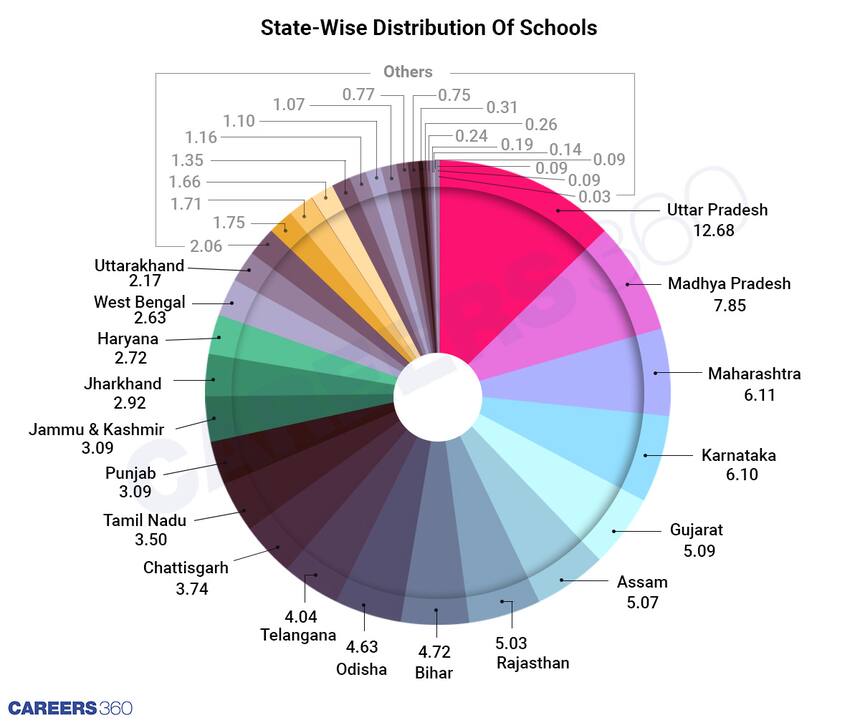 Distribution Of School


The top seven states with the maximum number of schools and the percentage distribution of schools in each state are mentioned below.
| | | |
| --- | --- | --- |
| State | School | Percent of Schools in each state |
| NATIONAL | 1,18,274 | |
| Uttar Pradesh | 14,999 | 12.68 |
| Madhya Pradesh | 9,286 | 7.85 |
| Maharashtra | 7,226 | 6.11 |
| Karnataka | 7,210 | 6.10 |
| Gujarat | 6,016 | 5.09 |
| Assam | 5,995 | 5.07 |
| Rajasthan | 5,947 | 5.03 |
Literacy rate
Among the seven states with maximum schools, Maharashtra has the highest literacy rate but holds the twelfth rank in India.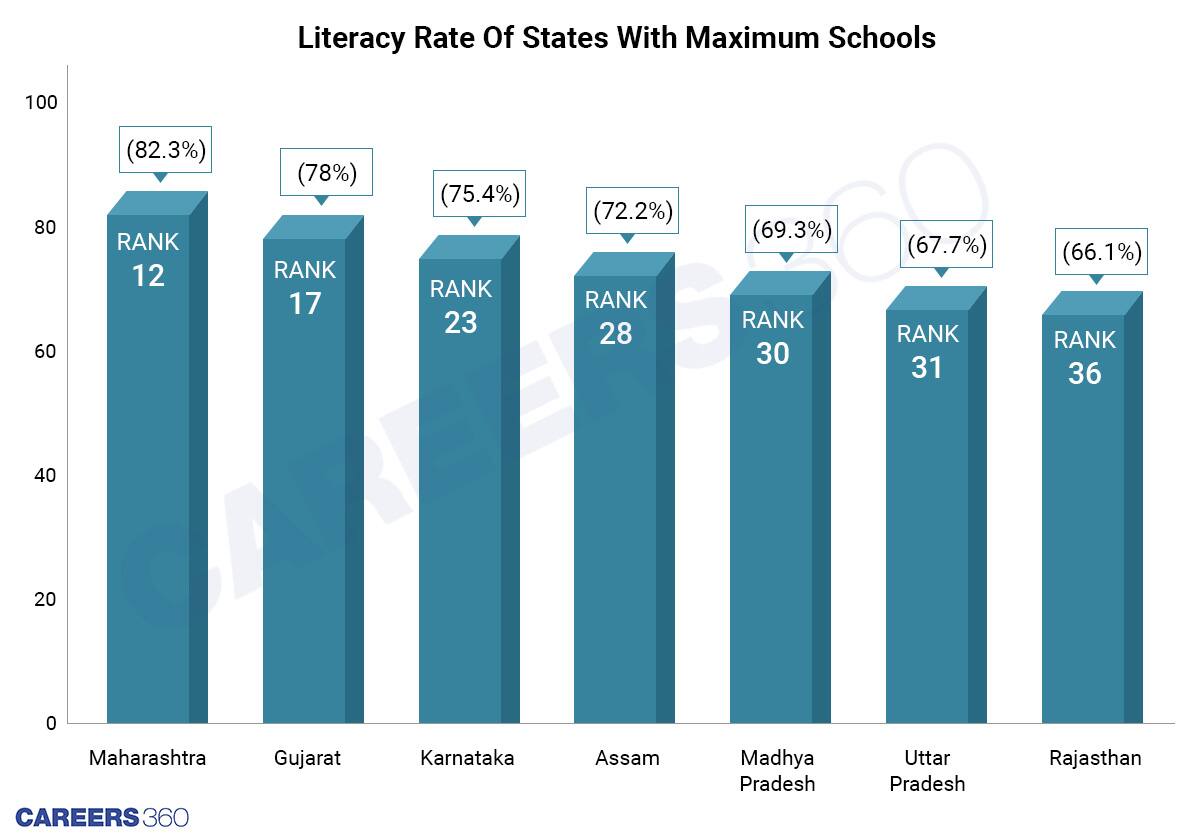 Literacy Rate
Subject-wise Performance of Students in Each State:
The NAS was conducted in 22 languages in India's state government schools, government aided schools, private unaided and Central government schools.
The learning outcome of Classes 3, 5, 8 and 10 was analyzed through a total of seven subjects, including Modern Indian Language, Language, Mathematics and Environmental Studies for Class 3 and 5; Language, Mathematics, Science and Social Science for Class 8 and Language, Mathematics, Science, Social Science and English for Class 10.
The compared states performed better than the national average in Language, except for UP.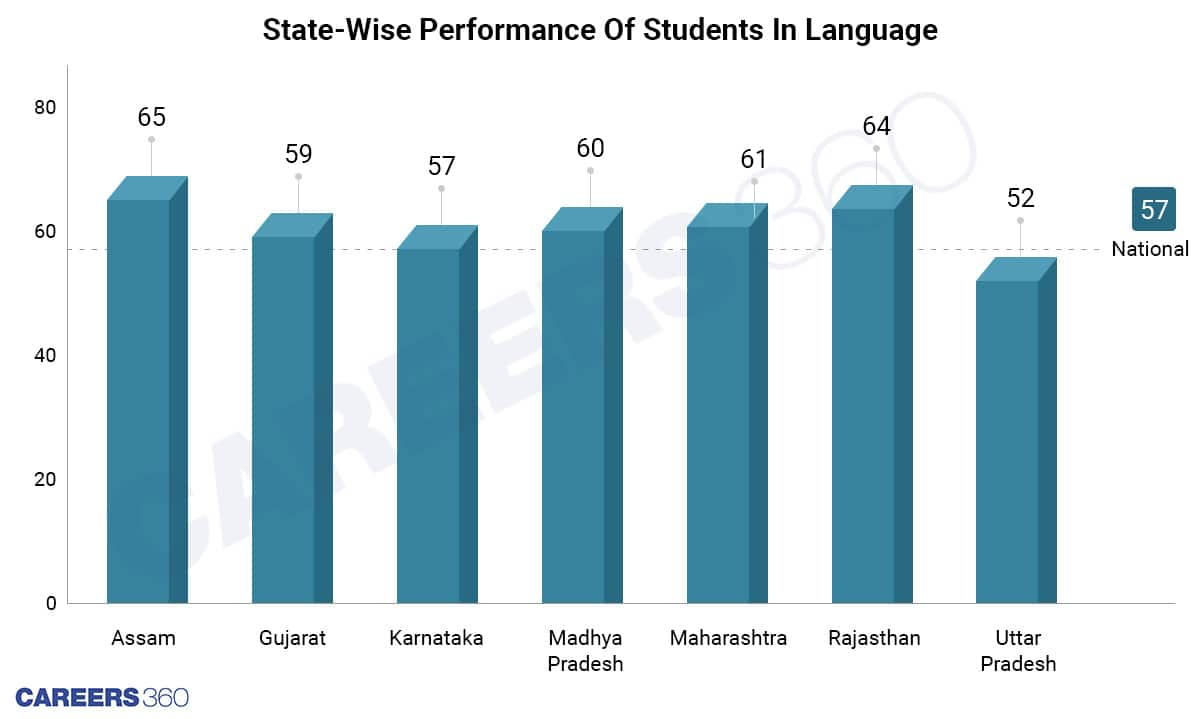 Performance Of Students In Language (State Wise)
UP scored the lowest in most subjects among the seven states, it was also the only state that was below the national average in Mathematics.
Performance Of Students In Maths (State Wise)
UP had the lowest score in Science and English not only among these seven states but across the states and UTs of India.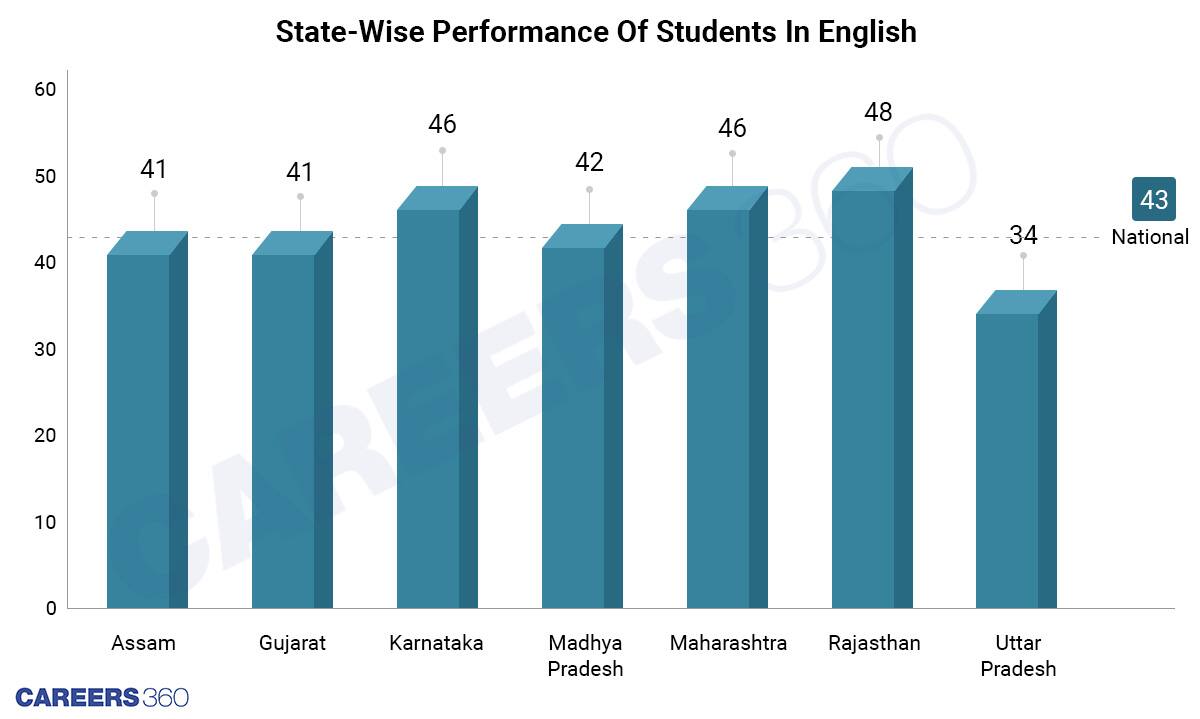 Performance Of Students In English (State Wise)
Rajasthan scored the highest among these seven states in almost all the subjects, but the literacy rate of Rajasthan was the lowest in comparison.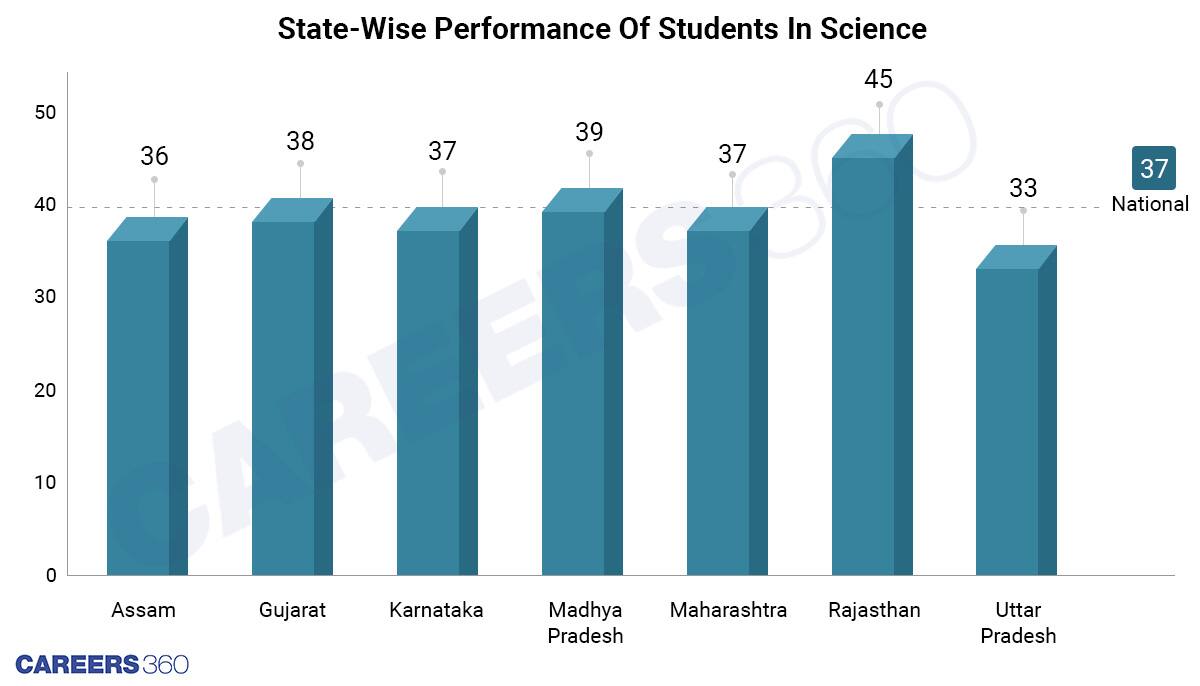 Performance Of Students In Science (State Wise)