The topic "Bt cotton, a transgenic plant with insect resistance'' is from the chapter "Biotechnology & Its Applications of Biology" Class 12. An analysis of the past five years' NEET papers shows that 14 questions were asked from the chapter Biotechnology & Its Applications, which has approximately 6.25% weightage of the total questions asked from zoology. Out of these 14 questions, five were based on the concept of Bt cotton. You can check out those questions from the Bt cotton at the end of this article. Now let's understand the topic of Bt cotton in detail.
Introduction
Transgenic plants are those in which the genome has been altered using genetic engineering techniques to incorporate one or more genes from a different species. Techniques include the Agrobacterium tumefaciens-mediated transformation and the biolistic method. The biolistic method is also known as the gene gun method, and it involves firing a heavy metal coated with plasmid DNA into cells.
"Genetically Modified Organisms" (GMOs) are any plants, bacteria, fungi, or animals whose genes have been altered. There are numerous uses for GM plants:
Thanks to genetic engineering, crops are now more resilient to abiotic stresses like cold, drought, salt, and heat.

Pest-resistant crops reduce the need for chemical pesticides.

Reduced post-harvest losses

Increased effectiveness of mineral uptake by plants (prevents soil fertility from being depleted too soon).

Increased nutritional value of foods, such as golden rice, which is rice that has been enriched with vitamin "A".
With the introduction of GM corn (maize), potato, and cotton plants (expressing genes encoding the entomocidal -endotoxin from Bacillus thuringiensis), insect-resistant transgenic crops were first commercialised in the mid-1990s.
The chapter Biotechnology and its Applications contains this idea. Bt cotton underwent genetic modification with the introduction of one or more genes from the soil bacterium Bacillus thuringiensis. The genes that produce insecticidal proteins in these genetically altered plants cause them to produce one or more toxins as they develop. You should be meticulous with this concept's theory component.
A bacterium known as Bacillus thuringiensis (abbreviated Bt) produces Bt toxin. In order to provide insect resistance without the use of insecticides, the Bt toxin gene was cloned from bacteria and expressed in plants; this effectively created a bio-pesticide. Bt cotton, Bt corn, Bt rice, Bt tomatoes, Bt potatoes, etc. are some examples.
Bacillus thuringiensis
Mostly found in soil, Bacillus thuringiensis is a gram-positive, spore-forming bacteria. Bacillus thuringiensis strains produce more than 200 distinct Bt toxins, each of which is harmful to a different class of insects. Most significantly, Bt toxins are insecticidal to the larvae of moths, butterflies, beetles, cotton bollworms, and flies but harmless to other forms of life.
Insects like lepidopterans (tobacco budworm, armyworm), coleopterans (beetles), and dipterans (flies, mosquitoes) are all susceptible to the proteins that some strains of Bacillus thuringiensis produce. Protein crystals are formed by B. thuringiensis during a specific growth phase. A poisonous insecticidal protein is present in these crystals.
Bt Cotton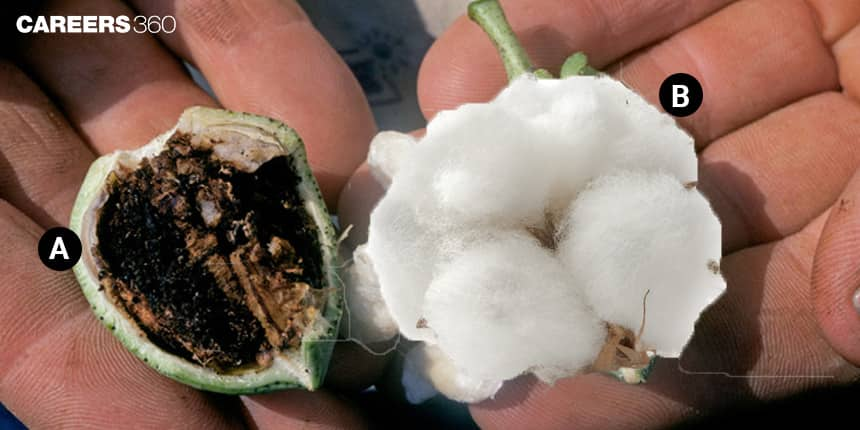 Figure: Cotton boll: (a) destroyed by bollworms; (b) a fully mature cotton boll
Bt crops are transgenic plants that (in the plant cell) produce the same toxin as the bacterium Bacillus thuringiensis, protecting the crops from pests. The pest-resistant cotton variety known as "Bt cotton" produces an insecticide to fight bollworms.
Cotton has a transgene that inserts the Bt toxin gene, causing it to produce this natural insecticide in its tissues. The "cry proteins" are specific proteins secreted by the bacterium and toxic to insects. Cotton, brinjal, corn, and other crops are a few examples of Bt crops.
From Bacillus thuringiensis, specific Bt toxin genes were isolated and inserted into a number of crop plants, including cotton. Since most Bt toxins are insect-group specific, the choice of genes depends on the crop and the targeted pest. A gene called cryIAc codes for the toxin. There are several of them, like cotton bollworms, which are controlled by the protein encoded by the genes cryIAc and cryIIAb, while corn borer is controlled by the gene cryIAb.
Pests like lepidopterans, dipterans, and coleopterans cannot harm Bt cotton.
Why Doesn't This Toxin Eradicate The Bacterium?
It's true that the Bt toxin protein is an inactive protoxin, but when an insect ingests it, the alkaline pH of the gut dissolves the crystals, turning the inactive protoxin into an active form of toxin. The midgut epithelial cells' surfaces are bound by the activated toxin, which causes pores to form. These pores lead to cell swelling and lysis, which ultimately results in the insect's demise.
Advantages Of Bt Crops
It aids in increasing crop yield or productivity, which in turn increases the farmer's income. Farm production rises as a result.

As synthetic pesticides are used less frequently, they aid in reducing soil pollution.

Beneficial insects are protected by bt crops.

Due to increased yields in a short period of time, it can easily feed a growing population.

Because fewer pesticides are used, it results in the production of crops free of disease.
Disadvantages Of Bt Crops
Bt crops are more expensive than conventionally grown crops.

The free flow of genes can be disturbed naturally.

The production of these crops may decrease as the pests develop resistance to the toxins they produce.
Recommended Video
Important Questions
Question 1: NEET 2020
The Bt cotton variety developed by the introduction of the toxin gene of Bacillus thuringiensis (Bt) is resistant to:
Insect pests

Fungal diseases
(C) Plant nematodes
(D) Insect predators
Answer : (A) insect pests
Bt Crops are transgenic crops that produce the same toxin as the bacterium Bacillus thuringiensis in the plant cell, thereby protecting the crops from pests. The bacterium secretes specific proteins known as "cry proteins" that are toxic to insects. The toxins from Bacillus thuringiensis kill the bollworm that eats cotton plants.
Question 2: NEET 2020
Match the organism with its use in biotechnology.
| | |
| --- | --- |
| Organism | Use in Biotechnology |
| (a) Bacillus thuringiensis | (i) Cloning vector |
| (b) Thermus aquaticus | (ii) Construction of first r DNA |
| (c) Agrobacterium tumefaciens | (iii) DNA polymerase |
| (d) Salmonella typhimurium | (iv) Cry proteins |
Select the correct option from the following :
(a) (b) (c) (d)
(ii) (iv) (iii) (i)
(a) (b) (c) (d)
(iv) (iii) (i) (ii)
(C) (a) (b) (c) (d)
(iii) (ii) (iv) (i)
(D) (a) (b) (c) (d)
(iii) (iv) (i) (ii)
Answer: (B)
Bacillus thuringiensis produces cry protein.
Question 3: NEET 2020
Match the following columns and select the correct option.
| | |
| --- | --- |
| Column -I | Column -II |
| (a) Bt-cotton | (i) Gene therapy |
| (b) Adenosine deaminase deficiency | (ii) Cellular defence |
| (c) RNAi | (iii) Detection of HIV infection |
| (d) PCR | (iv) Bacillus thuringiensis |
(a) (b) (c) (d)
iv) (i) (ii) (iii)
(a) (b) (c) (d)
(iii) (ii) (i) (iv)
(C) (a) (b) (c) (d)
(ii) (iii) (iv) (i)
(D) (a) (b) (c) (d)
(i) (ii) (iii) (iv)
Answer: (A)
(a) Bt-cotton - Bacillus thuringiensis
(b) Adenosine deaminase deficiency - Gene therapy
(c) RNAi - Cellular defence
(d) PCR - Detection of HIV
Question 4: NEET 2019
What triggers activation of protoxins to active Bt toxin of Bacillus thuringiensis in bollworm?
Body temperature

Moist surface of midnight

Alkaline pH of gut

Acidic pH of the stomach
Answer: (c)
Bacillus Thuringiensis is a gram-positive bacteria; during sporulation, this bacteria forms crystals of proteins (cry protein), which are coded by cry genes (Cry 1 AC). Cry genes are used to make insecticide-transgenic plants.
When insects ingest crystal proteins, the alkaline pH of the gut denatures the insoluble protein and makes it soluble. Soluble proteins make the gut porous and cause the death of insects (Lepidopteran).
Question 5: NEET 2020 Phase 2
Match the following columns and select the correct options:
| | |
| --- | --- |
| Column I | Column II |
| (a) Dragonflies | (i) Biocontrol agents of several plant pathogens |
| (b) Bacillus thuringiensis | (ii) Get rid of Aphids and mosquitoes |
| (c) Glomus | (iii) Narrow spectrum insecticidal application |
| (d)Baculoviruses | (iv) Biocontrol agents of lepidopteran plants pest |
| | (v) Absorbs phosphorous from soil |
a-ii, b-i, c-iii, d-iv

a-ii, b-iii, c-iv, d-v

a-ii, b-iv, c-v, d-iii

a-iii, b-v, c-iv, d-i
Answer: (c) a-ii, b-iv, c-v, d-iii
Conclusion
If we examine the papers from the last five years, 14 questions from the chapter Biotechnology & Its Applications were asked. This accounts for about 6.25% of all the questions asked about zoology. The idea of Bt cotton was the basis for five of these questions. On this topic, you might receive one or two questions.
Bt Cotton is an insect-resistant transgenic plant. In order to solve the problems and fully understand the chapter, NEET aspirants must have a solid understanding of this topic.