Nowadays a paradigm shift from Web2.0 to Web3.0 is based on the decentralised blockchain technology. Data from Teamlease, a consulting firm, shows that 4.5 per cent of total job openings in the country were related to blockchain in February 2022. According to a September 2021 report by Nasscom, India has registered a 39 per cent employment growth rate in the crypto tech industry in the last five years.
There are many benefits of blockchain such as Enhanced Security, incredible transparency, traceability and automation. This increased speed and efficiency lead organisations to transform them based on Web3 and thus opening great opportunities in energy, telecommunications, healthcare, education, government, banking, and financial service, automation, insurance, supply chain, retail and consumer goods, media and entertainment, and many more.
The Journey of Web1.0 To Web3.0
Web 1.0 is the first stage World Wide Web (WWW) consisting mainly of static pages like personal websites and basic web pages, hosted by the Internet Service Providers (ISP) servers, enabling the users to retrieve a piece of information and costs the user as per pages viewed. The era of Web1.0 is considered from 1991 to 2004.
Web 2.0 highlights user-generated dynamic content, usability, interoperability, and online commenting with participative and collaborative social media dialogue as a virtual community. The social Web contains so many platforms like Youtube, Facebook, etc, and tools using which people share their thoughts, perspectives, opinions, and experiences.
Web 3.0 is the next version of the internet based on blockchain technology that directs the development of Web utilisation and interaction and includes altering the Web into a database, with help of integration of Distributed Ledger Technology (DLT) for example blockchain, and helping in Smart Contracts based on the necessities of the individual.
Important features of Web3.0 include the evolution of the semantic Web, the integration of Artificial intelligence, 3D graphics, Decentralised Ledger Technology (DLT), smart contracts, Ubiquity, and connectivity.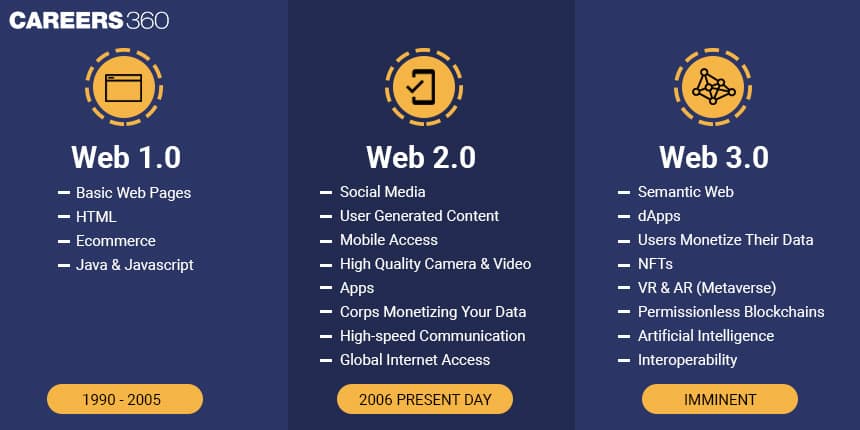 Blockchain
Blockchain is a developing technology that has a decentralised digital ledger to store information in a block that is immutable, transparent, secure, and decentralised. It allows users to verify without interference from third parties. Web3.0 is based on blockchain technology thus creating a great impact in the digital world.
Metaverse
The Internet is evolving now from Web2.0 to Web3.0, and as a result, Social Media like Facebook, Instagram, etc, will be transformed into the metaverse, which will be a virtual platform based on Virtual Reality (VR) and Augmented Reality (AR) and helps you build social connections virtually. Facebook also known as Meta is working to create this platform as a future version of the social platform.
Metaverse is a 3D virtual world that can be defined as simulated digital environments based on VR/AR and blockchain technology. It also incorporates Non-Fungible Tokens (NFTs) as a decentralised economy.
Decentralised Applications (dApps)
Facebook, Amazon, Google, Microsoft, etc applications that we are using now are Web2.0 and have centralised ownership or single authority but in Web3.0 applications are managed and owned by a decentralised community run by blockchain and peer-to-peer network of computers instead of a single computer. Because dApps are decentralised thus they are free from interference from a single authority, safeguard user privacy, are resistant to censorship, and many more. Despite having many benefits, dApps are in early-stage development and thus it is quite challenging and prone to problems.
Opportunities In Web3.0 Space
In an emerging technological environment, blockchain is at the top and statistically blockchain-based market will reach $ 20 billion worldwide by 2025. As companies are transforming their businesses based on blockchain technology, opportunities for blockchain-based technology like dApps developers, smart contract developers, etc are growing rapidly. Several IT giants like IBM, Samsung, etc are providing lucrative job opportunities for blockchain professionals. Here is a list of lucrative job profiles.
Core Blockchain Developers
Core blockchain developers take high developmental decisions and work on the architecture, algorithms, and protocols of blockchain systems. This profile demands a good grasp of blockchain architecture like cryptography, hash function, distributed ledger, smart contract, consensus, data structure and algorithms, and other key elements of blockchain.
Blockchain Software Developers
Using the architecture and protocol developed by core blockchain developers, blockchain software developers create decentralised applications like bitcoin and other digital currencies. Starting from bitcoin and digital currency, nowadays this technology is penetrating numerous sectors, and therefore blockchain developer's demand is rapidly growing.
AI/ML Specialist:
Machine Learning (ML) driven intelligence can emerge in three folds namely intelligent blockchain, intelligent protocols, and intelligent dApps. The combined value of blockchain and Artificial intelligence will provide business authenticity, augmentation, and automation. AI/ML specialists should have a hold on both blockchains and AI architecture. The adoption of Web3.0 in AI and ML creates great opportunities.
Web3.0 In Different Sectors
Having advantages like ownership of data, elimination of central authority, permissionless blockchain, uninterrupted service, and much more leading penetration of Web3.0 in different industries and generating new-age career options. Few industries are mentioned below.
> Banking And Financial Services
Blockchain and Web3.0 can streamline banking and financial services by reducing issuance, settlement time, and counterparty risk, enabling real-time document authentication and verification and operational simplifications. According to IBM 66 per cent of institutions expect production and running with blockchain and this makes sense to generate lots of opportunities in this sector in upcoming years.
> Healthcare And Life Science
Web3.0 assures data integrity across multiple parties, achieves full traceability of pharmaceutical products, high operational efficiency in resolving a dispute in the supply chain, and smart contracts to automate the process. Blockchain technology can reduce challenges faced by the healthcare sector and thus generate new types of jobs for professionals.
> Retail And Customer Goods
Changes in the future of brand and retail are accelerating as evolving Web3.0 technologies namely NFTs and Decentralised finance base do blockchain. According to Deloitte, 86% of executives believe that blockchain will transform mainstream business. This shows the growing demand for Web3.0-based professionals in upcoming years in the retail and consumer goods industry.
> Telecommunication
With 8 billion mobile subscriptions worldwide, telcos consciously demand new innovations especially 5g technology thus creating a space of $ 1.1 trillion investment in the upcoming five years according to IBM. Blockchain technology can improve telecommunication in areas of data privacy, operational efficiency, customer experience, and new business model and thus will generate a new section of opportunities for Web3.0 professionals.
> Automotive
Having traceability in the supply chain, trustworthy financial transactions, and innovative mobility of Web3.0 can solve complex problems in the automotive business ecosystem like transactions among manufacturers, suppliers, and customers. Blockchain can build trust, transparency, and efficiency in business. That is why the adoption of Web3.0 in the automotive business reduces challenges for businesses and creates opportunities in the market for job seekers.
Web3.0 has great potential to solve problems with Web2.0 and provide transparency, stability, security, trustworthiness, traceability, automation and increased efficiency, along with and innovations in different sectors of the economy like retail, automation, healthcare, telecommunication, banking, finance, insurance and thus creating a market for new career options making it a most sought after career option.