National Institute of Technology (NIT) Tiruchirappalli in Tamil Nadu, the top-ranked NIT on the National Institutional Ranking Framework (NIRF), has placed an average of 70 per cent of its graduating BTech students in jobs over the past five years. NIT Rourkela in Odisha ranked third, has done better with job drives, placing 85 per cent of their students over the same five years.
Both colleges have improved their ranking from the previous year, NIT Trichy which was in the ninth position now is in the eighth position while NIT Rourkela which had rank 15 is now ranked 10 in the NIRF 2022.
For the past seven years, the ministry of education's NIRF has been ranking engineering colleges based on a range of factors including an institution's placement record. To rank an engineering college for one year, NIRF considers placement data, including numbers placed and median salary, for three years.
The NITs are Institutes of National Importance and, run by the central government, are highly regarded among public engineering colleges. NIT Tiruchirappalli has ranked at the top among all NITs since the NIRF rankings began in 2016. In 2020, NIT Karnataka replaced Rourkela as the second best NITs, a position it had held since 2016. NIT Warangal is steady as the fourth highest ranked NIT. In NIRF 2017 and 2018, NIT Calicut was at rank 44 and 50. After 2018, NIT Calicut constantly improved its position, becoming one of the top five NITs for the last four years. But in 2022, NIT Calicut dropped from 25th rank to 31 rank.
Therefore, NIT Tiruchirappalli, Karnataka, Rourkela, Warangal and Calicut are the top five NITs across the country and were selected for this analysis as they have remained in the top five for the last four years. Also, all five have always been among the top 50 engineering institutes since the ranking started.
NIT Placements: 2017-21
Among the top five NITs, NIT Calicut had the highest placement percentage till date since 2020 but it still holds the fifth rank as per the NIRF ranking. NIT Calicut had a placement percentage
of around 61 percent till 2016-17 and was not among the top five NITs till then. Its ranking improved, as did its placement record, by 26 percentage points in NIRF 2019.
On the other hand, NIT Tiruchirappalli held the first rank among all the NITs across the country in all the NIRF rankings but has had the lowest student placements percentage of the top five over the past four years in a row. In 2017 it had placed 72.43 per cent of students who had signed up for jobs but in 2021, it dropped to 69.24 percent and in 2022 it was 69.4 per cent.
Also Read | Top NITs: Women's Presence In The Best NITs Declined Over 5 Years
The placement percentage of all these top NITs were calculated on the basis of the number of placed students and the students who graduated in the minimum stipulated time. Some of those from the graduating batch of BTechs who were not placed could have gone for higher studies.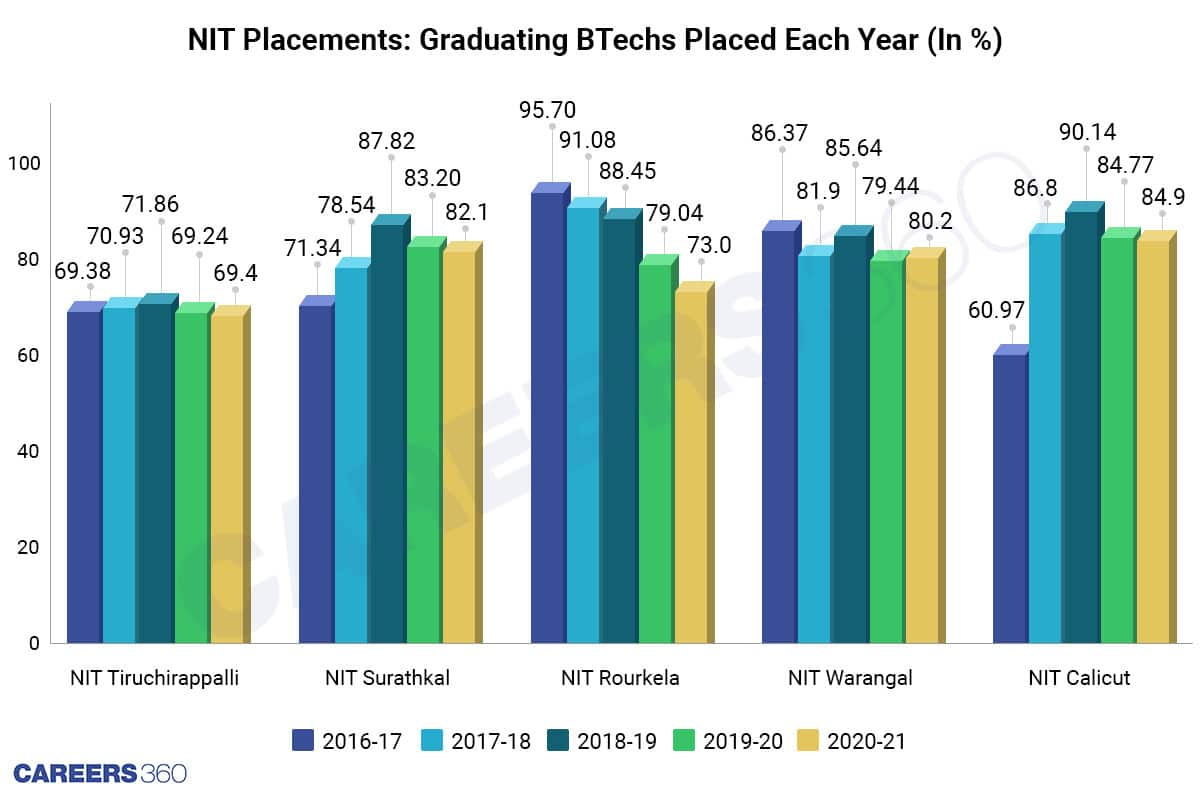 NIT Placements: Graduating BTechs placed over 5 years (in %)
NIT Placement: Salaries Rose Marginally
Although NIT Tiruchirappalli posted the lowest placement percentage, the median salary at which its graduates were hired has increased quite steadily over the last five years.
Tiruchirappalli, Warangal, Surathkal and Calicut all showed a steady increase in their median salaries from 2017 to 2021. But for NIT Rourkela, the median salary in 2020-21 showed a partial decrease. In 2015-16, it had a median salary of seven lakhs and it saw a dip in the median salary in 2016-17 after which it took four years to reach the same milestone.
NIT Warangal saw a similar dip the same year as Rourkela but recovered much faster, achieving the maximum median salary for 2017-18. The chart below shows how salaries have risen or fallen at each of the five NITs over the five years.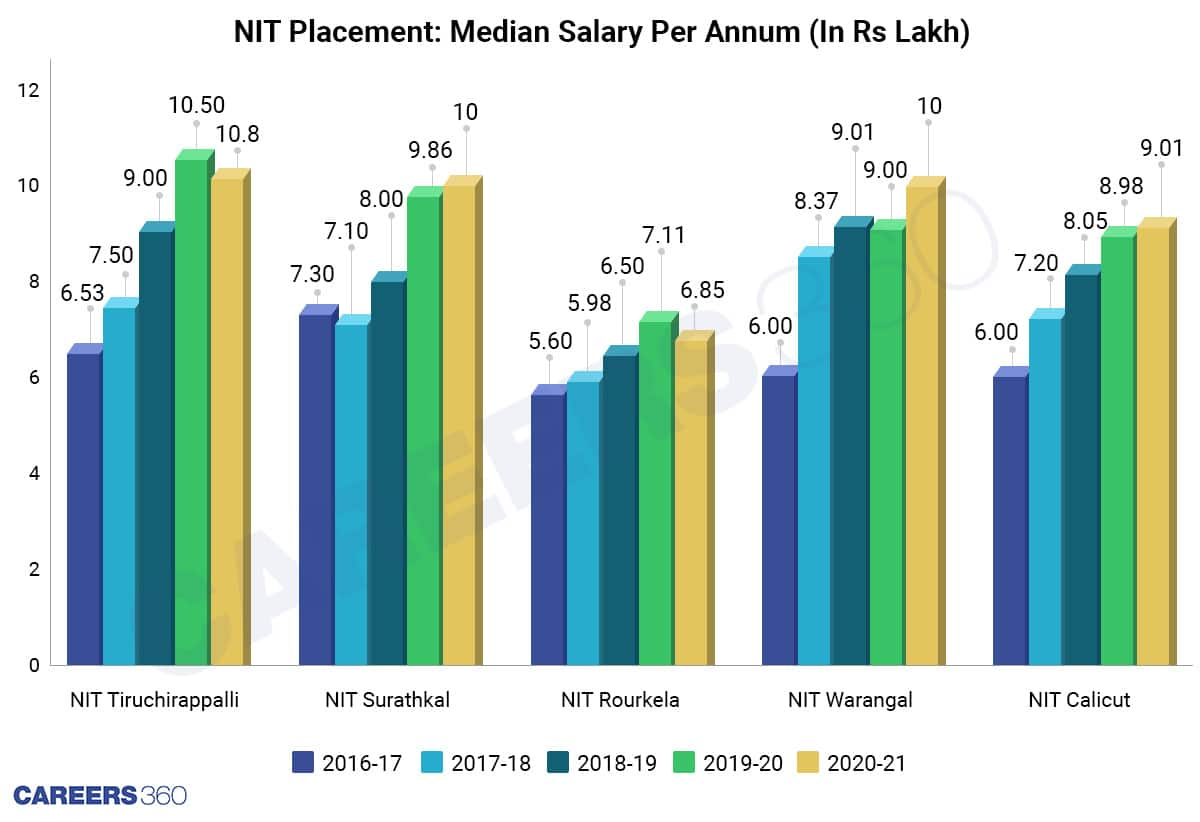 Engineering Jobs: Top NITs placements over 5 years
Also Read | IIT Kharagpur Placed Over 85% Students in 2020-21: Branch-Wise Placement Report
Jobs And Higher Studies
More than 20 per cent of NIT Tiruchirappalli students opted for higher studies while that figure for the other NITs in this analysis is around 10 per cent.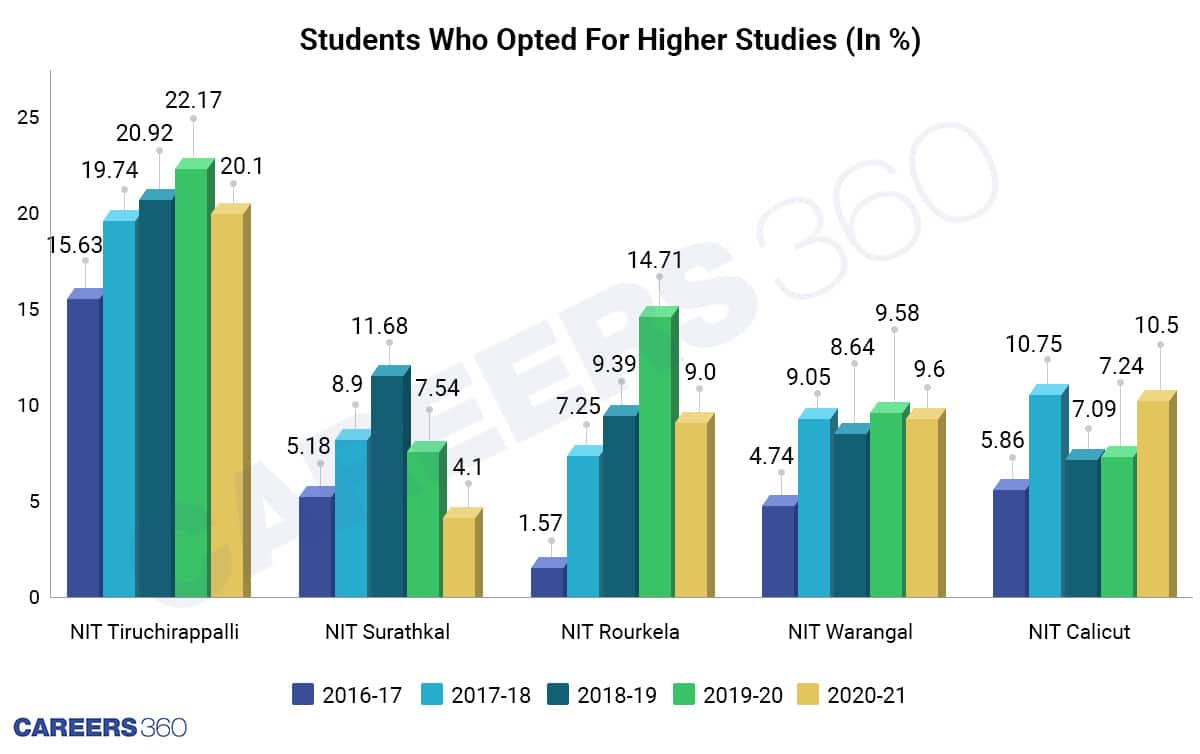 NIT BTech students who opted for higher studies (In %)
However, it is not correct to assume that everyone not landing a job is going for further studies. Study of the data shared by these institutions with NIRF shows that only about 90 percent of the total number of students to graduate went for jobs or further studies. There is still another 10 percent whose future is not known.