It is said that "old is gold". Another commonly heard adage is – "old habits die hard". Hearing such sayings is one thing and keeping up with them is another.
In a fast-paced modern life, the old gets thrown out or forgotten at the speed of lightning. Boredom sets in fast with anything that is routine, for we want vitality and vivacity all the time. Pulsating energy is the driving force in the current generation. Short attention spans and low frustration tolerance seem to have become a norm for everyone.
So where does it take your well-being? Do you ever stop or pause to introspect on your low mood, anxieties, irritability, or generalised restlessness that seems to plague you at times?
"Old-School" Practices To Follow
Some of the everyday practices that our previous generations adhered to played a subtle yet significant role in keeping them physically and mentally energetic. These practices also helped them deliver substantially in their respective domains of professional as well as personal lives In due course, however, some of these practices seem to have gotten buried under the hustle and bustle of contemporary life. Re-inculcating these old-school practices into our daily routines is not too difficult and can be done with the least bit of effort.
Let us discuss a few of such "old-school" daily practices that can boost your mental health.
Wake Up Early
"Early to bed, early to rise…", as the old saying goes. Sleep is one of the most important components of health and well-being.
Sleep Deprivation | Burning the midnight oil to meet work deadlines, frequently flying at late hours, or being glued to a screen for binge-watching popular shows can disrupt your sleep pattern. Sleep deprivation becomes a vicious cycle and starts interfering with your daytime activities. Some of the signs of consistently inadequate sleep are increased irritability, dark circles around your eyes, daytime snoozing, or sleepiness.
Good Quality Sleep | One should ensure 7-8 hours of good quality restful sleep for themselves. Sleeping well gives your body the time to naturally repair any minor wear and tear that may have knowingly or unknowingly occurred during your active hours.
So, try to imbibe the healthy habit of calling it a night early, giving your mind and body time to rest, restore, and refresh yourself for the day ahead.
Watch Your Meals
"Breakfast like a king, lunch like a prince, and dinner like a pauper" is another old-school saying. A lot of people these days tend to skip breakfast due to a lack of time or some diet fads they follow.
Also Read | Emotional Intelligence: How It Helps, Tips To Develop
'Breaking Fast' | Breakfast implies 'breaking fast' as you would have eaten dinner hours ago the previous night, and the morning calls for re-fuelling your body with food. Our meals are the source of oxygen and nourishment to keep us going.
Impacts Of Skipping Breakfast | Skipping breakfast leads to low energy levels, acidity, and erratic snacking as the day progresses. Hunger pangs ignored lead to impact your mind too as it gets reflected in poor attention, distractibility, and reduced productivity at work or home. Curbing or ignoring a growling stomach does not hold well for you as gut health impacts your brain functioning directly. So much so that the gut is being hailed as the new brain by scientists, in their studies related to the gut-brain connection. A healthy gut is found to be the basis for a healthy mind.
Remember to kickstart your day with a handful of healthy nuts, fruits, proteins, and calcium to fulfill the body's requirements of nutrients for a happier, healthier, and more alert mind.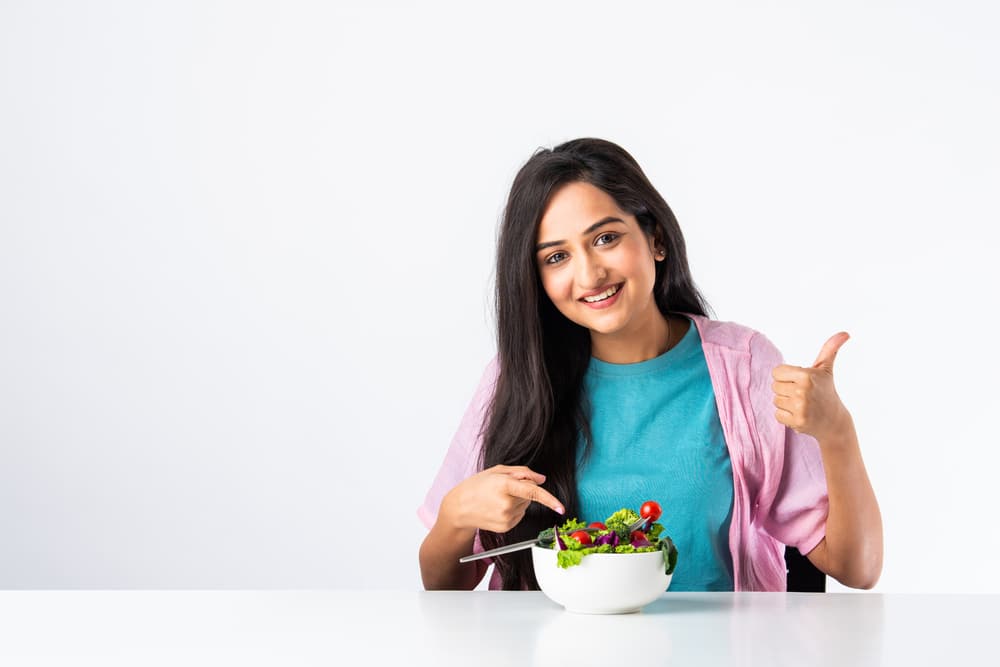 A Healthy Gut Is Found To Be The Basis For A Healthy Mind
Move Your Body
Exercise is the mantra to keep your limbs going and gray cells working. Any form of exercise you choose depending upon your age, medical condition, and time at hand will be beneficial. A sedentary lifestyle or sitting in one place for prolonged hours can add unhealthy fat around your waist which impacts the insulin production in the body, making you vulnerable to lifestyle diseases like diabetes. Hence, it becomes imperative to move every hour or so and the simplest way is to get up and take a few steps around your seat, walk to the water booth, or take your phone calls while standing.
Move It Or Lose It | "You move it or lose it" explains the significance of exercise for your well-being. Exercise done for merely 20 minutes releases endorphins in our body which are also known as the "happy hormones". This makes us feel an upliftment in our moods, a spring in our steps, and a song in our hearts. Besides this, the benefits of exercise in aiding proper digestion of food and healthy weight loss, keeping ailments at bay are needless to mention.
Keep A Sense Of Spirituality
Spirituality and religiosity keep you anchored to your beliefs and moral values. Fostering a sense of gratitude, forgiveness, and acceptance as taught by your holy scriptures gives you a sense of calm strength.
Sense Of Belongingness | Visiting your place of faith, and celebrating festivals yield a feeling of belongingness in you. Man is a social animal by nature and collective activities bring a sense of fulfillment and thriving. Participating in meditation, discourses, and community social work will give you grounding for positivity and purposeful living.
Do Not Take Substances
Refrain from addictive substances like smoking, drinking, and ingesting tobacco or drugs. However stressed you may be or a hectic day you may have had, getting drunk or ingesting drugs is not the way to a healthy you. A temporary high that you may get on consuming alcohol etc. in excess can soon become a trap of 'highs' and 'lows' for you. Mood shifts and altered perceptions due to regular use of addictive substances can be detrimental to your functioning and interpersonal relationships.
Also Read | New Year Resolutions: 8 Tips To Stick To What You Commit
The choice of living healthy is in your hands. A positive attitude, moderate lifestyle habits, and purposeful living can be the best source of your good mental health. It is never too late to start or make a change in one's life. What was good then, stands equally good now, however much the times may have changed. Old can truly be "gold" provided you dig it and do not bury it in echelons of history.
So, go ahead, inculcate these five old-school habits and boost your well-being, starting from this moment itself.
Sanjana Seth is a Psychologist and Psychotherapist, registered with RCI, and holds more than two decades of practising experience with the healthcare organisations of the Armed Forces, as well as those operating as private. Mother to two adults, Sanjana has worked extensively for children with special needs and taught Psychology to students at undergraduate and postgraduate levels.