In the latest rollout of the Pradhan Mantri Kaushal Vikas Yojana (PMKVY), a total of 7,94,911 candidates were enrolled all over India. Out of these, 16.5 per cent were from the northern states like Haryana, Himachal Pradesh, Punjab, Rajasthan and Uttarakhand.
Since 2015 the scheme has seen an overall enrollment of 1,42,65,621 candidates. Out of these total enrolled candidates, 77 per cent were certified and only 17.11 per cent were placed across the nation.
Careers360 has analysed all the available PMKVY data in detail such as enrollment, ongoing training, certified and placed candidates across India. For logistical reasons, we divided the analysis into central, east, north, south and west zones, and Union Territories separately.
PMKVY: Enrolled Candidates
Rajasthan has the highest number of enrolled candidates in PMKVY 3.0 from the north zone, while the fourth highest among all the states and Union Territories. Also, Himachal Pradesh has the lowest enrollment in all the three versions of PMKVY.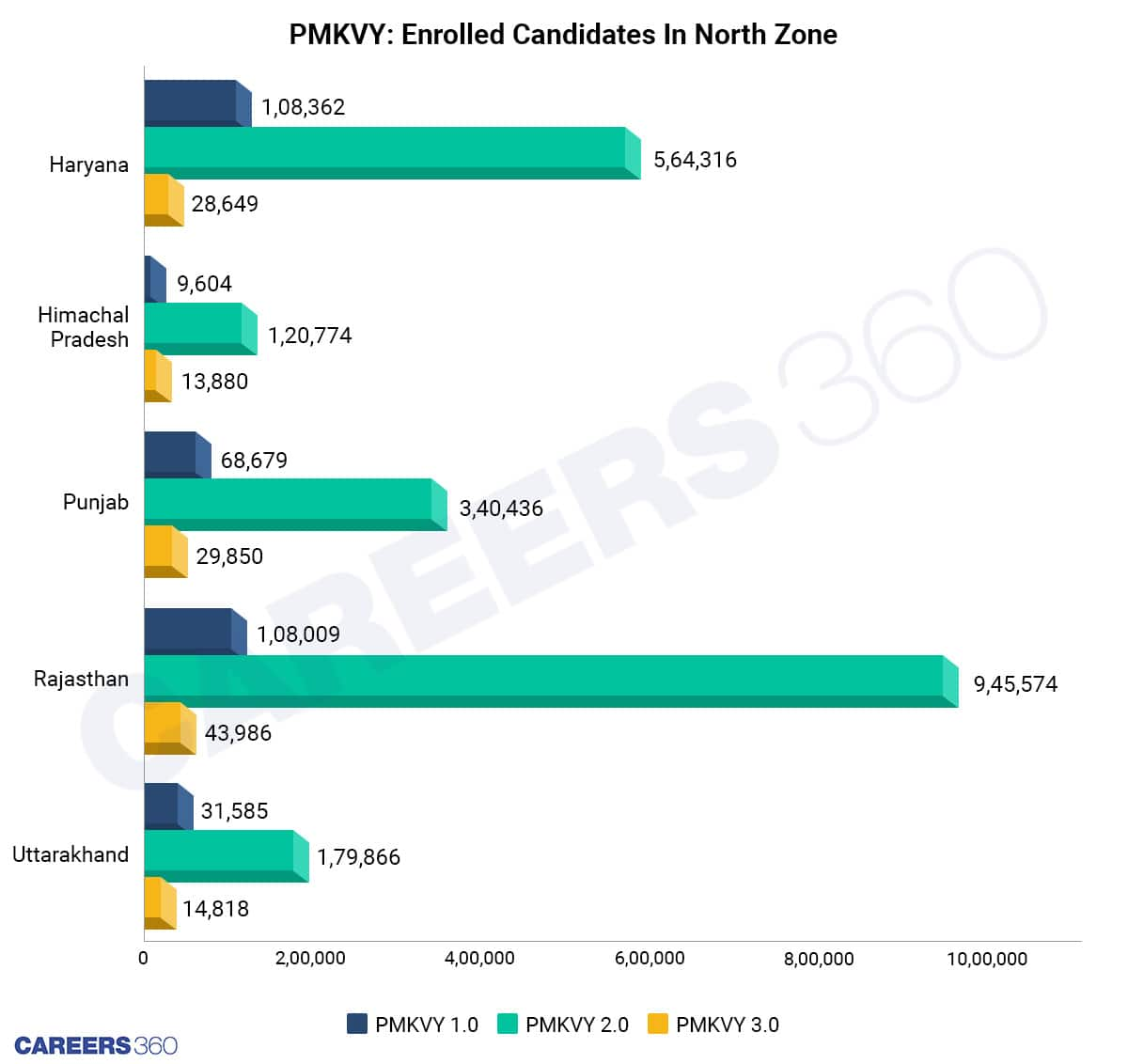 PMKVY Enrollment In Northern States
Also Read | Government Certified PMKVY Courses For Industry Oriented Skill Development
PMKVY 3.0: Ongoing Training
A total of 10,093 candidates were registered in the ongoing training across the country, out of these 13.84 per cent candidates, which is 1,397 are from the northern states. Haryana has the highest number of candidates, after Punjab.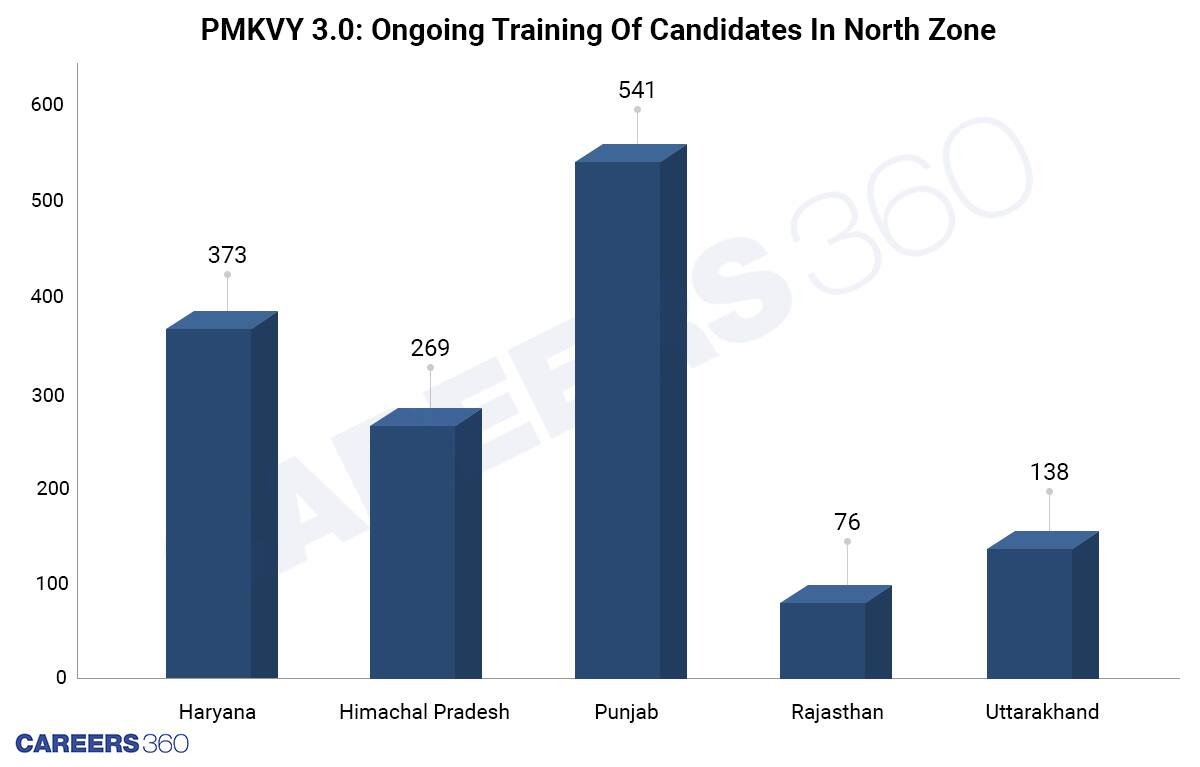 Number Of Candidates: Participated In Ongoing Training
Also Read | PMKVY Report: Enrollments In Andhra Pradesh, Kerala, Tamil Nadu, Telangana And Goa
PMKVY: Certified Candidates
In terms of certified candidates, northern states hold the third rank with almost 52 per cent of their total enrolled candidates been certified.
Overall average certified candidates in India are 49.84 per cent among all the zones and the west zone and south zone are at the top, with almost 60 per cent and 57 per cent of candidates certified respectively.
Rajasthan has the highest percentage of certified candidates in all the three versions of PMKVY in the north zone.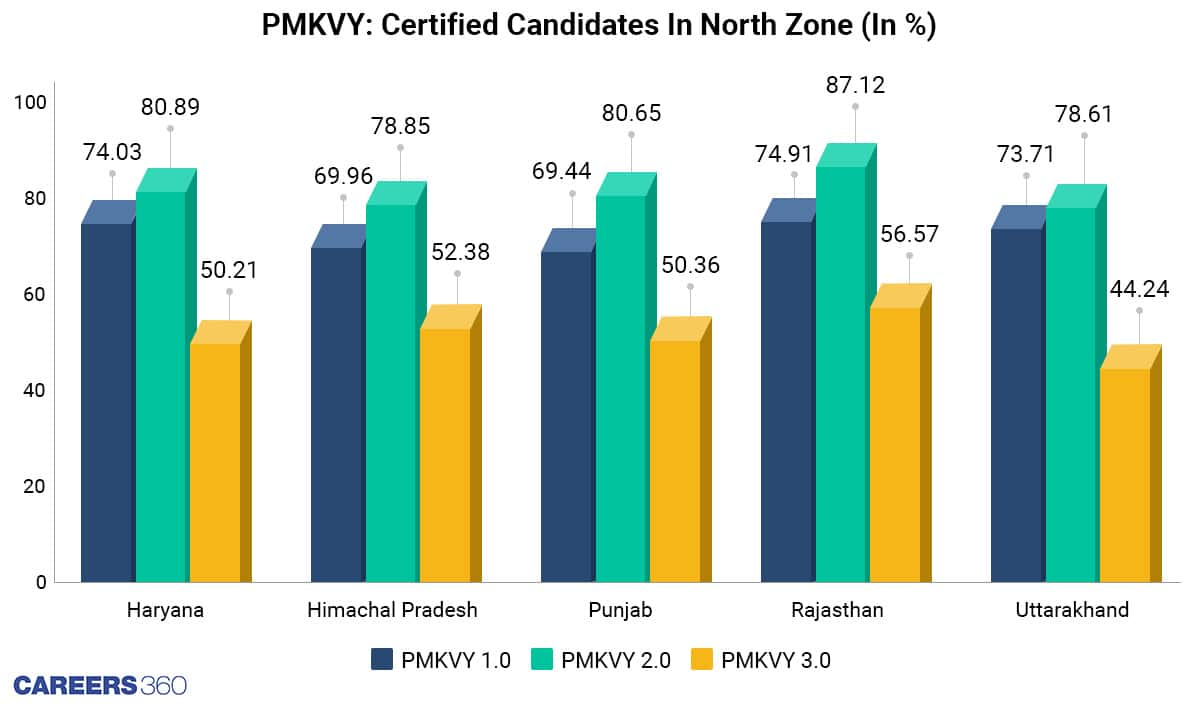 Certified Candidates In The Northern States
Also Read | Jack Of All Trades: Honing Multiple Skills For Success In Entrepreneurship And Life
PMKVY: Placed Candidates In North Zone
The southern states have the highest placement performance and the western states the lowest, which is 6.73 and 1.95 respectively. As for the other zones, the placement percentage ranged from four to five per cent.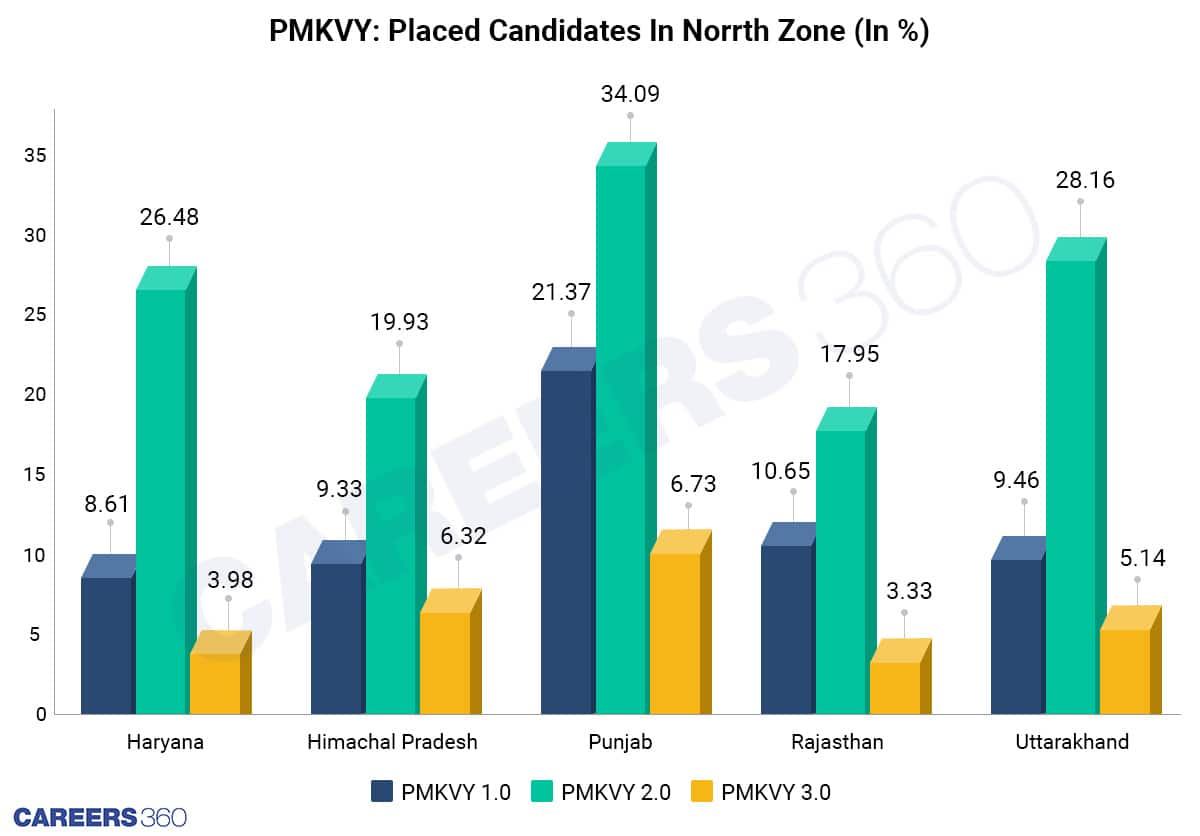 Placed Candidates In The Northern States
Also Read | Skills To Develop For Better Learning At Law College
In PMKVY 3.0, not one state from the north zone was in the top 10 list with the maximum percentage of certified candidates or the placed candidates. Rajasthan did rank, but in the top 15 states of certified candidates. While Punjab and Himachal Pradesh are the only states in the top 15 states of placed candidates.