Biology is a subject loved by many. And why shouldn't it be, it is one subject that gives us in depth insight into the working of human bodies, as well that of other living organisms. However, what often interferes with students' desire of opting for biology as a subject to pursue higher education in is the perceived lack of career options in biology, beyond MBBS. In reality, there are a host of career options in biology after 12th available for students who wish to pursue the biological sciences, all they need to do is do some detailed research and mind-opening. Following is a list of a few career options that biology enthusiasts may consider taking up.
Medicine And Allied Health Sciences
Many students who like biology appear for the medical entrance exams and join the MBBS program in India to become a doctor. There are a host of medical colleges, both private and government. Competition in government colleges is very stiff, and students need to prepare intensely to get a good rank. An MBBS degree in India qualifies you to be a general physician. It is recommended to pursue a two-year specialisation, or M.D. which trains you further for a specific field or area.
There are numerous specialisations available like gastroenterology, paediatrics, gynaecology, general surgeon, radiology, pathology, anaesthesiology, neurology, cardiology, orthopaedics, etc. Employment avenues for doctors include government hospitals. private hospitals, nursing homes, medical colleges and private clinics.
Some students also opt for dentistry or veterinary sciences based on their ranking in the competitive exam and their overall interest areas. Many dentists start their careers in government colleges and train under senior dentists before they set up their own private practice.
Medical science is a lucrative profession and doctors earn very handsome salaries after their first few years of internships and residency. It takes patience, hard work and a keen interest in healing people to make a good doctor.
Apart from the above, allied medical sciences like physiotherapy, speech therapy, occupational therapy are also in demand in the medical industry, and there are many courses available at the undergraduate and postgraduate levels for these areas.
There are also many medical colleges that offer alternative healthcare courses like ayurveda, homoeopathy, naturopathy, unani medicine, etc. (AYUSH). These courses usually focus on treating the body holistically, or through medicines made of natural herbs and other naturally found minerals and resources. In the last few years, there has been an increased interest in alternative medicine careers and natural processes of healing and treatment. There are specialised hospitals and colleges that offer undergraduate and postgraduate degrees in ayurveda, homoeopathy, etc. Employment is usually in these hospitals and private clinics.
Hospital And Health Administration
If you are interested in health and have a keen sense of scheduling, people management and work processes, you may want to consider a career in health administration. Most health administrators are usually qualified doctors who pursue their post graduation in health administration. However, you may also do an undergraduate course in physiology, and then pursue an MBA with a focus on health administration. Your focus will be the running of hospitals and health centres efficiently.
You may also want to look at public health administration as a career wherein you look at the health and treatment requirements for society at large. Public health administrators are usually doctors who pursue higher degrees in administration.
Teaching And Education
There are various career options in biology except medical as well. The education industry has welcomed biology students for many years, to teach and research. Many biology postgraduates and doctorates pursue careers in teaching and research. To teach at the school level, you need a postgraduate degree in the subject, followed by a bachelor's in education (B.Ed).
To teach at the university level, you need a doctorate in the subject, and clear the National Eligibility Test, or an equivalent exam. There is an emphasis on research and publication of papers also at the university level. You may also join as a research assistant or scholar in a department and contribute to both teaching and research.
Many coaching centres and online learning platforms need faculty in science subjects to create useful content, as well as teach. One of the more upcoming sectors is the edtech industry which needs experts in various science subjects to help students understand concepts, as well as create useful videos and content.
Research
All biologists, whether they are botanists, zoologists, physiologists, biochemists, or microbiologists, can work as research scientists in laboratories, and undertake cutting edge research on viruses, genes, diseases, mutations, etc.
Botanists focus on the study of plants and may be part of large projects mapping genetic structures to improve crop yield, create new variants, etc. Zoologists study animals, usually a specific animal species to understand their anatomy, evolution, and functioning better.
Biochemistry is an applied area of biology, which includes aspects of microbiology, genetics, pharmaceutical, plant science, forensic science and others. Microbiology is the study of microbes at the level of proteins, genes at the cellular level.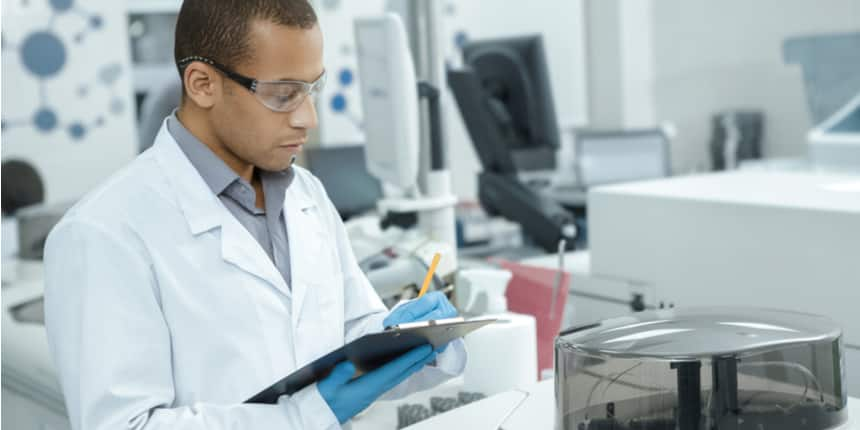 Biochemistry Opens The Door To Various High-Tech Research Careers
As a student, you can opt for an undergraduate course in botany and proceed to do a postgraduate in microbiology. Similarly, you can do an undergraduate degree in microbiology and proceed to complete a postgraduate or doctoral degree in genetics. There is scope to move from one area of specialisation to another academically, as well as professionally in the later years.
Some specialisations that have become more popular post covid are virology (study of viruses) and immunology (study of immunity), and these are pursued at the postgraduate and doctorate levels of research. Apart from this, there is a lot of research being done on communicable diseases as these impact the health of the entire nation, as we have recently observed. The role of genetics in research to understand and help treat genetic disorders is extremely important in current times.
Apart from the above, zoology enthusiasts may also want to consider studying oceanography, marine biology, and contribute towards research in this area. There are also marine biology related roles available in fisheries, farms and large aquariums.
Technology-based Specialisations
If you have a liking for biology and technology, you may consider career options like biotechnology, bioinformatics, or even food technology. Most of these are undergraduate degree courses, that could be either B.Sc. or B.Tech, and are highly specialised in nature.
Biomedical engineers help in designing, installing and maintenance of technology solutions used in the diagnosis and treatment of illnesses. Biotechnologists use human and natural processes to help improve quality of life, illness, improve crop yield, etc. Bioinformatics is an interdisciplinary area that helps to study large data sets using technology and computers.
Food technologists help in creating nutritious food which is processed. If you are interested in food, nutrition and also like chemistry, such career options in biology may be good for you.
Environmental Sciences
Preserving the environment and researching how different consumables and our lifestyles can impact the carbon footprint is a very important area in recent times. Biology majors who pursue further degrees in environmental sciences can take up research and managerial roles related to sustainability and the circular economy, which are gaining popularity given the environmental challenges.
Nutrition And Dietetics
There is a growing need for dietitians who help regulate weight and provide weight loss tips to their clients. Additionally, hospitals also need nutritionists and dieticians to plan meals based on the specific illnesses, and requirements of patients. Options for working with hospitals, fitness centres, wellness clinics or private practice are possible in this specialisation.
Forensic Sciences
Forensics or detection of crimes is an area that needs a strong knowledge of biology. Biology students need to take specialised courses in forensics to carve a career in this area. They usually are employed in labs that are associated with investigations and crime. Degrees in forensic sciences can be pursued even after high school at the undergraduate level, though it is more prevalent at the postgraduate level.
Marketing And Business Development
Many postgraduates and doctorates in biological sciences move into marketing and business development roles as they are technically proficient, and can connect well with doctors and other consumers of their products. They are also able to provide technical inputs in the research and product development phase. Students looking for career options in biology except medical will find this to be an ideal fit.
Legal, Patenting, And Consulting
Drugs, vaccines, food products that have been researched and discovered in a laboratory go through a process of patenting to make sure the product formula cannot be copied or replicated. This role requires a comprehensive understanding of legalities, documentation, paperwork, and is usually one of the more lucrative career options in biology for research scientists who have significant work experience.
Agricultural Sciences
The advent of pesticide sprays and fumigants has helped farmers save their crops from getting spoiled or destroyed by pests over the past many years. More and more technological trends and advancements in sciences have helped farmers in increasing crop yield and profitability. You can pursue a degree in agricultural sciences and make a huge contribution to effective and healthy crop production that is sustainable and environment friendly, especially if you're looking to pursue career options in biology after 12th.
Horticultural Sciences
If you have a keen interest in plants and aesthetics, there are a few more career options in biology such as horticulture and landscaping. This course equips you with the necessary knowledge that is needed to keep air pollution levels low, and cater to the aesthetic requirements of corporates, hotels, hospitals, etc.
Truly, if you have a love for biology, you have a love for life and there is no limit to what you can learn and contribute! Wishing all biologists the very best!
Dr. Srividya is an organisational psychologist, career, and personal growth coach. She works with teens, parents, adults, and returning professionals, to help them align their personal and professional needs, desires, and overcome personal and professional challenges. She can be reached at www.lifevidya.in.