A large number of students who opt for the sciences in high school are fond of chemistry, and often intrigued by its concepts. However, due to an apparently limited awareness about the career options in chemistry after 12th, a lot of these students take up other courses which seem to have a more professional orientation, although their primary interest lies in chemistry. Hence, through this article, we shall speak to you about a few very promising career options in chemistry that a student who pursues chemistry in their higher education may consider taking up. Read on to know!
Teaching And Education
The education industry has welcomed chemistry majors for many years, to teach and research. Many chemistry postgraduates and doctorates pursue careers in teaching and research. To teach at the school level, you need a postgraduate degree in the subject, followed by a bachelor's in education (B.Ed).
To teach at the university level, you need to attain a doctorate in the subject and clear the National Eligibility Test or an equivalent exam. There is an emphasis on research and publication of papers also at the university level. You may also join as a research assistant or scholar in a department and contribute to both teaching and research.
Online learning platforms and coaching centres are also quite regularly on the lookout for science faculty, for teaching and creating content. These professionals also have amazing opportunities to target the rapidly emerging edtech sector.
Research
Almost all of the products we use in our everyday life are influenced by the research and findings of scientists. To be a research scientist, you need to be precise, meticulous and committed to spending years in discovery and development. The research and development labs of pharmaceutical organisations employ large numbers of research scientists who are qualified to do clinical trials and engage in drug research. To be a research scientist, it is preferable to have a doctorate, and research experience.
Environmental Sciences
Preserving the environment and researching how different consumables and our lifestyles can impact the carbon footprint is a very important area in recent times. Chemistry majors who pursue further degrees in environmental sciences can take up research and managerial roles related to sustainability, and the circular economy that is gaining popularity, given the environmental challenges. As such, this is one of the most promising career options in chemistry after 12th.
Food Industry
There is a constant need to process and preserve food so it can stay fresh and have a longer shelf life. A good understanding of chemistry and food technology is usually needed to find ways to preserve and process food. All processed foods like breads, noodles, jams, sauces and preserves need food technologists to create and sustain the product. Chemistry majors are potentially good candidates to join the food technology sector, making this one of the best career options in chemistry.
Cosmetics Industry
There is always a growing need for good quality cosmetics that can sustain in different climatic conditions and suit different skin types. Chemistry majors who have a keen interest in the beauty industry contribute by researching formulations and creating different types of skincare creams, lotions, shampoos, hair dyes, etc. There is a constant need for research to make these products safer and easier to use, and knowing chemistry is an integral part of developing cosmetics.
Paper, Pulp, And Packaging Industry
Chemical engineers are usually in great demand in the paper industry. This is an applied area where chemistry and technology converge, to create different types of paper that are commonly used in all homes. Similarly, packaging that is used for juices, milk, food, medicine also needs inputs from chemistry majors so the packaging supports the goods it stores inside and preserves them for future consumption. Because of its high practical utility, this is one of the best career options in chemistry.
Forensic Sciences
Forensic Sciences is one of the most promising career options in chemistry. Forensics or detection of crimes is an area that needs a good knowledge of chemistry. Chemistry students need to take specialised courses in forensics to carve a career in this area. They usually are employed in labs that are associated with investigations and crime. Degrees in forensic sciences can be pursued even after high school, at the undergraduate level, although the number of universities offering this course at the UG level would be limited.
Oil, Natural Gas, And Petrochemical Industry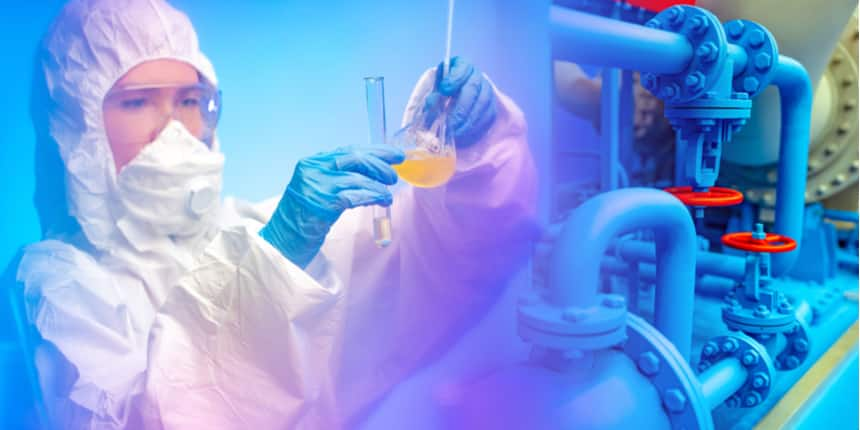 The Petrochemical Industry provides lucrative career opportunities for chemistry graduates
Chemistry majors can also look at careers in the mining, energy and petrochemical industries. A lot of work is being done in the renewable energy sector that requires a good understanding of chemistry, making this one of the most lucrative career options in chemistry.
Marketing And Business Development
In case you enjoy chemistry but would prefer to be involved in increasing sales, market share and business rather than the core aspects, you may also move into marketing and business development roles in large organisations. You may lead the development and marketing efforts of a new product, and be closer to the business or customer side. A post graduation in chemistry, along with a business degree is helpful in this field, however, in purely research organisations a doctorate is always given preference.
Quality Assurance Specialist
You can also join as a quality assurance specialist to check and monitor the quality and efficacy of specific products like food items, medicines, cosmetics, etc. All organisations have scientists who are involved in checking the quality of the goods that are produced in the plant, and ensuring that they meet regulatory and other requirements.
Legal, Patenting, And Consulting
Drugs, vaccines, food products that have been researched and discovered in a laboratory go through a process of patenting to ensure that the product formula cannot be duplicated. Such career options in chemistry require a comprehensive understanding of legalities, documentation, and paperwork and is usually a lucrative option for research scientists who have significant work experience.
Medical Representatives
Many chemistry graduates are hired as medical representatives of pharmaceutical organisations so they can meet doctors and increase the sales of the drugs manufactured by their organisation. They also seek feedback and market inputs from the doctors, which helps the pharmaceutical organisation discover and develop more drugs and medicines. This is usually a field role and is paid through a mix of basic salary and commissions.
Waste Management
Waste management of cities is amongst the best career options in chemistry these days. Cities and metros are facing a huge crisis in terms of waste management and recycling products. A lot of research needs to be done in terms of how waste can be processed so it is not dumped into wastelands, seas and riverbeds causing pollution and environmental degradation. This requires a keen understanding of chemistry and life sciences, and how waste can be decomposed without causing further pollution. Specialised courses in waste management are available for students who want to pursue a career in this area.
Textile And Fashion Industry
The creation of synthetic and durable materials and textiles requires a good understanding of chemistry and how different elements combine.
These days there is a growing section of natural leather that is processed from cactus, leaves and other plant-based products. All of these require scientists who can combine their knowledge of chemistry, fashion and technology to create plant-based shoes, bags, etc.
Agricultural Sciences
With the availability of sprays, fumigants, and pesticides, farmers, in recent years have fortunately been able to save their crops from being destroyed. Also, they have been able to significantly increase crop yields, and in turn their profitability, due to the advancements in technology. Chemistry graduates can also further specialise in agricultural sciences and allied areas to increase the quality and quantity of food production.
Museology
Preserving and restoring artefacts, fossils, old paintings, etc. is another applied area where chemistry graduates may find their calling. There are specific courses offered in museology and art restoration that require you to have a good knowledge of chemicals and processing.
Many of the careers options in chemistry listed above could be pursued after completing the requisite necessary qualifications and courses, post a major in chemistry at the undergraduate level. The managerial and administrative roles may require additional qualifications and certifications in business, marketing, patenting laws, etc.
Apart from the courses listed above, some other career options in chemistry that graduates can pursue include medicine, dentistry, nutrition, veterinary sciences and other allied areas. All of these require more years of study and qualifications.
In India, chemistry majors seem to prefer to work as scientists in laboratories, as lecturers or teachers, medical representatives and some move into the business and marketing roles in large organisations.
An effort has been made in this article to provide comprehensive and technical information for the benefit of students who have a liking for chemistry. Students and parents are urged to verify specific qualifications and requirements when they choose courses and careers.
Wishing you success!
Dr. Srividya is an organisational psychologist, career, and personal growth coach. She works with teens, parents, adults, and returning professionals, to help them align their personal and professional needs, desires, and overcome personal and professional challenges. She can be reached at www.lifevidya.in.