In a recent conference for college youth leaders, a student asked me about my thoughts on social media. I directed the question back and asked them what their views were. Most, if not all, spoke of the ill effects of this invention, perhaps in the attempt to impress their teachers and parents who were gathered in the Zoom audience.
And, I, while appreciating their awareness and insights, wondered how many of them had their cameras off, and their Instagram on.
So, I put forward another question - asking them how many of the students present had found the poster for this event either on Instagram or Facebook. Naturally, many of them had, and the Zoom poll reflected a jarring 75%. By the end of the poll, they had understood what I was driving to.
With a nervous smile, the anchor asked me for my thoughts, and I said, "The one and only point to be kept in mind when it comes to the pros and cons of social media for youth is, that they should use social media to their benefit, and not the other way round, because if it uses you, like any drug, it will only wreak havoc". I suppose many of them thought that as a psychologist, I would present my case against social media, but I have never seen someone who uses social media consciously, facing any issues due to it.
Social media is a great innovation. Yes, its darker undertones can seem vicious, especially when it comes to our children. But, its utility is beyond doubtful. Many of us adults can be extremely critical of social media and make it out to be the devil in front of our children. However, that approach can often be quite misleading for them. What would rather be helpful, is to understand how social media can benefit our young ones, and how it may cause them damage. With this information in hand, we can set guidelines with them and for them.
It is always much more beneficial for us to be aware, and willing, to communicate both the pros and cons of social media for students to our children, rather than reject anything that appears to be threatening and turn it into 'the forbidden fruit'. It is not just young ones who are drawn to something that has been deemed 'out of bounds' by their parents, but rather, the "forbidden fruit effect", that plagues all of humankind. None of us like impositions and prohibitions, because that makes us feel a threat to our freedom.
So, now that I have managed to convince you to look at the bright side, let us understand the benefits of social media and the available social media apps.
Social Media For Teens - Knowledge
The Internet offers a wide variety of information in the form of books, documentaries, articles, research papers, and what not!. All this can often be a bit overwhelming. However, social media apps and sites like Facebook and Instagram break these down into bite-sized chunks in the form of posts, reels, and short videos. Many professionals of a wide variety of fields curate their social media accounts to be a source of learning and knowledge. Furthermore, while authors take longer to publish new editions with novel theories, concepts, and views, those with such accounts are eager to tell their audiences about such new insights, discoveries, and facts. And, all it takes is a short 60-second video.
This, of course, applies the other way too. You see, there are many young ones who are enthusiastic about something in life, but often can't seem to gather enough people who will hear them out. I often encourage such children to curate pages where they can dispel knowledge and make videos on the fields they are passionate about, and thus also help their peers gain some information. Some of these youngsters enjoy talking about music and instruments, while some others like to research ancient history and recreate BBC documentaries, and some others, enjoy discussing sports and athletes.
Social Media For Teens - Fostering Creativity
In the attempt to curate pages that attract knowledge seekers, young ones can get quite creative. This is not only helpful in gaining more knowledge, because one has to keep researching and being on top of the latest information in order to post them, but it also helps foster creativity.
Many students enjoy painting, cooking, dancing, singing, writing, making art and craft, speaking new languages, reading, playing an instrument, working out, playing a sport, and I always encourage them to have their creative social media accounts, where they get to display these talents, get feedback and appreciation, and grow further. Managing and sustaining these accounts push youngsters to get more creative with not just their work, but also how they display it and, perhaps, even dispel knowledge with it.
Also, creativity is not only developed in actively creating, but often in consuming creative work. I once met a young student who was passionate about art, but could not draw or paint, and felt defeated with regards to creativity. I remember telling her that being passionate about something does not necessarily entail having to do it yourself, or engaging in the field as a creator, but rather sometimes as an appreciate-r and collector. I encouraged her to start collecting paintings, portraits, and sketches and curate a page to the likes of an art gallery. It took her a few months of research and curation, but when she finally unveiled her account on social media apps, I was beyond mesmerized, she had really poured her heart into it, and the way she had displayed these art pieces were in themselves tokens of her creativity.
Social Media For Teens - Connection, Support, And Community
From clubs and societies to social work teams, many formal and informal groups and organizations make pages to promote their work and their ideologies, support the people who align with them, and often advocate for change. I always joke with my students that there could be no ideological leaning that does not have a social media page.
Social media can be a great way of keeping in touch with friends and acquaintances, often bridging the gaps between those who are miles away.
Whether it is to hire someone, invite people to a conference, gather support for a cause, start a revolution, ask for funds to sponsor people's treatment or education, support people in grief or crises, offer services, sell products or buy them, social media has phenomenal reach, beyond language, race and Amazon's delivery zones.
All in all, the benefits of social media are numerous and it can act as a wonderful way to know about the world, connect with its people, and showcase one's prowess. But, let us not forget that no matter the wonders, anything in excess can be harmful, and this goes for social media as well. To prevent these, we as adults must be aware of what the harms are, and the impact of social media on our children.
Let us now understand the three most important issues and disadvantages of social media for teenagers.
Social Media For Teens - Constant Comparison
As wonderful as social media is, it is still very much made, operated, and used by humans, which means our internal hardwiring displays itself in the negative impact of social media too. As society focuses on people's external and material appearances, people use social media as a source of displaying these. However, in the competition to do so, many 'influencers' hide away behind filters, presents, and photoshop. Youngsters often fall into the negative loop of comparing themselves, both on the way they look, as well as what they possess - they look at these influencers, feel terrible, look at themselves, feel worse, then the cycle repeats.
Furthermore, these youngsters learn to appreciate and more importantly, hone only these external, and often superficial elements of life and forget the value of deeper, more fundamental aspects of life. This is why we find so many people with perfect lives but no internal content.
Social Media For Teens- Escape
As humans, we all seek to escape pain and attain pleasure. None of us enjoys grief, anger, or frustration, so we find ways to escape it or numb ourselves. Most people believe drinking and drugs are the ways we escape, but that's not true. The mindless scrolling, as well as the constant engagement with likes, comments, and sensational shares, are ways we don't just escape life and its harshness, but also cope and numb ourselves. Many young people end up mindlessly scrolling for hours just because of how it has been designed, one reel or post after the other.
Social Media For Teens - The Transitory Trends
The rapids of social media are ferocious, and young people who are still developing a sense of self tend to lose themselves in them. These trends invite people to engage and follow them blindly, for appreciation or to be awarded the title, 'coolest one'. Each trend brings with itself a new belief, or way of looking at things around them. Sadly, many negative trends remain lodged in the minds of young people, like fatalistic and self-deprecating humour, slurs, disrespectful music, etc.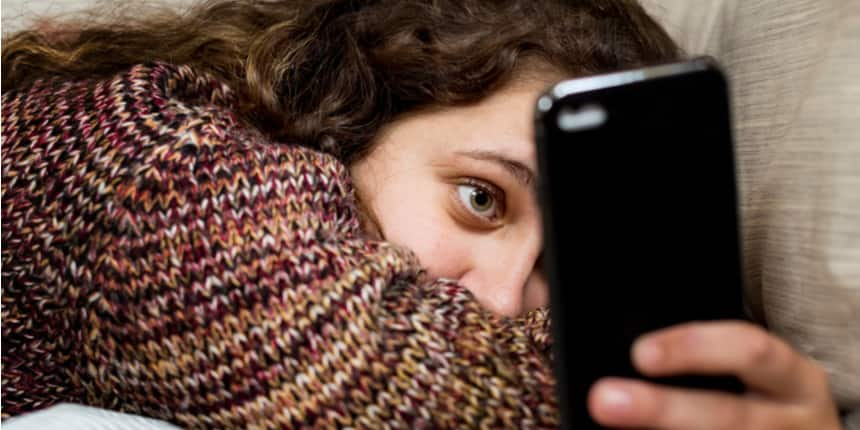 Drawing The Line Of Balance
How Can Parents Help Draw A Line?
More often than not, our children will struggle with these darker undertones of social media, that is not to say that we as parents should reject social media, but rather make space for open and comforting conversations with our young ones.
Let's understand what we as parents can do to educate their children about the impact of social media.
Initiate Conversations
Having open and honest conversations with children helps them see the pros and cons of social media for teenagers, and the true picture of social media, rather than a stereotypical image of its devilish nature. Very often, parents will do the latter; children will then go on to discover the benefits of social media, and believe that their parents do not trust them to make choices and understand the world. Whether you are introducing them to social media or asking what their usual experience on Instagram is like, do not shy away from a conversation.
Do Not Show And Act Out Of Fear
People feel that restricting children from using social media is helpful, but more often than not, it doesn't. Children, though still learning about the world, enjoy their sense of autonomy and freedom, ever since they are toddlers. They are drawn towards the activities of the adult world and attempt to mimic them. Parents that use extreme control and aggression to disallow children from experiencing this, will face their silent or harsh rebellion against it. As parents, we need to reassure our teens that we welcome them into the big world, and are present to protect and support them. We must learn to trust them, and they will do the same.
Set Guidelines And Rules
Gentle parenting is not free of setting guidelines. As parents, you are an authority in your children's lives, and should always make this clear. This is important because until children find a sense of groundedness and independence, we as parents are that anchor. Post open conversations and trustworthiness, you must set rules too. These will include:
When not to use social media (like first thing in the morning or before sleeping);

How many hours they can be on it (asking them to reflect on how much time it takes away from our lives);

What not to post on it (like personal details and photographs because there are individuals who may misuse it) etc.
All in all, as parents, we need to communicate with our children and explain to them the pros and cons of social media for students. However, at the same time, we must not look to denigrate their use of social media apps but to foster ways in which its benefits can be accentuated, while dampening the negative impact of social media for teens. Most importantly, work with your children's curiosity for that goes a long way!
Nilanjana Parijat is a depth-oriented, and holistic wellness psychologist, with extensive hands-on experience in working with children, adolescents and familes. She currently works with Reboot Wellness, Gurugram.