Have you ever wondered why some nuclear weapons are more powerful than others? Nuclear weapons have the ability to unleash massive amounts of energy, causing catastrophic damage and loss of life. But among them, hydrogen bombs, also known as H-bombs, are considered more powerful than atomic bombs. So, what makes H-bombs more destructive? Let's explore the science behind nuclear weapons, the difference between atomic and hydrogen bombs, and the factors that make H-bombs more powerful.
In order to understand the immense destructive power of hydrogen bombs, it is necessary to examine the fundamentals of atomic bombs. By understanding how atomic bombs work, we can better grasp the differences between the two types of nuclear weapons and why H-bombs are more powerful.
Mechanism And Critical Mass Of Atomic Bombs
The mechanism behind atomic bombs is based on nuclear fission, a process in which the nucleus of an atom is split into two smaller nuclei, releasing a tremendous amount of energy. This uncontrolled nuclear fission is what produces the explosive power of atomic bombs. By breaking down the heavy nucleus of an atom into two lighter nuclei, the process releases an enormous amount of energy in the form of heat and radiation, which causes a devastating explosion. This process was first demonstrated during the Manhattan Project, leading to the creation of the first atomic bomb.
When a free neutron collides with an atom of a fissionable material such as uranium or plutonium, it can trigger a nuclear chain reaction. The neutron is absorbed by the nucleus of the atom, causing it to become unstable and split into two smaller nuclei. This process also releases additional neutrons and a significant amount of energy. These newly-released neutrons can then go on to collide with other fissionable nuclei, triggering a chain reaction that results in a rapid and uncontrollable release of energy. This is the basic mechanism behind how atomic bombs work. Once the chain reaction starts, it can spread almost instantly, leading to the massive explosion that characterizes atomic bombs.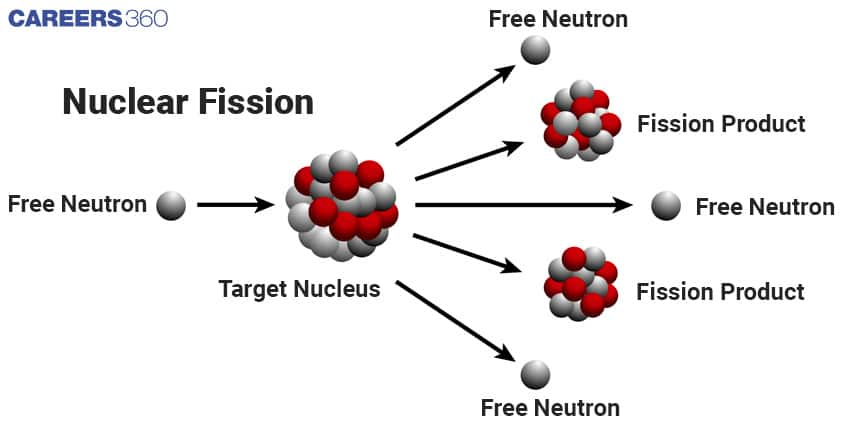 It is important to note that a chain reaction cannot happen with a small amount of uranium-235. This is because the neutrons released during fission may escape without causing another fission reaction. The likelihood of a discharged neutron starting another fission reaction only increases when more uranium-235 is added to the mix. The minimum amount of the nuclear element needed to initiate a self-sustaining fission chain reaction under specific conditions is known as the "critical mass." Uranium-235's critical mass is approximately 50 kilograms.
In order to initiate a nuclear chain reaction, it is crucial to rapidly assemble the critical mass of nuclear fuel and compress it into a smaller volume to ensure there is enough material to react before the resulting heat causes an explosion.
How Is An Atomic Bomb Different From An H-Bomb?
A hydrogen bomb, also known as a thermonuclear bomb, is a type of nuclear weapon that operates on the principle of nuclear fusion rather than nuclear fission. The fusion process occurs when isotopes of hydrogen, specifically deuterium and tritium, are fused together to form a helium nucleus and a neutron. This fusion reaction releases an immense amount of energy, which is the basis for the explosion of the weapon.
Compared to atomic bombs, hydrogen bombs have the potential to be much more powerful. This is because the energy released by nuclear fusion is significantly greater than that released by nuclear fission. Hydrogen bombs can also be made to have variable yields, meaning their explosive power can be adjusted to meet strategic or tactical objectives. However, the construction of hydrogen bombs is much more complex than atomic bombs, and they require a fission trigger to initiate the fusion reaction.
Also check - What Is The Physics Behind Binoculars? How Do They Work?
What Makes A Hydrogen Bomb Deadlier?
When an atomic bomb using U-235 is detonated, a large portion of the U-235 remains scattered and not used in the chain reaction. This is because the U-235 is too sparsely distributed to sustain a self-sustaining chain reaction. As a result, the majority of the U-235 is scattered by the explosion, preventing it from capturing a neutron and causing another chain reaction.
The atomic bomb dropped on Hiroshima had a U-235 content of about 50 kg, and if all the fuel had entirely fissioned, it could have had a yield of 500 kilotons, but it yielded only three per cent of that value. Therefore, atomic bombs have a limit to their explosive power.
In contrast, a hydrogen bomb utilizes the energy of an atomic bomb as its trigger, and its fuel compresses much more quickly, solving the problem of it blowing apart before the reaction has progressed far enough. This allows for more fuel to be used and results in a much larger explosion.
While no nation has deployed an H-bomb in battle, they have the potential to be much more lethal than atomic bombs.
Fusion technology holds the potential to provide future generations with an abundant source of energy, but it also presents a significant risk if it falls into the wrong hands. Ensuring its safety is a significant challenge. The power of nuclear technology is so immense that it has the capability to alter the fate of entire nations.
Also check - Understanding Inflation: A Class 12 Maths Concept