Be it a BTech, BE, BCA, or a BSc, the potential of a degree in Computer Science is known and visible in the education and career landscape today. In the webinar hosted by Careers360 on "Choosing Specialisation In Computer Sciences", our distinguished guest, Dr. Dheeraj Sanghi, spoke to students about the scope of Computer Science and its emerging branches, at length.
Q. What attributes should a student have or cultivate if they wish to pursue a career in Computer Science?
Sanghi | Computer Science is a good choice for students who have good communication skills, fair analytical skills, and a bit of abstraction. Because Computer Science is all about breaking down large problems into smaller ones by thinking logically and communicating them to others, these three abilities are a must for anyone interested in pursuing a career in the field.
Q. What criteria should a student address when picking a specialisation in Computer Science?
Sanghi | Students are not required to choose a specialisation by the end of class 12. Students who chose Computer Science after class 12 must attend and experience all of the 8-10 mandatory courses, and with time, they will be able to determine what they are interested in and what to study in greater depth. Flexibility in the curriculum is very important for choosing a discipline.
Students should select a specialisation based on their interests as well as the demand and developments in the job market. For example, a networking specialisation may be appealing to the student, but it may not lead to high-quality jobs in comparison to other specialisations. Similarly, a specialisation in Artificial Intelligence may provide a high-quality job, but the number of available jobs may be limited, compared to other specialisations.
Also Read | 7 MSc Courses That Can Fetch You A Good Tech Job
Q. What specialisation should I choose if I have a good hold over Python and SQL?
Sanghi | Because you are a good programmer, you can choose from a variety of specialisations. Programming is a basic skill that is required in a variety of specialisations. Examine your hobbies and interests, and make a decision based on where you picture yourself working in a few years. It is recommended that a student should not choose a specialisation immediately after class 12, rather wait two years, explore various subjects, and then choose what interests him or her the most.
Q. Is it necessary to seek admission to the best institutions in order to have a bright future?
Sanghi | It is critical to select the best college from among those to which you are eligible for admission. For example, choose the best of four colleges if you get accepted into four. The term "best" might mean different things to different people. For some students, the best might be defined academically, while for others, it can be defined in terms of extracurricular activities. Choose the one that best meets your requirements.
Q. If someone chooses CS with AI or ML, will it be more limiting than those who pursue CS as a degree with no specialisation?
Sanghi | No, it won't be limiting because the degree will provide you a choice of 17-20 subjects from which to choose 8-10 electives. You will have 3-4 compulsory electives if you select AI or ML, but the rest of the basic electives are your choice.
Q. Should I consider CS as a career option despite my lack of programming skills?
Sanghi | Many students select CS even if they aren't excellent at programming and go on to thrive in it. You can consider it if you are truly interested in CS and are not pursuing it just to get a job. If you are simply interested in programming for the sake of a job, you should look into alternative options.
Also Read | Your Stream Need Not Limit Your Career Options: Check Out Some Real-Life Stories
Q. Will a degree in Information Technology (IT) give me the same prospects in college as getting a seat in CS?
Sanghi | The curriculum in both streams is comparable, however, the types of classmates and professors in each branch differ. When compared to IT, CS has significantly superior students and teachers, and it is recommended.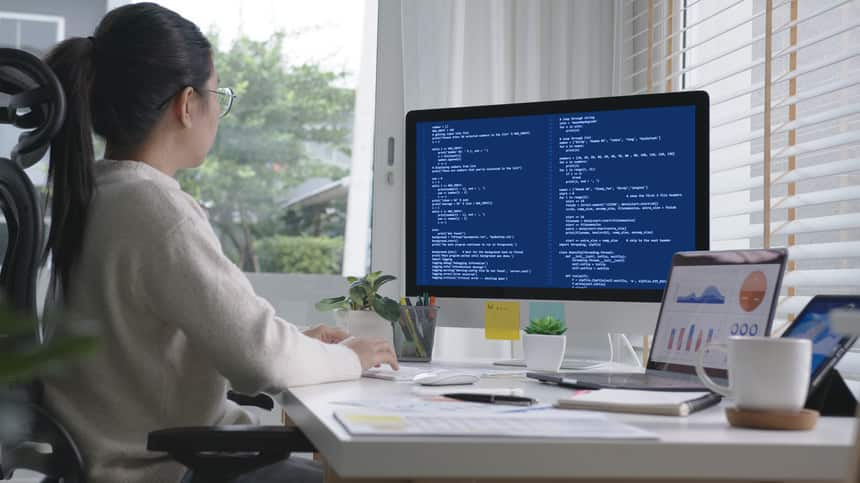 A Computer Science Aspirant Must Focus On Self- Learning
Q. How should a student prepare to be up-to-date in the field of Computer Science when new programming languages emerge?
Sanghi | Self-learning using the internet is a talent that you should acquire before starting your career. Technology evolves quickly. It just takes a few days to learn another programming language if you already know one well. You must learn and adapt to change as a habit. If you start practising this in college, it will be extremely beneficial to you in the future.
Q. How much Maths is required in Computer Science?
Sanghi | Basic Mathematics taught up to class 12 is beneficial to the stream. It can provide you with several programming shortcuts if you know arithmetic and are familiar with formulae. Maths can help you expand your programming horizons.
Also Read | Wondering If There Is A Future Without Maths? Read To Get Your Anwer
Q. Could you please tell us more about the Btech (Mathematics and Computer Science) course?
Sanghi | This is an interdisciplinary subject that combines Maths and Computer Science in a unique way. If you're interested in both fields, this is the course for you. For example, if you are interested in Maths solely for the purpose of learning it but wish to pursue a career in Computer Science, you can enrol in this course.
Q. What is the distinction between Btech (CSE) and (BE CSE)?
Sanghi | There is no distinction between the two. Even Btech courses offered by two distinct universities may have diverse curricula. You must concentrate on the course's curriculum rather than picking a course based on its name.
Also Read | You Can Get Discounts From JEE, NEET Coaching Institutes: Here's How
Q. What are the CS engineering examinations that one should take?
Sanghi | Although there are exams for common engineering admission exams such as JEE, there is no specific CS engineering exam.
Q. What should one do if one doesn't get a seat in CS but your interest remains there?
Sanghi | If you acquire a seat in another branch, such as mechanical engineering, in a good college, you should take it. This is because today's good institutions will offer at least two Computer Science electives, even if the specialisation is mechanical. Additionally, to broaden your horizons, check for online courses connected to Computer Science. Prepare for GATE and a good GATE score will lead to a master's degree in CS, which does not require a bachelor's degree in CS.
Q. What factors should one consider before selecting a Computer Science college?
Sanghi | One of the most significant factors to consider while choosing a college is the credibility of the faculty. Another advantage of the program is its adaptability. It gives you the opportunity to find your passions. After that, infrastructure and other facilities should be examined. You might want to take a campus tour, meet the staff and students, and then pick on a college.
Also Read | How To Choose The Right College After 10+2
Q. Which countries should one aim for when planning to study abroad?
Sanghi | If you intend to travel abroad, you should also consider working there. Countries such as the United States, the United Kingdom, Australia, and Canada have flexible post-study visa regulations and colleges that give high-quality education. You should also think about how much it will cost to get your degree.
Q. How can I compete with students who have prior programming experience?
Sanghi | There is a big number of college students who have never programmed before. The majority of students with programming experience in class 12 have low-quality experience, making it difficult for them to forget what they've learned and moved on to new information. Students with no prior programming expertise find it easier to grasp the concepts than the former.
Q. What advice would you provide to students considering a career in Computer Science?
Sanghi | The first is to be proficient in programming, as this is a prerequisite skill. You should understand all of the codes and look for institutions with good faculty and infrastructure. You should take advantage of the many free online courses available to improve your skills. If you are unhappy with what your college professors are teaching, look for information outside of your campus on the internet. Try to improve your problem-solving and critical-thinking abilities. Reading literature can help you become a better thinker and, surprisingly, a better programmer.
Watch Now | Webinar: Choosing Specialisation In Computer Sciences