'Sex' has been a taboo word in our country, to an extent, it still is so. Teenage life usually revolves around clothes, cars, looks, sex, and it is cool to discuss gender, being in a relationship or coming out of one. So where is their sex ed coming from? Google guru obviously, is the easiest source of any information for teenagers. How about you as a parent to be an equally important resource for safe sex education for teenagers?"No way!" as an Indian parent will say indignantly. However, amend this response by reading the following article which discusses the 'why' and 'how' of sex ed that you should give to your teenager.
Safe sex education for teenagers calls for sagacity and mature parenting. With a surge in their pubescent growth, and interest in all things adult, hell seems to break lose for parents. Sadly, policing, instead of parenting, becomes a norm. You become hyper-vigilant to each move of your teenager. Where they are going, what they are doing, who they are with, your list of questions is as endless as a teenager's curiosity. Remember that sexual development is a natural, progressive experience of every individual in their lifespan. You went through it and so will your teenager. Now the onus is on you to equip them with important life lesson of sexual conduct and attitude.
Also Read: Talking To Your Teen About Love And Relationships
Why You Should Talk About 'It'?
It is important that sex education for teenagers comes through parents as well, along with teachers and other credible sources. But, why? Here are some reasons.
Home > School | Home is the cradle of basic learning for children. Getting exposed to modesty, nudity, privacy, and gender-specific messages begins from a teenager's childhood itself. Home is usually seen as a safe environment for important and sensitive conversations to take place and hence can teach the importance of sex education for teenagers.
Better Decision Making | Importance of sex education for teenagers includes timely discussion about your teenagers' sexual maturity which cultivates better decision-making ability in them.
More Responsibility | Safe sex education for teenagers includes talking about sexual health or activity but does not imply giving permission to indulge in sexual behaviours. Basically, it lays a foundation for better understanding and developing a responsible attitude.
Helps Make Sense | The teenage brain is constantly recording affection displayed between parents and directives given regarding physical interactions with people. Sex education for teenagers will influence their understanding of gender and sexuality while growing up.
Less Awkwardness | Parents, by holding such conversations with their teenagers, can create an open and non-judgemental space for the latter to share their curiosity or dilemmas. Well-established rapport and bond also eases the awkwardness around teaching the importance of sex education for teenagers
Milestone For Parents | Imparting sex education for teenagers as a parent is a developmental milestone for you too. Also, you are the strongest influence on your teenagers' personality. Do not underestimate yourself.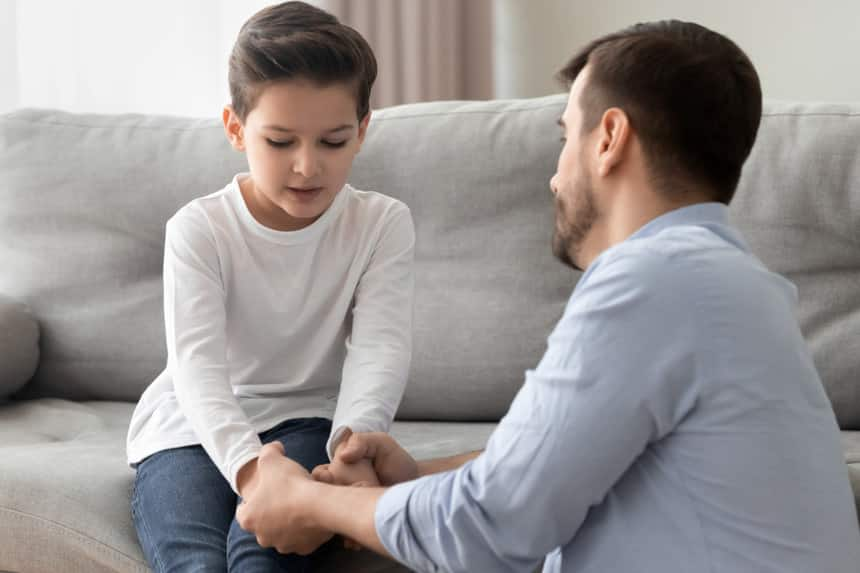 Imparting Sex Education For Teenagers As A Parent Is A Developmental Milestone
Also Read: How Does Parental Discord Impact A Teenager?
What If You Don't?
Many parents are unable to overcome the hesitation of talking about a sensitive topic like sex or importance of sex education for teenagers. What happens if parents don't appropriately address their kids' curiosity around this topic? Chances increase of:-
Teenage pregnancy
Inappropriate sexual language
Dating violence
Risky behaviour such as multiple partners, unprotected sex
Sexually transmitted diseases
Lack of sensitivity towards partner's needs
Undermining the importance of consent
Fearfulness, anxiety and self-doubt about their own sexual health
How To Kickstart The Chat
Here are some ideas to help you begin the conversation of sex education for teenagers
Have an ongoing conversation about well-being, gender, intimacy, and sexuality with your teenager
Expand on a news item, advertisement, audio/video clip related to sexuality and use it as a "teachable moment". Shared media experiences within a family can become great conversation-starters.
Social media with its pictorial content and comments can be used to explain body positivity, especially regarding one's weight or body shape. It also comes in handy to explain real and exaggerated (sexualised) images
A life event, such as birth of a baby, miscarriage, or pregnancy can be used to initiate conversations with your teenager
Be honest, specific, and direct in conveying a message. For example, about unsafe sexual practice, gender-orientation, or sexual abuse
Bring out the risks and psychological effects of inappropriate sexual conduct in an objective manner
Have a dialogue and not a monologue. Avoid lecturing your teenager. Be an active listener to their viewpoint or idea about sexual understanding
Do not scare them or invoke a negative outlook towards sexual activity
Ignore the nonchalance displayed by your teenager while conversing as they will most probably be listening. Typical teenager stance of disinterest should not stop you from discussing this important subject with them
Convey an open invite for conversations with your teenager. Your message should be, "I am glad that you came to me" or "I am glad that you are asking me this"
Also Read: 8 Mistakes You Should Avoid Making With Your Teenage Child
Sex is a normal development and is closely linked to a person's overall well-being. Importance of sex education for teenagers should be reflected in imparting knowledge regarding intimacy, bodily needs, and anatomy will help them in developing healthy relationships. As the protagonist in the Bollywood movie, "Shafakhanaa", says "baat toh karo" (at least talk about it)! So go ahead and start a conversation with your teenager today to inculcate responsible and healthy attitudes towards sex.
Dr. Sanjana Seth is a Psychologist and Psychotherapist, registered with RCI, and holds more than two decades of practising experience with the healthcare organisations of the Armed Forces, as well as those operating as private. She is skilled in administering psychological assessments, providing therapeutic intervention and psychoeducation via talks, lectures, workshops, and literary articles. She has worked extensively for children with special needs, and has taught Psychology to students at undergraduate and postgraduate levels.