Around 3.85 crore students enrolled in higher education institutions across India in 2019-20. For every 23 students there was only one teacher. Jharkhand and Bihar had the highest student-teacher ratio among all the states in India, most Union Territories had a lower ratio. The participation of overseas students in higher education institutions increased by almost nine per cent in the last five years.
As per the Central Government of India's annual report of the University Grants Commission(UGC) for the year 2020-21, the intake of foreign students increased by around 8.64 per cent over the last five years. Students who come from more than 168 countries across the globe.
Through this article, Careers360 shows the state-wise student-teacher ratio, student enrollment, and number of foreign students admitted in higher education institutions of India.
Student-Teacher Ratio
As Uttar Pradesh is the highest populated state, the number of enrolled students is also high here. But in terms of the highest number of teachers, the state doesn't really rank as high. It is Tamil Nadu that takes the top spot.
Also Read| CBSE Schools Increase By 25 Per Cent, A Report On Last Four Years
Top 10 States With Highest Enrolment Of Students, With Number Of Teachers
| | | |
| --- | --- | --- |
| State/UTs | State-wise Students Enrolment in Higher Education Institutions (HEIs): 2019-20* | State-wise Number of Teachers in higher Education Institutions |
| All India | 3,85,36,359 | 15,03,156 |
| Uttar Pradesh | 63,88,214 | 1,61,439 |
| Maharashtra | 42,65,472 | 1,63,132 |
| Tamil Nadu | 35,20,311 | 2,02,085 |
| Rajasthan | 22,06,517 | 77,377 |
| Karnataka | 21,87,892 | 1,48,368 |
| Madhya Pradesh | 21,82,154 | 64,106 |
| West Bengal | 21,60,893 | 65,546 |
| Andhra Pradesh | 18,97,149 | 99,737 |
| Bihar | 17,38,432 | 29,597 |
| Gujarat | 15,44,840 | 60,388 |
The all India student-teacher ratio in 2019-20 was 23 in higher education institutions. In simple terms it means that for every 23 students there was one teacher. Jharkhand and Bihar had the highest teacher-student ratio while Pondicherry and Lakshadweep had the lowest. Small states and Union Territories like Tripura, Jammu and Kashmir and Dadra and Nagar Haveli have a good students-teacher ratio as compared to bigger states like Assam, Rajasthan and others.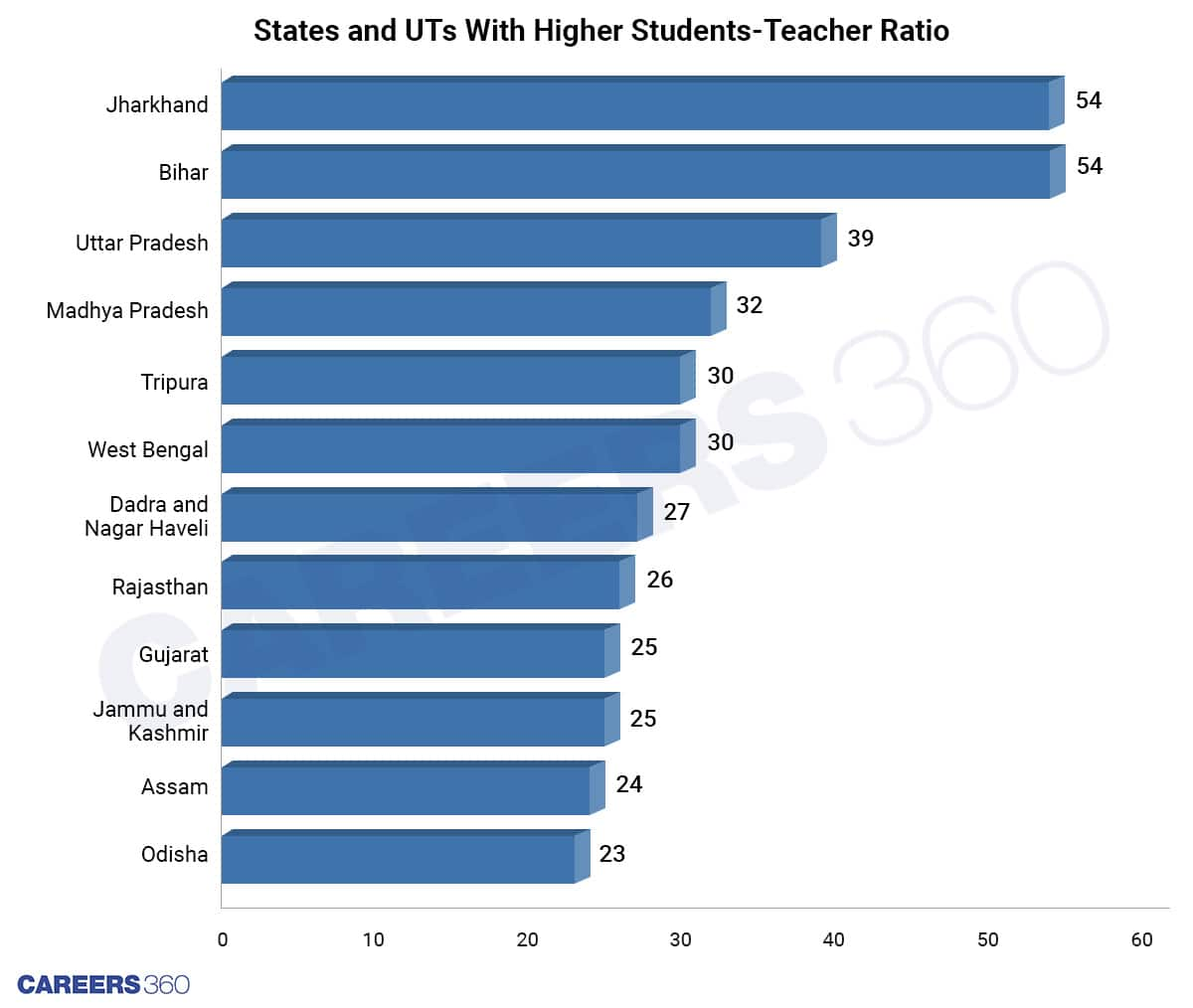 Students-Teachers Ratio
Also Read | Is CBSE A Popular Choice? Analysis Of Graduating Students From CBSE Schools Across India
Jharkhand, Bihar and Uttar Pradesh had the highest student-teacher ratio for regular programmes among all institutes as well as in universities and colleges.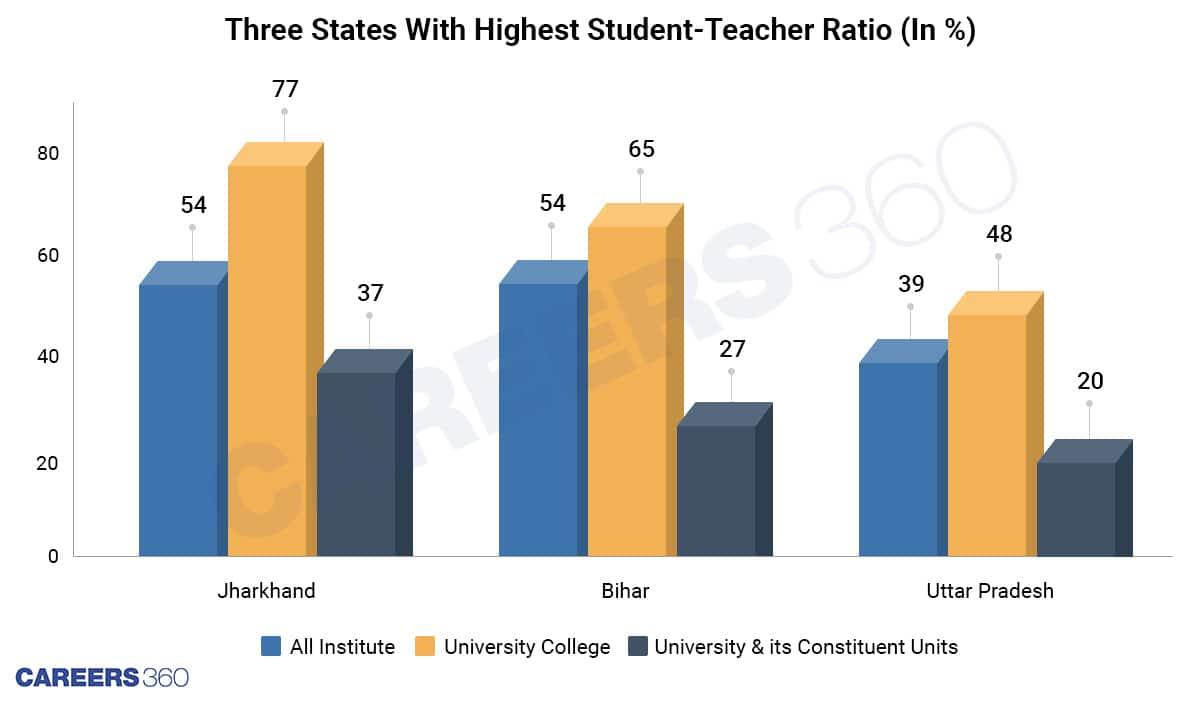 Top States
Overseas Students
A total of 49,348 international students came to India for higher education in 2019-20. These majorly belonged to Asia, followed by Africa. Over 33 percent of these foreign students were female.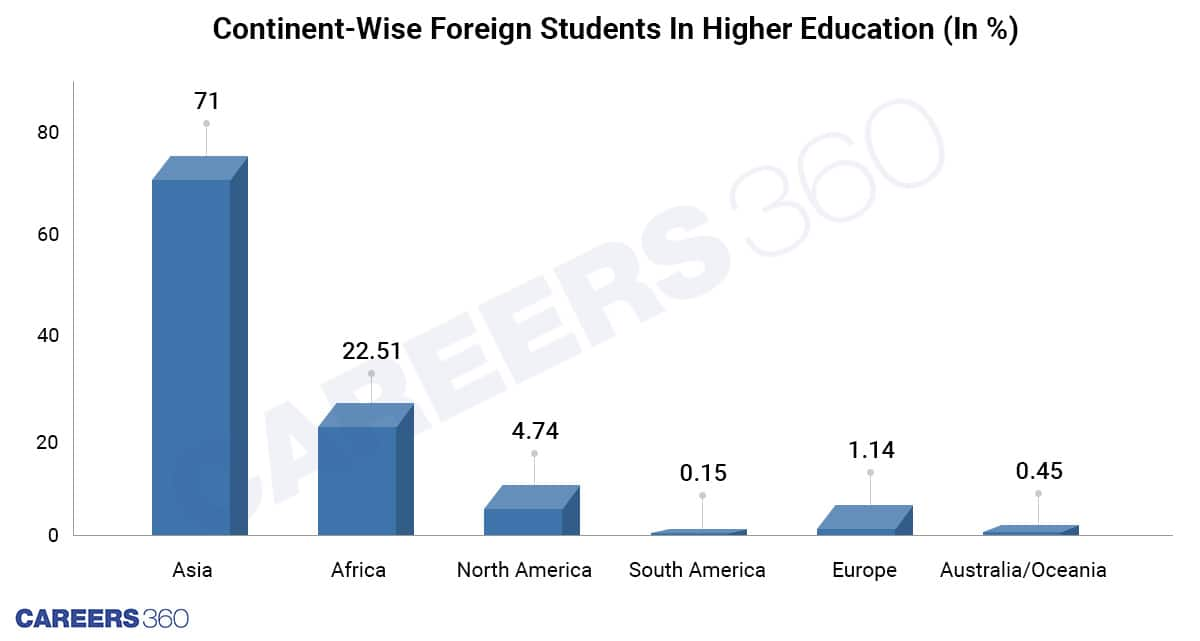 Foreign Students (In%)
Also Read | Central Teacher Eligibility Test (CTET) Result Analysis Over The Last Four Years
These foreign students came from around 168 countries. More students came from countries like Nepal, Afghanistan, Bangladesh, Bhutan, Sudan, US, Nigeria, Yemen, Malaysia, United Arab Emirates etc with a hope for better education.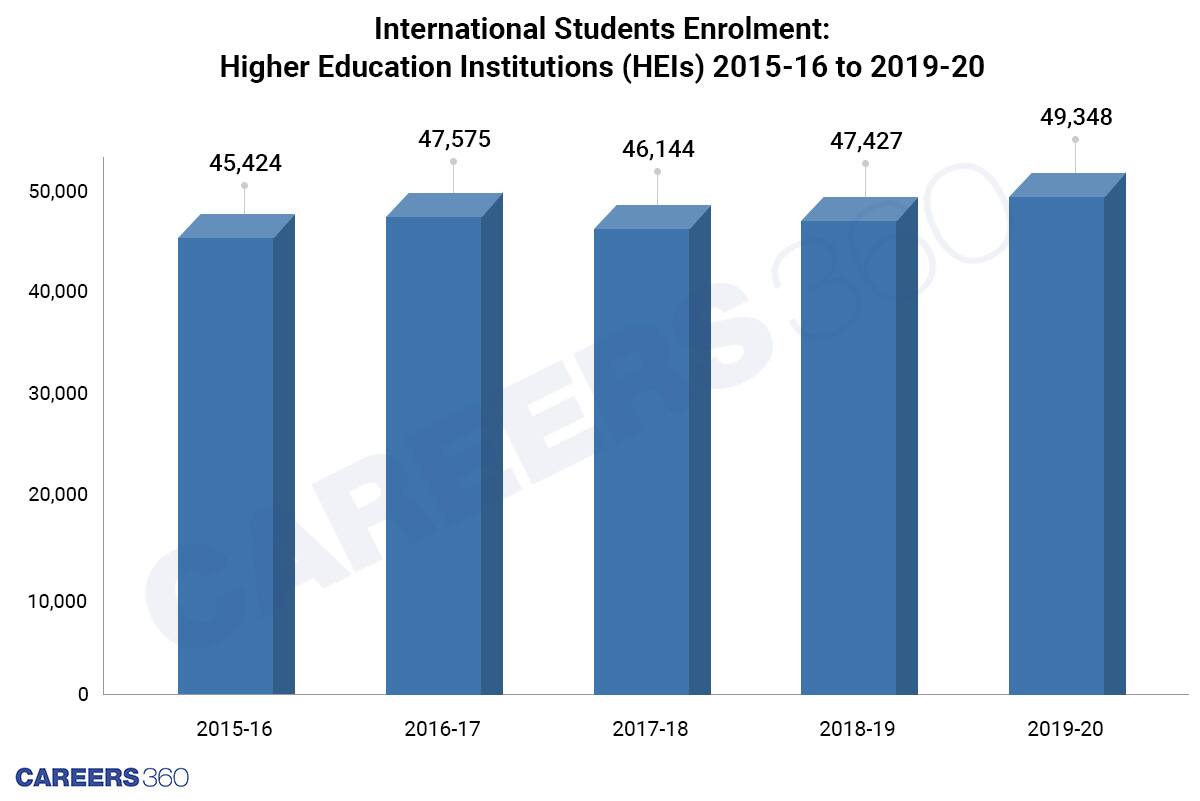 Enrollment Over The Years
Also Read | Should You choose IB or CBSE?
These foreign students mainly prefer to study in the states like Karnataka, Uttar Pradesh , Punjab, Maharashtra , Tamil Nadu, Delhi, Haryana, Telangana, Gujarat and Andhra Pradesh. More than 2,000 foreign students are studying in these states.