For a decade, India has been in the second position (China ranks first) when it comes to students choosing to study in the United States. However, the percentage of Indian students, out of the total foreign students in the US, has been fluctuating from around 13 per cent in 2011-12 to about 18.3 per cent in 2020-21.
In 2020-21, the total number of foreign students in the US was 9,14,095. With the highest number i.e 3,17,299 students belonging to China, which makes 34.7 per cent of the foreign students pool. Followed by India, with 1,67,582 students and then South Korea with just 39,491 students.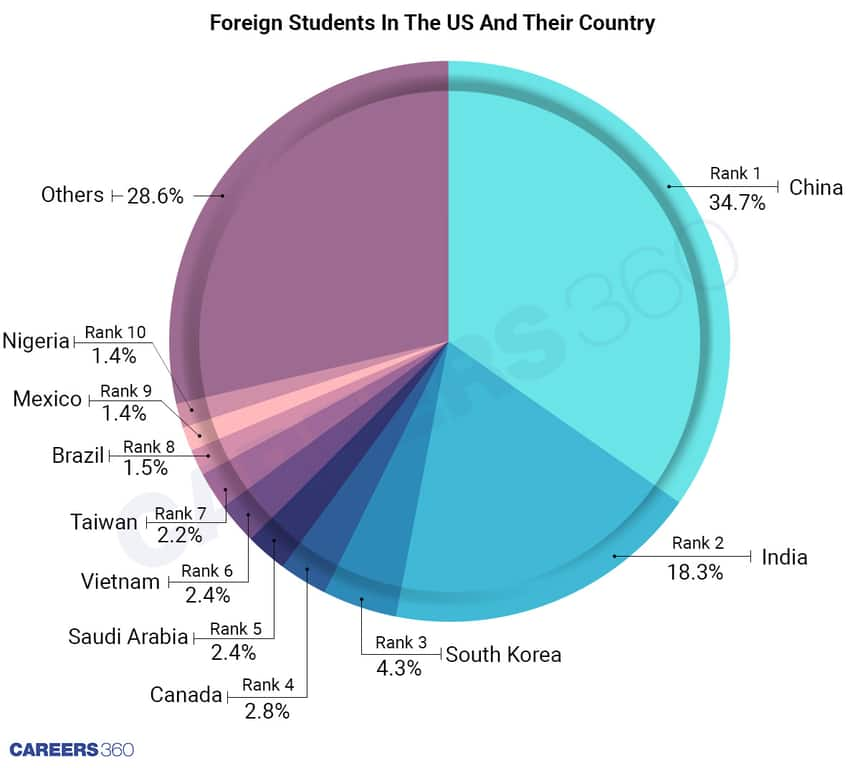 Students From Abroad In The US And Their Country
Also Read | Studying In The USA: Degrees, Funding, Opportunities, And More
Careers360 analyzed the data from the Open Doors report on the number of Indian students in the US in the last 10 years along with the number of US students in India. The latest report, which is 2020-21, also gives us an idea of the academic level in which most Indian students pursue their studies in the US.
Indian Students In US
In 10 years, the overall percentage of Indian students among the foreign students in the US has increased since 2011-12. The increase was in numbers as well. The increase in percentage was about six per cent point which in numbers stood at about 1.5 lakh students.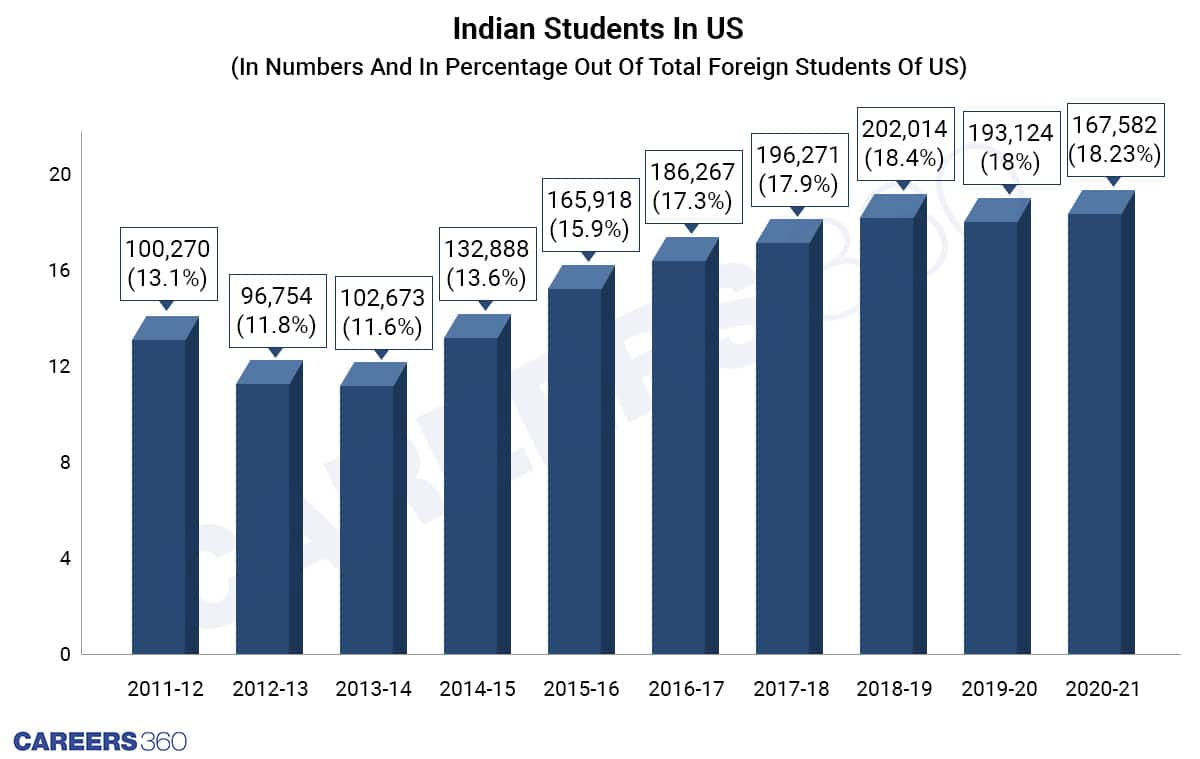 India Students Who Study In The U.S.
Also Read | What Does The US Offer As A Study Abroad Destination?
Education Level Of Indian Students In US
Optional Practical Training (OPT) is temporary employment which is related to a student's major area of study. Students can apply anytime like before or after completion of their course duration to receive an OPT employment. Most Indian students go to the US for OPT, followed by the Graduation Degree.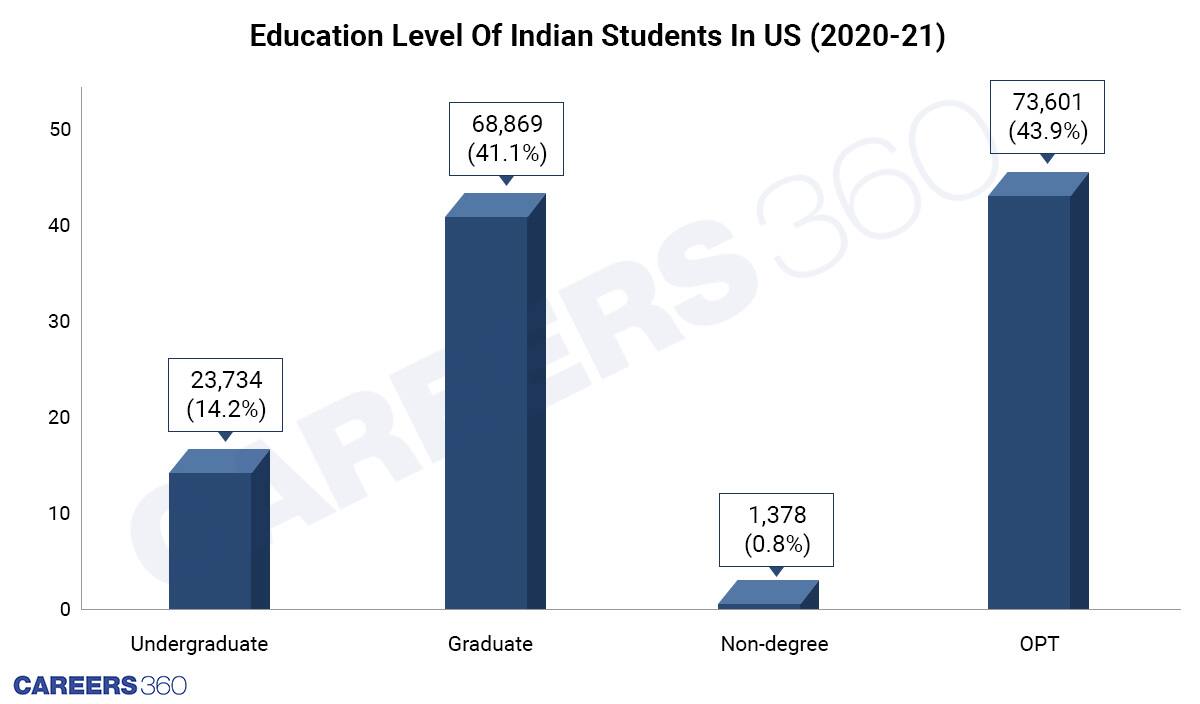 Indian Students: Education Level Wise
Also Read | 'Obtain A Student Visa Without An Interview': US Spokesperson
US Students In India: 10 Years Data
In the last 10 years since 2010-11, the highest number of students who are US citizens studying in India was in 2016-17 (4,704 students). After that it decreased for the three consecutive years. The highest drop was in 2019-20, probably due to Covid-19.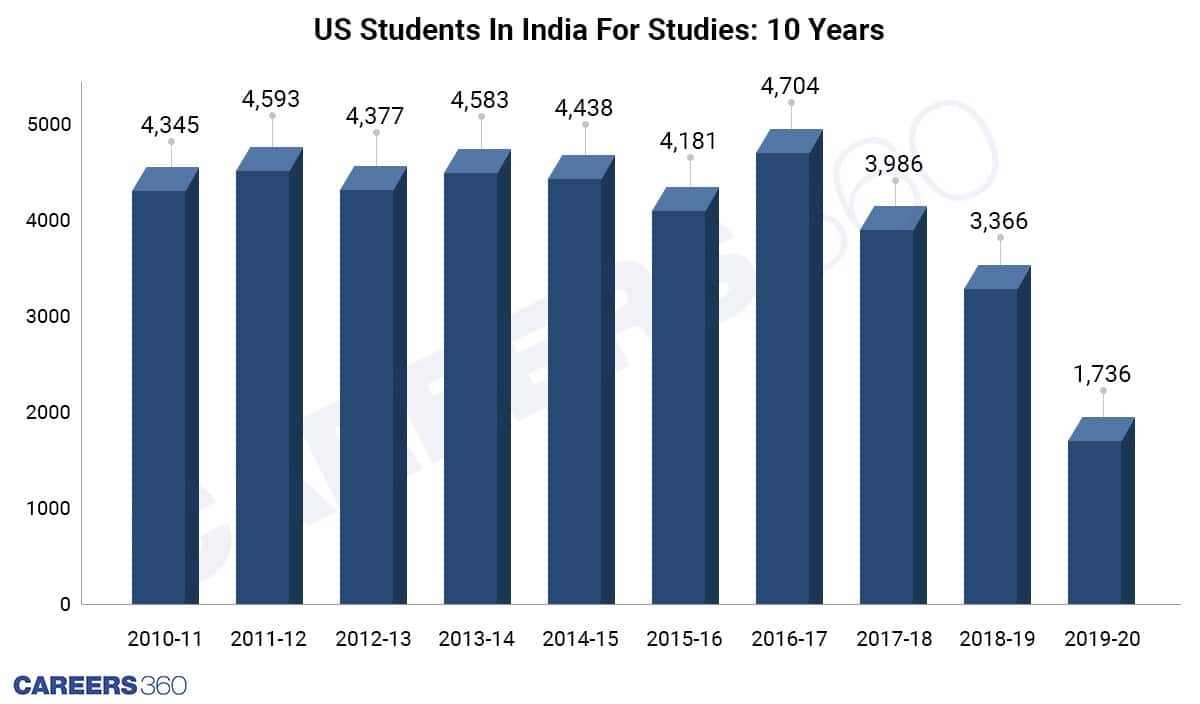 US Students In India Over The Last 10 Years
Also Read | Part-Time Jobs For Students Abroad: Wages, Rules, Options By Country
During the Covid-19 pandemic, the percentage of students coming from US to India in 2019-20 was about 50 per cent less than the previous year but that of Indian students going to the US showed a minuscule decrease of four to five per cent.
So data shows that the magnetism of a US qualification continues to remain strong among Indian students.