Humans are creatures of habit. The patterns of our habits vary, from being good to neutral to bad. An interesting feature is the flexibility in habits as they can be formed, reformed, or discarded at our will. Yet why is it that some people find it hard to change themselves while quite a few lead a very healthy life? Health and happiness go hand-in-hand and are regulated by our habits. This article will throw light on the habits of mentally healthy people.
Our overall well-being includes both physical and mental aspects. We get up in the morning, start with a routine as simple as brushing our teeth or packing food for school or work. The daily humdrum of life varies from clockwork to a chaotic rush. We all have our good days and bad days. A lot of planning, adapting, and coping go into making a hassle-free, mentally healthy life.
What Mentally Healthy People Do
We shall now take a deeper look into what are some of the things that lead people to stay mentally healthy, or in other words, a few things that mentally healthy people do.
Following A Routine
People who are mentally healthy follow a routine in their daily lives. It entails prioritising and planning accordingly. For example, keeping a well-stocked kitchen and the fridge for basic daily needs; exercising at a pre-set time; recreation, as in taking time out for family or friends, reading, gardening or watching TV. A routine equips them with a certain level of preparedness which yields efficiency in their time management.
Keeping A Moderate Outlook
Mentally healthy people have a moderate outlook in thoughts and actions. There is no swinging between two extremes of desire and deprivation. They dont over-indulge or straightaway reject. For example, being a practical shopper. They won't usually be shopaholics because as mentally healthy people they will not own an overflowing closet. Another example could be, that they won't binge on food routinely but instead, eat healthy and proper.
Also Read: Stay Grounded, Prevent Stress: Follow These 7 Mindfulness Tips
Having A Positive Attitude
People with good mental health maintain a positive attitude which gets reflected in their thinking, or phrases they use, like 'such things happen'; 'this shall pass too'; 'tomorrow is another day'. There is a certain endurance in mentally healthy people which makes them relatively easily accept things and events.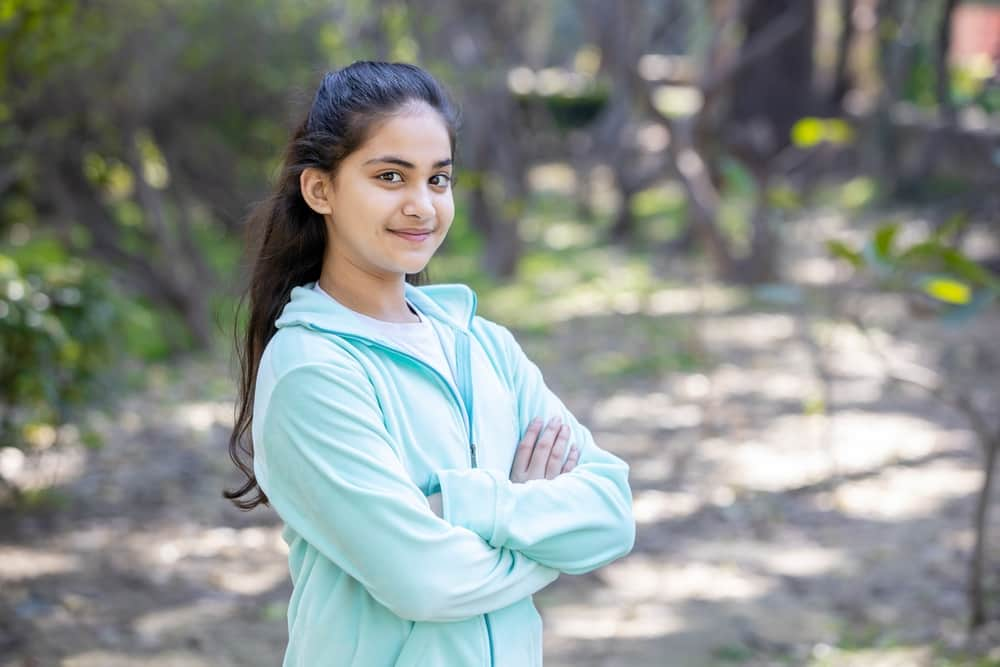 Having A Positive Attitude Helps You To Be Mentally Healthy
Not Jumping To Conclusions
These people tend to give a patient hearing or a read. Mentally healthy people maintain a balanced perception without presumptions or assumptions. They refrain from reading between the lines of everything said to them in any interaction. This holds true in their professional as well as personal lives.
Having Non-Controlling Nature
People who are mentally healthy usually have a non-controlling nature, which keeps them away from 'my way or the highway' behaviour. They believe in cooperation and delegation of work. Earning respect rather than demanding it is the reason for the success of mentally healthy people.
Believing In Themselves
Belief in themselves is one of the core qualities in mentally healthy people. They have confidence in themselves to make decisions, solve problems, and a sense of responsibility for the related consequences. They do not unnecessarily depend on others for anything and everything and thus, lead peaceful lives.
Be Creative
Creativity helps mentally healthy people to think beyond the obvious. They are not hesitant to try out a new approach or initiate a new measure as a way of moving forward. Frustration and failures get brushed aside with a creative approach.
Be Honest And Humble
Honesty and humility are important markers of mentally healthy people. There is no false pretence, arrogance, or demeaning attribute in their personality. Respect for others and non-judgemental behaviour keeps conflicts away from their interpersonal relations.
Be Thankful And Helpful
Gratitude and altruism is ingrained deeply in mentally healthy people. They don't suffer from a competitive streak of "if he/she can have then so can I", nor they are adamant about living their lives "king-sized". Mentally healthy people are grateful for what they have and are open to sharing with others in whatever way they can. They also look forward to helping people or serving the community whenever required to.
Also Read: How A Wrong Career Choice May Impact Your Mental Health
To be mentally healthy is no rocket science. It is a simple formula of habit formation and all it asks for is a minimum of about 21 days of time. The choice to be healthy is yours and all it asks for is - have patience or be a patient. So, go ahead and reap the benefits of being a mentally healthy you.
Dr. Sanjana Seth is a Psychologist and Psychotherapist, registered with RCI, and holds more than two decades of practising experience with the healthcare organisations of the Armed Forces, as well as those operating as private. She is skilled in administering psychological assessments, providing therapeutic intervention and psychoeducation via talks, lectures, workshops, and literary articles. She has worked extensively for children with special needs, and has taught Psychology to students at undergraduate and postgraduate levels.