In this age of rapidly growing technology, there is an application for everything and, increasingly now, mental health is among them. Both government and private organisations are working to create applications of different kinds to promote mental health and well-being.
Mental health apps are appealing mainly for two reasons: the convenience they offer of getting things done online and secondly, the variety of resources they offer, including creative approaches and animations which provide both better understanding and more tools to aid one's mental health journey.
However, one must not mistake mental health apps as a replacement for therapy itself. Unless an application connects you to a therapist and helps you book sessions with them, mental health apps cannot be a replacement for therapeutic work done with a therapist.
With this, let us look at a few things one should keep in mind while choosing mental health apps.
Also Read | A To Z Of Mental Health Care : Practices You Should Follow
Choosing Mental Health Apps
The American Psychological Association (APA) suggests evaluating apps on four main categories, which we shall now discuss in detail.
Privacy
Efficacy
Ease of use
Clinical Integration
Privacy
Firstly, notice what all information it asks of you- are these relevant to the need of the app? Is it asking for your birth date or aadhar number, any of which are mostly not required in an application? Is it asking to keep location on, or for access to contacts, call history, camera, etc – are they relevant to the focus of the app?
Secondly, look up how the app is protecting your information. Do you have control over this information and can you, if need be, delete all the data you have uploaded?
We don't usually do this for other applications but it is key, especially for mental health apps to have a good privacy policy, and as you practise digging into its policies, you will begin to see the difference between strong privacy and poor ones.
Also Read | Loving Your Body - Ways To Develop A Positive Body Image For Teens
You may feel it is not very important, but there is a reason, therapists maintain 100% confidentiality, that is, no information about the client is revealed to anyone else, even the court cannot mandate them to reveal everything about a client. This is because it has been understood that the contents of the mind are deeply personal and must be protected. So, it is crucial that you remain in control of your data.
Efficacy
To check the efficacy of the application, one needs to see who helped build it- businesspeople, entrepreneurs, parents, teachers, or therapists/psychiatrists/ counsellors. Who has built the application will determine its clinical foundation. Usually the application or the website may offer this information, if not, contact them through their numbers or in-app chat boxes.
Not all applications need to be backed by or supported through research studies or clinical trials since they may be based on already existing theoretical models and concepts. But it is critical to understand if the application has some scientific backing. Ask a/your therapist if you are confused.
Here are a few things to keep in mind when evaluating the clinical foundation of an application :-
Who has conducted the research or study or trial? – the company itself or a university or a mental health organisation?
Has a government board like the Rehabilitation Council of India (RCI) or any other provided its support, approval or stamp?
Does it provide an outline of the theories it uses as foundation or clinicians whose work it follows?
Does the application take into consideration the feedback provided by its users?
Also Read | Online Mental Health Courses & Certifications
Ease Of Use
That the app should be easy to use is important because a population data survey conducted in the US, suggests that more than 95% of users will stop using mental health apps within 15 days from the day they begin using them.
Applications that have succeeded in staying in users' phones are often the ones that can be personalised. This is because different people will find different features most meaningful, engaging or beneficial.
So, explore different applications and see what feels close to what you may be looking for- does it have animation or is it minimalistic? ; Does it have more tools or quizzes, and so on. Eventually, it is the overall aesthetics, features, how interactive the app is and its user-friendliness that will determine whether we keep using it or not.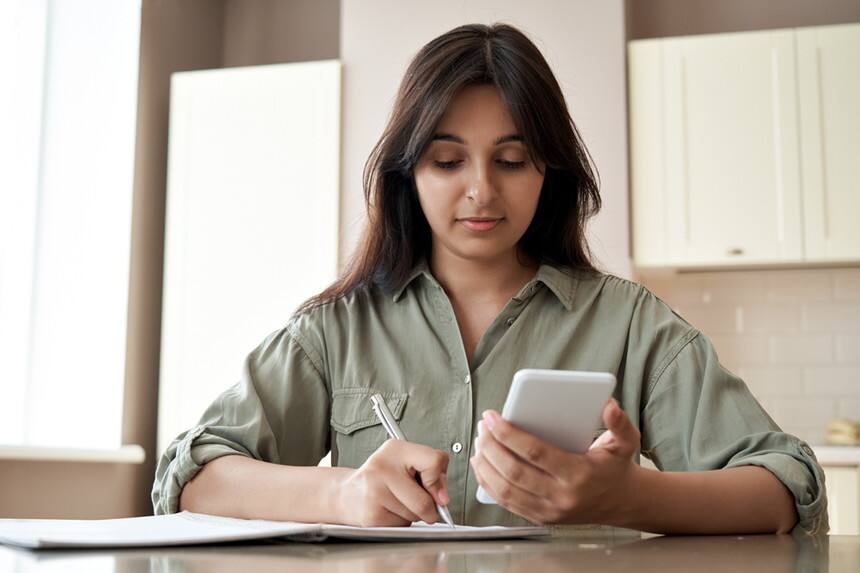 Unless an application connects you to a therapist and helps you book sessions with them, mental health apps cannot be a replacement for therapeutic work done with a therapist.
Clinical Integration
This is where the subjectiveness runs deeper- how well does the application integrate with other forms of mental health work that you are doing? An app can be wonderful by the last three criteria but it may not be what you need because it simply does not fit the journey you are on.
For example, you may find a very good meditation app but it may not be useful on your journey of managing anxiety, because you may need something to help you centre yourself and decrease anxiety, rather than begin meditation. Mental health requires small steps and eventual progress.
Also Read | How Does Social Media Impact Our Body Image?
If you have a specific mental health diagnosis or you're struggling with a specific concern, it is important to consider which application will specifically help with these problems.
A few other things to consider are:-
What are the in-app expenses?
How good is customer care?
How frequently are there updates and improvements in the application?
Is it a one-time use application or can it be used regularly?
Choose What Fits Best
Various applications can be useful and they do not necessarily have to be a 'mental health' applications. They could simply be wellness apps or personal development apps, what is necessary is that you understand what you need and how an application can help you. For example, there are various apps that help you manage your sleep patterns, meditate, do breathwork, movement-based exercises, manage your diet, etc. All these can be beneficial.
It is necessary to understand that applications may or may not be for everyone. So, it will be something you will have to test drive for a few days to understand if it works for you, fits with your requirements and goals, and if it supports the work you may be doing with your therapist or by yourself.
Nilanjana Parijat is a depth-oriented, and holistic wellness psychologist, with extensive hands- on experience in working with children, adolescents, and families. She currently works with Reboot Wellness, Gurugram.