A lot of us have attended 'life skills' classes while in school and most have come across this term numerous times. But what exactly does 'life skills' mean? UNICEF defines 'life skills' as "a group of psychosocial competencies and interpersonal skills that help people make informed decisions, solve problems, think critically and creatively, communicate effectively, build healthy relationships, empathise with others, and cope with and manage their lives in a healthy and productive manner"
According to the World Health Organisation (WHO) "Life skills may be directed toward personal actions or actions toward others, as well as toward actions to change the surrounding environment to make it conducive to health "
To put it simply, basic life skills are essential 'know-ables' or 'do-ables' that are required to keep us living well in a holistic manner, wherein we foster our own safety, sustenance, satisfaction, and development, as well as those of others.
Why Are Life Skills Important?
A quote that really drives this point home is one by famous marketer Millie Hogue, where she says that Life Skills "...are skills we can take wherever we go in life, no matter what we do".
Truly, putting aside everything else we own, know and have, our personal skills and competencies are what determine our experience, mindset and life satisfaction. They are our true belongings.
Life skills, as the term inherently states, are essential to live, not just to get by but to move towards health, growth, satisfaction, happiness and success.
Let us now elaborate the list of life skills we all must become adept at.
House Keeping
As opposed to popular cultural opinion, life skills such as housekeeping activities should not be gender-specific. Knowing the basics of managing a house only adds to one's sense of self-sufficiency and equips one to deal effectively with situations of crises.
Being able to clean the house in terms of dusting, doing the dishes and laundry are some of the personal development skills
Tightening nuts and bolts in small electrical systems and machines
Being able to cook, at least, basic and healthy food
Buying and storing groceries such that you understand food labels, can check for good condition fruits and vegetables, know how to store different items etc also becomes a apart of your personal development skills
How to unclog a toilet or sink
Maintaining basic home appliances like toasters, mixies, TVs, laptops, etc
Basic sewing skills (tears, buttons etc)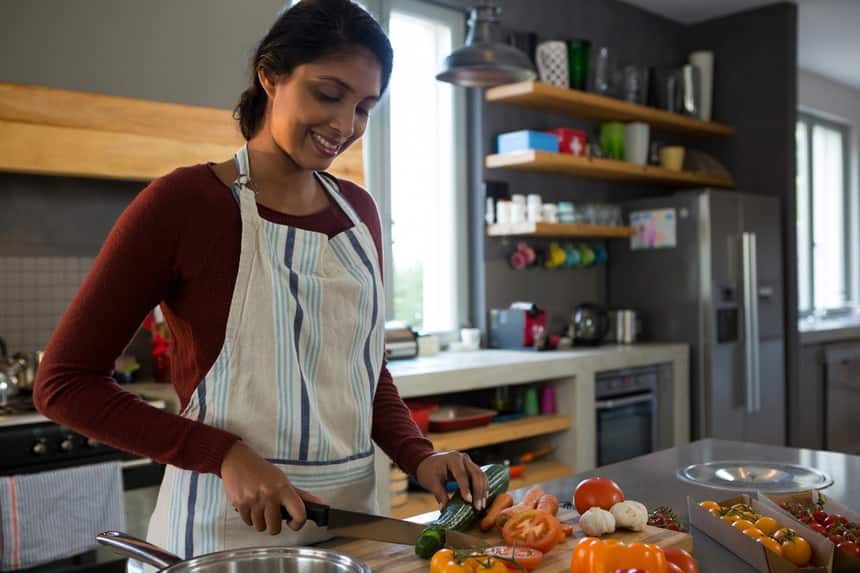 Knowing How To Cook Is A Basic Life Skill Everyone Needs To Learn
Presentation Skills
To present ourselves well when interacting with someone casts a major impression on the person/s in the front and is one of the very important life skills. Some personal development skills we should have are:-
Tying a tie
Pairing the right colours when getting an apparel together
Understanding the difference between formal, semi-formal and casual attire
Ironing. Yes, ironing is a skill, because different clothing items are ironed differently depending on the texture and material and first impressions are made by neat and ironed outfits
Continue reading to know about some of the most important basic life skills.
Also Read | Why And How To Not Make Exams Larger-Than-Life Events
Survival Skills
Emergencies can strike anytime, during travel, at work, or even while we're at our homes. Hence, a few survival life skills that equip us to better deal with emergencies and become a apart of your independent living skills are:-
Swimming
Driving (cars, two-wheelers, riding bicycle)
Basic first-aid- Managing minor burns, choking, drowning, lacerations, cuts, bruises, fractures, cramps, etc; knowing how to give CPR, Heimlich manoeuvre, Intramuscular injections. Additionally, knowing about basic medicines for general ailments and other home remedies can help in improving personal management skills
Basic self-defence
Changing a flat tire

Reading a map
Also Read | Why Having A Value System Is Indispensable
Money Management Skills
Managing one's money effectively can make a huge difference in one's quality of life and is one of the important life skills that helps in the long run. Some independent living skills you must know are:-
Budgeting
Managing expenses and maintaining financial records
Investing (understanding and keeping up with the market, shares and understanding cryptocurrency like NFTs, Bitcoin, etc.)
Doing taxes and paying bills (knowing how to file ITR returns, paying electricity and water bills etc.)
Also Read | Learning To Manage Your Money: Basics Of Financial Planning
Relational Or Familial Skills
We all build relationships, close or distant, personal or professional. But there are certain skills that help us nurture our relationships better while also making us feel good in that capacity. These skills are:-
Listening to the person/s you are communicating with
Stating one's needs clearly, logically, assertively
Accepting feedback- Whether positive or negative from partners, friends, family etc.
Expressing all sorts of emotions healthily helps in improving personal management skills
Also Read | How Do Sibling Relationships Impact Our Mental Health?
Life Skills For The New Generation
What counts as basic life skills is also subjective to the time and environment we are in. So, what is today an important life skill may not have been so 15 years back. Let us look at a few of such independent living skills that the youth of today should work on developing
Sustainability | Understanding sustainability as a concept and learning how to practice it on an everyday basis in the form of multi-usage, management of resources like electricity, water, fuel, etc is an important life skill that today's youth need to know. Considering the growing rate of environmental destruction, our inability to build sustainability on an individual basis will be the impetus for further catastrophe
Basic Social Media Skills | Making posts on Instagram, Facebook, LinkedIn; gaining basic understanding of promotion and advertising on these platforms is a life skill that nowadays is an important part of most businesses and jobs.
Emergency Preparedness | This is especially relevant in these times when we are living through a global pandemic. This would mean having emergency backpacks, kits, plans, knowing how to evacuate, protect oneself and others, sanitisation etc. Additionally, providing caregiving in emergency situations is also an important life skill that helps in improving personal management skills.
Nilanjana Parijat is a depth-oriented, and holistic wellness psychologist, with extensive hands on experience in working with children, adolescents and familes. She currently works with Reboot Wellness, Gurugram.