Regards to every NEET aspirant reading this article. I will share my two-year NEET preparation journey with you through this article so that you can extract useful tips and points from this and modify them according to your comfort to achieve the best result that you are capable of.
So, my journey started in Class 11 with one of the premier NEET coaching centres of Nagpur. Because I did not have any pre-foundation training before, this was completely new for me. We were taught by really good teachers although later, due to the pathetic management of the institution, teachers started leaving the academy in large numbers by February 2020, there was terrible mismanagement. We also had tests twice in a month of 720 marks.
'NEETPrep': Offline Coaching
Speaking about my approach, I was very clear about my goals from the start. Right from the first day I took studies very seriously and went all guns blazing. I used to attend lectures seriously, stay back after the class and study or ask doubts. Sometimes I would slack off and go with my friends during this period but I made sure these instances were limited.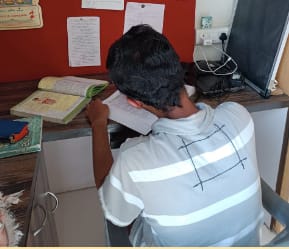 NEET Prep: Dhruv Mehta at his desk at home
I would reach home by 6 pm, and again study till I slept, giving myself one hour for dinner.
During weekends I made extra effort to utilise all the time I had in studying. I made notes during the lectures, revised them regularly, solved MCQs in the booklets given to us, sometimes even issued reference books from the library and solved questions from them and tried my best to be ready with the syllabus of every test that took place.
Also Read,
My marks ranged from 400-500 during these nine months of offline classes.The coaching centre's booklets had every topic given in detail to the Joint Entrance Examination level. I tried to solve the questions completely, neglecting only the few that we were told were of JEE Advanced level. For Biology, after we reached the "Morphology in Flowering Plants" chapter , I switched my focus entirely to NCERT textbooks. For the NEET Physics syllabus and Chemistry, I used Errorless Publication books for solving and sometimes different publications too, which were random choices.
Best Online Coaching For NEET
Then, there was the unfortunate Covid-19 pandemic and the first lockdown. Not realising what a serious issue this was at the start, I again went at my preparation with full force, revising and perfecting my understanding of all topics I felt I was weak in and also covering what was left. Now, the coaching academy didn't take care of our online lectures properly at all. So, after waiting two-three months, once I realised I had to look for other resources, I started on a different path. I started watching video lectures of PhysicsWallah on YouTube for Physics and Physical Chemistry. I watched lectures, took detailed notes, revised regularly according to short-term timetables, solved almost all MCQs from Errorless books and tried to have my doubts cleared through online sites like Doubtnut.
But I had some very major concerns. First, I didn't have good and reliable sources for Inorganic Chemistry and Biology; secondly, all my doubts weren't getting solved online and too much was getting piled up . Then my father found the online coaching programme of Careers360 and I got myself enrolled. Things got organised and structured hereon for me. This website had complete study material required for NEET preparation along with personal mentorship.
So, I saw lectures on Biology and Inorganic Chemistry on the portal, again read the NCERT textbooks thoroughly, and solved MCQs from Errorless. I made deadlines for myself to finish chapters with a final goal to finish the entire syllabus of Class 12 as soon as possible. I went on to complete the entire syllabus by September 2020.
A month or two before, on the suggestion of my mentor, I started making short notes for each chapter of Physics, Organic Chemistry and Physical Chemistry. My short notes included all the formulae, very important theory points and the shortcuts and tricks of question solving that I used to get after solving lots of MCQs from a particular chapter.
NEET: Short-Term Timetables
After September 2020, with the help of my father and mentor, I made a timetable for revision. My initial goal was to revise the entire two-year syllabus at least twice. Lots of short-term timetables were made in order to fulfil the long term goal. Here, I must mention that many times I could not reach my short-term goals within the set deadline and had to modify them every now and then. This can be very frustrating for aspirants but it happens and one has to learn how to deal with it patiently.
The first time I revised my class notes along with the chapter in the NCERT. Then onwards, almost every time I revised from the short notes I had made along with the NCERT. I used to solve MCQs from the question bank on the portal and in later stages of revision, I worked on questions that I couldn't solve the first time and had marked.
NEETPrep: My Daily Routine
I would also like to describe my routine during the lockdowns.
I used to get up at around 6 am and sleep by 11 pm. I had set an every-day goal to study a minimum of 10 hours daily . I must admit I could not reach the goal every day but I did. There will be days where you do not feel like studying. In 90% of those times, you have to sit for studying even if you don't want to. In the other 10%, you may feel like that work is becoming very unproductive. In that case, you can take a one-day or a half-day break. I used to do the same.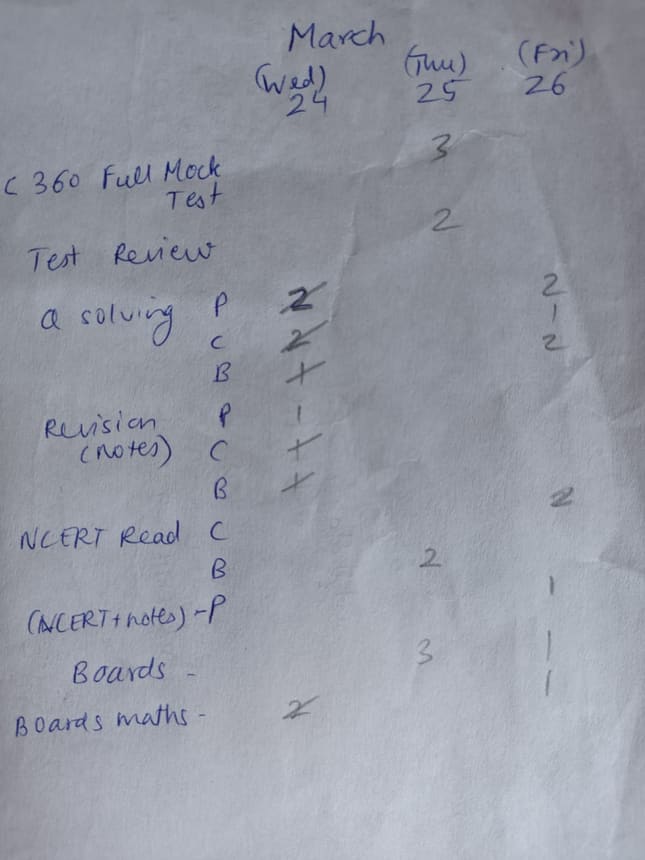 NEETPrep: A section of Dhruv's time-table
On an every-day basis, take regular small breaks of 10-15 minutes after a 1.5–2 hour study session. Personally, I think each student is comfortable with a particular study pattern and he/she must find and abide by their own way of studying and taking breaks.
One very important point is that you mustn't compromise on your sleep. I feel six-seven hours of sleep is mandatory. I never slept less during my two years of preparation.
NEET Preparation: What Worked For Me
From here I would like to give you suggestions and share my experiences in points:
Seek guidance: I regularly sought guidance from and discussed my position with my mentor and my father. As students, we need proper guidance from people who are more experienced. So, find a mentor, then keep communicating regularly with them.
Short notes: You should start making short notes for each chapter right from the beginning, at least for NEET Chemistry syllabus and Physics. Make them crisp and to the point. Note-making was the best decision of my preparation.
Class notes: Keep revising topics from your class notes as well because they are more detailed. However, for the last few months, you can shift to revising from short notes alone.
NEET mock tests: Attempt mock tests regularly, even if you are not completely ready for them. You will rarely feel 100% ready for any test. So, just trust yourself and write the tests.
Note mistakes: Keep a notebook in which you note down all the mistakes made during the mock tests, along with important points of various topics that you notice after in many tests. You get to know where you are weak from this. You need to revise those topics regularly and also solve questions that you couldn't solve the first time or got wrong. This was another very important part of my preparation.
Be patient: An important piece of advice from me, based on my personal experience: even if you are getting low marks in mock tests, keep attempting them and try to improve each time. Keep in mind that mock tests are designed to be a bit more difficult than the actual paper. Locate your mistakes and change strategies if necessary, but never get demotivated. I personally was stuck in the 550-580 marks range for months. It was only in the last month that my scores crossed 600! So be very patient and never lose hope.
NEET syllabus and reference books: These were the reference books I solved all questions from: Errorless Publication books for Physics, Chemistry and Biology; NCERT Fingertips for Biology.
The 'Golden Book': End of the day, the NCERT is literally the "golden book" for your preparation for Biology, Inorganic Chemistry and even Organic Chemistry, to some extent. Read these textbooks as many times as possible. I read each chapter a minimum of six-seven times. For Physics and Physical Chemistry, read the NCERT at least once.
NEET previous year question papers: Regarding NEET previous year papers, you have to make sure that you solve all questions in medical entrance exams from at least the previous 10 years. Also, if you have time you can try solving previous 10 years AIIMS and JIPMER papers as well.The exact period when you wish to do this is up to you. You can start solving these papers two months before NEET or you can solve the questions topic-wise right from the start.
Strategise for NEET exam pattern: Start fixing your paper-attempting sequence and strategy well in advance. Try experimenting on the mock tests if you feel you don't have the perfect strategy yet. You can solve Physics first, followed by Chemistry and Biology, or even in the opposite order. It should suit you and your brain. There is no hard-and–fast rule here. I solved Physics first and this was also one of the most beneficial decisions of my preparation.
Eye on deadlines: An important point that helped me was that I always kept redefining my timetables according to the deadlines. I set a deadline for everything and constantly reviewed my progress. This is very important because you want to get proper time for revision and all other necessary things. So, always keep an eye on the time and number of days you are taking for any task.
Managing board exams: For me, in Class 11, we had our college lectures once a week but there was just one exam in the whole year and we didn't have to give much time or attention to it . But in Class 12, I gave some time of the day to study for the boards too. I feel, if you are from the CBSE board, it can become a bonus, because you have to study the same books that are used for NEET preparation. But I was studying in a state-board school, so I had to devote some time to studying the state board books. But that is important. I feel we just need to find and plan the right time to start preparing for boards and the right strategy to manage them along with NEET preparation. Many times, after revising a particular chapter for NEET, I would study the same topic in the school book as well to save a little time.
Test time: From about two months before the actual examination, start attempting the mock tests at the time of the actual examination.
Test series: Also a few months before NEET, enrol for one more reputed test series to broaden your experience of question solving. This is very important. I personally had enrolled for the Allen test series and it was quite helpful
Can try JEE papers: This is optional but a few weeks before NEET, if you feel you have properly revised the syllabus, solved questions and now need a new challenge to gauge your strength, I would suggest solving the recent JEE Main Physics and Chemistry questions. This will surely help develop your question-solving mindset. But do this only if your other mandatory preparation is done.
The last few days: Revision and solving questions are both equally important. In the last few days before NEET, focus entirely on revision. Revise your major mistakes, those topics that you are not 100% sure about but are important. But stop this one week before the exam. During this last week, do not study or revise anything that you are not confident about. Just revise your strong points and stay chill.Your main aim should be to go to the examination with full confidence. Here, again, it is not necessary that you should feel that you know everything perfectly. Just have faith in your two years of hard work.
I would conclude by stating that I feel each person must hunt for strategies and make timetables that suit them. We can take suggestions from others and even try them, but not copy the steps. Every individual is different with different capabilities. If one is honest with oneself, studies seriously over the two years and always keeps on correcting the mistakes , then no-one can stop him/her from getting an excellent result in NEET. I feel this preparation is all about perseverance, hard work and most importantly, patience. There exists no shortcut.