Vocabulary building is a skill you need, but vocabulary by itself is not enough. In simpler words, knowing the words is not enough; you need to use those words in the right structure and context. If your basic grammatical formations are good, then vocabulary will help make your language more fluent and impressive. This will help you in vocabulary building. One must always remember that impressive vocabulary opens many doors. It makes your language more articulate, precise, accurate, communicative, effective, and expressive.
You need to communicate for admissions, interviews, jobs, relationships, and almost all other big aspects of life. It is important to enhance your vocabulary building so that you can remember them while talking to others and not have to think hard. When you know many words and use them appropriately, you create a lasting impression on others. Words are said to create a halo of intelligence. Improving vocabulary in English can be done by following these advices:-
Read Aloud | Read aloud from a good newspaper, listen to or sing English music, go through videos, news, magazines, and books because reading aloud makes use of more than just one sense organ work and helps you become more fluent. Listening and reading are both important for vocabulary building
Do Not Cram | You do not need to go to the dictionary and cram words because it does not give you the context for using them.
Maintain A Diary | Keep a personal diary and when you find certain words attractive, note them down and try to use them. This is something important for your vocabulary building.
Practice | Practice saying the words that you are trying to learn. It will make it easier for you to pronounce it correctly when you use them.
Be Mindful | For your vocabulary building, be mindful while watching movies, listening to people talk, and trying to catch the words that they are using.
Also Read | English Grammar Hacks You Should Know
Vocabulary And Word Formation
All words come from a family of other words that are related to each other. Best way of improving vocabulary in English is to find a connection between these families. It becomes easier and helps you in vocabulary building
Roots, Prefixes, And Suffixes
A word is made of 3 components-
Using a family of words to improve vocabulary can enhance your communication skills too. A small word like 'taste' can be made into bigger words by using prefixes and suffixes, like- tasty, tasteless, tasting, taster, tasteful, tastefully, tastelessly, distaste, distasteful, distastefully, etc. The word 'taste' would be called the 'root word'. The words added before the root word are called prefixes, and those added after the root are called suffixes. So, learning a root word and then finding the other words that can be made out of it can lead you to learn many words and further help you in vocabulary building.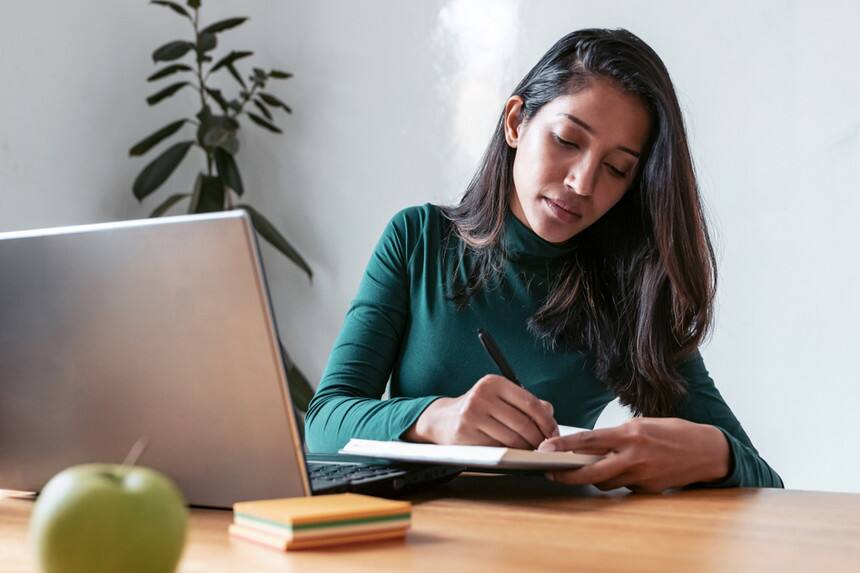 Using A Family Of Words To Improve Vocabulary Can Enhance Your Communication Skills
Play With Grammar
For vocabulary building, you can also play with grammatical aspects by learning the root word to turn them into new words. For example, the root word 'accept' is a verb, which can be turned into noun 'acceptance', adjective 'acceptable', and adverb 'acceptably'.
Understand Semantic Webs
Words are also connected by their meaning, known as semantic webs. You can use so many words to improve vocabulary. For example, the word 'good' is semantically connected with 'fine', 'superior', 'gain', 'welfare', 'adequate', etc. These words are also called synonyms. Similarly, you can also use antonyms or opposites for the word 'good', like 'bad', 'terrible', 'inferior', 'loss', 'hardship', 'inadequate', etc. A simple word like 'good' gives you a string of words that can be used daily. When you encounter a new word, using its synonyms and antonyms words to increase vocabulary will improve your writing skills as well.
Relate With Themes/Contexts
Words can also be learned by relating them to a theme or context. A simple word like 'gavel' can be related to many other words like the judiciary, lawyer, courtroom, witness, FIR, policemen, criminal, evidence, jury, hearing, warrant, investigation, prosecution, alleged, charge sheet, etc.
Also Read | Communicating Effectively: Tips And Tricks To Speak Better English
Choose Context-Appropriate Words
Using effective and appropriate words while you are writing or speaking can leave a lasting impression on others. However, along with knowing the words, it is also important to use them in the correct context. For example, for the word 'wrong', you can use the synonym 'imprecise', but using it in the wrong context would make the sentence meaningless.
"The data used in your article is wrong" can be written as "The data used in your article is imprecise", but, "It was wrong to kill the birds" cannot be written as "It was imprecise to kill the birds". You can figure out how to do this if you try improving vocabulary in English.
Work With Grammar
Using words to improve vocabulary like adjectives, nouns, similes, verbs, and adverbs to make the learning process easier which will further help you in vocabulary building.. Learning one word and then learning about the words that can be made out of it can make learning possible without cramming.
Verb-Adverb Combos | Lived vicariously; struggled violently; read vicariously; brushed lightly; collided forcefully; demolished completely; etc.
Compound Adjectives | Words made up of a noun and a participle. E.g.-record-breaking, ear-splitting, finger-licking, foot-tapping, breath-taking, etc.
Phrasal Verbs | They have a meaning different from the individual words they are made of. E.g.- give up, run up against, take over, come down, etc.
Idiomatic Expressions | Phrases that have no meaningful connections with the words they are made of. E.g.- raining cats and dogs, burning the midnight oil, icing on the cake, etc.
Collocations | Words that go together. E.g-'Big' can be used with money, deal, or idea; 'Strong' can be used with argument, desire, inclination, evidence, etc.
Also Read |
Use Other Language Words
English is a language that has borrowed words from different cultures and times. These words to improve vocabulary and phrases from old times, other languages, and the Shakespearean era add to the richness of the language. To add more to your ocean of vocabulary, you can use-
Greek Expressions | a chimerical situation, the Midas touch, pandora's box, trojan horse, etc.
Latin Terms | quorum, sine qua, viva voce, ad hoc, etc,.
Foreign Words | bonanza, elixir, zenith, alchemy, kowtow, amok, tycoon, etc.