School days are usually exciting times for children. Bonding with their peers, learning together as a group, sharing dreams of their future is part of the growth of school going teenagers. What happens if your teenager refuses to go to school? It may be a sudden occurrence or the refusal may have been setting in gradually, unnoticed by you. What is your response to your teenager who refuses to go to school? Do you take it lightly or get angry and frustrated at your child? How do you manage this issue? Let's learn about some of the reasons for school refusal in teenagers and how can you as a parent help in its management.
Also Read | How Should Parenting A Teenager Differ From Parenting A Child?
Schooling is part and parcel of a child's socio-emotional development. It provides your teenager opportunities and exposure to different opinions, experiences, achievements and friendships. School lays the foundation of their growth and productivity for incoming adult years. Skipping school or refusal once a while is common among children of all age groups. However, worries set in when your teenage child refuses to go to school and does so with a stubbornness not seen before. This kind of an act may catch you by surprise as usually by this age, the child has been part of the school system for a few years.
Also Read | Why You Need To Draw Boundaries With Your Teenage Child
Read on to know more about school refusal in teenagers and school refusal treatment plan.
What Is School Refusal In Teenagers?
School refusal in teenagers is an act, which is fairly consistent for a period of time. The child persists with the plea or act of not attending their school despite all kinds of reassurance by the parents. As a parent you can misunderstand or misinterpret your child's insistence on abstaining from the school. Each morning may become a fighting zone between you and your teenager who is adamant about not attending school.
Refusal to go to school commonly occurs between the ages of 5 – 6 years, between 10-11 years and as teenagers on entering middle and high school.
Also Read | 8 Mistakes you should avoid making with your teenage child
Understanding School Refusal In Teenagers
Some children may drag their feet over waking up, eating or getting dressed for school in the morning. This kind of thing is fairly routine behaviour of a student. Sometimes your teenager may have slept late or genuinely feel that a day off for preparation for an exam will be better than spending time at school on that particular day. This probably does not disturb you as a parent too much.
Could Be Psychological | More often than not, the issue of school refusal in teenagers goes deeper than a mere saying of 'no'. It is not a behaviour problem that you may think of. Your forcing the child to go with threats or cajoling is not going to solve the issue of school refusal in teenagers. This phenomenon is a form of anxiety that calls for intervention rather than parental pushing. It is psychological in nature with deep embedded fears and insecurities in the teenager.
Also Read | 5 Things You Should Say More Often To Your Teen
Gaps In Development | School refusal in teenagers can lead to a considerable gap in learning which is not only academic but also social in nature. The daily routine is likely to be impacted as well as engaging with extracurricular activities.
Read on to find out more about the school refusal treatment plan.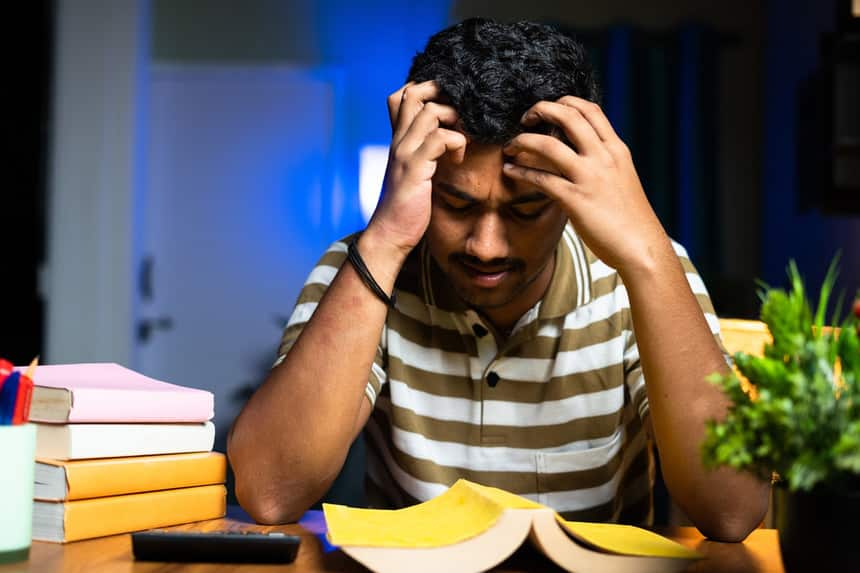 School refusal in teenagers can lead to a considerable gap in learning which is not only academic but also social in nature.
Also Read | How To Know If Your Child Is Being Bullied And What To Do About It
Reasons For School Refusal
There can be a number of reasons for school refusal in teenagers. Some of them are listed below:-
Moving to a new city or school especially in cases of parents being in transferable jobs is one of the popular reasons for school refusal in teenagers
Separation anxiety that something may happen to you (the parents) while the teenager is away at school
Bullying by peers or seniors can trigger school refusal in teenagers
Commute to school which may be time-consuming, tiring or uncomfortable for your teenager
Fear of poor performance at school due to the teenager's unrealistic expectations or parental/teachers' pressure
Social or economic disparity can induce feelings of inferiority and lead to school refusal in teenagers
Trauma faced by the teenager or seen as an occurrence towards someone else
Also Read | From Being "The Good Child" To Being The Anxious Adult: Importance Of Emotional Freedom
What Should You Do?
What can you as a parent do to help your teenager overcome school refusal and come up with a school refusal treatment plan? Here are a few suggestions:-
Open Communication | You need to step in immediately with empathy and open communication with your teenager. The message given should be that "I am here to help you".
Undivided Attention | Lend an ear to your teenager with utmost patience and attention. They have to know that you are giving them undivided attention and are as concerned about this issue as the teenager is.
Find Root Cause | Ask questions gently to understand the cause or trigger of school refusal in your teenager. Find the root cause for this act.
Do Not Judge | Do not be harsh, judgemental or critical in conversing with your teenager on matters of school refusal. Showing that you care is extremely important as that will help your child in trusting you and opening up about their concerns.
Discuss With School Authorities | Share and collaborate the information with your teenager's school authorities. Follow discretion in your approach as your teenager will not like to be troubled further by their tormentor. This becomes very pertinent in cases of abuse or bullying of the child.
Take Professional Help | Consult a qualified mental health professional for helping your teenager overcome school refusal.
Also Read | How Is Your Parenting Style Impacting Your Child?
Timely intervention can allay the fears and anxieties of school refusal in teenagers. Do not make the mistake of laughing at the child, shaming or trivialising this whole issue. What may seem as something small or insignificant to you as a parent, is a big deal for the teenager going through it. Support them in coping with it so that they move ahead with freedom and confidence instead of fearfulness and anxieties.
Dr. Sanjana Seth is a Psychologist and Psychotherapist, registered with RCI, and holds more than two decades of practising experience with the healthcare organisations of the Armed Forces, as well as those operating as private. She is skilled in administering psychological assessments, providing therapeutic intervention and psychoeducation via talks, lectures, workshops, and literary articles. She has worked extensively for children with special needs, and has taught Psychology to students at undergraduate and postgraduate levels.