As a parent of a child with special needs, you have worked doubly hard, dealt with tantrums, socially-withdrawn behaviour, complaints from others, a sense of stigma or disbelief and protected your child while you struggled with your own life, work, and emotions. Now, your efforts have fructified and it's time to send your precious child to college. Not a child anymore, a teenager ready to explore the world, except you know in your heart that they do not experience, learn, or see the world the same way as many teens do. How do you help your special needs' child adjust in a mainstream college?
This article shares some tips for working with special needs' students and experiences as narrated by parents woven into the hypothetical story of one mom Naina and her son Somesh, aged 17 years. Here are some tips for working with special needs' students
Get The Required Documents
Naina was a nervous mother. Her son, Somesh, had sat through many of the entrance exams and tests in different colleges and was given admission to a Bachelor's in Business Administration (BBA) course in a leading private university. Somesh had mild Attention Deficit Hyperactivity Disorder (ADHD) and Dysgraphia (difficulty in writing). Her search for supportive environments when her son was merely eight years and acting out, not paying attention in school, or even hitting his peers landed her in a new-age school with a very extensive special education cell. By the time Somesh reached middle school, she had to take him through assessments and get the necessary disability certificates so he could get a scribe and extra time to complete his exams. Her experiences as a parent of a special needs' child were markedly different from other co-parents.
Somesh was a talented boy. He had photographic memory and would ask many 'out of the box' questions. At 17 years, he had shown extreme talent in coding, hacking, and had enjoyed his paper in Entrepreneurship at school. He chose to do a BBA. His father is the owner of an established technology consulting firm and there was a chance he may join the business too later.
Also Read | Beyond Academics: Helping Your Child Explore Their Best Talents
Know Your Questions
While Naina is very happy with her son's admission and progress, she is very nervous about him leaving the cocoon of protection and moving into a mainstream college. They are considering a hostel as the everyday commute is long and the classes continue till 4 pm with project work, research etc. Her concerns are very specific, "Will he cope with the pressure of studies?", "Will he pay attention to the lecture?", "Will he make friends?", "Will they bully him?", "Will he throw a tantrum?", "Will he eat well, what about his health?". Soon enough, all these questions that are part of the normal adjustment of a student to a mainstream college were overwhelming for her.
Get The School Counsellor's View
One of the great tips for working with special needs' students that she used was to get the counsellor's view. It was also important for her to show her trust and faith in her son's abilities, and not talk about her underlying fears, which is an altogether impossible challenge when a parent worries about the safety and security of their child. So, she decided to chat with his school counsellor to get a perspective and seek their suggestions as they had seen him grow over the years. The school counsellor felt he was quite well-adjusted and was able to do his academic work about 70% percent of the time. Here, one of the study tips for students with special needs was that Naina made a mental note to encourage him and support him in his academic needs and see how he was doing on a regular basis.
Also Read | How To Cater To The Academic Needs Of A Child With A Specific Learning Disability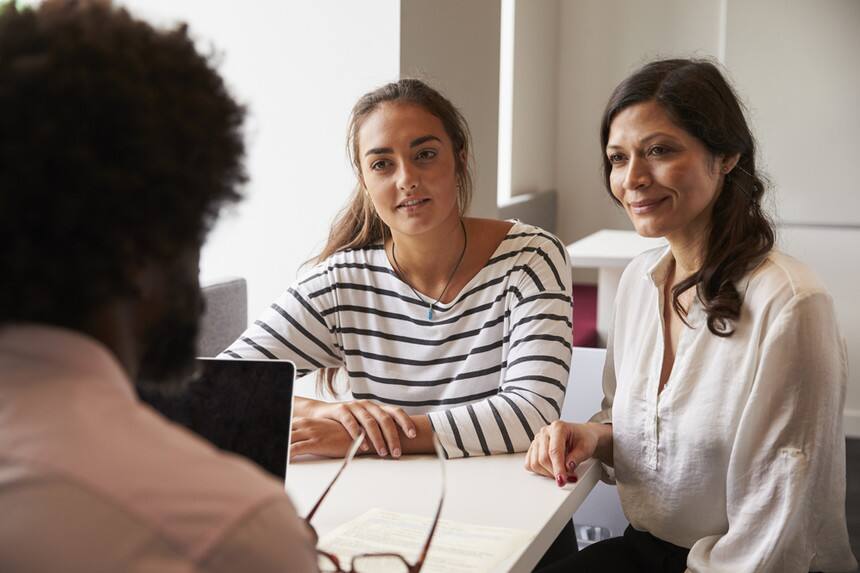 Seeking School Counsellor's View Can Be A Great Tip When Working With Special Needs' Students
Seek Additional Academic Help
Another one of the tips for working with special needs' students is to get additional academic help. The special educators' team at school had assisted him over the years with additional hours of teaching and guidance during middle school. In senior school, Naina had meticulously arranged a set of patient and sincere tutors to help him learn. She spoke to Somesh and asked him if he would need tuitions and assistance in college. Somesh was unsure, and he so wanted to enjoy his college life! They decided to wait for a month and see which subjects were more challenging and thought online tutors may be a good idea so he could attend during the work week. However, he would have needed time to see the college schedule and choose time accordingly. So, seeking additional academic help was put on review for a month after the semester commences. Having additional academic help is one of the effective studying techniques for special needs' children.
Naina's last and biggest worry was self-care, nutrition and social life.
Organise Systematic Nutrition Check
They started with nutrition. Somesh and Naina sat down and drew the food triangle. She started to tell him to collect data everyday while he was at home about what he would eat and which food group it belonged to. A simple exercise to build awareness, and she asked him to just note down what he ate every day at the college. She gave him a simple checklist to follow based on his current intake, so he can manage his nutritional needs. This simple awareness encouraged him to eat more fruit with his breakfast. Yes, her efforts at making Somesh more self-sufficient were on track. Another one of the tips for working with special needs' students is organising systematic nutrition checks of your child.
Encourage Careful Money Management
Another one of the tips for working with special needs' students is teaching them money management. Next on the list, was helping him become financially aware and resourceful. All expenses were taken care of, however Somesh may have expenses while at college and he tends to lose his belongings often. After much thought, she finally gave him a dependent credit card with a tight expense limit to reduce misuse and loss. She also added her name to the message that is sent each time the card was used. It was a fine balance between making him financially comfortable and yet not being vulnerable to loss of money and theft. Some cash was also given to him for petty expenses, and he was asked to keep accounts. Somesh chose to do that on an app as it was convenient for him.
Also Read | How Is Your Parenting Style Impacting Your Child?
Resurrect Daily Routine
Resurrect daily routine is one of the effective studying techniques for special needs' children. Her next worry was his waking up and attending class on time. At home, she would be the one waking him up multiple times all the way till Class 12 to attend class. This had to stop. They bought an old-fashioned alarm clock and set it to 7 am everyday while he was at home. This helped him gradually get into the habit of waking on time much before he started college.
Familiarise With Potential Threats
Familiarising your child with potential threats is another one of the tips for working with special needs' students .Now the social life and fears of being bullied, influenced adversely and other encounters was what was really bothering Naina. She had heard that students seem to have easy access to drugs, alcohol and college life was filled with these imminent threats. All students are vulnerable to this; however, her son was a quiet boy and would often get picked on by bullies even in school. Naina in her media role had acquired the taste of a social drinker and there was some stock of wine and whiskey in the house. This was rarely opened or shared with the children at home. Naina made a conscious choice to help Somesh smell and taste the different types of alcohol easily available, so he had a sense and could identify if a drink had been laced with alcohol. She assured him that he does not need to forcibly consume anything offered if he was not comfortable.
Drug addiction is a real threat and students are aware of this aspect and yet they are so vulnerable. Naina could focus on increasing awareness in her son. Here, one of the tips for working with special needs' students they used was to sit and see an educational series on how teens can come under the influence of drugs and how to keep away from this peer influence.
Ask College For Support
As a parent, do you need one of the effective studying techniques for special needs' children? Ask college for support. Naina knew that Somesh was starting a new adventure in life and so was she. A couple of weeks before classes commenced, she and Somesh took a trip to the campus and spoke to the academic advisor and counsellor. They shared details of his assessment certificates so he could get the necessary exemptions for writing and time and extra support he may need. They also asked for support and assistance for extra time, notes, or any other help the college could provide.
She also set up an SOS call service between the school counsellor whom Somesh trusted so he could call her if he faced any episodes of bullying or peer pressure that he would prefer to share with a counsellor rather than a parent. Asking the college for support is one of the great tips for effective studying for kids with special needs.
Acknowledge Your Effort
A lot had been done over the years to prepare Somesh and help him grow. It was a journey with many highs and lows. Naina needed to acknowledge herself and her son for all they had accomplished together.
So, most importantly Naina sat down and sipped a cup of tea in peace when she realised she had come a long way in her parenting journey. Life had thrown her a few challenges and she had stepped up and done her best. Now, she needed to trust her parenting and instincts and most importantly Somesh in the journey ahead. So, to be restful and watchful in the coming weeks was her motto.
Dr. Srividya is an Organisational Psychologist, Career, and Personal Growth Coach. She works with teens, parents, adults, and returning professionals, to help them align their personal and professional needs, desires, and overcome personal and professional challenges. She can be reached at www.lifevidya.in.