Congratulations on bagging this internship! Out from student life and landing your first internship can be a thrilling, but a slightly scary transition. However, the internship experience is your first baby step into your career and eases your way to a full-time job of your liking. The idea is to learn, build relationships, and get the most out of your internship experience.
You have received the mail of confirmation for your internship, you are thrilled. But your work is not over yet, there are a lot of unanswered questions and stones left unturned before you begin your professional journey.
The more you know before the start of your internship, the easier is the transition into your new position. Before your start, you should have clarity about a few things like what you should expect on the first day of your internship, what documents to carry, and so on.
Also Read | Tips To Look For Internships In High School
Contact Your Supervisor
Ideally, you should speak to your supervisor at least one week prior to gather all the relevant information you need. A typical email could look like this:-
"Hi, Raghav,
I'm thrilled to be joining your team as the marketing intern this summer! I'm especially excited to begin working with you on the project XYZ, as discussed. If there is anything you think I should do to prepare for my first day, please let me know. I want to hit the ground running!
Looking forward to seeing you and the rest of the team when I start next week.
[Your Name]"
Know The Logistics
You should be clear in your mind about the relevant logistics involved in onboarding.
Office Location
An organisation could have multiple office locations. Also, the information can be outdated online so it's always best to confirm if you have not received this information.
Dress Code
First impressions do last, so you should ideally dress to impress. You could dress up a little more casually than how you did for the interview, but it's always best to dress up in professional attire.
Documents And Laptop
Do you need to carry your laptop? Chances are for a small organisation like a start-up, you might have to carry your laptop. Many MNCs have very strict policies on using personal laptops in the office premises. In this case, you will be provided with the company asset. Either way, it's best to be sure about whether to carry a laptop or not before day one.
Specific Documents
Ask which specific documents you will be required to carry for onboarding purposes on day one.
Leaves And Permissions
Mark the first and last day of your internship in your calendar and see if there's any event that falls during your internship. If you have a family event to attend or have to take a leave for some other, relevant reason, it's a good idea to intimate your supervisor about the same and take prior approval. You should work out your leave requests with your supervisor beforehand.
Commuting To Work
Make sure you have practiced your commute to the office. This is essential especially during business hours to factor in the traffic during rush hours. This is important to do so that you show up on time on your first day and do not reach the office late in rushed panic.
You should also be thorough with the alternate routes and modes of transport you can take during exceptional circumstances.
Try and reach office at least 20-30 minutes before the allotted time, so that you get enough time to settle down. This will also allow you buffer time in case you get lost or held up on your way.
Research And Prepare
Go to your pre-interview notes and see what you learnt about the company's history, its culture, clients, team members, etc.
Visiting the website and social media handles will give you more insight about the latest developments and announcements made by the company. To exude more confidence, study about the industry and organisation so you feel more prepared while making conversation with people in the office.
To show initiative and that you are proactive, it's always best to ask if there's any pre-work, or preparation, or research that needs to be done before starting your first day.
Know Thy Team
Know the names of the company's CEO/ President/ Directors/ Founders. Additionally, research on the key leadership team. It's a good idea to visit their LinkedIn profiles and put faces to the names, learn more about the teams, their credentials, achievements, and their roles in the company. This way you can ask specific questions to them during lunch. Moreover, you can avoid saying things to the team which you may feel embarrassed about later.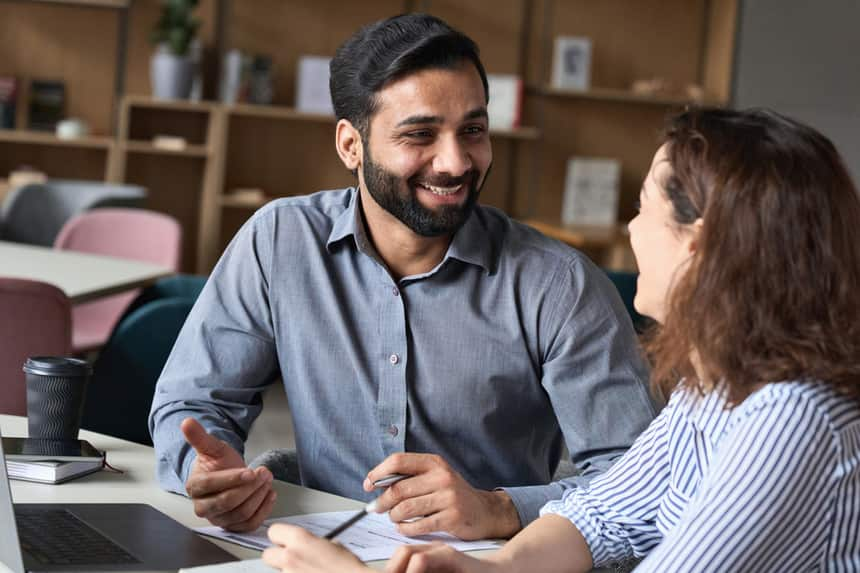 Connect With Team Members To Know More About The Company
Also Read | Becoming An Emotionally Intelligent Team Player: The Unexplored Facets
Introducing Yourself As An Intern
Having the confidence to approach people and introduce yourself is a key skill that will help you much beyond your internship in your subsequent career. Networking, especially in early days, would kickstart your career positively. Thus, being ready with an elevator pitch, and a mini-introduction will come in handy. Have an elevator pitch ready for yourself that sells you as a brand. You may never know who you will meet.
Also Read: Nailing Your Internship Interview: FAQs And Tips To Answer
Emit Good Vibes
You will be taken around the office and will be introduced to your co-workers on the first day.
The vibe you give should be positive and not the – "I-don't-know-what-I-am-doing-here".
Make sure you smile, make eye contact, give a firm handshake, stand straight, uncross your arms, be confident. Be approachable. You want people feeling you are polished and mature for an intern.
Mention Your Full Name
Mention your first and last name, as it makes you sound professional. Don't just state you are the new intern. Give it more context so that people can remember you. For instance,
"Hi, I am Neha Singh. I am pursuing English at Gargi College, Delhi University. I have joined the marketing team today as an Intern. I am really excited to be here."
Once you are done, they will introduce themselves. Don't blank out, reply. Repeat their name so that you also remember and show that you were paying attention. It can sound something like this:-
"Hi! So nice to meet you, Rohan. I look forward to working with you".
After this, whenever you find time, write down all that you learnt about the person(s) and their role. Writing will help you remember it later.
Be Prepared To Answer
Be prepared to answer any questions that would be posed to you. Rehearse your answers beforehand so that you don't fumble while answering.
The questions posed to you could be like:-
What are you studying in school?
What do you plan on getting out of this internship?
What do you like to do in your free time?
How did you choose this field? Why the interest in this field?
Not just this, come prepared with questions and conversation starters for your co-workers as well.
Also Read | 5 Hobbies That Can Help You Earn
Ask The Right Questions
Take time to know the team and what the organisational structure is like. Ask for the organisational chart to know the different departments and their heads. This way you can ask a thoughtful question to them, an example of which could be:-
"I learnt that you have been working here for the last five years, what's your favourite part about working at XYZ company?"
It's not necessary to ask a question, you can also find common ground to start a conversation. You could say something like:-
"I saw that you went to Delhi Shikha School in Bombay, I attended the same school."
If the organisation is open to giving its interns a cross-functional experience, you could ask them for an opportunity to work under them and their team. An example of such a conversation starter for you could be:-
"I have always had interest in XYZ field. Are there any ongoing projects where I could help?"
Send The Right Emails
Asking the right questions and in the right way is super important. You can always google your way through the internship but, why not learn from the best who have been doing their job and for way longer than you? So, just ask!
The right way would be to consolidate your thoughts and write a thoughtful email addressing all your concerns. The wrong way would be to send an email or text to your internship supervisor every time you face a roadblock. People would not always be welcoming or have the patience to train you and answer all your questions. Google will be your best friend but don't be afraid to ask questions. Don't be afraid to introduce yourself first on your first day. Be confident. Show initiative and kick off the conversation. Relationships are the most important thing that you will take away from this experience which will most likely play a success factor for your career. It's natural to feel nervous about your first day. Relax and don't keep too many expectations of how your first day will unfold. Just do your best, and keep faith.
Also Read | What Is Cold Emailing? How Should You Write A Cold Email?
Parisraja Bajpai is an Organisational Psychologist, with extensive hands-on experience in talent acquisition, talent management, employee counselling, employee engagement, training and development. She is currently heading HR department at Nexstgo. The views represented in this article do not reflect the opinions of the company the author belongs to, and are strictly personal, emerging from the author's field experience.