With the rise in mental health awareness, there has also been a surge in the number of individuals, especially young people finding a good therapist to help them with different concerns they may be experiencing. This surge also brings us to an important point of concern and that is the question of the mental health practitioners themselves.
Questions Therapists Face
A few questions therapists often face from family, friends, and prospective clients include, "Who is the right therapist for me?", "How to find the right therapist for myself?", "How do I know if this person can help me", "What if I cant afford the suitable therapist", and so on and so forth. Now, despite all the training, these questions are not something we therapists are completely prepared for.
Each Therapeutic Bond Is Unique
The simple reason for that is that at the core of psychotherapy is the interaction between client and the therapist, and it is this relationship itself that becomes the healing aspect of therapy as well as the crucible of change and transformation. This therefore means that each client- therapist relationship is uniquely different, even for clients of the same therapist. Each client brings about a different facet more dominantly for the therapist due to the vulnerability of their display of their psyche. The therapist unconsciously and consciously moulds their behaviour and words according to the needs of the client.
No One 'Right' Way
Now, taking this logic further, if each client- therapist relationship is indeed uniquely different it also means that there is no 'one/right' way of providing therapy or being a therapist for a client. There are of course rules, ethics, and guidelines to being a practitioner, but no stringent way of practising within the precincts of these designated norms. Each therapist is free to build and should be able to build a relationship with the client in accordance with the client's unique needs, issues, and life stories.
Qualifications For Practice
This also means that the qualifications and certificates are simply eligibility and not benchmarks (although I suppose that is true for many other fields too). Perhaps then, the qualifications really required are the capacity for attunement, empathy, listening skills, communication, analytical skills, vulnerability, a free experience and a good understanding of their own selves, emotional intelligence, observational skills and curiosity. Furthermore, whether a practitioner is undergoing therapy themselves or undertaking supervision from a veteran therapist are very easily missable but necessary implicit guidelines that add to the credibility of a therapist.
Also Read: Do You Need To See A Psychologist? Signs To Help You Evaluate
Choosing The Right Therapist
So, how does one move forward with finding the right therapist. for themselves?
Know Your Reason
It is always helpful to know a bit about what is taking you to therapy, even if the answer to this 'why' is 'just because I want to try it'. There is no requirement for someone to necessarily be struggling with something, whether it be mentally, emotionally, physically, financially, spiritually, or sexually to reach out to a therapist. One can simply do it to experience therapy, to learn about themselves, to grow, or develop, to explore their mind, to understand psychological concepts that apply to them, to think out loud, to just have a space to talk, to be heard and 'seen' psychologically, feel accepted and understood, to interact with someone, to have a safe space, to talk about ideas that are different from the world around them, etc.
Getting an answer to why we need therapy, despite whatever it may be, helps in narrowing down the process of finding a good therapist.
It is still completely acceptable to be confused, to not know, or to have a variety of reasons to be in therapy.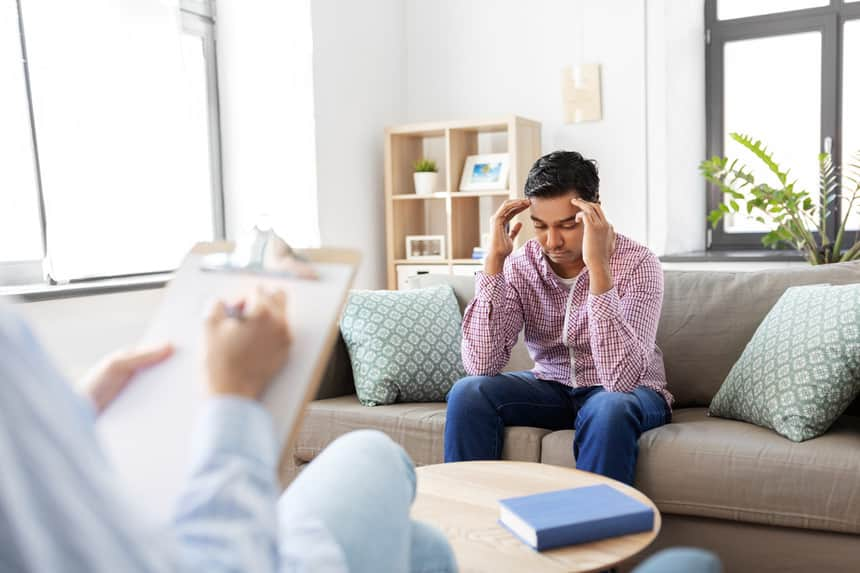 It Is Always Helpful To Know A Bit About What Is Taking You To Therapy
Narrow Down On Logistics
It is a good idea to think of how you would like to engage in therapy, in terms of the logistics, if you would prefer therapy offline and in a clinic space or online, or, even a mix of both. Additional options (that some therapists do provide) also include nature parks, farms, community centres, etc.
Next, figure out what timings would work for you to sit for your sessions. Would you prefer it after school, in the afternoon or evening, or over the weekends. Decide on how many sessions a week you would want. Most therapists will take a session once a week, some others may take twice, and for some therapists the upper limit is thrice a week. You may also do one session in two weeks. However, remember that consistency is key and placing sessions too far apart, like once in a month or 20 days, can also hamper the work that takes place.
Think What You Want
Research and figure out what you want in your therapeutic space, what modality of therapy you need or may prefer (talk therapy, expressive arts therapy, mindfulness-based therapies, sound healing, etc, or a combination of different modalities), and what you wish to see yourself feeling, resolving, achieving through through therapy.
Further, you may think of whether you want to speak more and have a space to rant, vent, or emote, or would you want a space for interactive dialogue with your therapist.
The last aspect of this would be to think about what you want out of this therapy experience. Like say, are you looking to resolve a certain concern (such as people pleasing, or lack of boundaries, compulsively saying 'yes', anxiety, depression, other mental health illnesses, trust issues, grief, anger, trauma, etc.), or wish to get to know yourself better. Perhaps, if you cannot think of a concrete outcome and want the therapy experience to just flow, even then it is absolutely fine.
Know Your Professional
Mental health practitioners may have different qualifications, specialisations, and expertise. So, before you begin therapy, know what kind of a professional will be exactly suitable for your needs.
Psychiatrist | A psychiatrist would have an MBBS and then an MD in Psychiatry. Psychiatrists in India are not trained in therapy, only in understanding the brain, its illnesses, and solutions. So, if you have been diagnosed for a mental health illness and require consultation and medication, then a psychiatrist is the one you should visit.
Clinical Psychologist | In India, psychologists who have completed their Master's in Clinical Psychology as well as an MPhil in Psychology from a Rehabilitation Council of India (RCI) certified institute in India are referred to as clinical psychologists. They are trained in dealing with mental health illnesses like bipolar disorder, borderline personality disorder, chronic anxiety, chronic depression, etc. Clinical psychologists are qualified to diagnose these illnesses, and are adept at understanding the brain's mechanisms and medications (though they cannot prescribe any)
Counselling Psychologist | Those with a Master's in Counselling Psychology are trained to provide therapy, however, they are not eligible to diagnose mental illnesses.
Therapist | This term is often interchangeably used with 'psychologist', which is true to a large extent, except for a small detail, which is that psychologists are usually focused on solutions and treatments, so the depth of work is often limited. Whereas, therapists are more depth-oriented and the focus of work goes beyond solutions and treatment, into exploration and analysis. Therapists may also have additional training in the form of diplomas in different specialisations.
Child Psychologist | Those under age of 14 should ideally speak to a child psychologist, who has a Master's in Psychology, with a specialisation in Child Psychology, or specialised training atop their Master's in Clinical Psychology.
Once you have understood the need for finding the right therapist and what kind of a professional you exactly want to see, look for sources who could connect you to credible and reliable practitioners. Ask family/friends who have been in therapy at some point or maybe are just well-aware, or use the internet to search.
Also Read: How To Help Your Child Nurture Their Mental Health
Assure Yourself Of Details
After finding a good therapist, deciding whether or not to go ahead with them can be a tricky space to be in. The only ways to know would be:-
Ask to get on a short call to discuss their therapeutic process, charges, timings, ethics, qualifications, and get a general idea of their 'vibes' that is, how it feels like to talk to them
Do two or three sessions to see how it works for you
Express any concerns or requirements you may have
The process of working with a therapist is one understood through trial and error, there is no perfect therapist or right therapist for all. It happens sometimes that people enter therapy with one therapist, work with them for a while and find that they have hit a wall, and then look for a new therapist. A client could be working with with two practitioners at the same time, like with a psychiatrist and a therapist. There could be multiple possible permutations and combinations.
Nilanjana Parijat is a depth-oriented, and holistic wellness psychologist, with extensive hands on experience in working with children, adolescents, and familes. She is Consultant with Reboot Wellness, Gurugram.