"The one who falls and gets up is stronger than the one who never tried. Do not fear failure, rather fear not trying." - Paul Coelho
It's probably wee hours of the morning and the phones have started buzzing, the newspaper front page is shouting 'Results Will Be Declared Today' headline and so do the news channels. You might have just finished your board exams, a public examination, or a competitive test.
You are wide awake feeling anxious, nervous, and probably restless as you frantically refresh the results website. As though the stress of the preparation and appearing for those exams was not enough, now it's time for the results. And, when you find out that it is not what you expected, the news of failure hits you hard. It is but natural to feel low or sad in a situation like this. You may even cry or feel numb because you would not know how to deal with failure in exams. If, at this point, you are scared of being compared with Sharma Ji's offspring, then you are not alone! The thought of failure can be scary!
Also Read: Less Expectations, Better Outcomes: 3 Ideas To Help Your Child During Exams
Dealing With Failure In Exams
So, how to deal with failure in exams? Although failure might be difficult to accept, the wise thing to do is to take some time to let it sink in, figure out where you faltered, and then work to overcome it.
Let us look at a few ways that may tell you how to deal with failure in exams effectively.
Let It Sink In
The first and the foremost thing of how to deal with failure in exams is to let the information sink in. It will take a while for you to comprehend and acknowledge that you have failed an exam. Different people show different emotions in different situations. Some may feel embarrassed, guilty, and thus withdraw, while some may feel extreme disappointment and cry it out. Some students, at this time, might seek the presence of friends and family, while some may want to spend time alone. This is more dependent on what kind of person one is. In whatsoever case, you should give yourself some time to accept the situation. It may take a few hours or go up to a few days. That is okay. It's completely normal to take your time to digest the news.
Find Your Calm
Making peace with having failed may entail the experience of various emotions like guilt, anger, disappointment, sadness, embarrassment, or anxiety Therefore, it's essential to find ways that help you balance these emotions and calm yourself down so that you can think more clearly about your next steps and figure out how to deal with failure in exams in a better way. Some of the ways to do that can be by crying it out and releasing everything, talking to a loved one who understands you, going for a walk, taking some long and deep breaths, sleeping over for a day, taking a long shower, or eating something comforting.
Reason Out
While you process the news and come to terms with it, you should also think of the reasons behind your failure. This could help you find out how to deal with failure in exams. There could be one or more reasons behind it. Think about the possible causes, so that you do not let them interfere with your performance the next time around. Ask yourself:-
Did I study hard enough?
Was I distracted during my exams?
Did I have enough time to complete your answers?
Did I misread the questions?
Am I not interested in this particular subject?
The reason could be any of these or a totally different one. Think about it.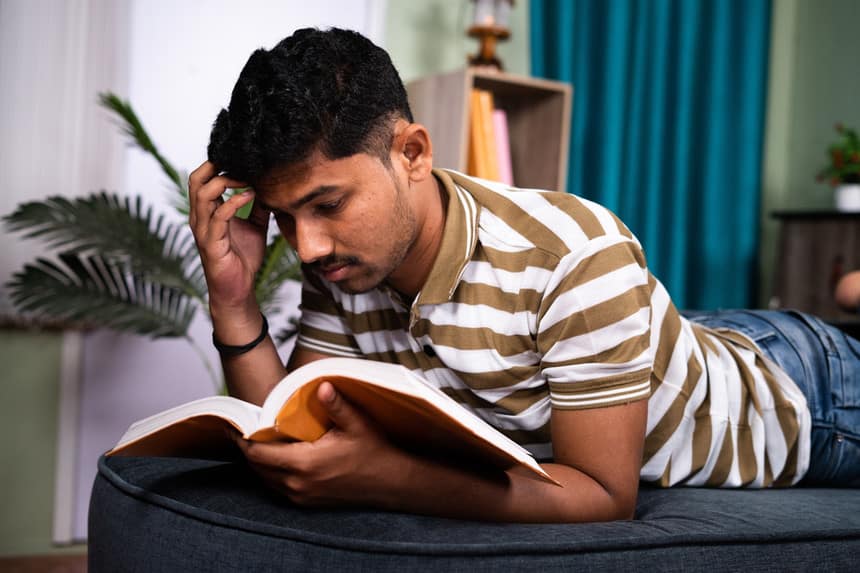 The Reason Behind The Failure Could Be Different For Each
Also Read: Want To Improve Concentration Before Exams? Try These 6 Yoga Poses
Shift Your Perspective
While failing a test or exam could be bad news for a while, it only provides a valuable lesson to the student.While it can be unpleasant, failure is part and parcel of the learning process. In school and in life in general, setbacks occur. But when they do, they also bring along opportunities to try a different approach the next time. And, figuring out a different approach for any unforeseen circumstances can help you on how to deal with failure in exams currently.
Adopt A Different Strategy
Once you have spent some time thinking about the possible causes behind failing the exam, think of how you can make it up to yourself in your next attempt. For example, if you feel you haven't studied enough, dedicate a few more hours to studying for the next attempt. You may also seek help from your teachers, parents, siblings, or friends.
Focus On Your Inner Qualities
Another way on how to cope with exam failure is to stay grounded and attuned to your inherent good qualities. The firmer your inner self is, the easier it gets to deal with failures and hardships. Failure in an exam might temporarily shake up your confidence, and that is the time you need your own reassurance before anyone else's. The key to building resilience is to strike a balance and creating your own shield of your unique strengths and characteristics. Nobody will remember how good or bad you scored but your attitude towards life and your character.
Seek Help
Last but not the least, if the news of failing has hit you so hard that it gets almost impossible to figure out how to cope with exam failure- you are unable to stop crying, have withdrawn completely and not talking to anyone, are eating or sleeping too much or too less consistently, mood has dropped significantly, then it is okay and rather important to reach out to a mental health professional. Remember, help is always available.
Also Read: 15-Minute Exercises For Students Writing Exams
Failure is not the opposite of success but a part of it. Remember, several people who are now successful failed several times before making a mark for themselves. Learning to rise from this will be the actual turning point of your life. Failure is the opportunity to begin again, this time, more intelligently.
"Success is not final, failure is not fatal: it is the courage to continue that counts." - Winston Churchill
Sanskriti Khera is a Counselling Psychologist, with five years of extensive hands-on experience in helping young adults navigate through social and emotional concerns. Her approach to counselling is person-centered, trauma-informed, and insight-oriented. She was formerly Counsellor at the Ashoka Centre For Well-Being, Ashoka University, Sonepat. Currently, she is Consultant with Daffodils Therapy Studio, New Delhi.