We have all heard of the phrase 'You become what you eat'. But, it is not just limited to eating. Rather, any form of consumption (i.e. using any sense organ to take in information), be it tangible or intangible, plays a role in curating us, our personality, our traits, and who we are as persons. The movies we watch, the music we listen to, the books we read, the places we visit, the words we hear or use, and the kind of company we are in, all become the bedrock of our identity, self-concept, and inner narratives. Think of us like sponges, we absorb everything, even if it may seem like we don't, our minds are always listening, taking in information and data.
This is why it is important to pay attention to the things we engage in on a daily basis, one of those that have emerged rather strongly in the last 10 years or so, is social media. And, we cannot deny its huge impact on our lives.
In all my work with adolescents and young adults, if there is anything I have noticed is that social media plays a big role in how our minds begin to form, see and think, whether we consciously realise it or not. And since that is the case, it is important that we curate our social media feeds in such a way that we minimise its harmful effects, while imbibing the positive ones.
Also Read | Self-Care Tips To Feel Happy And Rejuvenated
Here are a few tips I would recommend as a therapist.
Accounts That Interest You ✔
Social media has great potential to be a space for learning, and more so since most professionals and institutions have their social media accounts in place these days. One will notice that these accounts put out posts with textual or video content that talks about the field they are in, in a way that is simple and crisp. Try to follow people or accounts that help you delve deeper into subjects and fields that interest you. Follow people you look up to and try to imbibe the good things you can observe about them. For e.g. If sports is something that interests you, follow your favourite sportspersons, coaches, and the likes of it. Likewise, if you are interested in medicine, explore the possibility of connecting on LinkedIn with doctors you admire. Social media, this way, shall become a facilitator of positive change. And this, I can say from my personal experience.
Accounts You Don't Align With ✖
Let us be honest, we do follow many people simply because we knew them at some point or because someone sent us a request and we accepted it. However, in reality, neither do we like their content nor can identify with their views and lives. All we find ourselves doing is simply skipping them, over and over.
Should we not be cleaning up our feed just as we clean our homes? Considering we spend so much time on these apps, should we not consume only clean content and nothing that we despise? If you cannot remove their accounts, mute their stories and posts. But, do not get complacent with emotional and psychological cleanliness.
This also applies to accounts of those 'influencers' who shame other people, accounts of people who like to show 'perfection' as the way of life, or those simply focused on themselves in a way that is clearly bothersome.
"We are meant to use social media, not for social media to use us."
Reminders Of Goodness ✔
If there is something I always recommend to my clients, it is to create joy and fun actively, to always be desirous of inspiration, and to be surrounded by beauty and passion. And so, we must understand that anything you consume so frequently, and often unconsciously (as we scroll through social media mindlessly) should have content that when consumed, almost always leaves us feeling inspired, or just feeling good. For instance, I follow 'Humans Of Bombay' because it reminds me that there is always light at the end of the tunnel.
Social media is most often than not a reflection of our lives and mirrors our interests, views, orientations, needs, and communities. One can tell a lot about a person by doing a quick scan of their feed, their profile, and their explore page. As I mentioned, what we consume frequently eventually becomes our narrative.
Self-Depreciating Humour ✖
Trends will come and go, but taking care of one's mental health stays forever.
There are many pages that in the name of humour and entertainment, create content that is disrespectful in different ways to different people, whether it be racist, sexist, or overly sexual. And our current humour trends are especially passionate and sympathetic towards self-deprecating and fatalistic humour. All of that insinuates some kind of harm to oneself, even if it were passive and extremely implicit. For e.g. a very popular Indian stand-up comic is seen body-shaming people on television every second day.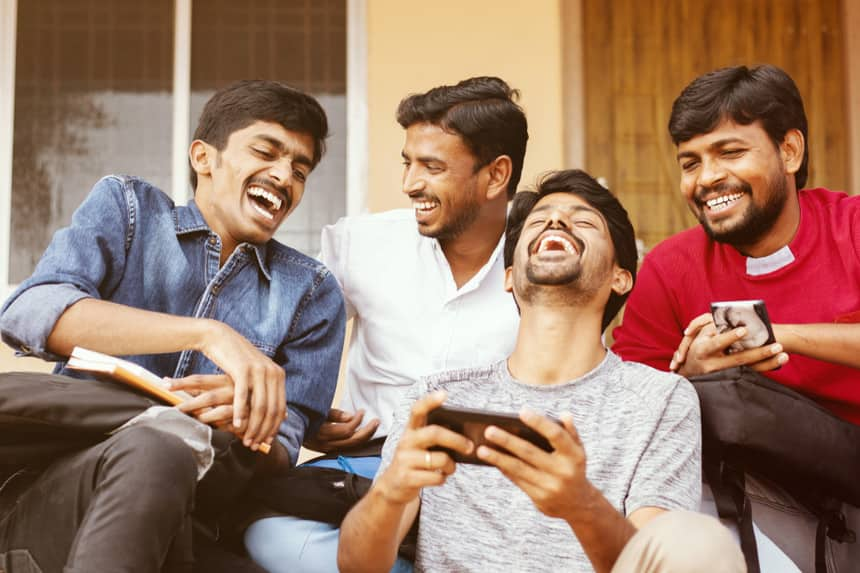 Consume Content That Fosters Joy And Happiness
Negativity Should Not Access You
Every other day, I see a young person in therapy who says they feel terribly low, unmotivated, life seems meaningless, and all is dark and gloomy. But a quick chat about their social media intake often answers their own question of "Why do I feel this way?". They feel this way because they allow access to such feelings, states, and moods into their most private space, i.e.their mind.
It May Just 'Seem' Harmless
In humour, we allow many things to pass, and they seem rather harmless too. Things like self-harm, suicide, mental breakdowns, mental illnesses, substance abuse, emotional abuse, and toxicity are shown to be light and acceptable. As we laugh along those Tik Toks, Reels, Vines, Memes, and GIFs, we imbibe this information and say 'it's okay to call oneself insane, an alcoholic, be disrespectful, and so on'.
It is much tardy work to keep a check on one's content consumption, but we have to understand that our mind is always listening. So, if it hears the same reel that suggests that we are in some way messed up, these words will form the narrative we have about ourselves, and eventually our life.
Also Read | How To Identify Depression: Know When To Seek Help
Aspirational Or Inspiring ✔
This tip is reasonably straightforward and self-explanatory, isn't it? Following companies, people, or spaces you wish to work with keeps you informed of events, recruitments, and other updates. But apart from updates, it also keeps one inspired. Pretty much like Arjun from Mahabharata, always focused on the eye of the fish.
"When I stopped following the influencers and started following artists, I became an artist."
To conclude, let us say that awareness and acceptance of the fact that social media affects us in more ways than one is the beginning. And to recognise that in order to be different, we must do different things, we will have to bring change to the media we consume. The above tips also include what to avoid because what we say 'no' to, will determine what we say 'yes' to.
So, own your worth, your time, and your mind. Let social media be a constructive, positive force in your life, rather than a parasite whose impacts are lethal. Let social media be a journal, a scrapbook, a dream or vision board, a fertile ground for inspiration. Let it take you forward.
Also Read | Pros And Cons Of Social Media For Your Child: Know Where To Draw The Line
Nilanjana Parijat is a Depth-Oriented, and Holistic Wellness Psychologist, with extensive hands-on experience in working with children, adolescents, and families. She currently works with Reboot Wellness, Gurugram.