Parenting is a roller coaster with its own mechanism. There may be a basic manual to it but the thrills and joys, screams, and tears accompanying parenting are unique to each family. Usually, the term 'parenting' brings up an image of a couple but it need not be so at all times. Single parenting may be optional or circumstantial. So what are the means to give your best as a single parent? Read on to know more about this.
Child-rearing usually begins as tentative actions by the freshly-minted parents and it tends to evolve over a period of time. As the child keeps growing, passing from one developmental phase to another, the parenting style keeps evolving too. Is it all easy-going from there on? or is it a bumpy road?
Challenges for parents can come from anywhere and in any form. Things can change for parents due to separation from the spouse, divorce, or bereavement. It can be temporary separation as in cases of armed forces personnel or sailors, wherein one of the partners has to be away on deployments and the onus falls on the other partner to be the primary parent for a particular duration. At other times, the onus of parenting becomes singular due to a permanent change in marital status. A change of this kind brings its own difficulties and responsibilities.
Also Read | Why Communication Is Key To Understanding The Needs Of Your Growing Child
Challenges Single Parents Face
Let us enumerate some of the common challenges that single parents face in our society.
Lack of family support
Age of the child
Health of oneself or the child
Financial resources
Occupational support
Stigma and isolation
Tasks and time management
Work-life balance
Emotional overwhelming
Disciplining versus indulgence
Coping with loss
Be Adaptable
Adaptability is a human trait which helps in coping with whatever situation comes your way. Single parenting calls for a huge reservoir of adaptability. The faster you accept a situation, the clearer it becomes to find the answers for its management. Advice, well-meaning, or critique will come from everywhere, but it will be totally your call to take or reject the suggestions being put forth by people.
Also Read | How Is Your Parenting Style Impacting Your Child?
Tips To Raise A Child Alone
Here are some tips that may help you in your journey as a single parent.
Structure Your Day | Set a routine to structure your days. It should be time-bound with clear priorities. For example, schedule meals and bedtime, study, and recreation hours. Familiarity with a routine gives a sense of control to the child as well as to you.
Form A Team With Your Child | Make your child your teammate and share the daily chores. It can be as simple as setting up the table at mealtimes with mats, plates etc; helping with laundry, putting clips on the clothes put out to dry by you; filling up the water bottles or packing the school bag. Simple yet meaningful tasks with shared responsibility between you and your child.
Recreation | Spending recreation or winding-down time together helps in sharing the day's experience. It can be done over a nightcap of hot chocolate, a game of ludo, scrabble, or jenga. Time spent together like this helps in building bonds, direct communication, and ironing out the issues arising from the day's happenings.
Foster Confidence, Not Helplessness | Children trust their parents and look up to them. Maintaining a cheerful demeanour gives a reassurance to the child that they are safe and looked after". A sense of security and continuity is a must for the child, hence to play the dual role of mother-father with confidence is important.
Socialising | Whether by inviting people over or going out, socialising is important as interactions help in overcoming the isolation, grief, or loss. People are social beings and need others to thrive. Single parenting should not turn you into a hermit.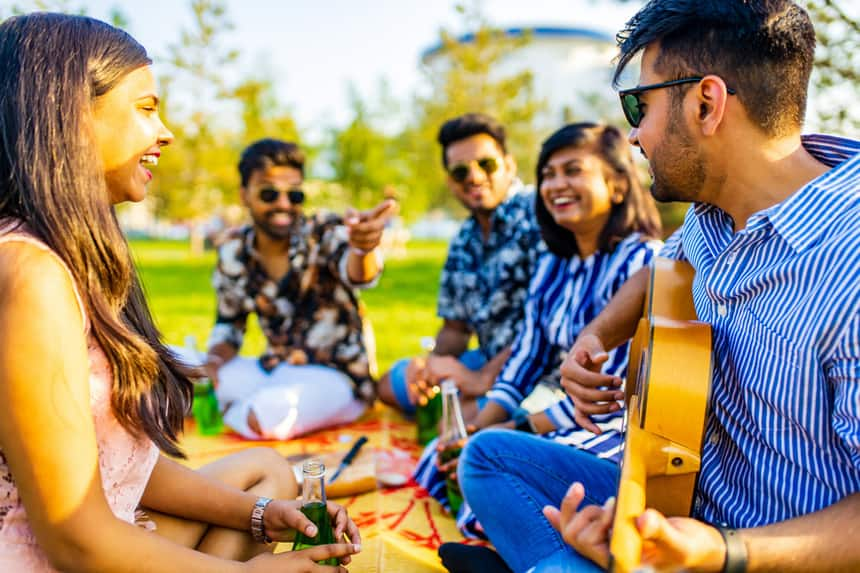 Socialising Helps To Overcome Feelings Of Grief Or Loneliness
Ensure Good Childcare | We say this for times when you have to be away for professional or personal requirements. It can be in the form of a day-care centre, family support, or reliable house help.
Be Unaffected By Gossip | Do not succumb to societal gossip, curiosity, or criticism as it is your life journey. Follow your heart and create a narrative best suited to you and your children. The same applies to online information too. Sieve good from bad and keep moving ahead.
Do Not Feel Guilty | Do not carry self-loathing or be guilty as negative emotions can spiral out of hand. They need to be processed logically and if they still continue to impact your well-being, you shoudl seek help from a professional mental health worker for therapeutic intervention.
Be Authoritative | Try to be an authoritative parent with a right balance of strictness and permissiveness. Extreme disciplining or a highly passive style of parenting will end up putting a distance between you and your child. Set family rules which are reasonable and acceptable to both of you.
Check Your Child's Company | Know who your child's friends are as the company they keep is reflective of the personal world of the child. Form a healthy relationship with them so that camaraderie exists between your children, their friends, parents, and you.
Stay Healthy | Look after your health as a fit body keeps the illnesses at bay. Neglecting self-care can lead to frequent hospital visits causing financial distress as well as anxiety to your child, towards your well-being. Caregiving to an adult can be traumatic for a child, irrespective of their age.
Refrain From Social Vices | Excessive clubbing, party hopping, drinking, or smoking can lead to risky behaviours in children too. Set an example of what you want your child to be like. Children observe and imbibe their parent's behaviour.
Have A Back-Up Plan | Keep a backup or a contingency plan where in case of any emergency the child's well-being is secure. Keep someone you trust in the know of things such as your finances and assets. Depending upon the age of your child, basic knowledge about bank details, insurance, etc. can be shared with the child and also the information regarding safe-keeping of the important documents in the house.
Parenting is a mix of sweet and spice. Experience makes one wiser and a gut feeling ensures whether you are on the right track or not. There is no one-size-fits-all approach but the tips mentioned above can definitely make it smoother for you to navigate single parenting with confidence.
Also Read | 5 Tips To Follow The Right People On Social Media
Dr. Sanjana Seth is a Psychologist and Psychotherapist, registered with RCI, and holds more than two decades of practising experience with the healthcare organisations of the Armed Forces, as well as those operating as private. She is skilled in administering psychological assessments, providing therapeutic intervention and psychoeducation via talks, lectures, workshops, and literary articles. She has worked extensively for children with special needs, and has taught Psychology to students at undergraduate and postgraduate levels.