As human beings, we experience a wide and often complex range of feelings and emotions. Anger, happiness, sadness, fear are to name a few. An important element of mental health is one's ability to identify and regulate their emotions. Our emotions are greatly influenced by the world external to us. Hence, it is not uncommon to time and again experience changes in the way feel about things.
We all go through periods of feeling low, having low mood symptoms or 'bleh' as we call it. Let us understand these low mood symptoms, so that we are then more equipped to handle it more effectively.
Signs You Are Feeling 'Low'
Languishing; Psychologist and Sociologist Corey Keyes brought in this concept where you may not be exactly happy but not sad either; just don't feel yourself and more like 'bleh'
You don't feel like doing your daily chores
You feel slightly fatigued
You feel disinterested and irritable
You don't feel like engaging socially, even with close friends or family
It is important to note there is a difference between languishing and a pervasive persistent low mood which is more intense and lasts longer. This could be a sign of underlying mental health issues. If you can sense low mood symptoms in yourself, you should reach out to a mental health professional for help.
Also Read | Self-Care Tips To Feel Happy And Rejuvenated
What Causes Feeling 'Bleh'?
Feeling low or having a low mood could be caused by small or big life events, or even something else in the environment which doesn't directly affect us but we feel strongly about. Some of the possibilities could be:-
Feeling of disappointment or expectations not met
Failure
Relationship issues
Feelings of self doubt
Any negative life event
Perception of things as going out of control
Thoughts about socio-political events like wars, riots, etc.
Unhealthy lifestyle
We often feel emotions both positive and negative ones, like the waves of the ocean that keep coming and going. A good idea is not to try to put these emotions into silos of good and bad, for each human being is different from the other and has their own ways of thinking, feeling, and behaving. Rather, it is worthwhile to learn ways to ride through these waves!
Also Read | Things Mentally Healthy People Do
How To Get Out Of A Sad Mood
For you to understand how to get out of a sad mood or overcome your low mood, let us look at a few tips.
Quick Check-In | Do a quick check-in with yourself whenever you feel low. Ask yourself, "Am I low on energy and need to eat something?"; "Do I need to hydrate myself?'; "Have I slept well?" A lot of times, such quick check-ins give us solutions we are wandering around to look for.
Move Around | Our body needs momentum. Nothing beats a good stretch, a few jumping jacks, or a brisk walk. Exercise is proven to be the most impactful way to stir up those endorphins- the 'feel good' hormone.
Talk To A Friend | One way to understand how to pull yourself out of a bad mood is giving your best friend a call or meeting with them can be quite cathartic and cheering. We as humans are social beings who thrive on connections and communication. It helps to talk it out with someone even if you don't receive a solution right away, at times just their empathetic presence is what we need.
Tap Into A Pastime | Probably the most instant way to lift your mood is by engaging in leisure activities that you enjoy, like listening to music, dancing, painting or cooking. These are great for some sensory stimulation and boost you towards a pleasant state of mind.
Also Read | How A Wrong Career Choice May Impact Your Mental Health
Declutter | This might be the most unlikable task at its first sound, but who doesn't like a clean room and a well-made bed to hop on for some relaxation? Cleaning up and arranging our belongings can give us a sense of accomplishment, which is big for those who often procrastinate. This, in turn, elevates your reward chemical, dopamine.
Go Outdoors | At times, staying indoors for too long can lead our feelings to dip. In the cases of seasonal affective disorders, even though the exact cause is not known yet, one of the significant causal factors seen is having to remain indoors for too long due to extreme cold temperatures and a lack of exposure to sunlight. One of the impacts of low levels of Vitamin D has been found to be low mood. It is, thus essential to get adequate exposure to the outside world. (1)
Pet Your Furry Friend | There is significant evidence to show that animals, or pet dogs in particular, enhance positive emotional states and decrease sadness, anxiety, and feelings of loneliness by providing social support to human beings (2) It could even be your neighbourhood cat or your guinea pig!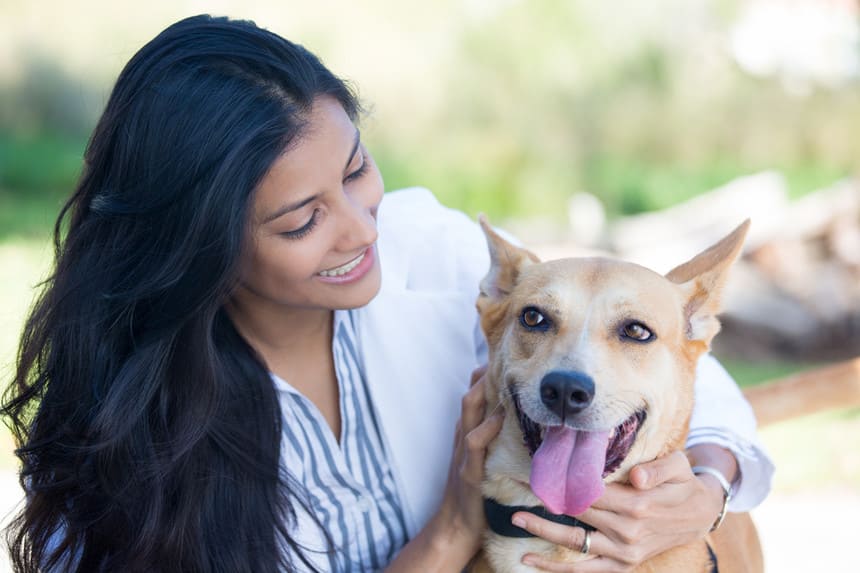 There Is Evidence That Dogs Enhance Positive Emotional State By Providing Social Support
Help Someone | Another way to know how to pull yourself out of a bad mood is a small act of kindness which goes a long way. Helping someone makes us feel good about ourselves, gives us a sense of accomplishment and meaning. Volunteer in any NGO, feed those stray dogs, help a stranger figure out a location, or teach an elderly in your family how to use their smartphone and see that smile on their wrinkled faces give you a sense of fulfillment.
Watch Funny Videos | In a world where everything is instant, the quickest way to come out of that gloomy mood could be watching something fun. Reading those memes or watching those funny videos on Instagram or Youtube can be a good way to help yourself cheer up!
Eat Your Favourite Food | Food and mood go hand-in-hand for many of us. Whether it's getting your comfort food or going for that protein shake. Even consuming chocolate has been found to elevate mood. But, remember to keep a balance and ensure that hogging on comfort food doesn't become a habit every time you feel low.
Do Some Self- Care | It is helpful to spare some time in the day, even if it is as less as 15-20 minutes, to engage in some self-care. Next time, when you find yourself feeling 'bleh', have a relaxing bath, make yourself a cup of coffee, apply that face mask, use those essential oils, and give yourself a good head massage. All these things help you regulate your senses and mood.
Reflect And Introspect | At times, the 'doing' may not work, especially if the low mood seems pervasive and long-lasting. It helps to dig deeper and introspect our thoughts. It helps to notice and ask yourself, "Are my feelings indicative of something negative that I have been thinking about?'; "What kind of thoughts come to my mind when I feel this way?"; "Are there any possible triggers or patterns?" This may help us build awareness in ourselves and seek the required support we need to get through.
Positive Affirmations | Positive emotions are another way to know how to pull yourself out of a bad mood. Show yourself some grace and compassion, and engage in positive affirmations like - "I am working towards becoming my better version"; "I'm beautiful with all my flaws'', "I'm only human and deserve to rest". Affirmations help us validate our feelings and allow us to be gentle with ourselves when we are not feeling great.
Practice Gratitude | Expressing gratitude for things that we often take for granted, like having a caring family, food to eat, the opportunity to study, and the like acts as a positive reminder of privilege during our gloomy times.
Know When To Seek Help | It is important to observe the intensity, frequency, duration, and impact of your low mood. If it seems chronic and detrimental to your overall functioning, it is essential that you approach a mental health professional who is equipped to provide you with the kind of intervention you need.
You may try to adopt some of the above methods to learn how to get out of a sad mood. Managing emotions is one such life skill that we must develop in order to function well and move towards holistic growth.
Also Read | How To Identify Depression: Know When To Seek Help
References
https://www.nhs.uk/mental-health/conditions/seasonal-affective-disorder-sad/overview/

Article Source: Depression, anxiety, and happiness in dog owners and potential dog owners during the COVID-19 pandemic in the United States Martin F, Bachert KE, Snow L, Tu HW, Belahbib J, et al. (2021) Depression, anxiety, and happiness in dog owners and potential dog owners during the COVID-19 pandemic in the United States. PLOS ONE 16(12): e0260676. https://doi.org/10.1371/journal.pone.0260676
Sanskriti Khera is a Counselling Psychologist, with five years of extensive hands-on experience in helping young adults navigate through social and emotional concerns. Her approach to counselling is person-centered, trauma-informed, and insight-oriented. She was formerly Counsellor at the Ashoka Centre For Well-Being, Ashoka University, Sonepat. Currently, she is Consultant with Daffodils Therapy Studio, New Delhi.