Taking up student internships while one is still in high school is an idea that our education and career industry is now gradually becoming familiar with. While until a few years back, students in senior classes were expected to be completely immersed in their textbooks, the significance of going beyond them and exploring real-life work settings is coming to popular realisation.
This article will shed light on a few ways that one can look for internships in high school and find the right internships for students after high school.
Internships in high school is a concept that only a few in India are yet familiar with. However, universities and colleges abroad, and now even those in India, are keen on admitting students who hold some formal/informal work experience. Amidst fierce competition, having real-time work experience in fields one is interested in becomes an additional skill set and adds value to one's application. In one of our previous pieces, we have spoken in detail about the benefits of internships for high school students.
Nonetheless, the primary advantage of an internship is that you get to expose yourself to a professional setup, which does wonders in helping you figure out what you want to do, and more importantly, what you don't want to do. Obviously, you need not have all your goals and ambitions figured out while in high school, but internships can help you formulate your goals and ambitions better.
To begin with, start to think about which places and industries you might want to gain a practical idea about. Start talking to people you may know from those industries about internship opportunities.
Let us now take a deeper look at some tips you could use to search for internships while in high school.
Start The Conversation
Take the initiative of discussing your future plans and internships with family and friends you trust. They may help you with relevant connections, if they have some in the industry. Also, talk to teachers and counsellors in your school. They may be familiar with available internships and share with you the internship experiences of previous years' students.
Try to answer the following questions for yourself, to help you understand how to start a conversation about internships.
What are you interested in learning about? Do you want to learn about fashion, photography, business, psychology?
Do you have a counsellor in school you can talk to?
Are there any teachers or mentors who can guide you?
Do you know any seniors who are currently working?
Who are your friends? Where do your friends' parents work?
Be Professional In Your Approach
Try to gradually incorporate professionalism in your approach in order to pitch yourself to the right organisations and to be taken seriously in your professional journey. Keep the following in mind.
You need to have a resume – list all your accomplishments and what all you are all involved in. Include any past internship or volunteering experiences if you have had, student groups you are a part of, specific skills you have – like video editing, blogging, etc.
Write a cover letter and tailor it for the organisation you are applying for.
Present yourself like a professional – have a professional email id, create one via google or outlook. Avoid having informal usernames, for instance, coolboy@gmail.com.
Have a LinkedIn profile, keep it updated with your small and big achievements.
Work on learning to write an email. Do your research and proofread your emails. Sending an email with the subject line like, "I want internship", will not land you the internship. Your mails should have proper grammar, salutations, and sentence structure.
Be Creative
If you can't find internships that align with your needs and interests, create an opportunity for yourself. Find out ways you can contribute to businesses in your community, and then pitch yourself and your idea to them.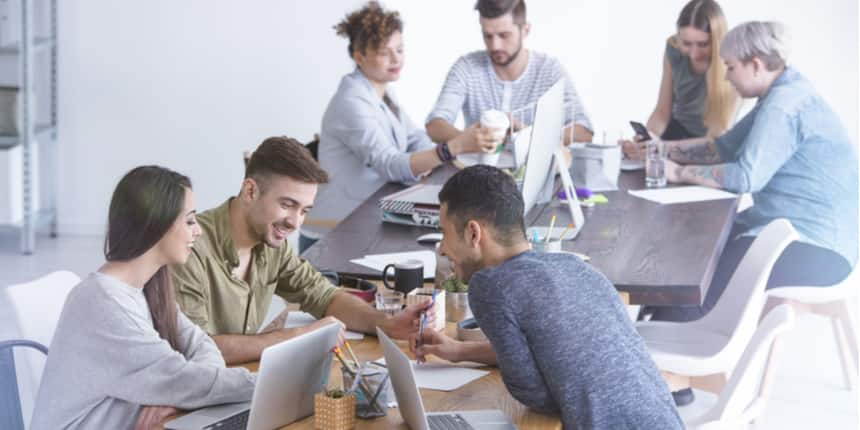 Community businesses often lookout for interns to work with them.
There could be restraints of age and qualifications, and even location. You may have to find local companies where you could work. Don't fret! If you wish to work for a media house one day, learn digital marketing and look for a marketing internship with a local home-grown business, and help them expand their social media presence.
Colleges, Professors and Researchers
If you already know what course/subjects you want to take up in college, you may try applying for internships with college professors, and help them with research work and projects they are working on.
Start by researching the universities in your area. You may consider taking help from seniors or students already studying there.
Apply Through Internship Portals
You may find that there are fewer internship opportunities for high school students as most companies look for undergraduate students, or freshers to hire as interns. Nevertheless, you can still find the right spots in the industry by applying for vacancies through the following websites:
https://www.hellointern.com/
https://internshala.com/
https://www.letsintern.com/
http://www.makeintern.com/
Send Cold Emails
Cold-emailing is a great way to put across your ideas, and in this case, what you are looking for, to prospective recruiters. Identify the companies you would be interested in working with, get the email IDs of their HR or other concerned people from their websites, and send them a professional, cold email that states what and why you are looking for, and how you can contribute to the company. Chances are, you may just get lucky!
Summer Schools
Many universities and colleges run summer schools for students, both online and offline, and these are often paid. Universities abroad like Oxford, Yale, UCLA, among others, and Indian colleges like Amity, Symbiosis, Ashoka, to name a few, offer such opportunities.
They offer courses in science and technology, psychology, liberal arts, leadership, business, humanities, medicine, economics, arts, etc. Go through their websites to look for projects that may interest you. Before starting with your graduation, use these ways to get a bird's eye view of the field of your choice.
Take Up Volunteer Work
There may be social issues that are close to your heart. You may want to work for women empowerment, child education and literacy, animal rights, environment and climate, poverty eradication, and the like.
Look out for NGOs in your vicinity that are looking for volunteers. You may be a writer who can write content for the NGO's website or may have business ideas to generate more funds for the cause. The opportunities could be endless because such places are on a constant hunt for resources that can help the cause without burning a hole in their pockets.
This would help you make a contribution to a cause you believe in, as well as be a significant value addition to your resume.
All in all, don't stress too much about what and how, apply anyway. Put yourself out there. Don't be afraid. The thing is to explain to a recruiter why you are reliable and willing to learn.
Looking at the bigger picture, there are hundreds of thousands of students pursuing high school. However, only a handful of them take up internships and go beyond textbooks. So, discover that drive within you, identify your areas of interest or those that you would want to explore, and use the tips we have just discussed to look for suitable internships for yourself. Believe you me, these are wonderful ways to give yourself an edge over the majority and get yourself a smooth entry into the job market.
- Parisraja Bajpai is an organisational psychologist, with extensive hands-on experience in talent acquisition, talent management, employee counselling, employee engagement, training and development. She is currently heading HR department at Nexstgo.