Transition from school to college is indeed an exciting phase of life, and even more so if one is moving to a different city for college. However, moving to a new city can be equally a time of confusion, owing to the sudden change in location, residence, popular culture, and the whole new setup. Let us take you through some tips that will help you make the best of college life in a new city.
Know Your College And City
One of the top factors in choosing a college is to get to know the college/university you are getting into. This would include checking out its history, famous alumni, its culture and social settings, administration, accreditations and gradings, political leanings, management, faculty, placements, grading system, awards, so on and so forth. Check out their website, Facebook or Instagram page, and other mentions on the internet.
Secondly, get to know the city (maybe for now only through the Internet). This would mean researching its climate, geography, transport services, administrative offices, famous places, history, food, festivals, fests, events, and also what crises are most common like floods, extreme heat, mosquito-borne diseases, or susceptibility to infectious diseases or animal-borne illnesses, or other man-made issues like riots or lawlessness.
Knowing your college and city you would be relocating to help get a sense of order and control, thereby reducing your cold feet and jitters.
Reach Out To Knowns
Another top factor in choosing a college is to see if you have friends or relatives who live in the same city. If yes, it is always a good idea to reach out and let them know that you are arriving. Having people you know in the same city can be a source of reassurance for not just you but also your parents and other family members. Get a hold of their addresses just in case and ask them questions about everything you had researched by yourself. Ask them about the preferred mode of travel, traffic situations, where to get what from, health services, facilities, etc.
Take College Seriously
Films and other media often get us to believe that college is all about fun and hanging out with friends. While fun and frolic are indeed important and you should make time for it, but ensure that you do not end up taking college and studies lightly since this is the time you are beginning to set the foundations for your career. Also, follow rules and regulations to avoid getting into trouble for disorderly conduct.
Make Friends
College is a great place to meet people who are on the same wavelength as you and have highly stimulating conversations and debates. Some of these also turn into friendships that we carry for a long time. But, most importantly, befriending people of the new city and those who have come from other cities helps one feel secure.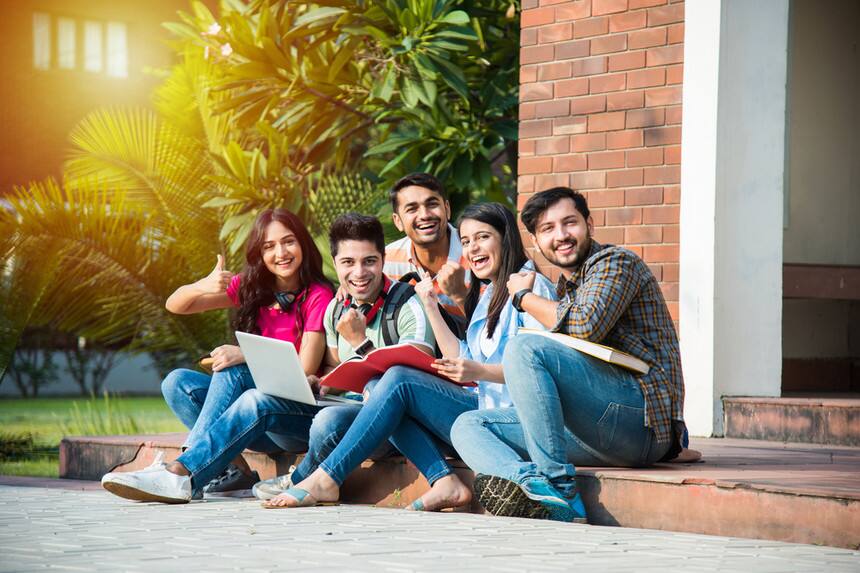 College Is A Great Place To Meet People Who Are On The Same Wavelength As You
Also Read | Why It Is Okay To Have Few Friends
Explore Other Avenues
College should not only be limited to academics. You can explore other aspects in your life, passions you left behind, or those you never tried before. Trying extracurricular activities within college and outside could be a good thing, and involving yourself and perhaps your college friends too, meet new people. Try a sport or join the college team if you're already into one, involve yourself in cultural activities like music or drama, or join a college club. Not only these would do wonders to your personality, but also add a lot of value to your resume.
Learn From Seniors
Another one of the top factors in choosing a college in a new city is to meet your seniors and try to get pally with them. Seniors can support you, help you, give you inside information on the way the department and administration operates, how to study better, score or perform better, and how to join clubs, get funds, get roles, etc. Seniors who come from different cities can give you practical advice on how to manage homesickness, how to plan trips back home, what to do in the city, how to look for things in the local markets, and so on.
Have Fun Outside Of College
Make moving to a different city for college happening outside of the academic and extracurricular space as well, by exploring hangouts and eating joints outside the college. Find cool party spots, events in the city, explore concerts, food/film/literature festivals, bazaars, and the likes of these. Go live, have fun. Make memorable experiences! (Take loads of photographs)
Ensure Your Safety
Moving to a different city for college can be scary and your safety should be the key when you are living independently. Keep cab applications on your phone, emergency cash, pepper spray (works for non-friendly humans and often animals too), emergency numbers on speed dial, know some key terms in the local language, ensure you lock your doors, be careful when returning from parties, do not befriend strangers until you know something about them, do not try local drugs, and always keep your friends informed if you are meeting new people.
Being independent and moving to a different city for college changes us in multiple ways, while also teaching us to take responsibility and new skills. So, use these tips and make the best of your college life.
Also Read | Dealing With The Stress Of College Admissions
Nilanjana Parijat is a depth-oriented, and Holistic Wellness Psychologist, with extensive hands on experience in working with children, adolescents and familes. She currently works with Reboot Wellness, Gurugram.