Family is the cradle of a child. It can be rocky or protective. Family size varies and so does the relationship that each member has with the other. How does your family impact your child? Conflicts and stressors do play an important role in the functioning of any family. Egos, role parities, situations etc. can play havoc in the day-to-day life of a family which in turn can make it into a dysfunctional family. Your child's upbringing gets affected by the kind of family life that they bear with. So let us learn how to protect your child in a dysfunctional family.
"I hate my family!", "My family is such an embarrassment!", "I wish I could run away from it all!" are some of the statements which you may have heard, felt, or said yourself. What lies behind such outbursts? What is a dysfunctional family? Generally, dysfunctional families are engaged in maladaptive behaviour practices and have poor parenting style.
Signs Of A Dysfunctional Family
Let us begin by understanding what could be some signs that a family might be dysfunctional.
Unhealthy Parenting | Harsh parenting which may be autocratic, shaming or abusive towards your child; threat of physical violence can cause extreme fearfulness and anxiety in your children.
Poor Relations | Poor interpersonal and/or intrapersonal relationships among family members; it can entail a constant bickering among themselves or extended family members as well as ongoing feud within the neighbourhood too.
Blurred Boundaries | Lack of boundaries or respect for personal space can be smothering for your child who expects privacy within the four walls of their home.
Also Read | Why You Need To Draw Boundaries With Your Teenage Child
Rigid Mindsets | Rigid, close-minded attitude leading to friction between spouses, siblings; disregard for gender parity or role clarity, the latter in cases of joint families can lead to unnecessary ego hassles.
Substance Abuse | Addiction to alcohol or any other substance use by family members can impact the entire family negatively. Setting a wrong example, these indulgences by adults can be picked up by your children too.
Imposing Sides | In cases of marital conflict, forcing a child to take sides is commonly seen in dysfunctional families. It is highly unfair of you as a parent to encourage this kind of imposition in your child.
Weeding Off Responsibility | One of the parents being totally hands-off and aloof to the extent of being neglectful is another sign of a dysfunctional family. Rearing your child is a joint responsibility and cannot be palmed off on some pretext or other.
Also Read | How To Know If Your Child Is Being Bullied And What To Do About It
What happens to the children facing dysfunctionality at home? The biggest impact comes on their emotional functioning. It gets reflected in their personalities as being timid, low on confidence, poor academic grades, lack of friends, etc. The other extreme may be your child becoming the school bully, bunking classes or indulging in risky, inappropriate behaviours.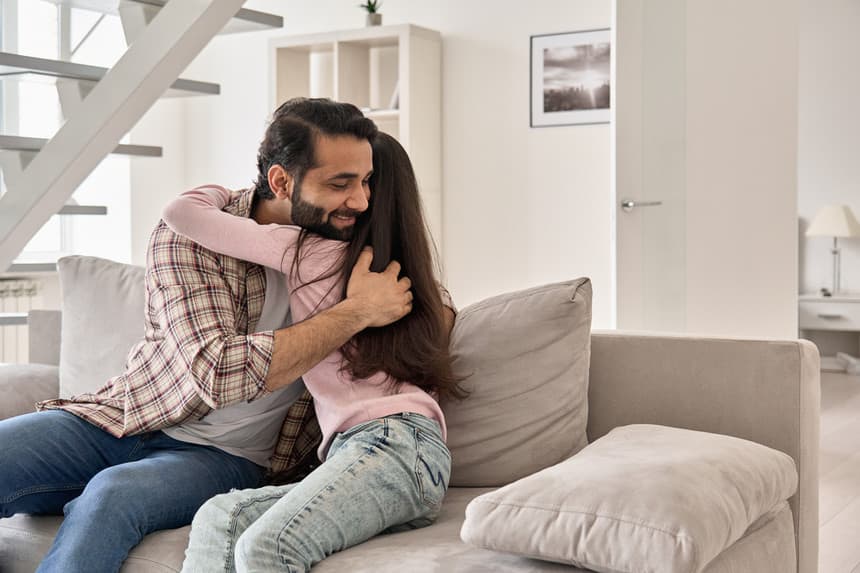 Being conscious of your acts and their consequences as a parent, spouse, sibling, in-law etc can reduce the risk of dysfunctionality in your family.
Protecting Your Child
Dysfunctional family is a disaster for everyone and more so your children who are at their most vulnerable stage of life. So, what are the protective factors that can cushion the impact of a dysfunctional family? Listed below are some of the dos and don'ts for normalising a dysfunctional family:-
Patience | Be an adult in wisdom, maturity and fortitude. An age appropriate response needs to be your mantra rather than short-on-fuse reactivity.
Take Onus | Take the onus upon yourself for the acts and their consequences. A responsible behaviour and accountability can go a long way in mitigating trauma for your child.
Cooperate | Use cooperation instead of coercion. A middle-path can be found to encourage a healthy atmosphere at home.
Shower Love | Unconditional love towards your child will help in allaying their anxieties and insecurities.
Also Read | What Is Your Love Language As A Parent?
Avoid Word- Wars | Refrain from bringing up or discussing the conflicting subject over and over again in front of your children. Shield them from a constant barrage of word-war.
Set A Structure | Set a routine and an order in the activities of daily living as this will help in safeguarding their basic needs. A chaotic lifestyle of a dysfunctional family can be upsetting for the child.
Also Read | How Is Your Parenting Style Impacting Your Child?
Be Honest | Communicate with empathy and honesty as your child might seek answers from you. Denial, avoidance or secrets are not going to be of help to either you or them.
Seek Help | Seek help to deal with the concerns arising due to your dysfunctional family. There is no shame or weakness in help seeking as the havoc of a dysfunctional family can test anybody's limits. Help may be sought from a mental health professional, elderly family member, colleague or a friend.
Also Read | Why Communication Is Key To Understanding The Needs Of Your Growing Child
Families are complex, multifaceted units. Situations and circumstances vary for all. There is no magical formula for an absolute blissful coexistence of family members but some dos and don'ts for harmonious relationships do exist. Being conscious of your acts and their consequences as a parent, spouse, sibling, in-law etc can reduce the risk of dysfunctionality in your family. You cannot choose your family, but definitely can create peace in it.
Dr. Sanjana Seth is a Psychologist and Psychotherapist, registered with RCI, and holds more than two decades of practising experience with the healthcare organisations of the Armed Forces, as well as those operating as private. She is skilled in administering psychological assessments, providing therapeutic intervention and psychoeducation via talks, lectures, workshops, and literary articles. She has worked extensively for children with special needs, and has taught Psychology to students at undergraduate and postgraduate levels.