The United States remains the top global destination for international students, attracting students from almost every country across the globe. Over the past ten years, the number of Indian students in the United States has roughly doubled. There are currently over 200,000 Indian students in the United States. We are pleased to say that we have also seen a steady increase in the number of undergraduate students from India at US colleges and universities. Choosing a place of study is an important, personal decision, and prospective students consider several factors when making that decision, including the right program of study, affordability, and practical experience. The United States offers all of this and more.
To your question on school choice and the deservedly famous Ivy League universities, there are many factors that affect a student's decision on where to study, there are more than 4,000 accredited US higher education institutions, that together offer the widest variety of majors and degree options in the world, with opportunities for students to tailor the educational path that best meets their needs. The variety of colleges and universities offer the right fit and price point for prospective students, along with opportunities to obtain scholarships and eligible on-campus employment. Through Optional Practical Training (OPT), international students who qualify benefit from the combined strengths of a US higher education, coupled with practical work experience in their field of expertise.
What US Universities Expect
It is not difficult for qualified students to receive a visa. Tens of thousands of Indian students receive visas every year to study a range of colleges and universities -- and not just at the Ivy League institutions! There are three types of student visas: F1s, M1, and J1.
If you are applying for an undergraduate course, then we would not expect that you have pre-existing qualifications -- you only need to present as a credible student. If you are applying for a masters' program, then we would expect you to have some previous relevant experience through previous work or study.
Some Indian students take poor advice from education consultants who tell them that they should memorize facts and figures about their chosen universities. Rather than coming with a memorized speech, visa officers prefer applicants who can speak about their interest in their chosen subject and why receiving an American degree is important to them.
The choices and opportunities offered by US colleges and universities are virtually limitless. Combined with the quality of education offered, these are key factors why the United States remains the top destination for international students globally. With thousands of existing academic programs, world-class institutions, and unmatched flexibility, the United States offers a wealth of affordable higher education opportunities that you will not find anywhere else in the world. We encourage students to download our EducationUSA India app, available for free on iOS and Android devices, or contact one of our eight EducationUSA advising centers across India to learn more.
Student Visas
The US greatly values the contributions of international students and facilitating travel for international students is a priority for the US Mission to India. In recognition of the tremendous opportunities that a US education can bring, the United States has updated its visa regulations to streamline the visa application process for many student visa applicants. Through December 31, 2022, US consular officers are authorized to waive in-person interview requirements for student visa applicants who have previously held any type of US visa.
To further support the flow of talent between India and the United States in science, technology, engineering, and mathematics (STEM), the United States has extended the period of academic training for eligible exchange visitors pursuing studies in the STEM fields to a maximum of 36 months.
These new policies are already making a difference. Thanks to the expanded authorities, many applicants have already been able to obtain a visa without an interview under these expanded authorities. Student visas remain one of our top nonimmigrant visa priorities. While 2022 remains a recovery year, we have so far processed 84% more nonimmigrant visas this year compared to the same period last year and we continue to add appointments as we emerge from the pandemic and rebuild staffing resources.
For detailed information on the student visa application process, please visit our Embassy webpage at https://in.usembassy.gov/visas/nonimmigrant-visas/. Once you've been accepted to your school of choice and have the necessary documentation, you can start the application process by visiting https://www.ustraveldocs.com/in/en.
Please also note that the US Mission encourages student visa applicants to apply as early as possible for their student visas in order to ensure that every qualified student is able to book an appointment in advance of their program start date.
An investment in a US degree today is an investment in a successful future. US universities offer a wide array of programs with a range of tuition and fees as well as scholarship and eligible on-campus employment opportunities. With the right amount of planning and research, pursuing a U.S. higher education can be made affordable with high returns on your investment.
Timeline For Undergraduate Admission
Most students in India begin the process 12 to 18 months before the start of their undergraduate degree programs in the US, which means that these students are in grade 11 or 12 when they begin thinking about studying in the United States. US universities holistically evaluate each student's application wherein they review a student's academic standing, and their overall personality and achievements outside the classroom. Academic scores from Class 9 till Class 12 showcase the overall high-school graph, and co-curricular as well as extracurricular activities reflect on the student's interests, commitment to learning, openness to new experiences, and ability to excel in a specific area.
For undergraduate programs, especially for selective institutions, it is ideal for students to begin their initial research when they enter high school or Class 9. The sooner students begin this preparation, the more time they will have to build a strong portfolio of academic and extra-curricular activities, making their application stand out among other aspirants. EducationUSA, which is the official source on US higher education, can equip students with accurate, current, and comprehensive information to make a strong start, whether they start in grade 9 or later.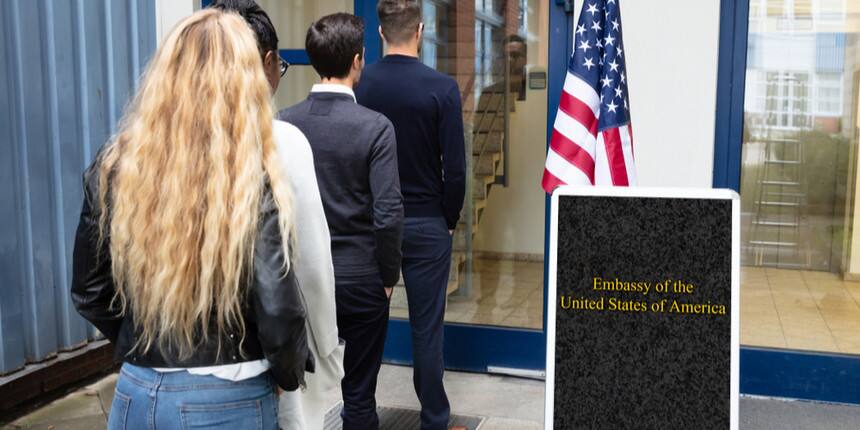 All You Need To Know About Studying In The USA
Requirements For Applications
US universities are keen to understand from each student's application, how (s)he will fit within the institution's academic and cultural setting. They evaluate this fit-ment through a multi-dimensional application process. For most U.S. university applications, the student may be required to fulfil a few or all the following requirements:
Application Form and Application Fee
A completed application form is the fundamental application document that universities use to collect essential information about the student. An application fee is also payable when submitting the application form. Some universities use common application portals for undergraduate programs like common application, coalition application etc.
Tip: Do check with the university about special application fee waivers for international students.
Academic Record
Official academic transcripts or marksheets issued by your institution.
Standardized Tests And Language Proficiency Tests
Admissions tests scores like SAT/ACT for undergraduate students and GRE/GMAT/LSAT for graduate students (always check with the school which standardized test scores they require and accept). TOEFL/IELTS/PTE/Duolingo tests evaluate English language proficiency and may also be required by universities.
Letters Of Recommendation (LoR)
References from your teachers and professors or your employers, in case of graduate applications.
Tip: Select recommenders who have closely observed you in an academic, professional or extra-curricular setting. Get in touch with them well in advance as they might need some time to write the LoR. You can share your resume or synopsis of your work with them which they may use as a reference while drafting the recommendation for you. Never write your own LoRs!
Application Essay
An application essay or a statement of purpose (SoP) may be required by a university where you can mention your short-term and long-term goals and how the university can help you achieve these.
Tip: Start writing your essays early as they may need several iterations and avoid creating a laundry list in your essays to prevent losing the essence of attributes you want to highlight. Your application essays are a great opportunity for you to stand-out among a pool of applicants and explain why you are the right fit for the university. To create impact, share relevant anecdotes and specific examples from your life in the narrative to showcase learning, skill and qualities you want to underscore.
Supplemental Essays/Personal Statement/Scholarship Essays
Some universities may give you additional writing space to learn about your unique skills, qualities, motivations and give you an opportunity to showcase how you may contribute to the academic and cultural diversity on campus. If you are being considered for a special scholarship program, you may be asked to write about why you deserve that award. Universities may also request you to submit your art portfolio and/or video/audio recordings of performances/games in case you choose to highlight any special training or experience with different art forms or sport.
Financial Documents
These are financial statements and certificates required by the institution.
Tip: Gathering these official documents might take time, hence, it is important to get in touch with relevant authorities and institutions well in advance.
Resume (Optional)
A resume may be required by the university which has a synopsis of your academic and professional responsibilities and achievements.
Interview (Optional)
Some universities might request an interview as part of their application process. This could include an interview with a faculty, admissions representative, current student, or alumni.
Tip: Don't be nervous about this! It is a conversation that gives you a chance to showcase your personality and be more than an application form!
Proof Of Research Capability
For students applying to doctoral programs, the university may require proofs of research capability like documentation of past research, publications, and writing samples.
Application and admissions requirements may vary by universities, so it is imperative that you check the university's website to have a definitive list of requirements before you begin the application form.
Scholarships
US Universities provide multiple sources of funding to international students and the amount and type of funding vary by college/university, department, level of study, and various policies. Students must check the university websites for the appropriate policy on funding. At US universities, financial support is competitive and can be classified as scholarships or financial aid, or assistantships.
Scholarships are merit-based and are awarded to students after careful consideration of their application-academic credentials, and overall profile. Students may be automatically considered for scholarship once they have applied to the institution or may separately apply for specific scholarships (Honours college scholarships, subject-specific scholarships, international student scholarships, music scholarships, sports scholarships, and so on). Scholarships can be need-blind or may sometimes take into account financial need.
Financial aid is awarded based on the student's merit and financial need. Students must demonstrate the need to be eligible for this type of aid. There are two types of admissions and financial aid policies- need-blind and need-aware. Universities vary in their approach, and sometimes even use a combination of the two. Need blind schools do not consider an applicant's financial need when making admissions decisions. Need aware schools do consider finances in their admissions decisions. Students must remember that applying for financial aid is competitive and universities may not be able to meet a student's demonstrated need entirely. For financial aid, international students will be required to complete the CSS form (College Scholarship Service - https://cssprofile.collegeboard.org/) or the International Student Financial Aid Application (ISFAA) or university-specific forms.
Graduate funding is also available in the form of teaching/research/graduate assistantships. Assistantships provide students with training and valuable professional experience in higher education work environments. Compensation for assistantships can include a stipend and/or tuition remission. Assistantships are more common at the doctoral and graduate level, with some programs even funding 100% of their graduate students. US institutions consider a student's complete application package to identify candidates they want to financially support. The package includes demonstrated strength in academics and interest in learning; leadership qualities and commitment to extracurricular activities and/or engagement with the community; and strong scores on standardized tests and effective letters of recommendation, among other components.
Ariel Pollock is Spokesperson at the U. S Embassy, New Delhi.