The Humanities refer to a group of academic disciplines that study human culture. As opposed to the purely empirical approaches found in the natural sciences, the humanities primarily use critical, or speculative methods that are intertwined with history. Humanities include philosophy, ancient and modern languages, literature, mythology, religion, history, and the visual and performing arts such as music and theatre. Some subjects Humanities and Social Sciences constitute include History, Anthropology, Archaeology, Communication Studies, Classical Studies, Law, International Relations, and Linguistics. The humanities and social sciences teach us how people create their worlds and how they are continually shaped by them.
Why Should You Choose Humanities?
Here are some advantages to studying humanities:
Cultivate Your Creativity | By learning about the literary, performing and visual arts, you are likely to find more opportunities to express yourself creatively, through various art forms such as poetry, drawing, painting, theatre, and music.
Foster Sensitivity | Studying subjects like Political Science And History can help you develop and appreciate civility, charity, values, and traditions.
Strengthen Your Communication | You are likely to be able to communicate with people of various classes, castes, and cultures more easily.
More Political Awareness | You are likely to be better informed about the world political environment, as well as concepts such as democracy, human rights, equality, and social justice.
Enhance Critical Thinking | Humanities subjects can assist you in understanding human behaviour, and enable you to think not only creatively but logically as well.
Top Humanities Stream Subjects
Let us now look at some of the subjects one may opt for in the Humanities stream.
Anthropology
Archaeology
Economics
Education
Environmental Studies
Foreign Languages such as English, French, German, Spanish, Russian, Italian, Chinese, Japanese, and others.
Geography
History
Home Sciences
Indian Languages such as Hindi, Tamil, Telugu, Bengali, Marathi Punjabi, Kannada, Maithili, Urdu, Sanskrit, etc.
International Relations
Liberal Arts
Linguistics
Media Studies
Philosophy
Political Science
Politics
Psychology
Social Sciences
Social Work
Sociology
Women's Studies and Gender Studies
Top Career Options After Humanities
Let's take a look at some of the most-opted career options for humanities students:
Psychology
Do you think it would be interesting to find out how the human mind works, or why we behave the way we do? Welcome to the world of psychology! This multifaceted discipline focuses on topics such as how our brains work, how our memories work, or how groups interact. Following a psychology foundation, students can specialise in a range of fields like clinical psychology, counselling psychology, industrial/organisational psychology, developmental psychology, behavioural neuroscience, sports psychology, etc. Such career options for humanities students are becoming quite popular, as the demand for psychologists is steadily increasing.
| | |
| --- | --- |
| Courses of study | BA + MA Psychology |
| Career options | Counsellors, Clinical Psychologists, Child Psychologists, Human Resource Specialists, Substance Abuse Counsellors Lecturer/Professors, Life Coaches, School Psychologists, Family Therapists, etc. |
| Premier Institutes | Delhi University (Indraprastha College for Women, Lady Sri Ram College for Women, Gargi College, etc.), Ambedkar University, New Delhi, Fergusson College, Pune, Christ University, Bangalore, etc. |
| Average starting salary | Rs. 3-4 lakh per annum |
| Top recruiters | Hospitals, Schools, Mental Health Organisations, and so on. |

Law
All you budding lawyers out there: How strong is your critical thinking and problem-solving ability? Because a career in law demands these skills. The legal profession is amongst the most sought-after career options after 12th humanities. Lawyers are aware of the legal structure of a country and can advise clients on a variety of legal issues on a personal or professional level. As a lawyer, you will have to conduct extensive research, and build strong arguments for each legal case you handle. Lawyers provide legal counsel to individuals, organisations, non-profits, governments, etc., and keep them from being involved in legal disputes.
| | |
| --- | --- |
| Courses of study | BA LLB (5 years) or BA (any subject) + LLB (3 years) |
| Career options | Corporate Lawyers, Litigators, Paralegals, Public Prosecutors, Judicial Services, Solicitors, Legal Analysts, Legal Journalists, Judges, etc. |
| Premier institutes | National Law School of India University, Bengaluru, National Law University, New Delhi, NALSAR University of Law, Hyderabad, Indian Institute of Technology, Kharagpur, etc. |
| Average starting salary | Rs. 7-8 lakh per annum |
| Top recruiters | AZB & Partners, Khaitan & Co., Luthra & Luthra Law Offices, Economic Laws Practice, and so on. |

Design
It is worth pursuing a career in design if you are adept at creatively communicating ideas to others. The process of design involves envisioning, developing, and communicating ideas through images, drawings, sketches, and layouts. One can pursue such career options in humanities without maths as well. There are a variety of specialisations, like graphic design & animation, interior design, textiles design, fashion design, product design, furniture design, jewellery design, etc. The types of design jobs that you will find, will vary depending on your field of study. As a fashion designer, you may work with textile production houses, garment export houses, boutiques, marketing and media departments of fashion brands, etc. Furthermore, you also have the option of exploring careers options after humanities in interior design, leather design, jewellery design, UI/UX design, graphic design, cartoon design, and product design.
| | |
| --- | --- |
| Courses of study | BDes, or graduation in any stream + specialised courses in Design |
| Career options | Fashion Designer, Graphic Designer, UI/UX designer, Furniture Designers, etc. |
| Premier Institutes | National Institute of Fashion Technology, multiple locations, National Institute of Design, Ahmedabad, Srishti Institute of Art, Design and Technology, Bangalore, Symbiosis Institute of Design, Pune, etc. |
| Average starting Salary | Rs. 5-6 lakh per annum |
| Top recruiters | Madura Garments, Homelane, Universal Designovation, Zatun, etc. |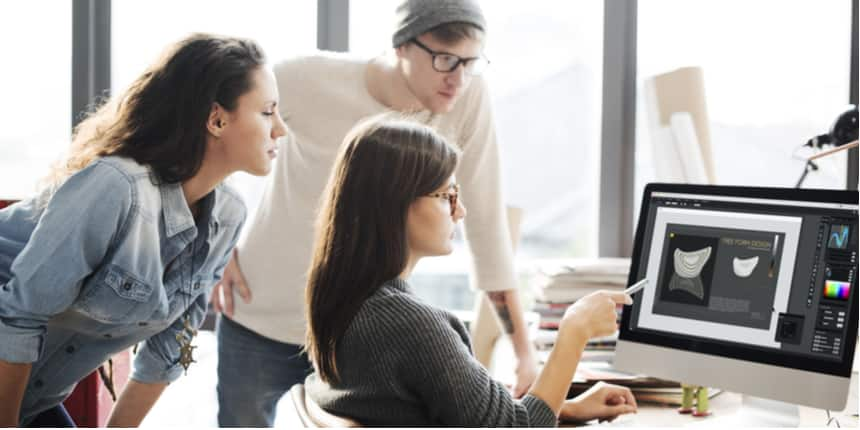 The Humanities Have A World Of Career Options To Offer
Journalism And Mass Communication
Do you have a strong desire to stay on top of what is going on around you and the world, and tell other people about it as well? Then, perhaps, this is the career for you! Communication via mass media, such as tv, radio, newspapers, magazines, journals, and now social media involves the dissemination of relevant information to a large number of people. As a subset of mass communication, journalism involves gathering, assessing, developing, and presenting news and facts to the public. With a degree in mass communication, you can pursue journalism jobs, as well as jobs such as content writing and editing, public relations, advertising, event management, broadcasting and production, copywriting, etc. Also, you can work with media production houses for creating videos, documentaries, or short clips, which may cover an interview, social issue, or simply for entertainment purposes.
| | |
| --- | --- |
| Courses of study | BJMC, or graduation in any stream + PG Diploma in Mass Communication (or any relevant field) |
| Career options | Journalist, Content Writer, Editor, Filmmaker, Actor, Musician, etc. |
| Premier Institutes | Symbiosis Institute of Media and Communication, Pune, Delhi College of Arts and Commerce, Delhi University, Christ University, Bangalore, Xavier Institute of Communication - Mumbai, etc. |
| Average starting Salary | Rs. 4-5 lakh per annum |
| Top recruiters | Hindustan Times, Times Group, Star India, All India Radio (AIR), and so on. |

Hotel Management, Travel And Tourism
There is something special about staying at one of these hotels: Taj Hotel, The Lalit, Le Meridien, and The Leela. But have you ever thought about how much hard work goes into making them the best in class? As part of a career in hotel management, you will understand and manage all aspects of a hotel, beginning with the front desk, to food service and housekeeping. The tourist industry is one of the fastest-growing sectors, with a lot of career options for humanities students to explore. You can work in the hospitality and travel industry in hotels, restaurants, cruise ships, railroads, resorts, airlines, etc. The new graduates in this field usually start off as management trainees, and can move into different departments such as front desk operation, food and beverage production, meeting and event operations management, and restaurant operations.
| | |
| --- | --- |
| Courses of study | BHM, BBA Hospitality, Travel & Tourism, BHMCT |
| Career options | Event Manager, PR Manager, Tour Guide & Agent, Hotel Manager, Chef |
| Premier Institutes | Christ University, Bangalore, Ecole Lavasa - Lavasa, Welcome Group Graduate School, Manipal, Institute of Hotel Management, Aurangabad, Oberoi Centre of Learning and Development, New Delhi, etc. |
| Average starting salary | Rs. 3-4 lakh per annum |
| Top recruiters | Thomas Cook, Mahindra Holidays, Spice Jet, Taj Group of Hotels, Leela Group, and so on. |


Humanities Careers To Look Forward To In The Future
It is always a good idea to look into the future before investing time, effort, and money into obtaining a humanities college degree, and ensure your choice is the right one. Nowadays, you have an almost endless range of career options after humanities to explore, as long as you stay abreast of new advancements.
Engineering Psychologist
Engineering psychologists make use of their knowledge of the human mind and psychology to understand and analyse how people interact with, and use machines, computers, and other technologies. Most engineering psychologists are employed by private companies and corporations. These professionals are primarily responsible for designing and improving products, work environments, and technology to maximise efficiency, usability, and convenience.
Technical Writer
Technical writers are primarily responsible for writing instruction manuals, guides, and website support sections. They explain complex maths, science, and engineering concepts in simple, easy-to-understand language. Additionally, they coordinate with Subject Matter Experts (SMEs) to create operation guides, that provide clear instructions to consumers and support staff.
Genealogist
Genealogists help people discover more about their family history by looking back at birth and marriage certificates, immigration records, and census records. For students looking for career options in humanities without maths, this is an excellent role to put their anthropology, archaeology, and history degrees into practice. Anyone with a passion for family history would also enjoy the job.
Social Media Director
A social media director's job is one that has gained popularity in recent years, and is here to stay. Social media directors develop social media strategies and devise ways to engage with customers on social media channels, in order to maximise engagement, keeping track of the amount of interaction the posts receive through metrics and analytics.
Lobbyist
Lobbyists represent specific individuals or organisations, and influence political decisions. Lobbyists play a crucial role in the creation and implementation of new laws, negotiating with legislators, and seeking their support for various causes. Working as a lobbyist requires extensive use of good communication skills, and knowledge of politics, history, and people.
One of the broadest academic disciplines at the university is Humanities, which includes a wide range of subject areas concerning human behaviour and our relationship with social institutions. Aside from the careers options for Humanities students listed above, there are also many other interesting and exciting fields in Humanities, such as museology, habitat policy and practice, archaeology, gerontology, rural studies and development, etc. The career options after Humanities are endless. We are sure you won't ever say, "Humanities has a very limited scope in the future" again!
Yashodhra Arora is a Counselling Psychologist. She holds more than 10 years of hands-on experience in HR, and behavioural and career counselling of high school students, in India and the USA.