Print media is till date, the oldest and most trusted way of news. With digital media becoming more popular, some might think that careers in digital media are leading to careers in print media losing their charm. However, for people with genuine fondness for reading and keeping abreast with current affairs, newspapers are still the 'go-to' form of media.
Print is where aspiring journalists should ideally begin their career, before they meandre into any other form of media. If you research and pick up track records of all successful journalists today, you shall find that most of them, if not all, worked for some newspaper in the beginning of their careers in print media. That is how people are helped in shaping up by beginning with careers in print media.
How Print Media Works
The efforts and hardwork of 5-6 different departments leads to the compilation of the newspaper that reaches your breakfast table every morning. As a student of journalism, you will learn about all these departments and can then choose which job in print media is best suitable for you. Following is an overview:-
Reporting
One of the careers in print media is that of a reporter. Reporters are the most integral part of the newsroom, as they are the ones who actually go to the field and gather facts. You may opt for reporting if you are interested in going to the field and collecting data. Be it a murder scene, a cricket match, or a celebrity wedding, it is the job of the reporter to be present where the news is. However, if you plan to be a reporter, make sure you select the beat which suits you.
A newspaper has reporters covering health, education, crime, infrastructure, sports, business, politics, and entertainment and requires reporters for every segment. While interning with a newspaper, make sure your job in print media is part of the segment which interests you.
Having said that, don't be worried in case you are not part of that team that reports what you feel the most interested in, because in the beginning, your priority should be to learn the basics of reporting. A reporter, at any time in your careers in print media, you can change the beat and shift to a segment they like. However, one must be open to work at odd hours, be ready to meet people from different fields and be able to absorb the pressure of live news to survive as a reporter.
Sub-Editor Or Desk
Once a reporter comes back from the field, they've to write a news report based on the facts gathered from the spot. That news report is submitted to the news desk, which has multiple sub-editors who's job in print media 'clean' the report. That of a sub-editor is another career in print media, which again requires a different skill. To start with, command over language is the most important part.
A newspaper can be in English, Hindi, or any of the vernacular languages and the sub-editor should be able to fine-tune the news report written by the reporter and make it readable for the public. Since many-a-times, newspapers have a space crunch, the job of a sub-editor is to convey the message in as few words as possible.
This job in print media is for the people who would want to sit at the office, work in shifts, and work late hours. A lot of times, multiple copies may need to be cleared within a short span of time, which is where the work would become pressuresome.
Such a job in print media also requires knowledge of the software that the newspaper uses to put stories on the pages. The paper you see in the morning is designed on software and ensuring right placement of the story and an attractive headline is an important aspect of the job.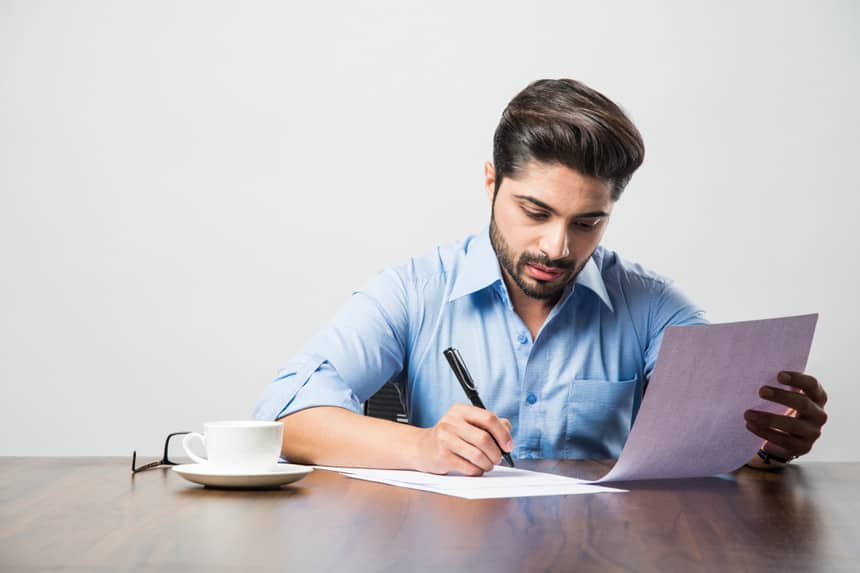 Once A Reporter Comes Back From The Field, They've To Write A News Report Based On The Facts Gathered From The Spot
Photography
Another job in print media is that of photography. There is a saying that 'A picture is worth a thousand words' and that is true for newspapers as well. Often referred to as photo journalists in the newsroom, photographers working with newspapers are always on the move.
If you have interest in photography and news, taking up a career in print media as a photojournalist could be one of the best prospective options. Timing is the most important aspect of a career in photojournalism as the right photo clicked at the right time becomes an instant hit. However, it brings with it some challenges as cameras are not allowed everywhere, and the situation may require you to sneak in and click without anyone noticing.
Also Read | A Career In Wildlife Photography: From The Lens Of One Of India's Best
Graphic Designing
As mentioned earlier, photography may not be allowed everywhere and without any visual elements, a news report would look dull. To overcome that, newspapers have started using graphics to describe important events that cannot be captured in photos. These graphic designers have a different skill set and help describe an event step-by-step which makes graphic designing another great job in print media.
Also Read | Design Degree Courses: 3 Roads To A Design Career; Eligibility Criteria, Admission
Cartoonist
Another great job in print media is that of a cartoonist. Satire is a popular way to comment on any moves of the government and if you're skilled at conveying messages through cartoons, then this could be a dream job for you. However, while other roles in a newspaper require multiple people, the competition for the job of a cartoonist is tougher since only one or two people are usually hired.
Data Journalists
Of late, newspapers have started hiring data journalists for data crunching. While other journalists are usually assigned a beat, a data journalist can use publicly available data and come up with data-driven news stories. This job is for those who are good with data crunching.
This article gave us an overview of the types of print media. As a print journalist, no matter which exact domain you choose, dedication and passion towards your work will lead you to a leadership role.
Also Read: Things To Know Before Choosing A Career In The Media
The author is Editor with a leading English newspaper and wishes to remain anonymous.