Top medical colleges of India, that offer a five year undergraduate programme in medicine, together placed 52 per cent of their students. The rest, i.e 36 per cent of their students pursued higher studies. This percentage is drawn from among the students who completed the degree programme in the five years stipulated time.
In 2018, National Institutional Ranking Framework began ranking the medical colleges across India. That year, it ranked a total of 25 colleges. In 2019, the number went up to 30 colleges were ranked and ever since each year 10 more colleges were ranked, bringing the number up to 50 colleges in the year 2021.
Careers360 conducted a thorough analysis of the colleges offering undergraduate programmes under different parameters as mentioned in the NIRF report.
Among the 50 medical colleges that were ranked by NIRF, five colleges offer only postgraduate programmes and hence have been left out of this report. These five colleges are:
Post Graduate Institute of Medical Education and Research, Chandigarh

National Institute of Mental Health & Neuro Sciences, Bangalore

Sanjay Gandhi Postgraduate Institute of Medical Sciences, Lucknow

Sree Chitra Tirunal Institute for Medical Sciences and Technology, Thiruvananthapuram

Institute of Liver and Biliary Sciences, New Delhi
Top Colleges To Offer UG Programme
The number of participating medical colleges for the NIRF 2021 were 111, out of which the top 50 were ranked. In 2020, 118 medical institutes participated, out of these only 40 ranked colleges.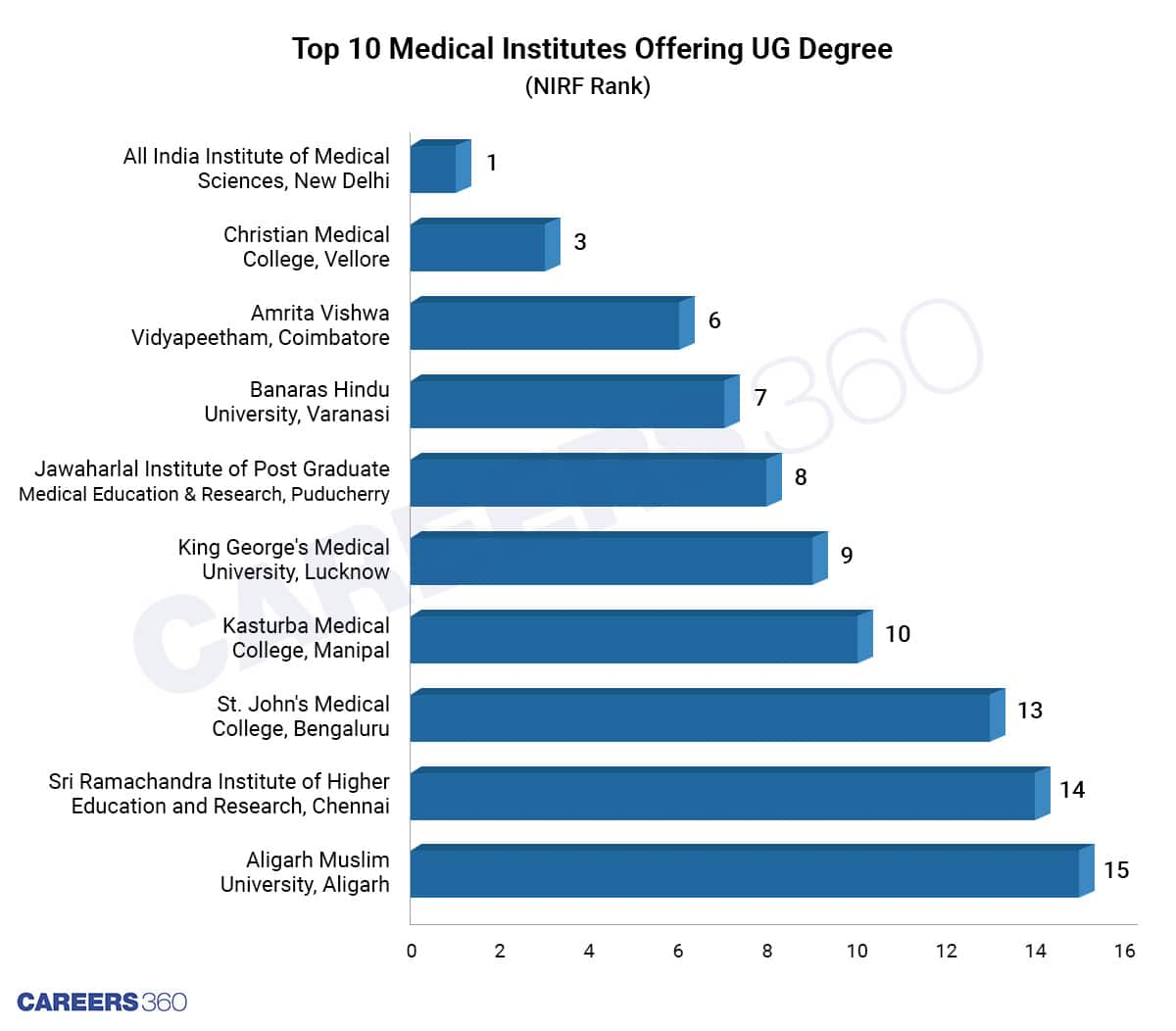 Top Medical Colleges who offer UG Programme
Also Read| JEE Main, NEET: Online Versus Offline Coaching
Institute With Maximum Graduates
Overall 87.6 per cent of the students graduated in the minimum stipulated time, that is five years, among the 45 compared colleges.
Institutions like Christian Medical College, Vellore; Jamia Hamdard, New Delhi; Aligarh Muslim University, Aligarh and Government Medical College and Hospital, Chandigarh saw 100 per cent of their students graduate within the stipulated duration of five years. We now look at the next 10 colleges.
Top Medical Institutes
Also Read| 30% MBBS Students Not Satisfied With NEET Coaching: Survey
Colleges With Highest Placement Record
After MBBS, students generally go for post graduation but MBBS itself is a degree that can lead to successful placements. As for the number of students who got placed, it was highest in both Kasturba Medical College, Manipal and Mangalore, with 199 and 186 students placed.
Top 10 Institutes In Terms of Placements
Also Read| 5 Challenges I Fought To Reach My Dream Medical School
Colleges Where Students Opt For Higher Studies
On an average, 35 per cent of the students from these 45 colleges went for higher studies after completion of their undergraduate programme.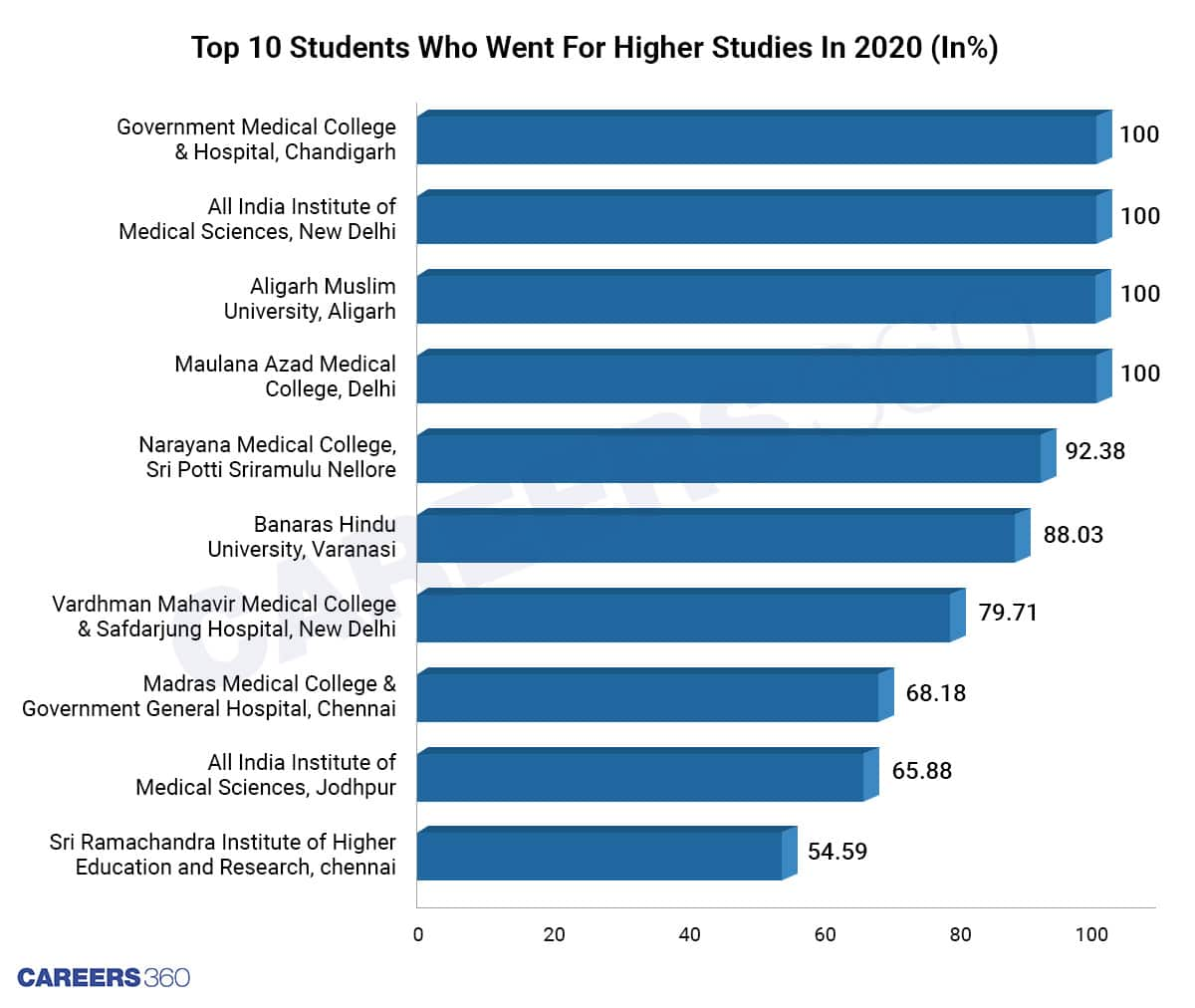 Top 10 Institutes: Higher Studies
Colleges With Maximum Girl Students
Lady Hardinge Medical College, New Delhi which is an all women's college and tops the list on technicality. Hence has been left out from the list for correct comparison.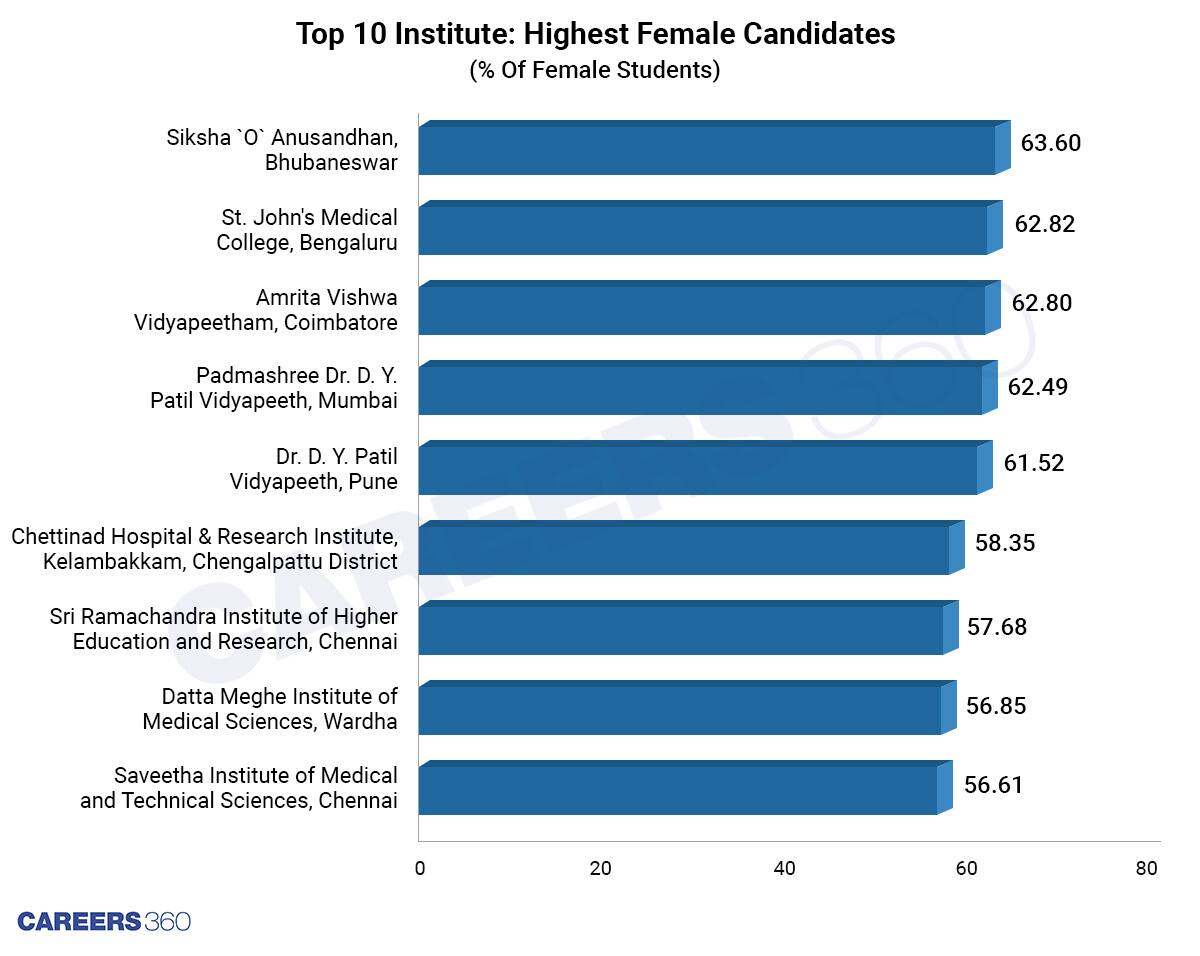 Top 10 Institutes: Highest Female Candidate
Maximum Number Of Foreign Students
Sri Ramachandra Institute of Higher Education and Research, Chennai not only had the highest percentage of students but the number of international students was high too. The institute admitted 141 students from outside the country.
In the graph below, the information is of the foreign students and the total number of students in all the batches in the year 2019-20 of each college. Out of the 45 institutions listed for this study, 17 colleges had no students from outside the country.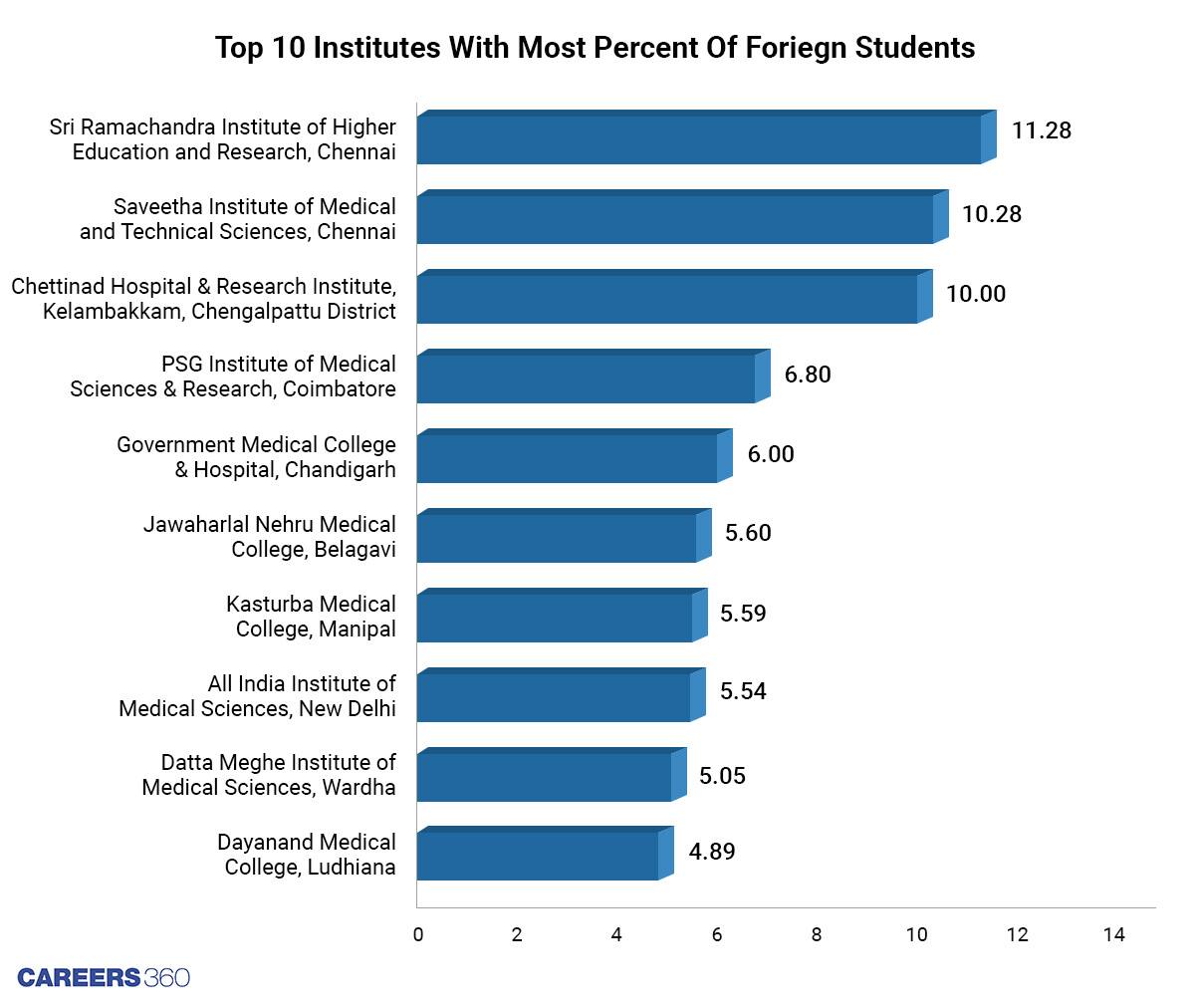 Highest per cent of Foreign students
Colleges with Maximum Socially Challenged Students
The Socially Challenged group of students include the Schedule Caste, Schedule Tribe and Other Backward Class category students. We present it in the graph below.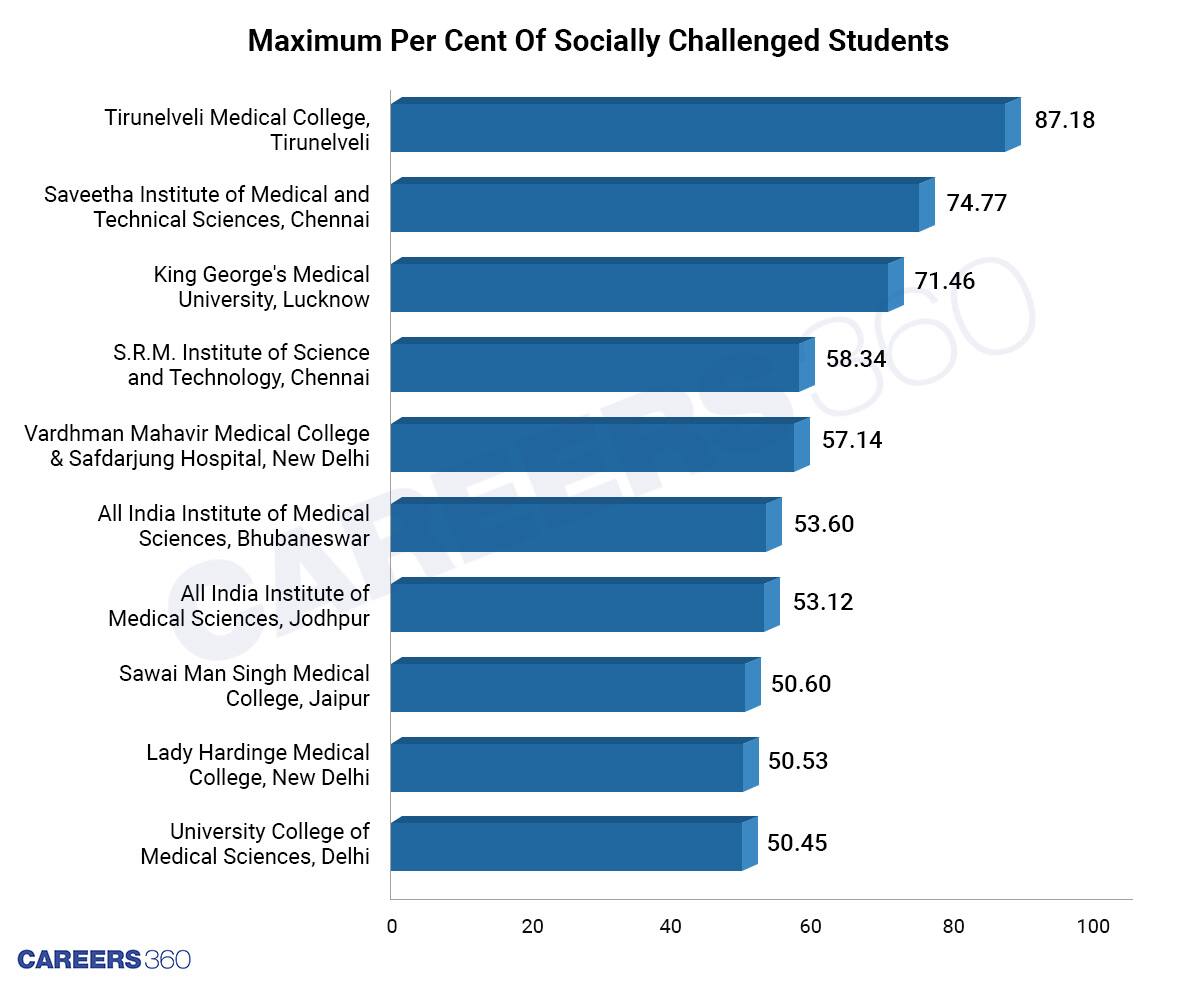 Highest per cent of Socially Challenged students
Also Read| A Day In The Life Of A NEET UG Topper
Institutes With High Percentage of EWS Students
Almost half of the colleges had no students from the Economically Backward or Weaker section (EWS), bringing the overall average percentage of students to 3.5 per cent only.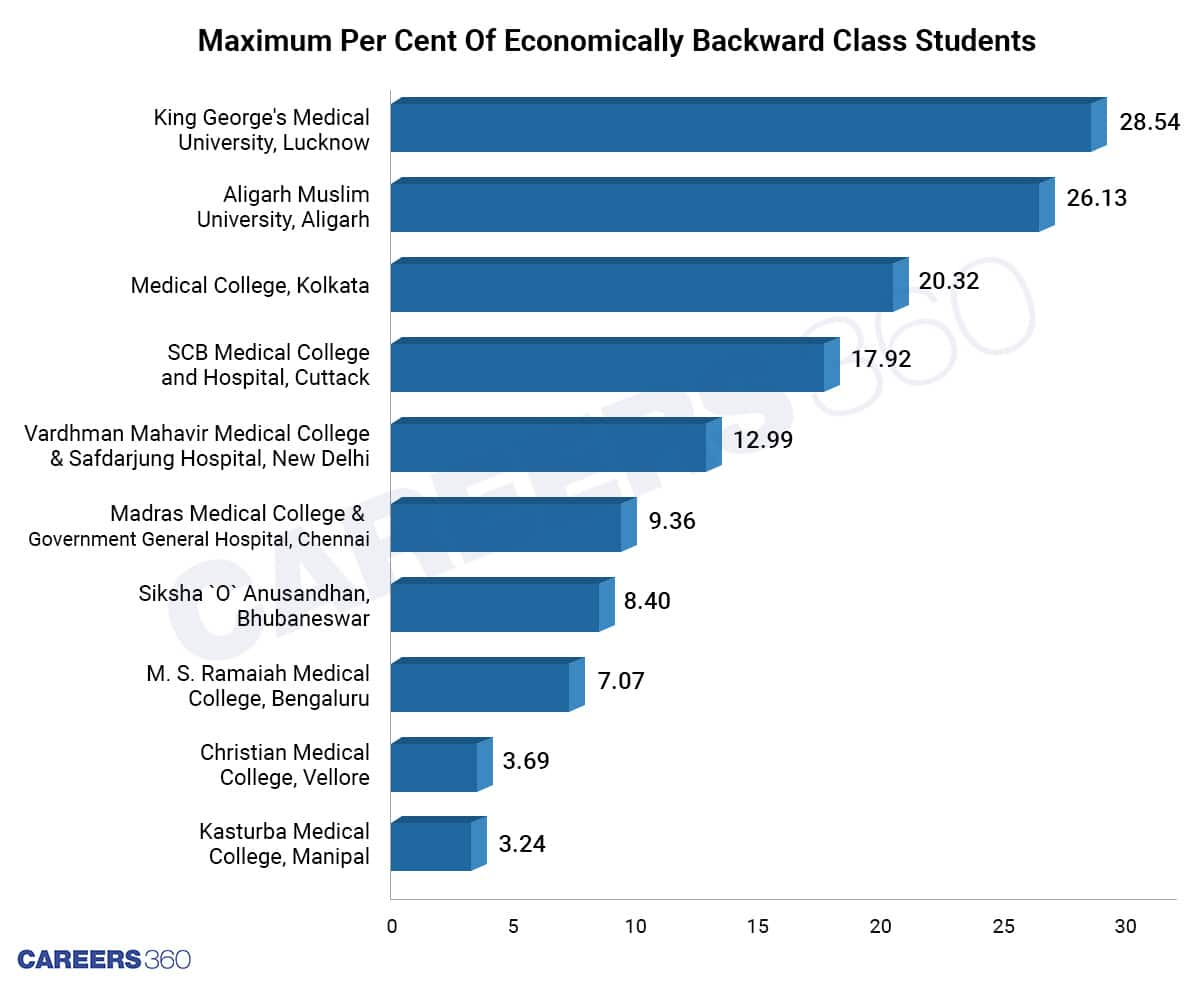 High Percentage of EWS Students