In the National Institutional Ranking Framework's ranking of 100 colleges in 2021, just four were from Maharashtra. These, spread over Nagpur, Mumbai and Pune, together saw 78.7 percent of the batch enrolled from 2017 to 2020. Of them, only 8.3 percent of students were placed in jobs upon graduation, the latest publicly-available data shows. This was the lowest placement rate among top colleges of Delhi, Kerala, Tamil Nadu, and West Bengal.
The education ministry's NIRF began ranking colleges in 2017. In 2021 it ranked 100 of which 89 belonged to just five states and union territories in the country. The maximum was in Tamil Nadu – 33 – followed by Delhi with 28; Kerala, 19; and West Bengal, 5. For the purpose of ranking, the colleges shared data on their intake capacity, enrollment, graduation and placement with the NIRF. The last round, NIRF 2021, is based on the data from the 2019-20 academic year. Careers360 considered data on the three-year undergraduate degree programmes – BA, BSc and others.
The Maharashtra college to attain the highest rank in NIRF 2021 came in at 61. The colleges are affiliated with different universities – Savitribai Phule Pune University (SPPU), Mumbai University, and two colleges with Rashtrasant Tukadoji Maharaj Nagpur University.
The four colleges are given below.
| | |
| --- | --- |
| Name | Rank |
| Government Institute of Science, Nagpur | 61 |
| College of Social Work, Mumbai | 71 |
| Government Institute of Forensic Science, Nagpur | 88 |
| Fergusson College, Pune | 96 |
However, student information was not provided for about half the graduating students in NIRF. This analysis is based on data that was available.
Maharashtra Colleges Placement
Of the five states, Maharashtra had the second-lowest percentage of students to opt for higher studies – 37.2 percent. Its placement rate, at 8.3 percent, was also the lowest. For perspective, the placement rate at the top 10 Tamil Nadu colleges was 35.7 percent; West Bengal's, 16.6 percent; Delhi's 18.8 percent; Kerala's 11.6 percent.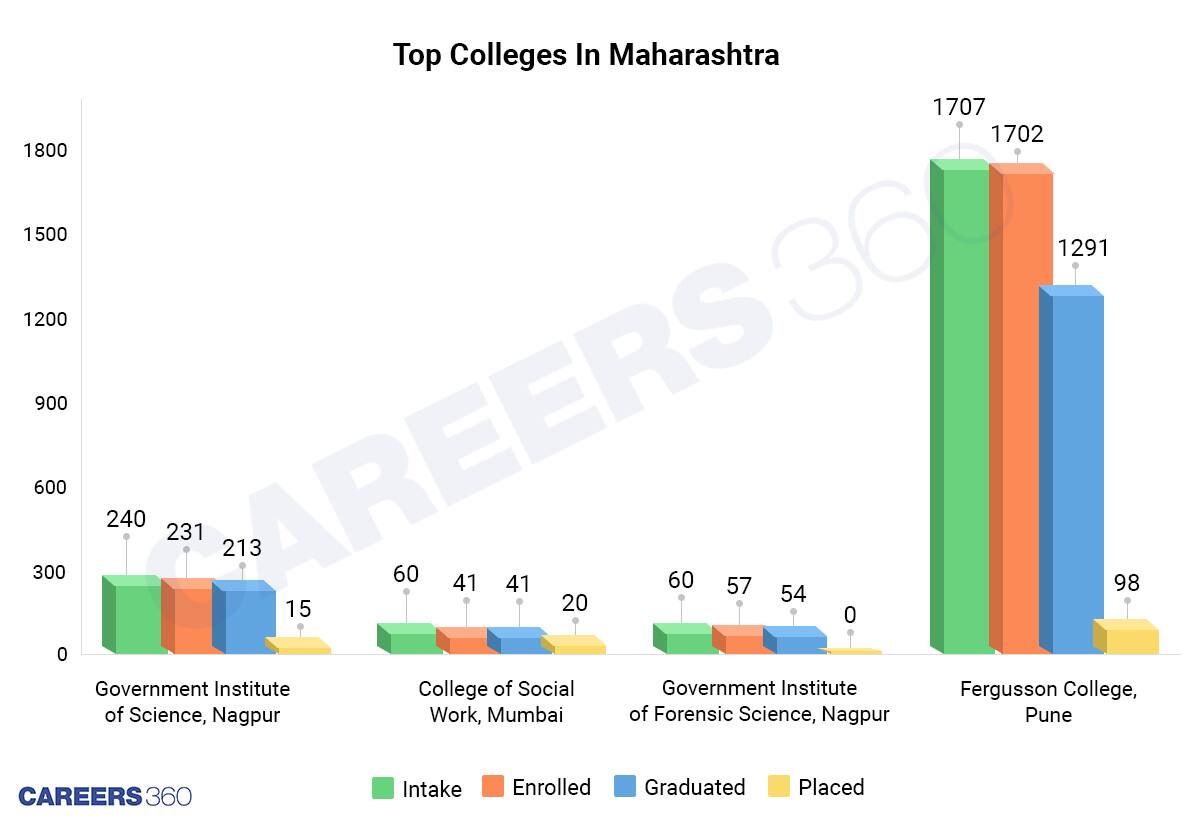 Top-ranked colleges of Maharashtra
While the COVID-19 could have been a factor in the very low placement rates – the data is from 2019-20 when the first wave of the pandemic was spreading through the country impacting daily lives, economy and employment – the number of students pursuing higher studies was one too.
The four institutes together had 37.2 percent of their graduates pick further studies over work following graduation. Out of the 213 students at Government Institute of Forensic Science Nagpur, 160 opted for higher studies; and 50 out of 54 students of Government Institute of Science, Nagpur, opted for higher studies, leading to a zero placement at the Nagpur college. The top West Bengal colleges had over 70 percent students go for higher studies; Delhi had over 60 percent.