As festivals bring families and friends together, they are a time of mirth and merriment for most. Why? Here are a few reasons:-
Students do not have any immediate exams or homework to worry about or tuition to attend. Mornings can be relatively lazier and about family.
Decorating the house with flowers and lighting it up, making rangolis – bring a sense of excitement with them.
Marketplaces, around this time, are often full of discounts and offers which makes shopping for new apparels and household stuff even more enjoyable. In addition, to buy little gifts for your loved ones is a great feeling.
The quintessential annual cleaning ritual at home makes one slip into nostalgia everytime we find an old, cherished item from the innermost shelves of our cupboards.
Families and friends get together, play games, or simply eat together. Getting to see delicious snacks and sweets being prepared is like a delight to the cravings.
Also Read | Self-Care Tips To Feel Happy And Rejuvenated
Some May Be Struggling
The aura of togetherness and positivity is what many look forward to, but, there might be a segment of people for whom festivities may not bring as much glee and they can go through festival blues. Those going through family stresses, relationship difficulties, personal or professional losses, social isolation, financial difficulties, may feel like their troubles have been added to during the festive season. There might be some who feel overwhelmed by the social interaction that festivals bring along.
Here is how you may identify if you or someone you know is going through festival blues:-
Meet-ups and social gatherings during festivals are making you feel more anxious and stressed rather than excited and joyful. It may be because of the pressure of preparations, not feeling innately motivated to meet people, or even the need to dress up when you wish to stay subtle.
You are constantly reminded of an undesirable incident that occurred during the same period sometime in the previous years.
Festivities could be difficult especially for someone who is grieving a loss.
You're feeling irritable or agitated at small inconveniences and are unable to understand why.
Read on to find out more about dealing with festival blues.
Coping With Festival Blues
How should you cope with festival blues? Here are a few suggestions.
Set Boundaries
It is okay to say 'no'. The most important thing to do is managing your expectations, communicating clearly what and how much you can offer to others. It is likely that you are going to be invited to participate in a variety of activities, be it hosting guests or being one. You shouldn't feel bad about saying 'no' to something you don't wish to do. It is helpful to not take more work than you can handle. Not everything needs to be perfect, understanding this will help you deal with festival blues. Instead of trying to fit everything in, be realistic about what you can and cannot accomplish.
Also Read | Start Journaling, Manage Stress
Find Your 'Go-To' People
Identifying your support system is essential amidst the hustle and chaos of festive preparations. Sharing how you have been feeling not only helps feel lighter but knowing you have someone who would hold space for you can be a big relief especially when you're going through festival blues. Even if they may not fully understand you, the presence matters.
Also Read | Why It Is Okay To Have Few Friends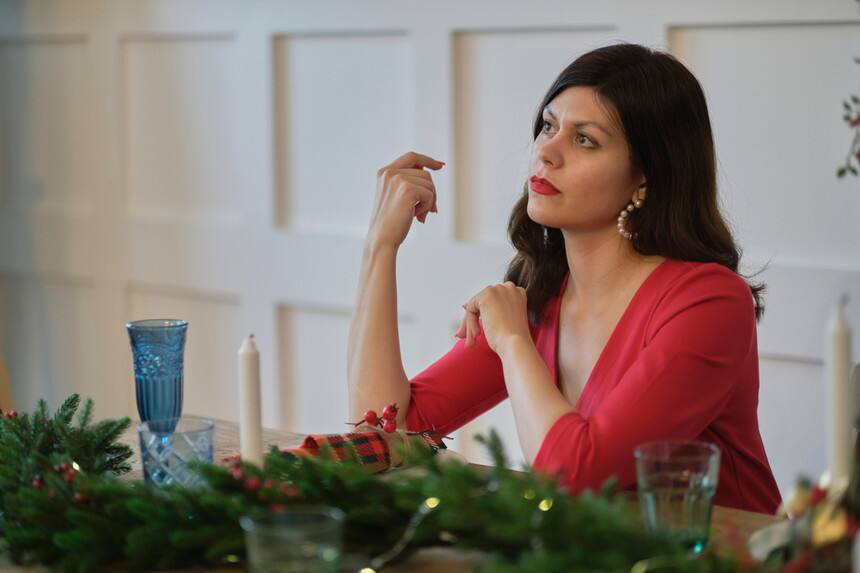 Those already going through stresses may feel they've aggravated during the festive season.
Manage Difficult Feelings
Know that emergence of some negative feelings is okay. Knowing what helps you sail through difficult emotions is a good way to be prepared for the festive blues. Your routine and sleep can go off the track, which is okay, but it helps to maintain it to a little extent. Self-care activities like exercising, journaling, meditation or deep breathing techniques, sports and exercise or art and music, can act as healthy and safe mediums to manage these feelings.
Also Read | Tips To Lift Yourself Out Of A Low Mood
Limit Social Media Consumption
Social media can be flooded with content related to festivities. It could be home decor ideas or dresses to get from the sale, how people are throwing parties or travelling. The one friend you had a fight with is now celebrating with someone else. Things like these could be triggering and evoke feelings of anxiety, fear of missing out, or frustration. It is important to be mindful of your screen time and your social media consumption to prevent festival blues. Set aside the phone, and try to focus on yourself by being in the moment.
Give!
A lot of festivals also involve an element of 'giving'. It could be donating clothes to the needy or giving them sweets. Remember how your school would ask you to get sweets and candles to be donated to the underprivileged whenever Diwali season was near? Giving to the needy may evoke an unmatchable sense of joy and satisfaction within you, while also bringing a smile on the face of those who are given. This is a great way to deal with festival blues and also contribute to society.
Seek Professional Help
If you feel that your stress and anxiety during festivities are becoming increasingly difficult to cope with, do not hesitate to approach a mental health professional for help. Help from the right person, sought at the right time, can make a huge difference to our overall well- being.
Also Read | World Mental Health Day 2022: 4 Practices To Adopt
While we should make the most of festivals, at the same time, we must not neglect the struggles of those who go through festival blues. Be sensitive, be generous, and make the best of these times!
Sanskriti Khera is a Counselling Psychologist, with five years of extensive hands-on experience in helping young adults navigate through social and emotional concerns. Her approach to counselling is person-centered, trauma-informed, and insight-oriented. She was formerly Counsellor at the Ashoka Centre For Well-Being, Ashoka University, Sonepat. Currently, she is Consultant with Daffodils Therapy Studio, New Delhi.