Report card distribution in schools is always an event. Regardless of what grades or marks report cards show, they do not define your child, their caliber, and eventual potential. Your child is always much more than their grades. How many of us backbenchers are today much more successful than our classmates who scored a 40/40 sitting on the first bench? How many of the so-called "mediocre and poor" students from our school days are running their own successful enterprises, businesses, and start-ups?
Academics – yes, are important in the Indian context of education, but EQ is far more important today than mere IQ. So, don't let someone's assessment of your child's academics at school let them believe that they are not good enough for the world and grow up feeling inadequate and inferior!
There are a zillion examples of geniuses who had poor report cards and failed school, many were even expelled from school but eventually went on to become stalwarts – inventors, discoverers, businessmen, actors, authors, singers, and the like. Albert Einstein, Thomas Edison, Steve Jobs, Charles Dickens, Mark Twain, John Travolta, Dhirubhai Ambani, Dilip Kumar, and Lata Mangeshkar are just some of the big names that fit these criteria.
Also Read | Loneliness In School-Going Children: Signs And Causes
What Parents Should Do
As parents, it is essential that we know how to handle a poor report card. It is not a reflection of the child but perhaps the subjects and courses that they find tough. Let's look at 3 focused ways of dealing with a poor report card.
Validate The Child's Feelings
Children feel terrible when they do poorly as it impacts their image at school and also dents their self-esteem and confidence. It also impacts the relationship dynamics with their friends and peers and their image with the teacher/s.
Stay Calm | Be calm and do not react, abuse, scream, or spank the child. Acknowledge the positives first – be it their attendance, the comments that the teacher may have written about their overall character, punctuality, uniform, sports, extracurriculars, etc.
Open Discussion | Create an opportunity for an open discussion and certainly talk about poor grades. Hear your child out and listen to them and their beliefs about what went wrong. Here, state your disappointment from your reasonable, stated expectations gently and probe – What are their reasons behind the poor academic performance (they need to identify and process them and take responsibility for their actions), how do they feel about their current score? Was this their best? If not, what is something that they could have scored in a favourable situation? And so, what do they attribute the gap to? Whilst having this conversation, be compassionate and ensure that your tone is encouraging and not aggressive and authoritarian, as that can do more damage than any good whatsoever.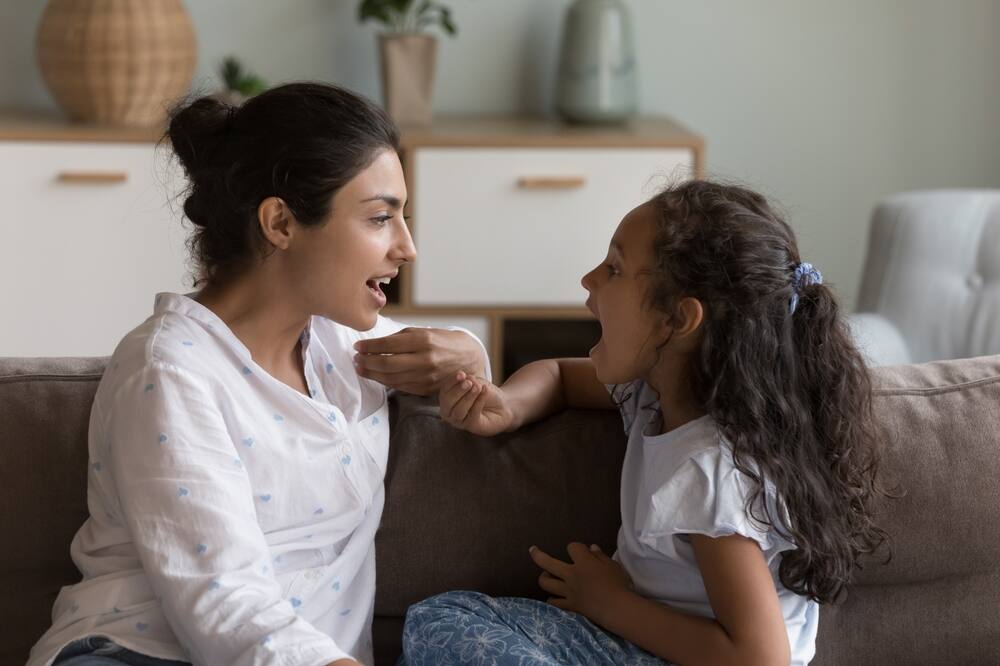 Create An Opportunity For An Open Discussion And Certainly Talk About Poor Grades
Do Not Project | Your talking about the challenges you faced as a student would not be a relief to either you or your child, so refrain from bringing it up in conversations. They do not want to hear about our struggles and how privileged and entitled they are, and it is not their fault, so do not project your disappointed feelings on them.
Explore | Further, discuss and evaluate – What about the subject/s do they need help with? Is it the concept, comprehension, lack of practice, difficulty level of the question paper, lack of dedicated preparation, memory lag, fatigue, stress, or something else? Whatever the issue, help the child seek and identify the reasons to explain themselves.
Education should be about the love to learn new topics, concepts, and phenomena and not merely about the marks scored on a test or an exam. It is most certainly beyond school grades and a lifelong process that needs to be enjoyed and embraced.
Set Up Healthy Study Habits
Take a real-time inventory of what are the strong academic areas and where the child's performance is lacking. Then come up with a conjoined plan to help out.
Stay Committed | Set realistic goals and work with them to track progress one step at a time. Discipline, commitment, and persistence are needed to stay consistent. Do not sit and teach them if that brings out the worst in you, it is best to 'outsource' that role and continue to be their cheerleader.
Start With Basics | Start with the basics, and make sure the classwork (irrespective of the grade) is complete, chapters are read, important points are highlighted, and notes are made for revision. Break down the big chunks into easy schedules that don't overwhelm the child but they feel motivated to complete the set tasks.
Also Read | 8 Healthy Ways You Can 'Give Space' To Your Teenager
Encourage Punctuality | Homework, assignments, and project work must be completed on time. Pay attention to what is being expected and asked and what the child eventually submits. It all carries marks or some grades eventually.
If they are still struggling, ask the teacher to pay extra attention in class and give the child the help and assistance they need. Whatever you do, do not give up!
Seek Professional Help
A note of caution for all parents – if the child is saying things like "I just can't understand", "I don't remember even if I learn", "Nothing goes into my head even if I try to study for hours" — hear their cry for help and spare the rod! Get them assessed by a special educator or a clinical psychologist as they could be struggling with a learning difficulty. There is a reason why such difficulties are called "hidden". To the parent, the child might come across as playful, hyperactive, destructive, not hardworking enough, lazy, fun-loving, inattentive, while in reality, they might be struggling with a condition that they are trying hard to make sense of but don't know how.
There is enough professional help available (for diagnosis and coaching) at an age-appropriate level that will break down the portions and explain the concepts to the child in a fun way. Remedial teachers and special educators will teach them the way they can learn.
Provide unflinching support to your child as they are counting on you (and only you) to help them out. You are their only safety net. Let them know that you love them regardless of their grades and marks and that they are more than what they do or do not achieve.
Also Read | Benefits Of Music: Why Music Should Be Integral To The Parenting Journey
Nandini Raman is a Consultant Counselor; Corporate Trainer; and Columnist with a leading English newspaper. She contributes to a successful weekly column on career guidance and choices. With more than fifteen years of experience in the field, Nandini is guest a faculty at many prestigious schools, colleges and training institutions. She is a hands-on parent to two teenagers. Nandini can be reached at www.iamfine.in